MANUFACTURING
Although Manning is generally known as an agricultural town, a review of the past 100 years shows a number of factories which have made everything from farm equipment to food products to boats and toys.
Today, Manning has five industries, M.J.M. Enterprises, Plastico Ltd., L.R. Nelson Manufacturing, the AGRI Industries soybean processing plant, and M & I Dehy. During the past year, they have had a combined work force of 135, a total payroll of nearly $1 1/2 million, and sales of over $60 million.
BROOMS
Just three months after Manning lots first opened for sale, an announcement was made that L.M. Conklin would be opening a broom factory which would employ at least two men. Conklin was in the business nearly 10 years; in 1888, the factory operated under the name Conklin & Gorman.
H.C. Richey & Co. operated a similar factory in 1888-90.
MATTRESSES AND SPRINGS
C.W. Laflar was the manufacturer of what he advertised as a new, improved bed spring in 1883. He stressed the fact that it wasn't necessary to sleep on boards any longer. The November 10, 1938, issue of the Monitor listed a business known as the mattress works, owned by L.K. Wonkee, assisted by J.O. Walker. They specialized in rebuilding mattresses and were located in the Claus Nielsen building.
WAGONS
A wagon shop was opened by M. Hoffman shortly after the town began. Adolph Cook and Edward A. Liddle were manufacturing wagons in 1898. Cook lost his wagon shop in a fire of September 11, 1895; although he did not rebuild, he continued to operate in a small building at the rear of his lot.
In the early 1900's Charles Radeleff operated a wagon shop in a building located where the Legion hall now stands, prior to the beginning of the Hagedorn woodwork shop. The Radeleff product was actually a wagon box fitted to a Model T Ford truck chassis. Later on, with improved production methods, he also invented and patented a power lift to make it a dump truck. From his original location he moved to the south building of the Manning Motor Company, bordering Highway 141. Later he moved to what is now the J & S store location. The family left Manning in 1920.
FEED-COOKER
J.W. Martin, who opened a hardware store in 1881, sold the business to C.H. Reinholdt in 1889. Martin then formed a corporation with J.B. Morrissey and J. Morrissey to manufacture a feedcooker, which Martin had invented.
The Martin Feed-Cooker Company met with decided success with the manufacture and sale of the feed-cooker. In order to get a better distribution point and to enlarge the plant, they later moved to Omaha. There, machinery was added to the manufacture of a new hay press and other farm implements, which Martin had improved and patented.
BRICKS
The Manning Brick Yards were started April 1, 1895, by C.V. Epley at the Frank Long farm 80 rods north of the NorthWestern depot. Epley sold the business to C.A. Bailey and Ole Jensen in December, 1897; in August, 1898, their partnership was dissolved, and Jensen became the sole owner. The business was discontinued at the Long farm in the spring of 1900.
CEMENT BLOCK FACTORY
In the early 1920's William Wyatt, father of Dr. O.W. Wyatt, operated a plant that made cement blocks the same as those used today. The factory was formerly located at 320 Madison but was torn down after ceasing operations after 1925 and is now the residential property of Mr. and Mrs. Robert Hoffmann. Jay Duff states that when he first came to Manning he worked for William Wyatt and when they were not busy putting in cement sidewalks and driveways they manufactured the cement blocks.
CARPETS
Several carpet weavers worked in Manning during the late 1800's. Mrs. August Gruhn and Charles Holmes made carpets in 1898, and by 1900, they were joined in the craft by Mrs. J.L. Nickum.
BOATS
L.L. Lawrence and C.J. Larson, operating as Lawrence & Co., began building boats in about 1895. This was a winter business; during the summer, they operated a pleasure fleet at Lake Tetonka, Minnesota.
Lawrence & Co. also had a pleasure fleet at Wall Lake, and were the manufacturers of a number of sail boats used there.
Lawrence was an ex-seaman, and his partner was known for speculations and financiering. The firm followed various occupations in early Manning, including the butcher trade, speculations, and real estate.
They had moved from Manning by 1900.
REBUILT TIRE SHOP
H.H. Harman operated his "Two-In-One Tire Shop" in 1918. The firm would make one good tire out of two old ones. He was located in the Fairmont Creamery building.
Continued from page 231
CIGARS
Sioux City may have its Sue, but Manning laid claim to the Iowa Girl.
"Iowa Girl" was the name given to one of Manning's most popular products of the early 1900's, a cigar manufactured by Paul Moerke. The cigar and its advertising slogan, "The Iowa Girl is Good Enough for Anyone," were found in shops throughout the state.
Moerke opened his cigar factory in mid-September, 1899, in the Blohm Building on South Main Street. By 1915, he was manufacturing more than 103,000 handmade cigars a year in a building north of the present Manning General Hospital.
In March, 1916, a disastrous fire struck the livery barn south of Moerke's building. The livery barn was a total loss, but firemen were able to save the cigar factory. In gratitude, Moerke sent 100 of his Iowa Girls to the firemen; he later donated the building to the department for a fire station.
In later years, Moerke moved the business into the garage near his residence in the 200 block of Center Street, where he continued producing cigars until he left Manning. His "Iowa Girls" were still being sold at 5c and 10c in 1926.
Two earlier attempts at cigar manufacturing had much less success.
G. Humann and H. Adamowsky arrived in Manning in 1897, opening a cigar factory in the Dethlefs Building. They were in operation until the fall of 1898, when, according to the 1898 History of Manning, they "took a hasty departure one dark night to parts unknown."
Henry Bailey opened a similar factory September 1, 1899, in the Hire Building near the northwest corner of the Third and Main Street intersection. Bailey, who had lived in Manning a number of years, had lost both feet in a railroad accident at Kirkman. Chas. Loetel, an experienced cigar maker from Sioux City, was hired to assist Bailey. The enterprise lasted less than six months.
BOTTLING WORKS
Shortly after Manning was founded, a bottling works was opened just south of town. The business was sold by John Chutzen in 1886 to brothers Joseph and Fred Feldmann, who continued to manufacture and bottle "summer drinks." They were also made special agents for Schlitz Brewing Company, and had a large beer and whiskey warehouse at their site on Center Street.
Carbonated beverages made at Manning, and cases of liquor and beer from the warehouse, were distributed to towns along the Milwaukee Railroad from Council Bluffs to Perry. Joseph and Fred also had a tavern in Manning at 303 Main Street, currently the site of the Dime Store.
The original bottling works plant, several thousand dollars worth of choice liquors, and a car and a half load of beer were destroyed in a $15,000 fire September 18, 1893. A wooden store building was moved from Main Street to 897 Center Street, and the factory was reopened. An addition to the building's north side was constructed, and a warehouse built at the rear to store the tons of sugar needed to produce the pop.
In 1909, when the Iowa legislature passed laws allowing towns the size of Manning to have only one tavern, the Feldmanns closed their tavern and warehouse. Fred then moved to Milwaukee, and Joseph continued the pop factory on his own.
Youngsters growing up in Manning's early years fondly remember the strawberry pop produced at the factory. They would often peek inside the building, and be treated to the pop as it ran ice-cold from the machine. Children's Day was always accompanied by the children's red moustaches and dribbles down the front of every shirt and dress, which mothers claimed were impossible to remove.
An excellent cream soda, lemon and lime flavors, and an unusual chocolate pop were also made at the Manning plant.
Joseph Feldmann died in 1930, and a son Emil ran the plant for the next ten years. Emil then entered another business and moved from Manning, and the factory was sold to his brother-inlaw, A.H. "Otto',' Hinz. Hinz turned the site into a lumber yard, which today is the home of the Town and Country Lumber Yard.
MUSTARD
Diedrich Hansen ran a mustard factory for several years, starting about 1898.
In the late 1900's and during the '20s John Penker manufactured his famous Manning Mustard in his home in south Manning. It was known throughout the western part of the state. His formula was very similar to that of the Denison mustard now on the shelves in this area. Rumor has it that when Mr. Penker retired he sold his formula to Mr. and Mrs. Garth Fuller of Manilla who until recent years made mustard. Mrs. Fuller, however, informs us that this is not true. They purchased their formula from a Mr. Moeller in Denison who claims that the formula had been in the family for 102 years.
TOY FACTORY
A toy factory was started here in December, 1950, by Joe Poley, Dr. Joe Loucks, Fay Donaghu and Ted Rix. It was located in the old Farmers Union building, now owned by Manning Ag, on the east side of the street just north of the Dappen property on the corner of First and Main. The idea was to get into the manufacture of small wooden toys. The first project was a child's chair made along the Queen Anne lines for 5 or 6 year olds, painted a bright red. It retailed for $1.69. Labor and production problems were primarily the cause for its abandonment after some months of operation.
Continued from page 232
M J M ENTERPRISES, INC.
M J M Enterprises, Inc., received its corporate charter from the Secretary of the State of Iowa on December 27, 1961, and was authorized to commence operation January 2, 1962. The corporate assets were purchased from Dultmeier Manufacturing Company which was originally formed in 1915 by Frank Dultmeier and incorporated in 1919 by Frank, Henry and Clem Dultmeier.
In an interview by Leland Rauch on September 3, 1976, Henry Dultmeier, at the age of 93, recalled the early history of Dultmeier Manufacturing Company:
In the early 1900's Frank left the family farm and began blacksmithing. From this work he received the idea to make an adjustable wagon hound, a pair of braces that allow the wagon tongue to be affixed to the wagon, that would fit all types of wagons. He began making them on the family farm north and east of Templeton in 1915 and then obtained a building from Henry Rohr on the railroad property which is the present site of M J M Enterprises, Inc. Frank convinced me to join the business in 1915. We moved a roof from an abandoned lumber company in south Manning to the present site for the Rohr building.
I left the company in 1921 to go back to farming and later took over the family farm.
Clem, our youngest brother wasn't interested in the business very long and went to Kansas and farmed until his death.
Frank left the corporation in 1921, when the following bought him out: C.T. Dietz, President; H.P. Hansen, Vice-President; A.A. Danielson, Secretary; R.H. Wheeler, Treasurer; George Kettman, Director; John Ferneding, Director; Fred Boock, Director; Frank Ferneding, Director.
Our greatest ambition was to produce a train car load of adjustable Tongue Hounds and this was accomplished in 1918 by working a night shift. The order went to the Hudson Company, Minneapolis, Minnesota.
A.A. Danielson, Secretary-Treasurer in the 1920's, left the company in 1929.
Majority ownership of Dultmeier Manufacturing Company remained in the Hansen family, with John R. Hansen as General Manager, until 1962. John R. was elected to the United States House of Representatives, was appointed Iowa Highway Commissioner and became a widelyknown political figure.
Three employees purchased the business in 1962. They came from varied backgrounds. Ralph McGrath, elected president and general manager of M J M Enterprises, Inc., had the longest period of service with the firm; he joined just out of high school and worked his way up to production manager. C.M. Johnson, elected vice president, was originally in the shoe business in Manning. John R. Hansen, a good friend, needed someone in his office and asked Johnson in 1954 to work for a few months. Johnson remained. Albert Musfeldt, secretary-treasurer, farmed near Manning for many years but discontinued due to health and took employment at Frahm Garage. In 1954 he joined the Dultmeier company as purchasing agent.
Ten and one-half years after the formation of M J M Enterprises, July 21, 1972, Ralph McGrath had a fatal heart attack. His shares were then purchased by Johnson and Musfeldt, who absorbed the added business responsibilities.
Upon retirement in 1973, Johnson's shares were purchased by Charles Rauch, owner of Manning Heating and Sheet Metal. Rauch, president and general manager, divided his time between the two businesses until his M J M shares were purchased by two of his brothers in June of 1975.
David L. Rauch, employed with the firm as sales and shipping manager in 1973, was then made president and general manager. Leland L. Rauch was formerly employed with Travelers Insurance Company but desired to be involved in a business of his own. Leland, as vice president, assumed the marketing responsibilities. Musfeldt remained secretary-treasurer with the purchasing responsibilities.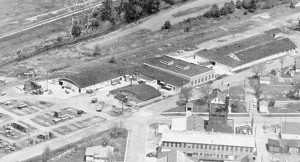 MJM Enterprise, Inc., is in the center of the picture; in the foreground is the former Priebe egg and poultry processing plant.
---
Continued from page 233
In 1976 Leland was offered a good opportunity with his former employer, so David purchased his shares in November and the responsibilities were again divided between David and Albert Musfeldt.
When Musfeldt decided to semi-retire in January, 1980, his shares were purchased by Gene Meggers, an employee since 1977. Meggers, with experience in several capacities with the firm, was elected secretary-treasurer and continued as sales and shipping manager, his position since January, 1979. Musfeldt continued working half days as purchasing agent.
Richard H. Crandall has been a member of the board since the incorporation of M J M Enterprises, Inc., 18 years ago. Past directors of M J M, in addition to the various owners, were John Musfeldt, Larry Polking and Herbert Bromert. The current directors are Crandall, Charles Rauch, Meggers and David Rauch, chairman.
A variety of products have been manufactured since the Dultmeier company began producing adjustable wagon hounds. The earlier products were manufactured from wood with the hound leading to the production of wagon boxes and later on to mahogany "Apitong" sweep rake teeth. The sweep rake teeth led to the development of steel sweep rake teeth, which progressed into other steel products.
For a brief period of two years, Tony Ocken manufactured travel trailers for Dultmeiers. He then began his own business in Templeton producing his Tern Ken products.
Grain augers, which came on line in the early 1950's, have expanded into the major sales item for M J M. Grain gates for wagons and trucks continue to be a strong secondary line for the company, and steel sweep rake teeth continue to be produced on a limited scale.
M J M's two major items, grain augers and grain gates, are sold to companies in 34 states and a Canadian account. These products are sold to original equipment manufacturers (OEM), distributors, farm fleet accounts, and dealers, with approximately 60 percent of the merchandise delivered with company equipment.
The varied line of manufactured items allows production to be evened out during the year and provide steady work for 20 regular employees. The payroll is supplemented by high school and college students during summer months.
HAGEDORN MANUFACTURING COMPANY
The Hagedorn Manufacturing Company was organized in 1921 by Herman F. Hagedorn. The firm manufactured hay racks, wagon boxes, neck yokes, single trees, wagon tongues, and baler blocks. A truck line was added two years later, and Hagedorn hired Bill Whitcher and Bert Olbertz as drivers.
In 1930, Hagedorn began manufacturing refrigerator boxes for all sized trucks. The firm then had three employees, Herman Puck from St.
Louis, Missouri, Herbert Hoover, a carpenter, and Ben Halford, a blacksmith.
The Hagedorn Manufacturing Company was sold in 1935 for use as the new American Legion post home located at the corner of Park Avenue and Main Street. The firm's shop and men were moved to Omaha, Nebraska.
PACIFIC ADHESIVES
Pacific Adhesives, which made animal blood into glue, opened in Manning in the former Priebe & Sons building in 1959. At its peak, 12 employees working three shifts a day were needed to operate the plant and drive the trucks.
The plant produced a protein base used for plywood adhesives, by spray drying animal blood. The product went directly to the west coast to lumber sites.
In later years, some of the dried blood was used for dog food, and some went for crop dusting as far away as Japan.
Pacific Adhesives had its ups and downs, but operated continuously from 1970 to early in 1975. Then, a recession in the building industry forced the temporary closing of the plant. It reopened in June, 1976, and continued operation for one year, then closed again in April, 1977.
The Priebe & Sons building, at the intersection of Front and Second Streets, now stands empty.
Pacific Adhesives was first managed by Joe Sonksen; when he went to Sioux City to open a plant there, Herb Bromert became manager here, followed in 1975 by Merlyn "Buzz" Hargens. Gordon Schmarzo and Paul Ramsey served as the district managers.
LAMPSHADE FACTORY
In 1960, Carpenter Industries moved its lampshade factory from Rock Island, Iowa, to Manning. The factory was located south of the Municipal Swimming Pool in a building which had been built by the Manning Development Corporation as a means of attracting industry to town.
The privately owned factory was run by R.R. Carpenter, his son and son-in-law, who moved to Manning with their families. Charles Rauch was named the production manager and he and his family came here. During its peak, the firm had about 20 employees and shipped lampshades to numerous variety stores and department stores from coast-to-coast.
Although the firm closed within two years, and the Carpenter families moved from town, the Rauch family stayed. Chuck's parents and two brothers also made Manning their home. Chuck now owns Manning Heating and Sheet Metal, and he and his brother are stockholders in MJM Enterprises, Inc.
The building which housed the factory has been enlarged, and is now successfully operated as the L.R. Nelson Corporation.
Continued from page 234
L.R. NELSON CORPORATION
The L.R. Nelson Corporation, a medium sized midwestern manufacturer of lawn, garden, landscape and turf sprinkler equipment sold around the world, became a part of the great city of Manning in March of 1964.
At that time, Russell Nelson of Peoria, Illinois, was looking for a place to expand. Russell, who not only worked for his father, L.R. Nelson, but also raised purebred Herefords, mentioned his idea to his good friend, Gene Wiese of Wiese and Sons Herefords of Manning. Gene encouraged Russell to consider the possibilities of expanding in Manning. Russell liked what he saw and so "Russ' company", or Russco, Inc. was founded.
After the death of his father, Russell changed the name of the Manning plant to L.R. Nelson Manufacturing. In 1973 he sold the company to David Ransburg of Peoria, who changed the name to L.R. Nelson Corporation.
Russco, Inc. began with four employees, Louella Ahrendsen, Loretta Vinke, Diane Heithoff, Joyce Warnke, and Manager John Weible. John managed the plant until his retirement in 1974. Sam Williams was then transferred from Peoria, Illinois, to become the new manager; he retired in 1977. Tom Bandow, an employee since 1965, was then promoted to the managerial position. The plant currently employs 57 people from Manning and the surrounding communities.
Manning, one of five L.R. Nelson locations, is primarily an assembly plant with some limited machining and processing operations. The employees assemble mainly turf items, but also do some lawn and garden systems. The plant itself is located in a building originally built by the Manning Development Corporation to attract industry to the community. Before Russco, the building was occupied by a lampshade factory. Located on the west end of Manning, most people refer to the plant as the "place up on the hill".
Over the years three additions have been made to the building, doubling the original space. Plant layout, new equipment and other alterations are continually being designed by the Engineering Department in Peoria, which works with the entire Nelson team to promote efficiency, safety and good working relations.
In the words of the current manager, Tom Bandow, "The Nelson Corporation is pleased to be in Manning. The owners have been very happy with the work produced here, and feel Manning is a good community to be in and to be involved in."
M & I DENY
On December 27, 1967, a group of twenty interested investors met at the Manning city hall to formulate plans to build an alfalfa dehydrating plant capable of producing three tons of dehydrated alfalfa per hour.
At this meeting a board of directors was elected as follows: Elmer Renze of Carroll, manager of Farmers Grain; Lester Joens, Donald Hiners, Ivan Opperman, all local farmers, and Gilbert Phillips, State Farm Insurance representative. The name of the firm, "M & I" derived from its location at Manning, Iowa.
The company was incorporated January 2, 1968, at which time plans were announced to offer 202,500 shares of common stock at $2 per share for a total capitalization of $450,000. This was handled by Russ Brooks Securities of Harlan.
Ivan Opperman served as the first president and continues in that capacity today. Other officers were Don Hinners, first vice-president, Gilbert Phillips, secretary, and Lester Joens, treasurer.
The company was formed to establish and operate "a completely automated facility for alfalfa". Alfalfa is dehydrated, pelleted and stored to preserve protein, vitamin A, and to prevent oxidation. The finished product is used by livestock feeders as a food supplement and nutrient to encourage animal growth.
On November 18, 1968, nine acres of land located two miles north of Manning was purchased from Ivan and Elizabeth Opperman, and a construction contract was let December 3, 1968, with Mr. Adrain Sivinsky of Agri Teck Supply Company of Omaha to engineer and construct the

M & I Dehy is located two miles north of Manning. The quonset at the far left was built within the past year.
---
Continued from page 235
new plant. It included a 960 square foot concrete block building which houses the master control room, grinding room, boiler room, and pelleting, bagging, and equipment room. An office building was added later which includes a reception room and plant personnel offices.
The plant started operation July, 1969, with Mr. Donald Dannamann of Grinnell as Manager. In 1976 George Graves then became the manager until his retirement in August of 1979. John Opperman became the assistant manager November, 1978, and has assumed the duties of manager since George Graves retired.
M & I Dehy is one of the most modern alfalfa dehydrating plants in this area and the first in the country to use electronic fat metering equipment. The plant employs eleven workers the year around, and 34 during the season. The plant now contracts 1500 acres of alfalfa hay from local farmers, and the processed products are sold in a 150-mile trade area.
PLASTICO, LTD.
Plastico, Ltd. of Manning, Iowa, was incorporated September 27, 1973. It was organized by local investors to promote and develop industry and job opportunities for this area.
The firm manufactures custom and proprietary injection molded plastic items that in many instances are parts to be sent to various assembly plants to be used as part of a completed product.
There is also a tool and die shop for the manufacture of the molds used in the process of making plastic items.
The average number of employees is nine. Don Mohr, the present shop manager, was the first employee.
Frank Willis is the chief executive officer.
AGRI INDUSTRIES
Manning's newest industry, the soybean processing plant located one mile north of Highway 141, began production in 1978. By January, 1980, 23,000 bushels of soybeans were being processed daily, with approximately 35 employees working round-the-clock shifts.
The processing plant was the dream child of several local farmers and businessmen, including Ivan Opperman and Claus Bunz. Their first meetings began in 1970, as they sought a more efficient and closer market for soybeans grown in the Manning area. They helped form the Continental Soya Corporation, worked for a loan guarantee under the Farmers Home Administration, and began dirtwork for the $3.75 million plant in the fall of 1977.
As many as 65 construction workers a day were involved in building the plant. Similar to a minicity, it has its own sewage system, water system, and a boiler to produce steam to generate the extractor and preparation system.
ConSoy, as it was originally called, began receiving soybeans in March, 1978, and formal dedication ceremonies were held during Manning's first Agriculture Appreciation Day August 19, 1978. Marketing of the plant's two products, soybean oil and meal, had begun.
Transportaiton problems resulting from an extremely harsh winter, combined with financial and production instabilities, resulted in the closing of ConSoy by spring, 1979. A search began to find new backers for the plant.
American Grain and Related Industries (AGRI Industries), a cooperatively owned grain purchasing, processing, and marketing firm based in West Des Moines, purchased the Manning plant in August, 1979. To aid in the negotiations, the Manning City Council gave approval for a $10 million industrial revenue bond.
AGRI Industries immediately announced a number of improvements and additions for the plant. Ken Sullivan, who managed a similar AGRI Industries soybean processing plant in Mason City, was placed in charge of the work. Today, he is vice president of Soy Processing Operations.
Soybeans are brought in by truck, with 3,500 feet of track used to connect the facility with the Chicago Northwestern Railroad line in Manning. The beans are conveyed to a storage bin, with a total capacity of 305,000 bushels, or taken directly into the preparation building. There, they are cracked and flaked before entering the extractor.
The extractor works like a perculator, using hexane, a petroleum derivative, to extract 550 tons of soymeal and 140 tons of soy oil a day. For every 60 pounds of beans, 11 pounds of oil and 48 pounds of meal are produced.
From the extractor, the separated oil and meal can be stored, or shipped out. Three Harvestor silos were set up to store the finished meal. Storage capacity of the plant includes 2400 tons of meal and 7,750,000 pounds of oil.
A 140 foot high elevator was constructed in April, 1980. Made with continuous slip concrete forms, the basic structure was put up in one week. The elevator will hold 790,000 bushels of soybeans, giving AGRI Industries more than a million bushels of storage capacity.
The meal is used for livestock feeds and the oil is sold for eventual use as margarine and/or cooking oils. The marketing area includes midwest U.S.A., west coast, and export market.
The plant is located within the Manning city limits, and will begin generating tax money into the city coffers in 1981. Between $50 and $60 million worth of soybean products are expected to be marketed yearly.
A freak accident happened at the plant July 7, 1980, when plant superintendent Kenneth Weets was killed as a silo filled with soybean meal collapsed on his office inside the preparation building. Employee David Wurr received injuries to his eardrum, shoulder and hand.
AGRI Industries' officials predicted that the plant would be out of production for at least six months.
Continued from page 236
Joens - Willow Creek Limousin