DETLEF MARTENS
Detlef Martens was born in 1842 in the village of Whrom, Parish of Tellingstedt, Norder Ditmarschen, Holstein, Germany. He came to America in 1869, settled in Clinton, and married Caroline Ehlers in 1875. She was born in 1848 in Strubbeln, Kirchspil Wesselburen, Holstein, Germany. The following year they moved to a farm about four miles north of Manning. They had seven children: Margaret Martens Witt, John, William, Detlef, Henry, Peter and Annina. John, Detlef, Margaret and William Witt were farmers in the Manning vicinity. William operated a clothing store for several years in Manning. Then he and Henry operated Martens General Store until 1932. William and Pete bought hogs for many years. Pete was also an auctioneer.
There were five children in the Margaret and William Witt family: Arnold, Regilda, Ervin, Herbert and Edna.
John and Adelia Fonken Martens had four children: Lydia Weideman, Raymond, Walter and Willis.
William and Minnie Schultz Martens had five children: Berhnardt, Alvin, Marcella Knaack, Ethel Goedert, Pine Grove, Cal., and Marjorie Thomas, Strongsville, Ohio. Alvin operated the Martens Variety in Manning for 39 years. He sold it to his son Gene in 1971. After Gene sold it to the Dime Store in 1978, he moved to Yakima, Washington.
There were three children in the Detlef and Amelia Vinke Martens family: Gilbert, Leora Popp and Lewis.
Henry and Bertha Ruhde Martens had two sons, Orville and Edwin. Edwin was owner of Skinny's News, Soft Drink, Confectionery and Shine Parlor. He was only 27 when he died.
Those of the third generation living in the Manning vicinity are Regilda, Ervin and Herbert Witt; Lydia Weideman, Sac City; Leora Martens Popp, Harlan; Orville, Omaha; Alvin, and Marcella Martens Knaack.
EMIL MARTENS
Emil Martens was born December 8, 1881, on a Hayes Township farm, near Manning. His parents were Preacher and Mrs. Wilhelm Martens.
June 6, 1906, he was married to Malinda Mundt, daughter of Mr. and Mrs. Herman P. Mundt . They were parents of Irene (Mrs. Eddie Meggers); Earl, who died in World War II; Clarence, who was married to Doris Davis at Denver, Colorado, and died in 1978; Virtus, who married Evelyn Witt; and Dorothy (Mrs. Carl Schrum).
Mr. Martens held various Washington Township offices.
Mrs. Martens died July 18, 1926. Emil later married Anna Joens and they lived in south Manning. Anna was the mother of Lillian (Mrs. Lester Andresen) and Lucille (Mrs. Ralph Monson), deceased.
Emil died in 1949, and Anna in 1960.
WILHELM MARTENS
Wilhelm Martens was born in Probstei, Holstein, Germany, in 1848. He was the son of Charles and Margaret (Haferbier) Martens.
Wilhelm left Germany when he was 19, and went to Clinton County, where he taught in the public and private schools. He also taught school in Hayes Township, Crawford County, Iowa, where they moved in 1879. He purchased 80 acres of prairie land, which he improved.
He was married to Margaretha Ewoldt, native of Germany. They were the parents of eight children: Richard, Gustav, Henry, Amelia (Mrs. Dick Fonken), William, Emil, Katherine (Mrs. Henry Ruhde) and Harry.
WE CAN REMEMBER---
In August, 1933, the NRA (National Recovery Administration) adopted the Re-employment Act to help the country through the great depression. Rules for towns under 2500 were: food stores must raise wages 20 percent but not to exceed $12 a week. Hours, not over 8 a day except 10 on Saturdays or before a holiday. Shoe stores must pay $11 a week and drug stores must be open at least 90 hours a week. Male restaurant employees must not work over 54 hours a week, and females not over 48. Minimum wage was to be 23c an hour.
Veterinary Associates -- Rexanne Struve & Chris Celania


---
Continued from page 362
PREACHER MARTENS


Wilhelm Martens and wife Margaretha
---
Wilhelm Martens, best known to all in the surrounding area as "Preacher Martens," was born in Schleswig-Holstein, Germany. He was educated in his homeland; and after graduation from the regular prescribed course of studies, he went on to take further studies in religion. He also taught school and was called upon to do some preaching too.
He came to the United States and settled in Crawford County. He farmed and also presided at church services in Aspinwall.
His wife, the former Margaretha Ewoldt, joined him several years later and the couple became the parents of eight children.
In the early days, before the organization of any religious denominations here, the settlers were in need of someone to whom they could turn for spiritual help and since Preacher Martens was also a Justice of the Peace, he married many, many couples and also baptized innumerable children. He traveled by horse and buggy in all kinds of weather to respond to all who called.
He died in 1904.
SARA DIAMOND MASTERS


Sara and Will Masters
---
Sara Diamond was born in Manning in 1928. Although she didn't live in the community year round, she spent summers and vacations here.
Her father, Harfry Diamond, came to America from Latvia in the early 1900's. Sometime later on, he purchased an auto wrecking and salvage yard on Elm Street in Manning, and continued in this business until 1946, when they moved to Omaha. Until 1944, Sara spent only summer and winter vacations in Manning; she lived with an aunt and uncle in Omaha during the school session. Her father, who lived alone, had felt he couldn't raise her properly; however, when she was 15, she moved back to Manning to live with her father and attended Manning High her sophomore and junior years.
In 1947, she married Harold Nepomnick. They had two children: Rick, who is a college student at the University of Texas, and Jill, who is living and working in Houston. In 1961, the family moved from Omaha to Houston, Texas; Harold died in 1975 following a lengthy illness and heart attack.
Three year ago, Sara met and married Wilton Masters from Dallas, Texas. He was a widower with five children, and is an executive with Sanger-Harris, a large department store in Dallas.
Although the running of a large home and a part-time job keeps Sara quite busy, she still finds time for aerobic dance and exercise classes, as well as jogging and bike riding with her husband.
Town & Lumber Company -- Charles Fielweber


---
Continued from page 363
F.J. (BUD) MC MAHON
Bud McMahon and wife, the former Elsie Paulsen, came to Manning in 1933 when Bud established the McMahon Feed and Seed store. They both were natives of the Irwin area.
Elsie attended the University of Iowa and completed her training as a registered nurse at Jenny Edmundson hospital in Council Bluffs. Bud graduated from Iowa State University and served as Superintendent of Schools at Ocheyedan before coming to Manning.
Two children were born to them. Johnny died at the age of 9. Mary Alice attended Iowa State for a year and then went on to graduate from the University of Iowa with high scholastic honors. In addition, she was elected to Phi Beta Kapp. She taught school in Iowa City and later at Independence. She married Wm. Klotzbach, an Independence attorney. They arse the parents of a daughter, Sarah, and three sons: Karl, George and John.
Bud will always be remembered for his work on the Manning Llght Board. He foresaw Manning's growing need for more power -- he made the application and led the fight to bring more power to Manning from the Fort Randall Dam. It is rather coincidental that a relative of Elsie's, Mr. Alfred Lage, led the fight in earlier days to get rural electrification to the farms in this area.
The writer of the song, "The Candyman Can" did not know Bud, but the title would certainly apply to him. Along with his generosity in handing out sprigs of holly and mistletoe and boxes of Stover Candy to his many friends and patrons at Christmas time, Bud had a candyman following of all the kids in northeast Manning the year 'round. On the McMahons' regular evening walks with Bud's pockets full of candy, their expected arrival was always met by reception committees along the way and many a little friend was made happy.
RALPH MCGRATH


Ralph and Lorane McGrath
---
A nation's history is measured in centuries; a community's is marked by lifetimes.
Ralph McGrath, son of Dan and Marie Moser McGrath, was born in Manning, November 10, 1915. He graduated from Manning High School in 1933 and worked at Dultmeier Mfg. prior to WWII.
Lorane Kahler, daughter of Bernard and Leona Wieck Kahler of Denison, graduated in 1936. She attended Van Sant Business College and taught in the Schleswig Public Schools.
Ralph and Lorane were married in 1941 and established permanent residence in Manning after the war.
Ralph helped form a new company when he and two others purchased Dultmeier Mfg. in 1962. Ralph remained President and General Manager of MJM Enterprises until his sudden death July 21, 1972.
Lorane was a district agent for Federal Crop Insurance Corp. from 1962 until her death following a long illness March 25, 1979. The office, first located in Manning, was moved to Carroll.
The McGrath's two daughters, Sandra and Vicki, are both married with families of their own. Sandy is the mother of two boys, Eric and Matthew. The Sorenson's reside in Prairie Village, Kansas. Vicki is the mother of a girl, Jonna. The Hannasch's live in Cedar Rapids.
Ralph and Lorane were members of the First Presbyterian Church and active in community affairs. ,They were host parents to Annemarie Schwartz, an AFS student from Switzerland, who lived with the family in 1962-63. Annemarie and her two children, Peter and Christine, reside in Canada.
Ralph and Lorane McGrath of Manning are lovingly remembered by family and friends.
EDDIE MEGGERS
Eddie Meggers was born March 22, 1905, in Crawford County. His parents were Emil and Sophia (Nulle) Meggers. On August 27, 1931, he married Irene Martens, daughter of Emil and Malinda (Mundt) Martens. She was born May 9, 1907. They farmed northwest of Manning on the farm previously owned by Eddie's grandfather, Franz Meggers, and his father, Emil Meggers. He owned the farm about 10 years. In 1963, he moved to Manning where he was employed by the Wiemann Locker plant.
They had one daughter, Linda, who married Russell Frank, April 17, 1960. They have three children: Vicki, Kim, and Rodney.
Eddie died January 3, 1969. Irene died June 28, 1960.
Continued from page 364
EMIL C. MEGGERS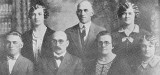 Emil Meggers Family

Back: Wilhelmine, Bill, Anna; front: Eddie, Emil, Sophia and Edna
---
Emil C. Meggers was born July 1, 1875, in Clinton County. His parents were Mr. and Mrs. Franz Meggers. December 5, 1898, Emil married Sophia Nulle, daughter of Mr. and Mrs. Dietrich F. Nulle, who was born Sept. 19, 1877, in Gross Heidorn, Schaumburg Lippe, Germany. She came to America in 1883 with her parents; she first settled at Neola, then came to the Manning vicinity in 1885.
Emil bought half of the original Franz Meggers farm in 1909. He served as Crawford County supervisor for several years, and was chairman of the Zion Lutheran Church for 28 years.
Emil and Sophia had seven children. Twin sons died in infancy; the others are William F., Wilhelmine, Eddie, Anna, and Edna.
William and his wife Elvira Gruhn are the parents of William, Edward, Duane, and Dorothea (Mrs. Wilbert Ehlers). Duane and his wife Luetta Johnson have four children: David, (married to Jeanette Gades, has a son Phillip); Larry; Dennis; and Wendy. Dorothea and Wilbert are the parents of Debra, Diane, Darlys, Douglas, Dwight, Denise, and Donna.
Wilhelmine is married to H. K. Gruhn, and their children are Wilma (Mrs. Melvin Wolf), Jeannette (Mrs. Norman Meyer), Delton, who is married to Janet Schultz, and Marilyn (Mrs. Charles Fielweber). Wilma has a daughter Ginger (Mrs. Jim Thorne), Jeannette has a son Christian, Delton has four boys: Dwight, Todd, Craig and Dale, and Marlyn has three children: Clyde, Gwen and Scott.
Eddie, who is married to Irene Martens, has a daughter Linda (Mrs. Russell Frank). Linda's children are Vicki, Kimberley, and Rodney.
Anna was married to Ernest Meeves, who died in 1936. They had two children, Margaret (Mrs. Maynard Albertsen) and Robert, who married Margene Johnson. Margaret has two children: Keith and Sue Nelson, and a grandson, Mitchell Nelson. Robert has three children: Terry, Janine and Travis. Anna later married William Fries.
Edna, married to Herbert Rowedder, has three children: Daryle, married to Beverly Hoffman, Myrene (Mrs. Don Vaudt), and Gary, who is married to Pam Holm. Daryle has two children: Timothy and Julie. Myrene has Sharid, Sharla and Shelley, and Gary has Brian and Janell.
Emil Meggers died January 9, 1953, and Sophia died January 20, 1930.
FRANK MEGGERS
Frank was born four and one-half miles north of Manning January 11, 1884, to Franz and Anna (Tolck) Meggers. Later he moved with his parents to a farm seven and one-half miles northwest of Manning in Iowa Twp., Crawford County.
Agnes Soll was born in Schleswig-Holstein, Germany July 27, 1894, to Hans and Elisa (Neave) Soil; she migrated to America in 1901 and settled with her parents on a farm seven miles northwest of Manning; they later moved to Aspinwall.
Frank and Agnes were married February 7, 1912, at the Lutheran church at Manilla by Pastor Hein Wendt.
They started farming near Westside in Carroll County, then farmed several farms in the Manning area; they then purchased a farm one-half
Aspinwall Coop


---
Continued from page 365


Frank and Agnes Meggers
---
mile north of Aspinwall from Wm. Ranniger in 1924. In 1951, they retired to their home in benison.
Agnes passed away Sept. 25, 1960; Frank passed away Sept. 7, 1971.
Their family members are Irene (Mrs. Lester Genzen), Manilla; Berniece (Mrs. Don Travis), Fullerton, California; Eldora (Mrs. Walter Ketelsen), Charter Oak; Donald, married to June Bargenquast of Lincoln, Neb.; Donald, who served in the Navy from November 1942 to October 1945; Milo, who passed away at five months April 20, 1925; and Norma (Mrs. Ray Bowden), of Ankeny.
Their grandchildren are Phyllis (Mrs. Virgil Denken), Denison; Daryl Genzen, Manning; Joycelyn (Mrs. Roger Koepke), St. Louis, Mo.; Beverly (Mrs. Larry Beckman), Odebolt; Royce Genzen, Montclair, Calif.; Brian and Terry Travis, Aurora, Colo.; Ann (Mrs. Jim Barnett), Des Moines; Phillip Ketelsen, Omaha; Donna (Mrs. Leo Jacobsen), Walnut; Larry Ketelsen, Charter Oak; Janice (Mrs. Gene Miller), Deloit; Ricky Ketelsen, Denison; David Meggers, Amarillo, Texas; Raymond, Jr.; Wanda (Mrs. J. C. Hamilton); Randy, Ronnie and Rodney Bowden, Ankeny; they also had 27 grandchildren and one great-great grandchild as of 1980.
Glen Haven Shorthorns -- Wm & Glen Ahrendsen


---
Continued from page 366
FRANZ MEGGERS


Mr. and Mrs. Franz Meggers and Baby
---
Franz Meggers was born January 18, 1936, in Konighbach, Holm, Germany. He was married in 1863, in Germany, to Anna Wilhelmine Tolck, who was born January 1, 1841.
They came to America in 1868, and settled in Clinton County. In 1879, they moved to a farm in Carroll County. In 1889 they purchased land in Iowa Township, Crawford County. This tract of land was purchased by two of their sons, Emil and Gus Meggers, in 1909.
Eleven children were born to them; seven died before their parents. Mrs. Meggers died November' 3, 1894. At the time of his death, July 22, 1909, Mr. Meggers had a brother, Peter, living at Denison, and two brothers and a sister in Germany.
Sons settling in the Manning vicinity were: Johannes, who married Lena Rostermundt; Emil, who married Sophia Nulle; Gus, who married Minnia Jahn; and Frank, who married Agnes Soil.
GUSTAV MEGGERS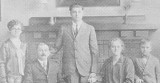 Gustav and Minna Jahn Meggers, Malinda, Johnnie and Lester
---
Franz and Anna Tolck Meggers were parents of Gustav, born Dec. 24, 1877, at Clinton. They and their children, Hannas, Emil, Gustav and Frank, came to Crawford County, Iowa Township, Section 5, in 1890.
Gustav married Minna Jahn May 20, 1904, at which time they moved to another portion of the farm, which they purchased in 1909.
To this union, four children were born. A daughter died in infancy.
Johnnie married Edna Lamaack Dec. 14, 1927. They had twins: a daughter who died at birth, and a boy, Wayne, who lives in Omaha. He has three children, Mrs. Robin (Bonnie) Chase, Cedar Rapids, Debbie and John. Malinda married Edward Erps Jan. 4, 1928. They had one son, George, who wed Leona Klocke Dec. 29, 1954. Their children are: Linda (Mrs. Craig Custer), Leroy, Lyle and Georgia. Two children died in infancy. The Custers have a daughter, Brandi Ann.
Lester married Eunice Wiese Sept. 25, 1940. They bought the home place in 1956. They have a son Gene, married to Margie Dziedzec of Milwaukee, WI, Aug. 31, 1974. Their daughter, Stephanie, is the fourth generation to live in the house Gustav settled in when he was married.
Struve Motor Co.


---
Continued from page 367
JOSEPH MERSMAN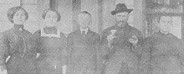 Clara Stoberl, Bernadine Kasperbauer, Johnny Mersman, Joseph and Clara Mersman, about 1912
---
Joseph Mersman came to Carroll County in 1880 and worked on farms in the Roselle area. After seven years, he returned to his native Germany and married Clara Linfeld of the West Phalen province.
Joseph brought his bride to Iowa, and they purchased a 200 acre farm two and one-half miles south of Halbur. Two children died in infancy, and fearing they would be childless, they responded to a priest's call for the adoption of three homeless children: Mary (Mrs. John Wiskus), Joseph, and Alfred. They then had four children of their own: Anna (Mrs. William Schon), Clara (Mrs. Anton Stoberl), Bernadine (Mrs. Boniface Kasperbauer), and John.
Clara remembers Indians coming to their farm, begging corn for their horses. On one such stop, one of the Indians entered the house and took Joseph's mouth harp.
In 1920, Mersman purchased 320 acres from two neighbors living three miles east of Manning. M. V. Tate and James Shea. The Stoberls and Kasperbauers moved to these farms, with each couple buying 160 acres from Mersman.
"Dena" Kasperbauer died in 1933, and left her husband and six children. Their youngest son Don bought the land and farmed there until 1974.
The Stoberls have seven children: Sophia (Mrs. Irvin Heckenliable), Valeria (Mrs. Louis Dreher), Irene (Mrs. Herman Meislahn), Reuben, Leonard, Lyle, and Norbert. After Tony's death in 1955, a second home was built on the property for Clara, who still lives there at the age of 85. Norbert has operated the farm since 1960; he later added the Kasperbauer land when Don and his family moved to Nebraska.
Croghan Construction -- Pete & Dave Croghan & Marc Arp


---
Continued from page 368
HENRY W. MEYERS
Henry W. Meyers was born December 3, 1863, in Enden, East Friesland, Germany, and his family immigrated to this country three years later. They settled in Hardin County, but soon moved to Wheatland Township, in Carroll County. On November 20, 1867, Anna Hansen was born in Eshestat, Schleswig Holstein, Germany. Ten years later her family arrived in Westside, Iowa.
Henry and Anna were married May 30, 1888, in the German Presbyterian Church, Wheatland Township. Seven children were born to this marriage: Ida (Mrs. Leo Kleespies), Tina, Helma (Mrs. Frank Hoffman), Henry, Marvin, Alfred, and Florence (Mrs. Raymond Kelsey). In 1890 they bought a 160-acre farm six miles north of Manning and in 1902 they bought and moved to a 240-acre farm one mile east of Manning. In 1912 the Milwaukee Railroad changed its tracks from south to north of Manning. This bisected the Meyer's farm and Henry, broken hearted, had a farm sale in 1913 and moved to 208 May Street. Henry died in 1941 and these two farms were kept in the family until the death of Anna in 1957. Of the sons, Henry E. was the only one to remain in Manning. For many years he was associated wtih the Manning Trust & Saving Bank and served the community in numerous fraternal and civic capacities. The Meyers' chapter of the Manning history ended in 1977 when he and his wife, Hazel, moved to Iowa City.
AMOS MISSELHORN
Amos Wm. Misselhorn was born August 3, 1920, to Wilhelm F. Misselhorn, deceased, and Maria Petersen Misselhorn of Manning. A sister, Mrs. Fern (Elaine) Davis, lives near Gray and Marion died in infancy. Amos graduated from Manning High School, served in the Navy three years, and returned to Manning to work. He has managed the State Liquor Store since 1959 and has been a school bus driver since 1962.
Rita Ann Wanninger was born Sept. 3, 1930, to Wolfgang Wanninger, deceased, and Mary Skalla Wanninger, in Audubon County. She has brothers Joseph, deceased; Bernard in Florrisant, Colorado; Leo on the home farm near Gray; and a sister, Mrs. Jack (Evelyn) Irwin of Miami, Florida. Rita attended Gray Consolidated School and beauty school in Des Moies and worked in Manning until she became owner and operator of Rita's Beauty Shop which she managed five years. She is now employed at Nelson Mfg. Co., in Manning. Amos and Rita were married May 6, 1953, at Sacred Heart Church in Manning. They have three children: Twyla, Kent and Keith.
Twyla graduated from Manning High School in 1971, earned her B.S. in 1974, and her M.A. degree in 1978, both in Recreation Education "Therapeutic" from the University of Iowa at Iowa City. She was married to Richard Kaplan March 2, 1978, and worked in Des Moines in her field several years before moving to Iowa City where her husband is a history major at the University and Twyla is a therapost for the handicapped.
Kent graduated from Manning High School in 1973 and attended Des Moines Area Community College, got a degree in Mechanical Drafting in 1975, and took a year of Architectural Drafting. He worked as a draftsman in Des Moines until returning to Manning in 1979 to work for Rasmussen Lumber Co. of Manilla. He now lives in Manning.
Keith graduated from Manning High School in 1976. He is now a bodyman for Manning Motor Co. Keith was married to Shelly Boeck of Manilla, May 6, 1978, at the Sacred Heart Church at Manning. Shelley works at the Manilla Manor and they live in the Manning area.
FRED MOELLER


Fred and Metha Moeller; back: John, Fred, Amanda, Betty, Laura, Minnie
---
Fred Moeller, son of C. John and Matilda (Johnk) Moeller, was born at Remsen September 15, 1876. In 1888, at the age of 12 years, he, his parents, sister Lena and brother Peter moved to a farm one mile east, three south, and one-fourth east of Manning. In 1892, the family moved from this place one-fourth mile east and one-half south.
Fred was married to Metha Ploen, daughter of Jochim and Dorothea (Wiese) Ploen, February 22, 1905. Fred's parents moved to Manning, and Fred continued farming. Fred and Metha had six children.
John, born August 16, 1906, married Neola Dustin March 15, 1946. They have two sons: John Dee, married Becky Hugeback; they and their children Lisa and Jeffrey live in Badger; Craig lives with his parents at Manning.
Amanda, born November 30, 1907, married Emil Sinow February 20, 1929. They have two sons. Milton married Betty Ehrichs Henkleman,
Continued from page 369
and their children are Terry Henkleman, Kansas City, Missouri; Cindy (Mrs. Rex Wegner), Storm Lake; and Tim, married to Roxanne Lowe, Aspinwall; they have two grandchildren, Travis Wegner and Robbie Henkleman. Melvin Sinow and his mother were killed in a car accident September 6, 1970, and Emil passed away June 24, 1968.
Laura Moeller, born December 18, 1909, lives at home.
Minnie, born November 24, 1911, was married to Herbert Sinow March 28, 1939. After he returned from service, he was postmaster at Gray. They have two sons: James and his wife Elayne (Johnson), Fonda, and their daughters Angela, Jennifer and Molly live at Audubon; Roger lives with his mother at Gray. Herbert passed away March 5, 1970.
Freddie was born June 16, 1914. He has farmed the home place since his father Fred passed away December 13, 1961.
Betty Moeller, born April 2, 1916, lives at home.
Fred and Metha celebrated their golden wedding February 22, 1955. Metha lived on the farm until April, 1978, when she moved to the extended care unit of the Manning Plaza. She was 95 years old September 24, 1979.
JOHN J. MOELLER


John and Neola Moeller and sons Craig and John Dee
---
John J. Moeller, son of Fred and Metha (Ploen) Moeller, was born August 16, 1906. He went to the Brookfield school in Lincoln Township, Audubon County.
John farmed with his parents until March 15, 1946. He married Neola Dustin, Gray, and they began farming one mile east, three miles south, and one-fourth east of Manning, and are living there at the present time.
They have two sons, John Dee and Craig.
John Dee was born July 8, 1946. He graduated from Manning High School in 1965. After graduation, he worked with the Audubon County Engineer until January 26, 1966, and then joined the U.S. Marines. While in service, he served 13 months in Vietnam. He married Becky Hugeback, Manning, September 29, 1973. They have two children, Lisa Ann, born July 6, 1976, and Jeffrey David, born April 5, 1979. They live at Badger, and are members of the Catholic Church at Fort Dodge.
Craig was born September 7, 1953. He graduated from Manning High School in 1972. He works at M & I Dehy, Inc., and farms with his dad. He is a member of the Manning Jaycees and was vice-president in 1980.
John J. Moeller has been active in county and township activities. He has been director of the Brookfield School, served two years as Farm Bureau director, was township clerk, and was on the F.H.A. Committee Board. He is presently township trustee and the A.S.C. Committeeman of Lincoln Township, Audubon County.
Neola Moeller is a member of the American Legion Auxiliary, the VFW Auxiliary, and the Gray United Methodist Women's Society. She has served as president of each organization.
John J., Neola, and Craig are members of the Gray United Methodist Church.
HANS MOLLER
In 1874, Hans Moller purchased the northeast quarter of section 36, Crawford County, for $6.42 an acre. He turned this land over to his brother, Peter Moller, and purchased more land in Carroll County. With additional purchases he acquired 400 acres. When Hans came to this area and purchased his first parcel of land, he plowed the rich soil with a team of oxen.
In 1878 he was married to Helena Kruse and to this union five children were born: Amanda Lage, Katie Sander, Henrietta Petersen, John Moller and Herman Moller.
I CAN REMEMBER---
The summer of 1931 when I played "slip-horn" with the Hank Dohse town band at Westside, along with John Kruse, Art Rix, Bruno Thomsen, "Curly" Jentsch and "Hip" Kienapfel, a group from Manning who drove up to "sit in" on our Wednesday night concerts. Our stage was a hayrack rigged with a string of lights. Did those lights draw bugs! We swatted them, swallowed them, even played them for notes when they landed on our music. After the concert, free drinks for the thirsty musicians at the Hiway Cafe; orange pop for the kids and a round of 3.2 percent beer for the old guys, courtesy of proprietor Lauren Stoelk, another Manning native.
-- Ida Musfeldt
Continued from page 370
MOHNS - MOHR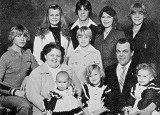 Franklin Mohr Family

Back: Daniel, Deborah, Steven, Rebecca, Michael; middle: Arlene, Jonathon, Franklin; front: Michelle, Elizabeth, Mary Ann
---
Carl Mohns was born on the island of Fehmaren in Schleswig Holstein, Germany. He was one of eight children, but at the age of fifteen he came to America by himself. He worked in the Clinton area as a farm helper and there he met and married Wilhelmina Dunzglock. They migrated to the vicinity of Manning. They lived on a farm west of Aspinwall before purchasing their own farm northeast of Manning. They had two sons, William and Herman. Mrs. Mohns passed away in 1930, Carl in 1957, and William in 1963.
Herman married Bernice Martens February 20, 1935, and they had two children, Arlene and Charles. They continued to farm on the home place until they retired to their home in Manning. Charles married Tracy Howe December 4, 1971. They live in Des Moines.
Arlene was married to Franklin Mohr, son of George and Christina Sonksen Mohr, October 3, 1954. They were blessed with nine children: Steven, Deborah, Michael, Daniel, Rebecca, Jonathon, Elizabeth, Mary Ann and Michelle. They are all members of the Zion Lutheran Church where Frank has served as Sunday School and Bible School teacher for 20 years. Arlene has been leader of the Manning 4-H Cadets for six years and the entire family is active in every phase of 4-H work. Deborah was Ak-Sar-Ben queen.
The Mohrs had a tragic fire in 1979 when their home and all their personal possessions were lost. A new home was built on the same farm place where they live. They are the fourth generation to live on this Mohns-Mohr farm.
Edwin Johnson Department Store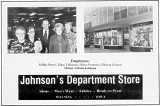 ---
Continued from page 371
CHRIS MOHR


Chris and Marie Mohr
---
Chris Mohr was born March 3, 1868 in Schleswig Holstein, Germany. Marie Nuppnau was born June 20, 1880, also at Schleswig Holstein. They were married January 26, 1898 at Manning. They were farmers, living most of their married life south of Manning.
Their nine children were: Elsie, Mrs. Pete Siem, born February 24, 1898. She is deceased; George of Manning, born August 5, 1900; Emil , deceased, born May 17, 1902; Jack, born February 12, 1904; Leona, Mrs. Herman Asmus, Middletown, born September 25, 1905; Verna, Mrs. Eddie Wegner, Manning, born February 2, 1908; Marcella, Mrs. Fred Asmus, Columbus Junction, born March 26, 1911; Chris, Council Bluffs, born October 20, 1913; and Kenneth, Minneapolis, Minnesota, born March 4, 1920.
Mr. Mohr passed away December 7, 1943 at the age of 75 and Mrs. Mohr passed away December 25, 1958 at the age of 78.
GEORGE MOHR


George and Christina Mohr
---
George Mohr, son of Chris and Marie Mohr, was born August 5, 1900. Christina Sonksen Mohr was the daughter of Jens and Dora Sonksen. She was born Nov. 17, 1905. They were both raised and educated in the Manning vicinity. February 17, 1926, they were married and moved to a farm in Lincoln Township where they lived 35 years until they retired to their home in Manning in 1963. They bought the former Les Rowedder home. God blessed them with six children: Franklin, Robert, Russell, Louise, Allen, and Sandra. They are all members of Zion Lutheran Church.
Franklin married Arlene Mohns October 3, 1954. They have nine children: Steven, Deborah, Michael, Daniel, Rebecca, Jonathon, Elizabeth, Mary Ann and Michelle. The family farms north of Manning.
Robert married Myra Schroeder August 16, 1953. They have six children: Randy, Ricky, Monica, Mark, Robin and Marcy. Randy married April on August 24, 1974, and Ricky married Judy Wenkleman May 26, 1979. They live at Oakland.
Russell married Joan Rowedder February 20, 1955. Their children are James, Jay, Jeffery and Rhonda. Jim married Cherri Ramsey August 12, 1977 and they have a son Ryan born July 26, 1978; Jeff married Mary Esdohr May 26, 1978, and they have a daughter Julie born September 27, 1978.
Louise and Terry Mischler married December 29, 1978. They have two adopted sons, Keith and Karl. They live in Citrus Heights, CA.
Allen and Lola Borkowski were married April 29, 1962, and have four children: Scott, Vaia, Lisa, and Holly. They live at Cockrave, Wisc.
Sandra and John Holtz married April 1, 1967. They have four children, two adopted. They are Christine, Johnny, Michelle and Jennifer. The family lives at Ukiah, California.
Casey Store -- Judy Musfeldt Mgr.


---
Continued from page 372
HENRY MOHR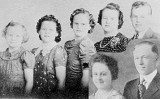 Henry Mohr Family

Back, Iva, Lila, Marjorie, Marilyn Wade (1941); insert, Lillian and Henry (1922 Picture)
---
Henry Mohr and Lillian Dethlefs were married February 15, 1922.
Henry's parents were Gustav and Helen Goetsch Mohr. Children were John, Bertha Karsten, Laura Lage, Etta Studeman, and Henry, all deceased. The parents, local farmers, came from Germany.
Lillian's parents, also from Germany, were August and Sophia Ahrens Hinz Dethlefs. Their family included Helma, Henry, Albert (World War I casualty), Lillian, and twins Laverna Hoffman and Alvera Mork. Half-brother A. H. Hinz was a lumber dealer and builder of many Manning homes. Surviving are Laverna of California, Lillian, and widows Antonia Hinz and LaVina Dethlefs of Manning.
Henry was a World War I veteran and farmer until going into the trucking business in 1929. He passed away in 1951. Lillian, a telephone operator in her earlier and later years, also worked at Priebes and other jobs. She is a life-long Manning resident.
To this union were born Marilyn, Wade (Bud), Marjorie, Lila, and Iva. All were educated in the Manning schools and still reside in the area. Marilyn and Marjorie married brothers Roy and John Whited, Denison dairy businessmen. Marilyn and Roy's sons, with their children in parentheses, are Gary, Bruce, Dennis (triplets Amy, Shonna and Brent), Craig (Benjamin and Jennifer), Kyle, Brian, and Kelvin. Children of the John Whiteds are Diana Holdsworth (Dawn), John, Marcia, and Burton.
Wade married Thelma Doyle, and their family includes Gloria Aron (Todd and Jennifer), Sandra Good, Larry (Chad, Jeremy and Andrew), Douglas, Steven (Heather), Sherri and Scott. Lila married Wayne Schroeder, and children are Linda Anderson (Quintin), Susan Stangl (Monica, Andrew and Kristi), and Debra Weis. Both Wade and Wayne have Manning trucking businesses, and Wade owns McMahon's Feed.
Iva married Orville Hinze, and their Century
Farm is north of Manning. Their children are Kathy Keller (David, Suzanne and Kenneth), Ronald, and Joni Jacobson.
Of the twenty-four grandchildren, four are still in high school. The rest have furthered their education, and only two, Douglas Mohr and Susan Stangl, live in the immediate area. But the rest visit as often as possible.
JOHN G. MOHR


John and Ida Mohr
---
John G. Mohr was born in Clinton County in 1874. He came to the Manning vicinity at the age of 16 and with his brother, Pete, farmed two and one-half miles north of Manning for three years. Then he went with his brother Chris and they farmed one mile west and one-half mile north of Aspinwall.
In 1898 he married Ida Lage. They moved to a farm two miles west and two and one-half miles north of Manning. They spent their entire lives on this farm. To this union five children were born: Emma, John, Fred, Lena and Raymond.
I CAN REMEMBER---
When the movie "Birth of a Nation" was first shown, it was booked as a road show. The tickets were $2 when movies during this time usually cost a dime. They had a 25-piece orchestra playing the background music, conducted by Paul Whiteman. The show played at the Crystal Theater for a two or three-day stand. Mr. Lou Patz, who was later manager of Republic Pictures branch in Des Moines, was the booker of that show. He told me that he remembered playing in Manning and that Whiteman was the conductor. Of course this was several years before he became famous as the "King of Jazz" and a recording star.
---Clyde Kenyon