WALTER MOHR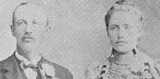 Mr. and Mrs. Walter Mohr
---
Walter Mohr was born in Schleswig-Holstein, Germany. He came to the United States in his youth and settled in this area.
In 1898 he was united in marriage to Lizzie Kuhl, a daughter of Mr. and Mrs. Claus Kuhl , who lives about two miles west of Manilla. She had four brothers: William, Henry, Theodore and Herman; and five sisters: Celia (Vollstedt), Caroline (Ehrichs), Dora (Hamman), Emma (Ehrichs), and Hulda Bargenquast of Manilla, the only living member of this family.
Walter Mohr had two brothers, Gus Mohr and John Mohr. The marriage of Walter Mohr and Lizzie Kuehl was blessed with two children, Alfred, deceased, and Edna (Mrs. Roy Hiatt).
Mrs. Hiatt's children are Chester of Tempe, Arizona; Ronald of Manning; Velma Huey of Irwin; Raymond of Ralston, Nebraska; and Priscilla Ferryman of Omaha, Nebraska.
MOHR-ENGELMANN


Fred and Lena Englemann
---
Lena Mohr was born in 1901 and spent most of her life with her folks, the John G. Mohrs. In 1941 she married Fred Engelmann. She and Fred lived with Mr. and Mrs. John Mohr and took care of them until they passed away. In 1957 Lena and Fred moved to Denison.
DUANE MONSON
Duane Roger Monson, son of Ralph and Lucille Joens Monson, was born on July 14, 1936. He was educated in the Manning schools and graduated from Manning High School in 1954. He attended the Commercial Extension School of Business in Omaha and was then employed in the office of Dultmeier Sales Co. in Omaha. In 1956 he returned to Manning to work in the office of the Manning Creamery Co. In 1961 he was hired as secretary of the Home Mutual Insurance Association. He still holds this position. Since that time he has also founded his own business, the Manning Insurance Agency, which is located at 721 Third Street in Manning.
On June 2, 1957, he was united in marriage with Janice Hagge. Janice was born February 20, 1938, daughter of Reynold and Henrietta Stoffers Hagge. She graduated from Westside High School in 1956 and attended the University of Omaha.
To this union two sons were born, Brett Alan on May 14, 1959, and Bruce Nathaniel on August 1, 1962. Brett graduated from Manning High School in 1977. He is now attending the University of South Dakota at Vermillion. Bruce is attending Manning High School and will graduate in the year of the centennial.
Duane and his family are members of the Zion Lutheran Church.
KCIM - KKRL radio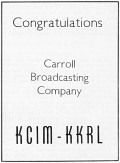 ---
Continued from page 374
RALPH MONSON
Ralph W. Monson, son of Peter S. and Florence Barratt Monson, was born on March 30, 1912, at Irwin. He graduated from Irwin High School in 1930.
Lucille Monson, daughter of Herman and Anna Jansen Joens, was born on December 24, 1914, at Clinton. She moved to the Manning area with her parents and sister Lillian (Mrs. Lester Andresen) in 1918.
Ralph and Lucille were married on December 11, 1935, and made their home in Manning. They had four chidlren: Duane, Gary, Lance and Julie.
Duane married Janice Hagge of Westside. They have two children, Brett and Bruce, and have lived in Manning since 1957. Gary married Eileen Frahm of Manning. They and their two children, Todd and Teresa, now make their home in Audubon. Lance and his wife, the former Deborah Challinor of Des Moines, are living in Des Moines. Julie and her children, Keslie and Travis, and her husband, Douglas Coppernoll, live in Madison, Wisconsin.
in 1936 Ralph purchased an oil business from Albert Puck and operated a service station on the west edge of Manning as well as running a bulk wagon service for the surrounding area. He later sold the service station to Lester Clark and in 1960 moved his tank wagon business to the Champlin station on Highway 141. In 1975 he sold the business to Lynn Stein when he was forced to retire due to failing health.
Lucille died on September 29, 1950, at the age of 35; she was a victim of the polio epidemic of that year. At that time her surviving children were 14, 10, 4 and 3 years of age. Ralph filled the role of both father and mother and raised his family. He died on January 18, 1980, after a four and one-half year bout with kidney failure.
MOORE
Joe and Martha (Richards) Moore and their nine children came to Iowa from Indiana in 1876 following the Civil War, during which Joe had fought with the Union Army and his father Gilbert had died a prisoner in Andersonville Prison in Georgia.
Joe's son, Charles Gilbert, married Isabella Dales near Botna in 1890. Isabella's parents, Andrew and Mary (Gawly) Dales, had emigrated from Ireland during the Potato Famine of the 1840's. Charley bought a farm in Section 14 of Jefferson Township, Shelby County, in 1919, from his brother-in-law, John Dales.
Charley and Isabella had four children: Wilfred, Nettie (Mrs. Walter Grau), Golda (Mrs. Ray Sanders), a long time teacher in the Manning schools; and Sylvia (Mrs. Gordon Lawrence).
Wilfred Dales Moore married Elsie Loretta Vandeman, daughter of Charlie and Nellie Mae (Holmes) Vandeman, in Botna and succeeded his father on the farm. To this union were born two children: Charles "Gale" and Beatrice Joy (Mrs. Keith Doyle) of Westside.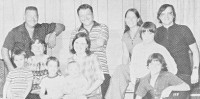 Gale Moore Family, 1979

Back: Gale, Chuck, Jackie, Butch; front: Brent, Joanne, Eric, Jan, Josh, Matthew and Mark
---
The farm, presently owned by Gale and his wife Joanne, is home for their son Chuck and family. Gale Moore and Joanne Grundmeier, daughter of Clarence and Hulda (Jensen) Grundmeier, were married Dec. 28, 1945, and had four children: Jacquelynn, Charles, Gregory (19501970), and Christie (1960-1962). Jackie, who is married to Lavern "Butch" Spieker, lives in Indian Hills, Colo., with their sons Matthew and Mark. Chuck married Janice Riesselman, daughter of Herbert and Dolores (Ocken) Riesselman, Dec. 28, 1968, and they have three sons.
In 1967 Gale and Joanne started a fertilizer business in Manning, Manning Anhydrous. They were joined in 1974 by Chuck and Jan, after Chuck had completed four years at the University of Northern Iowa and three years in the Army.
Brent, Eric and Josh, sons of Jan and Chuck, are the fifth generation of Moores to live on the farm.
WE CAN REMEMBER---
The first woman member of the Manning school board was Mrs. Rita Swander, elected to that position in 1953. The second woman to serve was Mrs. Fredda Hinz, elected in 1955.
I CAN REMEMBER---
When on a Saturday afternoon some school boy, for the sum of 25c, would walk up and down Main street ringing a bell. He would grab the clapper to silence it, and yell, "Furniture sale at the Wyatt lots right away", or, "Horse and mule sale at the stockyards right away". It was the custom in the days before the hospital was built to hold most furniture sales on this vacant lot on Main street hoping to draw more public attention.
--Elmer Mueller
Continued from page 375
Manning Agricultural Center -- Orland Fara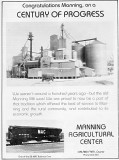 ---
Continued from page 376
DR. MORTON


Dr. Morton
---
Dr. Elmer Ellsworth Morton served as a doctor of medicine in Manning from 1944 through 1952.
A native of Eaton, Ohio, Dr. Morton was educated at Rush Medical School of Chicago and graduated from the University of Iowa Medical School.
He practiced at Vincent, Ayrshire, Des Moines, Anita and Palmer, Iowa before retiring at Palmer in 1940. The doctor shortage during World War II brought him out of retirement and to Manning in 1944.
He practiced in an office above the Mueller Furniture store. He and his wife, Sarah, resided in the home at the corner of 3rd and Sue. Dr. Morton died in Des Moines at the age of 84.
A granddaughter of Dr. Morton, the former Mary Morton of Des Moines, is now married to Roger Hansen, son of Mr. and Mrs. Alvan H. Hansen of Manning.
MOSER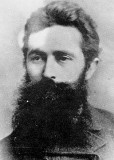 Dr. L. F. Moser
---
Dr. Louis F. Moser came to Manning with his family in 1896. A native of Austria, he practiced medicine here until his death in 1916.
His widow, Frances, continued to make her home in Manning with her son-in-law and daughter, Dan and Marie McGrath, until she died in 1964.
Dr. Moser brought two sons, Aurel and Camill, to the United States with him following the death of his first wife.
Children of his second marriage were: Albert, Marie (Mrs. McGrath), Erwin, Wanda, Melitta (Mrs. C. L. Palmatary), and Ralph. All are now deceased except Mrs. Palmatary. There were seven grandchildren. Camill Moser had one daughter; Albert, a son and daughter; and Marie, two sons and two daughters.
Three grandchildren remained in Manning -Ralph, Helen and Mary McGrath.
Ralph married Lorane Kahler of Denison (both deceased). Their children are Sandra (Mrs. Ray Sorensen), Prairie Village, Kansas (two sons); and Vicki (Mrs. Jeffrey Hannasch), Cedar Rapids (one daughter).
Helen married Ray Pratt, who came to Manning in 1940. They have four children: Carolyn (Mrs. Earl Blohm), Audubon (four daughters); Dan Pratt, Wichita, Kansas, whose wife is the former Angela Kusel of Manning (one son, one daughter); Kelly, Stuttgart, Germany; and John, a college student.
Mary married Arved Stangl, a Carroll County native reared in Canada, who returned here following World War II. Their children are: Catherine, Titonka, Iowa; Mike, Manning; Teresa, Worthington, Minn.; John (deceased); and Tom and David, Manning. Mike and his wife, the former Becky Doonan, have one child.
WE CAN REMEMBER---
During World War II, according to civilian defense plans, each town had blackout practices. At a pre-arranged time and night at the sound of the siren every available light source in the town was extinguished. We would park at the top of the high hill on the first east and west cross-road at the north edge of town and watch Manning disappear into utter darkness.
Continued from page 377
HENRY MUELLER
Henry Mueller was born in Heiligenhafen, Germany.
At age 13 he came to the United States to an uncle in Davenport, where he attended the Davenport School of Business. In 1892 he started a furniture and undertaking business in Manning. In 1895 he married Anna Wiese, daughter of Detlef and Margaret Wiese. They had one son, EImer.
Elmer was born in 1912 and married Anice Pat Loehr, daughter of Nicholas and Leonora Kuhl Loehr of Defiance. They have continued the furniture business. Their children are Ann, Judy, Kay and Bob.
Ann is a school psychologist and lives in Emmetsburg.
Judy, married to Tom Broich of Lake View, works for a University; and lives in Columbia,
Kay married George McNary of Omaha. They have one daughter, Sarah. Kay is a registered nurse.
Bob works at the furniture store and lives at home.
JOSEPH MUHLBAUER


Joseph and Johanna Muhlbauer Family
---
Joseph Muhlbauer was born in Bavaria, Germany in 1867 and came to the United States at the age of 23 years. He worked in the Halbur area and in 1892 he married Johanna Schillinger, also of Bavaria, Germany, and they farmed in the Halbur area. On September 30, 1897, he filed for naturalization papers and renounced forever allegiance to the Emperor of Germany, to whom he was a subject. To this marriage the following children were born: Charles, Joe, Katherine (Mrs. Henry Reisselman), Francis (Mrs. Anton IrImeier), Cecelia (Mrs. Joe Reisselman), Elizabeth (Mrs. Frank Herbers), Jenny (Mrs. John Singsank), Anna (Mrs. Joe Hugeback, Sr.), Frank, and Mamie (Mrs. Clarence Fangman). All were engaged in farming.
Charles, the eldest, married Mary Stoberl of Bavaria, Germany on January 7, 1913, at St. Augustine Church in Halbur. She came to the United States at the age of 18 to be with her brother, Anton Stoberl. After their marriage, they lived on a farm in Washington Township, and later purchased it. They continued living there until retiring to Manning in 1948. Mary passed away July 30, 1958, and Charles, May 28, 1965. They were members of the Sacred Heart Church in Manning.
To them the following children were born: Charles, Jr., Halbur; Henry, Wichita Falls, Texas; Joseph J., Manning; Sophia (Mrs. Wayne Kuhse), Long Beach, California; Anthony, Arcadia; William, Manning; Marie (Mrs. Victor Wendl), Willey; Louis, Manilla; and Rose Anne (Mrs. Wesley Nulle), Manning. A son died in infancy.
There are 55 grandchildren and 65 great grandchildren.
JOSEPH J. MUHLBAUER

Joe and Erna Muhlbauer and children Mary Ann Friedricksen, Joleen Strosahl, and Elizabeth Eckhoff
---
Joseph J. Muhlbauer was born at Halbur on August 28, 1918, to Charles and Mary Muhlbauer. He attended St. Augustine School in Halbur. After completing school, he helped with farm work and later attended aircraft school and worked on aircraft in New York for several years. He was also in the New York State Guard for two years.
In 1948 he married Erna Frees of Irwin. She was a daughter of Henry and Anna Frees and was born November 15, 1926. She graduated from Irwin High School and attended Iowa State Teacher's College. She taught school in Shelby County for two years prior to her marriage. After their marriage they began farming northwest of Manning. In 1953 they purchased a farm three miles north and one-half mile west of Manning. They lived there until they retired to Manning in 1978. They are members of the Sacred Heart Church in Manning.
They have three daughters: Mary Ann (Mrs. Mark Frederiksen), Atlantic; Elizabeth (Mrs. Allen Eckhoff), Beatrice, Nebraska; and Joleen Kaye, who is engaged to William L. Strosahl.
Continued from page 378
WILLIAM J. MUHLBAUER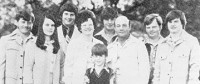 Wm. J. Muhlbauer Family

Jim, Lois, Leon, Iola, Dale, Bill, Allen, and Neil; front: Chris
---
William J., son of Charles and Mary Stoberl Muhlbauer, was born March 18, 1928. After attending school at St. Augustine, Halbur, he worked on farms in the area until joining the U.S. Marine Corps during World War II. He saw action in the Pacific and was wounded in the battle at Iwo Jima.
He was united in marriage to Iola O'Toole, daughter of Peter and Barbara Schulte O'Toole, Carroll, March 30, 1948. They live on the home farm place where he was born.
To this union nine children were born: Allen, Lois, Jim, Leon, twin daughters who died at birth, Dale, Neil and Chris.
Allen, who farms, is married to Paula Warner. They have two children, Brian and Brenda.
Lois (Mrs. Robert McCarty) lives on a farm near Peterson. They have three children, Jenny, Chad and Laura.
Jim, married to Jerri Gaer, is a farmer and they have two girls, Mindy and Missy.
Leon, a salesman, lives in Carroll and is married to Denise Snyder. They have a son, Matthew.
Dale, of Gillette, Wyoming, works in the oil fields and is married to Gayle Eischeid. They have a son, Nicky.
WE CAN REMEMBER---
The 1933 Bulldog baseball team lost in the finals of the high school state championship to New Providence. The roster included Harlan Hinz, pitcher; Art Schrum, catcher; Detlefsen, 1st base; B. Schrum, 2nd; Petersen, 3rd; Enenbach, shortstop; Boock, left field; K. Dethlefs, centerfield; and Bingham, right field.
John R. Hornberger, M.D.


---
Continued from page 379
MUNDT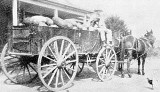 August Mundt
---
August and Eileen Mundt, both lifelong residents of the Manning area, live on their 240 acre farm four and three-quarters miles north of Manning.
Mrs. Mundt, formerly Eileen Rothfolk, was born and raised on a farm owned by her parents, James and Sophia Rothfolk. The Rothfolks moved to Manning from Minnesota around 1914. The Rothfolk farm, three and three-quarters miles south of Manning, is now owned by Eileen's brother and sister, Norman Rothfolk and Delores Fastji. Eileen's grandparents, August and Mary Grau and Peter and Emma Rothfolk, also lived in the Manning area.
August Mundt has lived his entire life on the same farmplace where he was born north of Manning. Eighty acres of the farm he now owns was originally purchased from the Iowa Railroad Land Company in 1873 by Claus Mundt (no direct relation). August's father Heinrich, later Henry, Sr., moved to Manning from near Schonberg in the Holstein region of Germany in the late 1800's. He bought the land from Claus Mundt in 1898. Since August bought the land in 1957, the land has now been in the same family for 82 years and has been under the Mundt name for well over 100 years; August bought the land in the early 1970's.
One of the buildings on the Mundt farmplace has a historic background. In 1959, August bought the old Northwestern Railroad depot in Manning, had it dismantled and rebuilt on his farm, where it's now used as a garage.
In the '20's and '30's, August "witched" and tested for water and dug water wells throughout the rural Manning area; many of the wells are still in use. Initially, the wells were dug by hand; but in 1931, the work was made easier when August bought a horse-operated well-digger. In the mid 1940's, August also served as director of Washington Township School District #9.
August and Eileen married in 1938. They have five children: Lenus in California, Paul in Tennessee, Janis in Nebraska, Lyle in South Dakota, and Larry of Clarinda.
HENRY MUNDT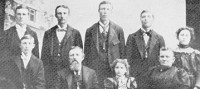 Henry Mundt Family

Back: Claudius, Gus, Ferdinand, Herman, Augusta; front: John, Henry, Amanda, Anna
---
Henry Mundt, the son of Joachim Mundt and his wife Chartarine Rhoeding Mundt, was born March 30, 1849, in Stakendorf in the Probstei in Holstein, Germany. He worked as a farmhand until the age of 19 when he came to America.
In 1871 he and his brother Joachim rented a farm in section 14 of Washington Township and moved here in December of the same year.
Henry Mundt and Christine Hass were united in marriage in October, 1875. To this union seven children were born, of which two passed away in infancy. The remaining children were: Gustav of Glidden; Herman of Cozad, NE; Ferdinand of Viola, WI; Augusta of Waterloo; and John of Manning. The happiness of this family was saddened when the mother passed away in 1887.
In 1888 Mr. Mundt was united in marriage to Anna Ewoldt, who had immigrated to America also. Claudius and Amanda (Mrs. Albert Puck) are the children born to this couple.
In 1904 Mr. Mundt retired from active farm life and purchased a home on Ann Street. He enjoyed his retirement by visiting with old cronies and taking long walks every day. Since he had watched Manning grow from the virgin prairie into a productive farming center, he had many stories to relate. He truly was a pioneer citizen.
WE CAN REMEMBER---
If a member of a family got a communicable disease such as scarlet fever, measles, diphtheria the entire family would be placed under quarantine. The city marshal would come to the Monitor and they would print a sign with the word "quarantined" in black six-inch type on a yellow 8x22 card with the name of the disease in smaller letters above it. This would be fastened to the front of the home and no one could enter or leave the house during the time of sickness.
Continued from page 380
HERMAN P. MUNDT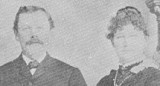 Mr. and Mrs. Herman P. Mundt
---
Herman P. Mundt was born in Fiefbergen, in the Probstei, Holstein, Germany, and came to the United States as a child with his parents, where they settled in Clinton County. While there, he met Catherine Ronnfeldt; they were married on November 16, 1883. The couple settled on a farm five and one-half miles north of Manning on the three-mile house road, where they lived until 1907. They moved to Manning and he became president of the old German Savings Bank. This bank is now the Manning Trust and Savings Bank.
Their only child, Malinda, who was married to Emil Martens, lived on the same farm. She died July 18, 1926.
In 1933, the Mundts celebrated their golden wedding. She died November 18, 1939, and he died six weeks later.
ALBERT MUSFELDT
Albert, son of John and Minnie Hell Musfeldt, and Arlene, daughter of John and Mary Ann Mc Elwaine Lohmeier, live at 58 Ann Street. Both were raised in the Manning area, and have always lived in or near Manning.
After their marriage in 1937, they farmed north of Manning for 12 years; they moved into Manning in 1949.
Albert worked at Frahm Motor Co. until 1954, then was employed by Dultmeier Manufacturing. In 1962, he became part owner in the business, which was then known as MJM Enterprises.
He sold his share of the business in 1980, and is now semi-retired and works part-time for the company.
Arlene has been employed in the grocery department of the Hansen-Pahde Store, at the A & G Grocery, and for the past 15 years, has worked at Mueller Furniture.
Manning Equipment Repair -- Gene & Harvey Dales


---
Continued from page 381
JOHN MUSFELDT


John and Anna Musfeldt
---
John and Anna Nuttlemann Musfeldt were born in Schleswig, Holstein, Germany, and married in 1875. At the age of 19, he was inducted into the Marines. He served from 1869-1873, a time when difficulties between Germany and France were settled by war. After being discharged from the Marines, he accepted a position as ship-wright and beacon tower guard at sea.
In 1882 they and their children John, Fred and Kate came to America. They felt this country offered better opportunities. Upon landing they went to Westside and soon made their home in Aspinwall where they lived nine years and John was a carpenter.
They began farming and lived on several farms in the area before buying their farm south of town. Soon John's health failed and he died in 1903 leaving Anna with a large family. She continued to live on the farm, retired to Manning in 1920, and passed away in 1944.
Six children were born to them: William, Julius, Hans, Frank, and Louie; all have resided in the Manning area as farmers. A son Henry died as a young boy.
JULIUS MUSFELDT
Julius Musfeldt was born July 22, 1885, to John and Anna Musfeldt; Emma Joens was born May 7, 1892, to Jurgen and Catherina Joens; they were married February 12, 1912. Both families were of German descent. They moved to their farm north of Gray after their marriage and lived there until 1950, when they moved to Manning. Two sons were born to this union: Leroy, born March 8, 1913, and Alvin, born March 19, 1922.
Leroy Musfeldt graduated from the Gray High School in 1930. He married Verna Schroeder, daughter of Pete and Mae Schroeder of Gray, June 2, 1936. They lived in Scranton and Jefferson before moving to a farm southwest of Gray in 1940. They moved to the Leroy Musfeldt farm, as we now know it, in 1948. They had four sons: Lauron, born March 17, 1937; Ralph, born May 20, 1941; Dale, born June 30, 1944; and Roger, born January 17, 1954. Leroy died suddenly April 3, 1979. Verna is living on the farm.
Lauron married Beverly Fischer, daughter of Elmer and Irene Fischer of Cherokee, June 24, 1963. They now live in Buffalo Grove, Illinois, with their two children, Janice and Jim.
Ralph married Betty Rupiper, daughter of Victor and Helen Rupiper of Carroll, June 8, 1968. They now live in Boulder, Colorado, with their three children: Shauna, Curt and Brian.
Dale married Georgia Brus, daughter of Arnold and Luella Brus of Manning, May 29, 1966. They now live in Ankeny with their three children: Mike, Jennifer and Sarah.
Roger married JoAnn Borkowski, daughter of Lloyd and Ester Borkowski of Manning, December 27, 1975. They now live in Omaha with their son Aaron.
Alvin Musfeldt graduated from the Manning High School in 1939. He helped his father on the farm after graduation until he married Clara Wiley, daughter of Fred and Clara Wiley, May 24, 1949. They assumed the responsibility of the family farm as Emma and Julius moved to Manning. They had four children: Cynda, born April 13, 1950; Vickie, born December 14, 1952; Randy, born February 10, 1956; and Ricky, born July 23, 1962. Clara died suddenly August 30, 1974. Alvin is living on his farm with Ricky and Randy.Cynda married Merle Juhl, son of LaVerne and Lillian Juhl of Irwin, August 15, 1970. The are living in Madrid.
Vickie married Earl Steffes, son of Edward and Frances Steffes of Gray, July 17, 1976. They are living in Gray with their son Eddie.
WE CAN REMEMBER---
"Potato John", Peter Brehmer, was a wellknown eccentric who lived in hillside caves or huts in the early 1900's. At one time he lived in a hillside cave on the Clarus Heithoff farm southeast of Manning at which time he worked for various farmers in that area. During his later years he lived in a cave or but in the side of the old Milwaukee railroad bank several hundred yards northwest of the present Casey's Store. He had been doing chores for Mrs. Eden at the Virginia Cafe and when he failed to appear one day she notified Marshal Brandhorst, who investigated and found him dead in his shack. His nephews, Emil and John Brehmer, took the body to Hartley, Iowa, for burial. Potato John was so named because each year he raised a patch of potatoes. He was born in Germany and died at the age of 81 years and had lived here since 1900.
Continued from page 382
LOUIE MUSFELDT


Mr. and Mrs. Louie Musfeldt, 1922
---
Louie Musfeldt, son of John and Anna Nuttleman Musfeldt, and Laura Schroeder, daughter of Jasper and Alvina Schroeder, were married Feb. 22, 1922. They farmed south of town in Shelby County. Laura died in 1934 and Louie continued to farm until 1947 when he retired to Manning. They had three children. Merlin married Delone Brockman May 26, 1946, and lives in Lake Havasu, Arizona. Phyllis married William Opperman Sept. 7, 1952; they farm four miles north of Manning. After the death of her mother, Phyllis made her home with William and Edna Vollstedt. Louis, Jr., died of leukemia in 1931. Louie died in February 1977.
Merlin has two children: Jeffrey (married Ida Melene Crosbie Jan. 30, 1976), a pilot for Braniff Airlines, and Laurel (married to J. Stephen Wenger May 24, 1971), a pharmicist. Laurel has two sons, Chad and Ryan.
Phyllis have five children: Debra (married Ronald Determan May 20, 1978), a pharmacist; Janis, Robert, Beth and Paul.
Jeffrey, Laurel and Debra are graduates of the University of Iowa. Merlin and Bill both have served on the Manning Community School Board. Merlin was on the board when the grade school was built in 1964 and Bill the high school in 1972.
Continued from page 383
PHILIP L. MYER
Dr. Philip L. Myer moved to Manning in August, 1973. He was associated in general practice with Dr. W. P. Chandler in the Anderson Clinic until 1976, when Dr. Chandler moved to Colorado and the clinic's name was changed to the Myer Clinic.
Dr. Myer is a 1957 graduate of the Beebeetown Consolidated High School. From 1960 until 1965, Dr. Myer worked as a freight claim adjustor for the Union Pacific Railroad. He attended the University of Omaha for one and one-half years, and the Dana College in Blair, Nebraska, for three years. He completed his medical training at the College of Osteopathic Medicine and Surgery in Des Moines.
During college, Dr. Myer was treasurer of the Undergraduate Academy of Applied Osteopathy; a member of Sigma Sigma Phi national honorary fraternity, serving as its vice-president; president of his senior class; a member of the Atlas Social Fraternity; and of the student American Osteopathic Association.
He came to Manning following a one-year internship at Madigan Army Medical Center, Ft. Lewis, Washington. He is a member of the staff of Manning General Hospital, St. Anthony's Hospital, Carroll, and the Crawford County Memorial Hospital, Denison.
He and his wife Janet have four daughters: Beth, Edith, Barbara, and Jean. Mrs. Myer had been a high school science teacher for eight years before coming to Manning, and resumed teaching duties at Manning High School in 1979.
H&R Block -- Harold Schmidt