Floods
May 15 after 2.5 inches of rain upstream.
May 23 there was a 1.5 to 2 inch rain upstream.
May 28 we had the worst hailstorm ever in our area.
June 11, 1998 Flood
The 4rth and worst one this year.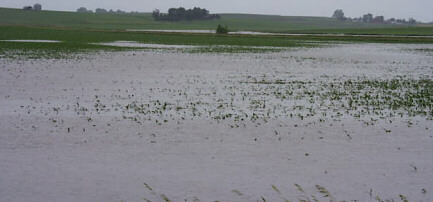 Flood from 1.5 inches of rain in about 1.5 hours up north

The above and below picture shows the CRP Filter strip.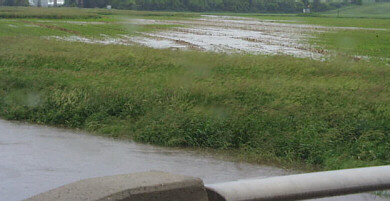 The Switch Grass and Reed Canary Grass are holding the trash back from our Soybean field.
It is interesting that the Filter Strip is intended to filter water from the fields to the creeks but the filter strips have saved us on the first 3 floods by filtering from the creek to the field but this last one was too much.

Most farmers that replanted after the May 28 hailstorm tilled their fields and unfortunately the rain did some more tillage.
We replanted our fields No-Till after this hailstorm.
The erosion in our area is the worst since the days of Plowing.

Back to Main Farming page
Back to Flood Page