Klein Offenseth, Germany 1996.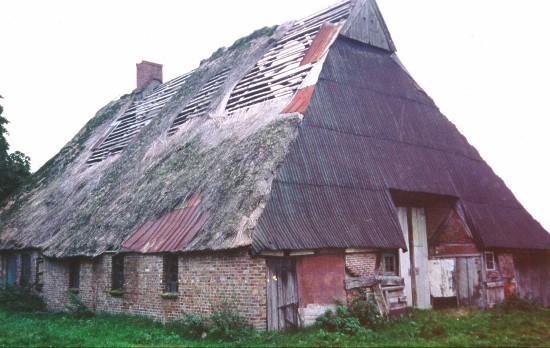 In 1996 Harold Schmidt & Dan Peters went to Germany to observe the dismantling of the Hausbarn which would eventually be shipped to Manning.
The picture above shows what the Hausbarn looked like before it was dismantled.
This end of the Hausbarn in the picture is the present day north entry.

Note from Dan Peters:


1996: As I recall, early in the summer we were informed that the barn was now available and dismantling would soon begin. Paul Wagner was instrumental in making arrangements. Paul is a German citizen employed by the Iowa Dept. of Economic Development, with his office in Frankfurt.

Subsequently, we heard the dismantling would begin on August 2.
I suggested that someone should go over and make sure that everyone involved was on the same page and that there were no misunderstandings. Since I was the only one with no job obligations, I volunteered to go. Harold heard I was going and asked if he could go along. He had not been to Germany and wanted the experience and also to visit where family had come from. I agreed he could come along.

We arrived in Frankfurt on Friday. Paul Wagner met us and we went to his office. His office agreed to contact shipping companies for bids. They contacted 3 or 4 and before I left Germany I had accepted the low bid (of $7600, I think)

Paul and Carol(his wife) got us settled in a Gasthaus and we rested on Saturday. On Sunday, Paul took us north to Klein Offenseth. We spent the night at Krempe and went to the Hausbarn on Monday Morning.

Monday A.M. we met Claus Hachmann for the first time and the German Dismantling crew was there at work. The crew was paid by the German Government as a part of their employment program and I think arrangements were made by Paul.

The workers came to West Germany from East Germany and beyond after the wall came down. The West German Government made work for these refugees and the foreman spoke some English, but none of the workers did. They drove back and forth from Hamburg every day.

Paul went on his way and we photographed the work for a couple of days, house guests of Claus and his mother Paula.

During this period, Claus took us to the Schleswig Holstein Outdoor Museum at Molfsee. We viewed many historic hausbarns and other buildings. Dr. Johannsen was the Ex. Director of this facility, but he was on vacation at the time, so we did not meet him at this time.

The museum staff referred us to Kuhlsen and Milz on the Island of Fehmarn for a roof reed source. We went there and met George Milz who hence became our supplier of reeds. He showed us around and made me aware of the process for getting reeds to Manning. We kept in contact the next couple of years while we were preparing to build the barn. His cooperation was invaluable in supplying the reeds at the right time and getting roofers lined up to do the job.

Harold and I then picked up our rental car at Elmshorn and went on our way. We visited places where family had come from and did a little touristing. After a few days we returned the car and Claus took us to Hamburg where we departed for the USA.
Dan Peters
---
In 1997 Jon Ahrendsen & David Kusel visited Germany and they drove to the town of Klein Offenseth where the Hausbarn was originally located.
Below: David Kusel standing by the Offenseth sign.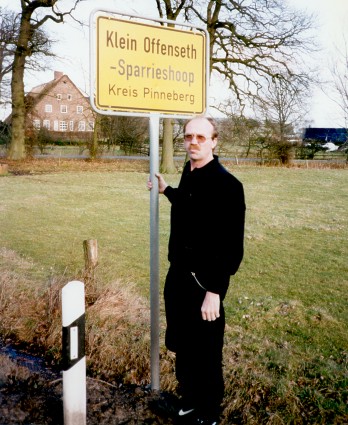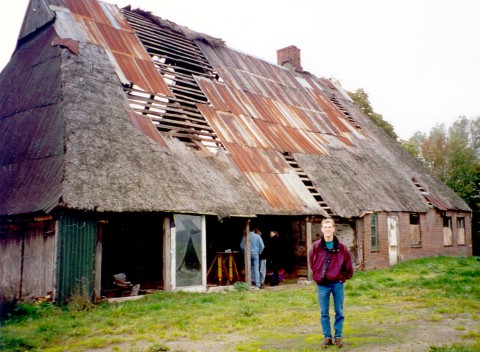 Brandon Puck visits the Hausbarn in Offenseth
Brandon is the son of Ken & Joelle Puck.