Anna (Rott) Stoehr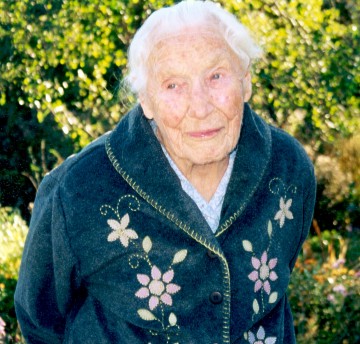 Picture taken October 15, 2003
on Anna's 103rd birthday
(Anna turned 114 on October 15, 2014)
Born October 15, 1900 -- Passed away December 21, 2014
Baptized October 15, 1900 at her home
Last Trinity Church member baptized in 1900
Parents are Carl & Bertha (Borkowski) Rott
Sponsors are Johanna Rott (grandmother of Anna) and Adolph Elias
Anton Ehlers ---- Pastor
---
Many thanks to Anna Stoehr for providing the Stoehr & Trinity church dedication pictures.
Dedication of new church in October of 1913.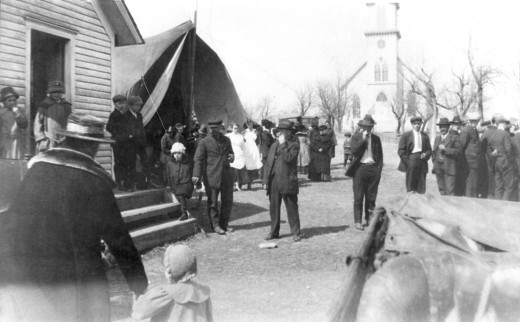 The original church was blown down by the "Omaha, NE." tornado March 23, 1913.
Note the School house on the left side.
---
As recorded from the official Trinity Lutheran Church record book which survived the tornado.
Destroyed by Tornado
This church was totally destroyed by a tornado on Easter Sunday, March 23, 1913, the same storm that laid part of the city of Omaha, NE in ruins. This was a severe loss for the members of Trinity, but they set to work with a will and erected a more beautiful and vastly edifice on the ruins of the old. This new church 36 x 72 feet in size with a spire 92 feet high was dedicated on October 26, 1913.
The pastors who have served the congregation subsequent to the work of Rev. Oehlert and Mallon are: Rev. F. Ehlers, 1881 - 1882; Rev J Deckmann, August 13, 1882 - December 1886; Rev. A. Ehlers, 1887 - August 1906; Rev. J.P. Guenther, September 2, 1906 - January 26, 1913; Rev. E.J. Stark, 1913 - 1918; Rev. J Schliepsiek, October 1919 - November 1924; and the Rev. Hugo Nieting, who has served the congregation since February, 1st 1925.
Has 280 Members
The present membership of the church is 280, including 180 communicants and 35 voting members. In addition to the Sunday School, the church maintains a Christian day school.
The attendance at the parochial school during the last term was 19, while the Sunday school has an enrollment of 42. There are several active societies in the congregation, including a ladie's aid society, mission write and Walther League.
The officers of the church are; Albert David and August Kienast, elders: Fred Rudnick, Fred Shultz, and Emil David; trustees: Ernest Mutschall, president Herman Kienast, secretary and Henry Asmus, treasurer.