e-mail Dave Kusel IDs
Could this be Hinrich & Lena (Jahn) Kuhl?

Ferguson studio out of Denison

Page 245 of the Aspinwall Centennial book
H.E. AND LENA KUHL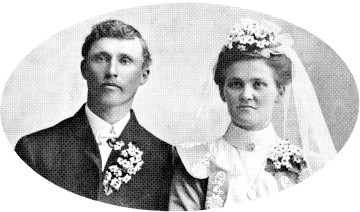 H.E. and Lena Kuhl on their wedding day, March 23, 1904

Hinrich Edmund "Ed" Kuhl was born February 14, 1878, in Iowa Township, one mile west and 2 1/2 miles north of Aspinwall, the son of Marcus and Anna Kuhl. Marcus was one of the first settlers in Iowa Township. He purchased 160 acres of prairie March 23, 1875, and later added 640 acres from the surrounding area. His first home was a cave in the side of a hill; several years later, a small house was built when Anna Kuhl came from Germany to be married. This farm is still owned by a granddaughter, Norma Lamaack.

Ed received his education in Iowa Township School District No. 2, in the same building where later all his children and two grandchildren attended school. Ed attended Manning High School and a year at the Denison Business and Normal School.

Lena Jahn was born March 1, 1881, in Hayes Township, 2 1/2 miles west and 4 miles north of Aspinwall. She was the daughter of Paul William and Catherine Lemster Jahn, who both came from Germany with their parents when they were still children. Grandfather Jahn came to Hayes Township about 1879 and located on 80 acres of prairie; he later added nearly 360 acres to the farm. Lena's preliminary education was received in the rural schools in Hayes Township and later she attended public school in Westside while helping in the home of her aunt, Mrs. Herman Martens.

March 23, 1904 Ed and Lena were married at the home of the bride's parents. They moved on a farm a mile west from his parents and they continued to farm that same place until his death in a car accident May 18, 1960.

Mrs. Kuhl remained there, making her home with her son Marcus and his wife Alice, who were farming the place. She entered the Manning Plaza in June, 1965, where she passed away August 31, 1977.

In 1967 Melvina, husband Ray Vollstedt and son Paul moved on the farm; Melvina passed away and Ray and Paul remained there until the farm was sold in 1979. Ed and Lena had a family of three sons and three daughters. Elsie and her husband Hugo Wilhelm live at Manning; Herbert is deceased; Melvina (deceased) was married to Ray Vollstedt; Marvin (deceased) was married to Leola Thiedeman; Marcus and his wife Alice Gawley live in Denison; and Kathryn, widow of Virtus Vollstedt, lives in Manning. There are 13 grandchildren, 32 great-grandchildren and one great-great-grandchild. They were members of Zion Lutheran Church of Manning. Mrs. Kuhl was a busy housewife and homemaker. Her big interest was in gardening and she had a great love for flowers. In early years she loved cooking for her family and many hired men, and she did a lot of sewing for her family. She was a member of the Aspinwall Lutheran Ladies Aid and a charter member of the Happy Hour Club.

Mr. Kuhl was always interested in community affairs, was President of the schools of Iowa Township and director of Iowa Township No. 2 for a number of years. He served as director of the Home Mutual Insurance Association of Carroll and surrounding counties for 20 years. He also was very active in Farm Bureau work for many years. When the R.E.A. was established in 1936, he served as one of the first directors on the board and continued in that capacity for seven years. Aspinwall was their closest trading center and in the years before the advent of truckers, many of the cattle and hogs he raised for market were shipped by rail to Omaha and Chicago. The loading was done in Aspinwall.