My pictorial perspective using local historical images and information that might give some insight into today's societal problems.
Believing in My Freedom of Speech, I have added more of my perspective at the end of this feature.
Scenes from our past...Recent scans from the Kuhl collection.

Back: Elsie Kuhl
Front: Helen Jahn, Herman Peper, Johnnie Jahn, Viola Peper, Marvin Kuhl

Elsie, Herbert, Melvina, Marvin, & Marcus Kuhl - pony "Cupid"

Elsie, Herbert, Melvina, Marvin, Marcus, Kathryn - Kuhl kids June 1917

Left: Herbert, Melvina, Elsie Kuhl
Right: not sure who is who - Johnnie Jahn, ??, Malinda Meggers

Marcus & Kathry Kuhl - Lester Meggers

Kuhl kids: Kathryn, Marcus, Marvin, Melvina, Herbert, Elsie
While working with a relative of mine on our family ancestry, she shared this amazing piece of history from the other side of her family.
Keep in mind this is from 1928.

The Family Circle
Paper read by Jacob Billing, at the first Billing family Reunion held at the Sidney Fair Ground, Sidney, Ohio, on Sunday August 19, 1928.
Following the custom of other families the Billing relatives decided to meet as a family circle for the first time this afternoon here at this beautiful Fair Ground and refresh the memories of days long past and gone and to assure each the other of his high esteem and continued friendship for the years that yet may lie before us.
The family is the unit of civilization. Not only is it the unit of civilization but it is the test of civilization for the stability and integrity of any nation or race is in direct proportion to the sanctity and coherence of its family group. This is a strong statement, but is verified by the testimony of all experience, observation and history. This then being true, the cultivation, development, and elevation of the family ideal should be paramount and have the right of way, always consuming our best thoughts and noblest energies. A broken family is a diseased cell in the organism of society. To prevent and heal these breaks is the only hope of a loftier race. To the task of conducting and disciplining in righteousness and justice the affairs of the family, every parent who has the welfare of the state at heart, as well as his own happiness and well-being, will unstintingly give of his best efforts. The peril of the family is the peril of the nation. Remove family perils, and, at once, national perils are vanquished. Maintain the integrity and sacredness of the family idea, and the nation is safe.
Not only does the family reunion satisfy the normal, natural, craving for fellowship of one's own, but it arouses pride in one's ancestry, and pride in one's ancestry is no mean asset. It has saved many a man from dishonor and ruin. He would not yield to temptation because it would bring a blot on his family name. Normally man is proud of his blood and name and delights to keep them unsullied. Frequently coming into contact with the whole family will make him more interested and careful to perpetuate the good name and standing of his people. To see his own people, by scores, and perhaps, by hundreds, and coming in contact with the best men and women of the family name has a very wholesome influence for good upon all, and no one should fail to avail himself of the opportunity to be present at his family reunion. By all means, make it possible for the young to attend. It will arouse in them a desire to "make good" as they realize the toils and privations of the older ones who have made it possible to have and enjoy such delightful occasion.
As father and grandfather recount the experiences of Pioneer life and the difficulties of "getting a start," in life, appreciation, and pride will swell the bosoms of the younger listeners, causing many mental resolutions to "go and do likewise" and make a worthy place for themselves in the world. Many silent observations and comparisons are made with the result that more strenuous and more efficient efforts are decided upon for the largest success in life.
And then what memories these family reunions revive. They are rich in memories to unseal life's secret springs. Memories of the old home. Memories of father and mother, perhaps, long gone to their eternal reward. Memories of play-days with brothers and sisters who also have passed to "that borne from whence no traveler e'er returns," and the tears lay very shallow. There are memories of joys and sorrows, but after all, valuable, as a rich contribution to aid in life's tasks and life's pleasures.
And then, somehow, we cannot help but think that the homeowner can more easily measure up to that great word - the one word since the Great War - the word Americanism. That word came from the crucible of strife, from the white heat of battle, and from the shock of opposing armies. It is the most vital word at present in the English language. In it are crystallized the hopes and faith and unselfish love of mankind. It stands for the support of right against wrong, of good against evil, for justice against injuries. It stands for all of this and much more. It is the one word that expresses all that is good and fine that is in the heart and mind of America, and, somehow, it does seem that a man who owns a part, be it ever so small and humble, who really owns a part of this great American soil, who can call a part of it "his very own", and feel that a part of it is his, must ever remain a more intelligent, interested, and law abiding citizen than he would have been without a knowledge of that ownership. The family reunion will foster and develop all this fine home-owning sentiment which is so necessary to produce the citizen who can in every way qualify as a thorough American.
Scenes from our past...scans from the Koester collection.
1918 Iowa No. 2 country school patriotic program - Leona Evers, teacher


Art Kruse, Ed Kruse, Henry Schroeder, Wilber Anthony, Herbert Kuhl, Ed Meggers, Harry Koester

1916 patriotic day Iowa No. 2

Harry Koester 1924

Picking cherries 1918

Patriotic celebration - Iowa No. 2

4-H days celebration in Manning 1934

Written on back of the picture "The Last Roundup"

Koester family cutting up firewood

Herman, Julius, Harry, Amanda 1917
1920 Iowa No. 2 sack race


William Anthony, Chris Ehrichs, Gus Koester, Ed Georgius, Emil Meggers, Ed Kuhl, Louie Ehlers, Willie Meggers

Scenes from our past...Manning's schools


1960s Manger scene - school yard along Highway 141

Mrs. Golda Sander third grade students in their Easter hats - 1960

1948 Iowa No. 8 Christmas program

Washington No. 5 Christmas program

1916 Warren (Ewoldt) No. 8 Christmas card

National Honor Society 1965

1977 National Honor Society

1961 M-Club

Quill & Scroll 1969

Pep club

Boys' Quartet: Jerry Knaack, Charles Schelldorf, Bill Roberts, Robert Koch

1954 Boys' Quartet: Allen Rix, Lyle Frahm, Roland Valentine, Duane Monson

1973 Manning High School gun safety and cleaning class

1974 Fellowship of Christian Athletes

Ron Frahm - Boy's State

1974 Boy's State

1943 Baccalaureate


1963
Science Club

Back: Calvin Kruse, Orlo Nissen, Wayne Hargens, Ivan Opperman, Dick Morrell, John Miller, Sheldon Book, Bill Meggers
Middle: Phyllis Pfoltner, Marilyn Mohr, Dorothy Welch, Joy Moore, Maxine Bauer, Ellen Fielweber, Virgene Schacht
Front: Elnor Vannote, Lola Hansen, Edna Buschman, Pearl Armstrong, LaVerne Meyer, Dorothea Schrum, Maurine Wegner




Scenes from our past...3 Schuetzen Vereins (marksmen's club)
Manning Schuetzen Verein, 3 Mile Verein, 5 Mile Verein


Manning Schuetzen Verein 1882 constitution

Manning Schuetzen Verein ribbon 1882

Manning Schuetzen Verein - later known as the Firemen's Hall

Children's Day King shoot dance 1950

Children's Day King shoot Robert Hoffmann, left - Phil Knaack, right
in basement of Firemen's Hall

H.D. Radeleff gun club park late 1890s

Great Western Park - shooting club

Louie Mundt & Wayne Snyder started this gun club which is now the basement of Cliff's Place.
Wayne Snyder was the Chief of Police before Marvin Gaer.

3 Mile Schuetzen Verein - 3 miles north of 141 on West Street

5 Mile Schuetzen Verein - Hayes Township, Crawford County

5 Mile Schuetzen Verein - 1988 Gordell Lamp

5 Mile Schuetzen Verein

5 Mile Schuetzen Verein

1952 Christmas - target game

1988 grade school fair - B-B Gun contest

Scenes from our past...Manning's churches
Manning has always had 5 different congregations since the 1890s


Methodist


Presbyterian


Christian church

Lutheran


Lutheran - before the Sunday classroom wings were added


Lutheran 1963

Baptist - old Lutheran Church

Catholic


Catholic 1969


Trinity Lutheran Church - moved to the Manning Heritage Park in 2006

Scenes from our past...our society


The Beatles - Datebook July 29, 1966

Time April 8, 1966

1973 Roe v. Wade - Supreme Court Decision
Since 1973 - 60,000,000 US abortions

Scenes from the present...our future


"The Hunt" Universal Pictures - directed by Craig Zobel - released in September 2019.

The film follows twelve strangers, referred to as "deplorables" in the trailer, who mysteriously wake up in a clearing.
They do not know where they are or how they got there. They discover that they have been chosen to be hunted in a game devised by a group of rich elites.
The hunters gather in a remote facility called the Manor House, but their sport gets derailed when one of the hunted, Crystal (Betty Gilpin), fights back and starts killing them one by one.

Release canceled August 10, 2019 "While Universal Pictures had already paused the marketing campaign for The Hunt, after thoughtful consideration, the studio has decided to cancel our plans to release the film. We stand by our filmmakers and will continue to distribute films in partnership with bold and visionary creators, like those associated with this satirical social thriller, but we understand that now is not the right time to release this film."



Team USA fencer Race Imboden took a knee as a form of silent protest Friday during the medal ceremony to celebrate the Americans' gold medal in the team foil competition at the 2019 Pan American Games in Peru.
Imboden explained his decision on Twitter:
Race Imboden @Race_Imboden
We must call for change. This week I am honored to represent Team USA at the Pan Am Games, taking home Gold and Bronze. My pride however has been cut short by the multiple shortcomings of the country I hold so dear to my heart. Racism, Gun Control, mistreatment of immigrants, https://t.co/deCOKaHQI9

These US soldiers shown below and hundreds of thousands more died for OUR FREEDOMS which gives people like Race the ability to kneel during the National Anthem.
If he were a citizen of many other regimes around the world throughout history and even today (look at Cuba, China, Russia, Venezuela, etc) he would probably "disappear" for kneeling/protesting in those other countries.
Race and so many others have ABSOLUTELY NO clue as to how good they have it here in the United States of America!!!
OR how precious and unique the United States of America is.


Union Soldiers

WWI

WWII
28 Manning men died serving their country.
Over 380 Manning citizens served during WWI
Nearly 700 Manning citizens served during WWII

What would the world look like today if the United States of America never existed?
It can't be proven because we can't go back in time and change it to NO United States...
But here is a different perspective than the constant talking points we are bombarded with every day.
No America - No US Civil War - the war that ended slavery.
No America - No Abraham Lincoln and the hundreds of thousands of Caucasian men in the North who fought and died to save the Union and free the slaves.
Yes, other ethnicities fought for the North but take away the majority white men who fought and died and the North would have lost.
Over 330,000 Caucasians died and many hundreds of thousands more served and were wounded by fighting for the North.
Over 60 Civil War Veterans moved to Manning after that war. One of Manning's family ancestors died as a prisoner at Andersonville.
No American Civil War - Slavery would have continued throughout the world as an accepted way of life - for how long, no way to know but once the rest of the world saw how the US ended slavery, other peoples and countries also fought back against the scourge of slavery (not just black slavery, but all slavery).

No America - WWI & WWII, etc???
While other countries fought against the tyranny of Nazism, Imperialism, Communism, Socialism, I really wonder if the outcome would have been a lot different if there were no United States of America.
Again, while people of all races in the US fought and died during the 2 world wars, since the US was an 80% majority Caucasian nation the vast majority who served were white.
There would probably be a lot more people speaking German or Japanese today if it weren't for the USA - more people under the tyrannical rule of communism. Various estimates show that 94,000,000 deaths through executions, man-made hunger, famine, war, deportations, and forced labor occurred under communist governments.
What about dictatorships? Anyone remember the "Butcher of Uganda" Idi Amin Dada? He was "president" from 1971-79. There is no way to tell for sure but estimates that his rule caused the deaths of 100,000 to 500,000 of his citizens.
Other notorious African dictators who caused the deaths of tens of thousands more people in their countries: Charles Taylor, Liberia; Paul Biya, Cameroon; Robert Mugabe, Zimbabwe; Sani Abachi, Nigeria; Sekou Toure, Guinea; Macias Nguema, Guinea; Siad Barre, Somalia; Omar Al-bashir, Sudan; Hissene Habre, Libya
None of these men were/are Caucasian, so the white race is not the only one that has evil people.

Now I've only shown some of the military aspects of our history - I could go on and on about the sacrifices the Pioneers of this country who NOT ONLY fought and died for our FREEDOMS, but who were the tens of millions before us that built this country into the powerhouse for good it is today. A nation for good that was able to defeat endless evils, create the "Bread Basket of the World," a nation of great industry and technology, and even more importantly a nation of Judeo-Christian beliefs - a nation where people from all over the world are willing to risk their lives to get her, then break our laws to enter and stay here.
Sadly they do not stop to think that the reason many of them are fleeing their native land is because of the breakdown of the rule of law or dictatorial rule in their countries, so when they enter the US illegally, they are only condemning the US to the same demise when they break our laws.
So IF the US is so bad why do so many people from around the world try to come here???
The other sad truth about so many of the younger generation citizens of the US is they have absolutely NO clue what sacrifice, honor, family, patriotism, and HARD WORK is.
I've shown thousands of pictures from our Pioneer past. Anyone who thinks they have it tough today needs to look at all of those pictures and learn more about their history.
Unfortunately there are very few people living today who these young people and complainers can talk to about the World Wars, Great Depression, and Dust Bowl days.
This is where I feel so "privileged" and blessed to have been able to talk to hundreds of those members of the Greatest Generation and Pioneers of our community.
They are the ones who gave me and all of the citizens of Manning the great Freedoms, Privileges, and wonderful life we can choose to live in or reject.
I prefer to write about and show the good we are as US citizens.
If you don't like it here - then you have the RIGHT & Freedom to LEAVE.
Do you recognize the "Iron Curtain" and the Berlin Wall? Thousands of Eastern Europeans tried to escape from the Socialist/Communist rule after WWII - many of them died in their attempts!!!
That wall was a WALL to keep people in!!!
The communist dictators of the Eastern European countries (backed by the Soviet Union leaders in Russia) made SLAVES out of all their people.
Who fought to free those people who were enslaved? The United States of America - defeating the Soviet Union through the Cold War.
Russia occupied and then claimed territory through the satellite states of the USSR after WWII
The USA provided the Berlin Airlift, the Marshall Plan, defended Western Europe, helped rebuild Japan!!!
I don't claim to be an expert worldly historian...just an amateur local historian, BUT I have personally observed historical aspects of my ancestry and WWII that tie to our local history.
In 1997, I had the honor to see some of the existing Berlin wall that was not torn down; but preserved as a reminder of our past and what could happen again.
My cousin, Jon, and I went to Germany to trace our ancestors. Here are some pictures I took and a very amazing story of one of my distant Kusel cousins.

Dave Kusel next to part of the Berlin Wall in 1997.

One of the more rewarding parts of the trip was meeting Peter Kusel and his family of the Lenzen area along the Elbe River. We were not able to connect our 2 Kusel families but we know we have to be related, since his ancestors and my Kusel ancestors all lived in the same small communities that are very close to each other - within a few miles in many cases.

The reason why we couldn't connect our families is because of all of the destruction during WWII and then the communist Soviet Union destruction of church records, cemeteries, and all types of historical information in what became Eastern Germany.

Peter Kusel - Dave Kusel

Peter told me how they fled their home in 1952. Below is that amazing story.

On February 13 to 23, 1997, my cousin and I traveled to Germany to trace back our family names.

We flew into Berlin on Friday and headed to Lenzen where my great-great-grandfather & mother Kusel came from. There we met with Peter Kusel and his family who live in Baekern which is about 2 miles from Lenzen.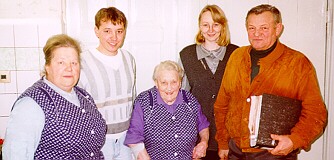 Rear: son Jürgen Kusel, Friend: Margarethe Meinke-Peters
Front: Jutta Kusel, Jutta's mother-Frieda von Bargen, Peter Kusel

Jutta's husband was forced to serve in the German Army and then sent to fight on the Russian Front where he was killed during WWII - his body was never found and returned.
It is interesting that Jutta hated Hitler and the Nazis for all of the death/destruction they caused, but then after WWII they hated the Soviets even more for their take-over of Eastern Europe and Eastern Germany where her family lived.

Guess who Peter, Jutta, and their family love? The people of the United States of American and especially the men and women of the US military who defeated the evil regimes that destroyed much of Germany & Europe.
---

Above is Peter Kusel's home in Baekern.
Fleeing East Germany to the west after WWII
In 1952 Peter and his family fled from here across the Elbe river to West Germany but before they left they buried silverware, linens, and documents in their barn with the hopes that if they were able to return someday they could prove this was their property...never dreaming at the time that it would take 40 years before they could return to their home and farmland.
This was the barn where Peter buried the documents. It was converted into living quarters during East German control and it wasn't until 1996 that they regained ownership of it again.

Even though this is their property you have to remember that other families lived here for the 40 year period from 1952-1990.
The reunification of Germany caused many hard feelings between those who originally owned the land and reclaimed it, and those who lived on it for up to 40 years.
Above are the holes they made in the concrete floor of the barn that had been converted into a house. They had to dig down about 6 feet to get to the cream cans.

Remember that this was a barn in 1952 and was converted into a house during the GDR (German Democratic Republic) era so this is why there was a concrete floor here.


To the left are the 3 cream cans that they hid the valuables and documents in for 40 years.
Peter Kusel explaining the use of the cream cans.
When they fled their farm to the western part of Germany all they could take was the clothes on their backs.
If they were stopped, they didn't want anything with them that would make the guards suspicious about escaping to the west.

What an amazing idea to bury their valuables and official documents so they could then prove someday they were the rightful owners of their farm land.
| | |
| --- | --- |
| Here Peter and Jürgen show one of the aprons that was stored in the cream cans. | |
Peter's farm is about a mile from the Elbe river so each winter (when the leaves had fallen off the trees) they would come to the river on the West side and look through binoculars to see their farm.

In 1990 Peter drove his John Deere tractor for 10 hours from the farm they rented in West Germany to the Elbe river to cross on the ferry to get to his farm.
On the East side of the Elbe river there was a guard tower which monitored the river near their farm.
There is a river crossing by this tower so it was guarded during the GDR era.
Peter was able to reclaim most of their property except for one farm that they couldn't prove was theirs.
The communists did everything they could to destroy records, even church records and cemeteries. Here you see Peter Kusel showing us one of the cemeteries where his ancestors were buried.

Peter describing the desecration of the cemeteries.

When I asked Peter why there were no tombstones or grave markers - in a very angry voice he told me that the communists took the tombstones and markers and either ground them up to gravel the roads or buried them to hide the ancestral information. It was an attempt to destroy all of the previous history...Does this sound familiar today here in the US?

Peter said that some of the cemeteries deeper in the forest were not discovered and are still there, intact.


Our last stop was the museum in Berlin. It was really eye-opening! Especially in the ways the people of East Germany tried to escape to West Germany.
Here are some pictures with explanations that show how ingenious they were in their attempts to escape their own homes and towns - to the Freedoms of the West.

Hidden compartments in vehicles
This was an actual car used to smuggle people through the check points to freedom.

Rubber balls were placed in the springs of cars.
This was to prevent the extra weight of a hidden person causing the car to sag.

homemade motorized glider used to escape over the wall in 1988.

Panels of wire mesh with spikes were used underwater in the Elbe River.
This prevented people from swimming to freedom.

I can't find the picture I took but remember the words on a sign in the Berlin Museum which read:
Thank you to all of those East German guards who shot and missed."
In other words, some of the East German guards would intentionally miss while shooting at people escaping over the wall or across a barricade into West Germany. They were taking a chance at intentionally missing but felt it was worth the dangers to not kill a fellow-citizen.

Peter took us to one of the former East German cities.
There you saw row after row of communal apartments.
Peter told us that not even homeless people would live in those buildings after the reunification. Those structures represented the communistic rule and forced communal life.

Farmers were basically forced into Farm collectives.
Peter said they have extreme hatred for the communists and the dictators.
Remember this:
U.S.S.R. - Union of Soviet Socialist Republics
Nazi Socialist Party
Some people want to us to believe there is a big difference between Socialism and Communism - don't be fooled.
I prefer to work on Manning's history to preserve it and document the facts about our past, but when the ancestral past of our community is attacked, with many US citizens and politicians calling our way of life racist and deplorable, then I guess it is time to stand up for what I believe in.
---
Back to Dave Kusel's main page