Attack on FREEDOM from around the world

What would the world be like without honorable Veterans such as Norman Rothfolk (featured down below) who have served our country over the years?
Just in our little community of Manning alone - 25 young men paid the ultimate price with their lives to help rid the world of dictators and tyrants, and help preserve freedom around the world. Over 1000 men and women from the Manning area have honorably served our country!

Unfortunately people like those evil tyrants of the past still exist today and are attacking our freedoms any way they can.
We even have some citizens and worse yet a few serving in the military who feel they have to turn on our country by stealing classified information and give it to a person who is not a US citizen so he can release those documents over the Internet to harm the U.S.
The United States of America is not a perfect nation but given the alternative of living in other countries whose backgrounds are even "less perfect" I prefer to live here and support the U.S. and our Veterans.
Most Manning people have many members of their family who have served over the generations. Norman Rothfolk is just one of my relatives who has served. He was my dad's first cousin; their mothers were sisters.
Norman was badly wounded while fighting in Germany during WWII. He very seldom talked about his service and like most Veterans was a humble person.

Fortunately most of the U.S. Veterans have chosen to defend our country and not turn on it to help destroy it.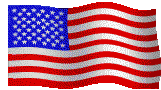 Because of people like Norman Rothfolk and the 1000+ other members of our community, I feel it is imperative that we document their stories to help preserve their brave and honorable service to our country - and for their gift of FREEDOM they have preserved for us.
So please take some time to submit your military pictures and information about the Veterans in your family so we can include them in the future Manning Veterans History Book.
---
In Memory of Norman Dean Rothfolk
February 16, 1923 - November 13, 2010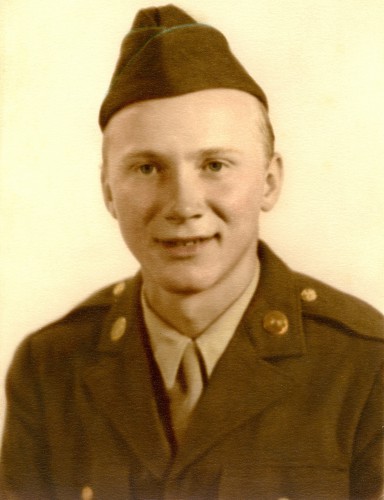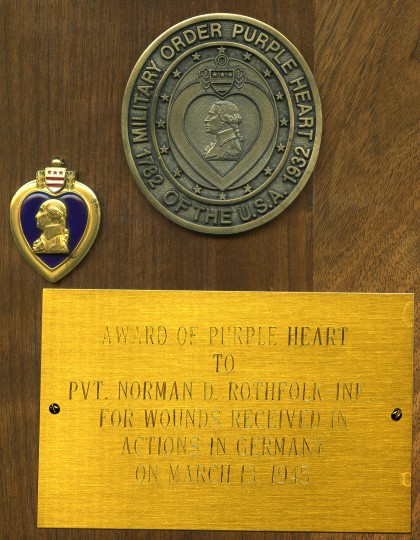 Norman's Purple Heart

Taken from the Veterans' section of the 2006 Manning Quasquicentennial History book:


Norman entered the Army in 1944 and received his training at Camp Hood in Texas. He was sent to Germany and was wounded in action on March 13, 1945, the day before his Mother's birthday. As his unit advanced through a wooded section toward an enemy town, enemy artillery opened up. Norman, who was carrying his mortar gun on his back, dived for a foxhole, but was hit by 888 millimeter shell fragments in the left leg and chest. Private Rothfolk was awarded the Purple Heart in September 1945.---END---

February 4, 1945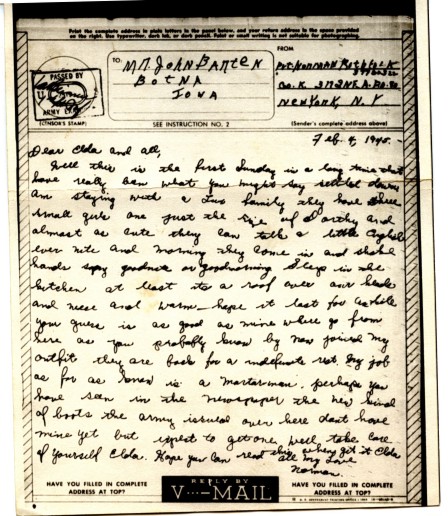 V-Mail from Norman to his sister, Elda Barten, while he was overseas.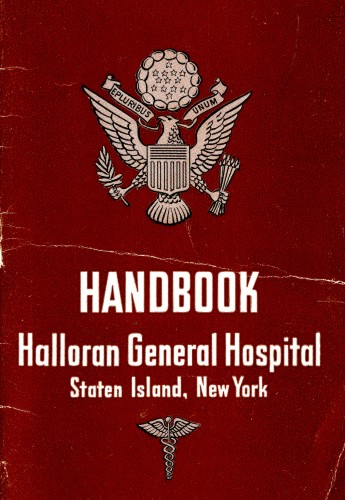 Handbook from the hospital Norman was at to recover from his wounds.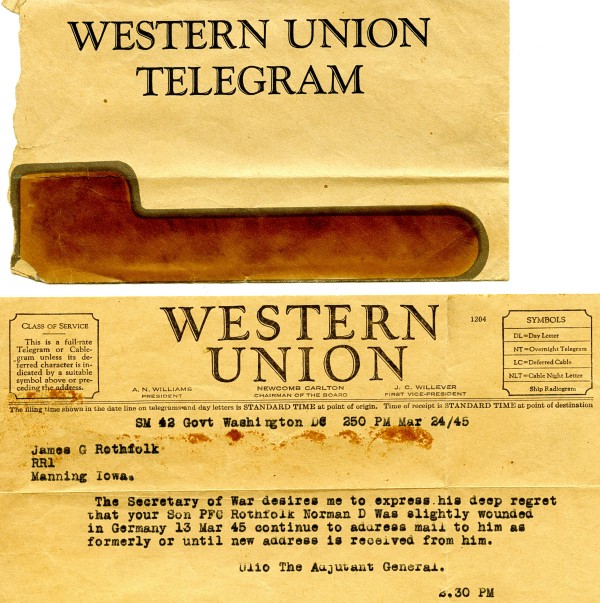 Telegram Norman's parents received telling them about his wounds from battle.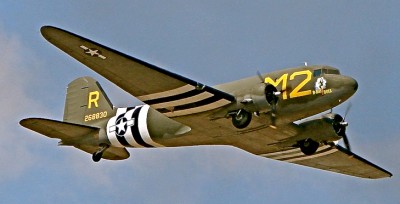 Norman rode in a Douglas C-53 Troop Transport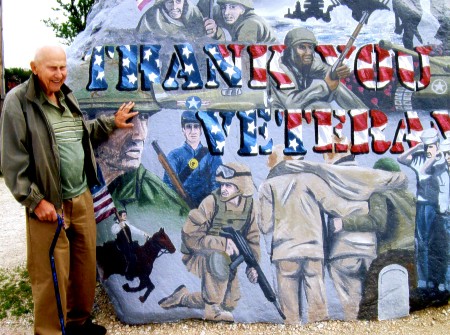 Norman at Freedom Rock on Highway 25 about 1 mile south of I-80.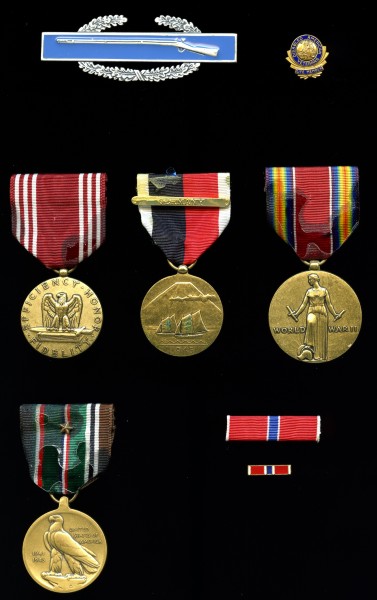 Medals and pins Norman received.
James George Rothfolk was born June 24, 1886, on his parent's farm near New Holstein, Wisconsin. His parents were Peter N. and Emma M. (Meggers) Rothfolk. In 1902, his parents retired from farming and moved the family to be near their oldest son who had decided to leave the stony Wisconsin soil for the rich farmland in Iowa. Desiring to live in a German-American community the Rothfolk family moved to Manning in about 1909.
On February 26, 1913, James married Sophia Anna Magdalena Grau, the daughter of August F. Grau and Maria (Hansen) Grau. Sophia was born on March 14, 1889, on her parent's farm north of Manning. James and Sophia moved to a farm in Mower County, Minnesota (east of Austin) for three years after which they returned to the Manning area.
Their first child, Elda, was born on December 28, 1913, while they lived in Minnesota. James and Sophia bought a farm south of Manning in Lincoln Township (on the Carroll County - Audubon County line) where they lived and raised their family. Their second daughter, Eileen Dorothy was born July 29, 1916, followed by their third daughter, Lorraine Margaret, on August 13, 1918. Their only son, Norman Dean was born on February 6, 1923. Delores Grace was born on February 11, 1926, and the youngest, Mary Ann was born March 28, 1931.
Elda was married to John Barten on August 3, 1937. They were the parents of the following children: Roger, Dorothy, Robert (deceased), and Linda. Eileen married August Mundt on December 18, 1938. They were the parents of the following children: Lenus, Paul, Janis, Lyle, and Larry. Lorraine married Henry Gruhn on September 8, 1943. They were the parents of the following children: Fred, twin girls, Janet and Joan, who died at birth and Nancy. Norman married Mary Jane Grage on May 6, 1956. They are the parents of the following children: Craig, Cindy, Kathy, Lorie, and Mary Jane. Norman and Mary Jane now live in Grimes. Delores married Bill Fastje on August 15, 1950. They are the parents of two sons, Thomas and Daniel. They continue to live in Denison. Mary Ann married Edward Goldsberry on June 2, 1951. They had one son, James. Mary Ann continues to live in California.
James Rothfolk died on December 8, 1952, after years of treatment for cancer. His wife, Sophia, continued to live on the farm until retiring to Manning. She died on September 25, 1970, after suffering from a severe stroke.