Are you a Manning Veteran???
Will you or your relatives be featured in the Manning Veterans' history book???
Maybe not - if you don't come forward with pictures and information.
The history book committee can only do so much.

---

The image below was created by 3 scans made of the original document and then merged and cleaned up. If you have a military document like this please let me know so I can make a high resolution scan to preserve it and also use in the Manning Veterans' history book.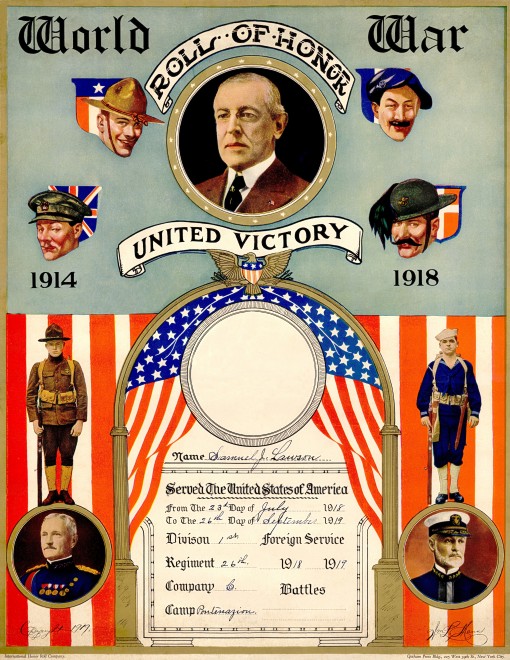 Roll of Honor
18x14 inch certificate honoring Samuel Lawson for his service during WWI.


Below - find some WWI information about Samuel Lawson - submitted by Nancy (Stoberl) Stammer, granddaughter of Sam.
Thankfully Nancy has kept her family Veteran letters - around 100 written by her grandfather and great-uncles.
I digitally scanned these letters and they are also being transcribed. Some of them along with picture postcards and other interesting images from Nancy will be used in the future Manning Veterans' history book.

Now it is time for you to dig out your Veteran information.
Please note that some of these old letters written in pencil by Nancy's grandfather are fading and becoming hard to read.
Now is the time to get your family Veteran history scanned before it fades away and is lost.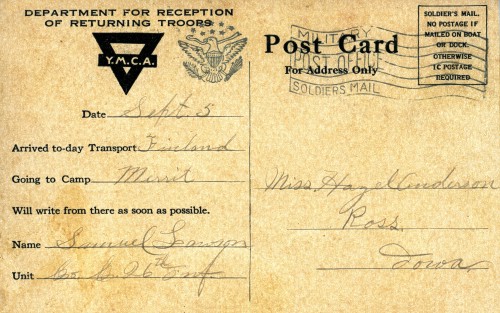 Samuel enlisted in the Army in July of 1918 - left for France September 28, 1918 - returned to US September 4, 1919.
Below is the first letter he wrote to his girlfriend when he arrived in the states - Hazel Anderson who was living in Ross, Iowa, at the time.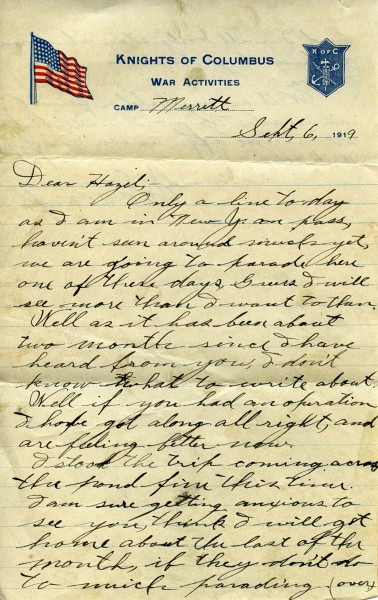 Camp Merritt, New Jersey, September 6, 1919
Dear Hazel,
Only a line today as I am in New Jersey on pass and haven't seen around much yet, we are going to a parade here one of these days. Guess I will see more than I want to then.
Well as it has been about two months since I have heard from you I don't know what to write about.
Well if you had an operation I hope you got along all right, and are feeling better now.
I stood the trip coming across the pond fine this time.
I am sure getting anxious to see you, think I will get home about the last of the month, if they don't do to much parading (over) and I will stay at home a few days, and leave for Iowa.
Well as my Soldier friend is ready to go I will haft to ring off.
As ever your friend.
Write soon.
Samuel J. Lawson
Company C 26 Infantry
If you have old letters written by Manning Veterans who served please email David Kusel
Back to Veterans' promotion page
Back to Dave Kusel's main page