<![endif]-->
---
Leet/Hassler farm near Manning, Iowa entered in the
National Register of Historic Places.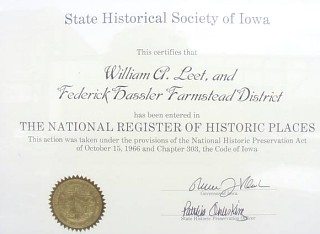 Certificate awarded May 16, 2000
Cowles-Kruidenier Auditorium State Historical Building
---
Fashion Herd Farm August 10, 1922


Summary of Abstract for the 10 acre Heritage purchase
Oral history indicates that the house and garage on the farm property were built by William Leet 1915-17. The house and garage were built at the same time and reflect the wealth and taste of William Leet.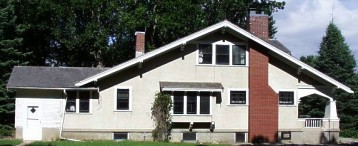 These buildings also reflect the popular architectural styles of the day as well, with the bungalow house exhibiting the stylistic influence of the Arts and Crafts Movement and the Craftsman style of architecture. The house and garage were built by local masons and partners, Hans Detlefsen and Fritz (or Fred) Thoms (Max Detlefsen, personal communication 1997).

Members of their crew included "tenders," Adolph Thede and Henry Kemme. Thede died from the Spanish influenza in 1918 and Kemme moved to Oregon in the 1920s. Hans Detlefsen and Fritz Thoms knew one another from their native Germany and went into business in Manning together in the 1910s. They specialized in brickwork, plastering and stucco, all used in the construction of both the house and garage. Either Hannes Hass or his son, Herbert Hass, or both, were the carpenters with whom they generally worked on projects. Hans Detlefsen was also adept at building fieldstone birdbaths and other yard decorations and was responsible for these features in the front and side yards of the Leet house including a large bird bath and a fish pond.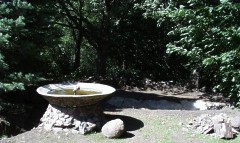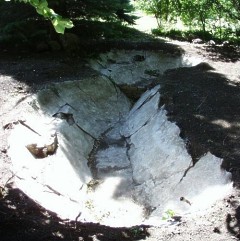 Detlefsen continued to work into the late 1940s in Manning, while Thoms moved on to Toledo, Ohio, in the 1920s. Other buildings that Detlefsen and Thoms worked on in Manning include the Ohde Funeral Home, remodeling of the Manning Creamery, and the masonry and stucco work on the Gord Sutherland, A.W. Martens, Jim Mork, Dick Crandall, and Henry Rohr houses.