<![endif]-->
---
While looking for his military picture and information, Warren Puck found the confirmation picture (shown below) in his trunk December of 2002.

This certificate is from the 1912 Palm Sunday Confirmation.

Mystery is solved by Edna (Dammann) Rudnick
Below, is partial information that is on the large confirmation certificate each confirmand is holding. It is written in German about her dad.
Heinrich Edward Dammann
geborn den 5 October, 1897 konfirmiert den 31 Marz 1912
in der Presbyterianer Kirsch in Manning, Iowa
signed by Adolph M. Fruechte Pastor

Apparently the Presbyterian Church had no pastor during this time and the class was taught by Pastor Adolph Fruechte. There is no record of Pastor Fruechte in the Presbyterian Church and since many of these confirmands were later members of the Manning Lutheran Church many mysteries still remain.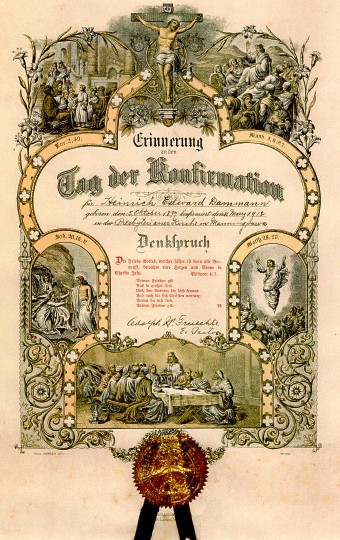 Below the picture is the list of names and below that is some information about some of the families (which are hyper-linked to click on) shown in the picture.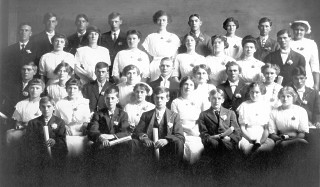 Back John Kruse, Louie Bohnsack, Gus Bohnsack, ? Joens, Minnie Stumpe, Lou Schelldorf, Emma Heesch, Art Claussen, Ella Ahrendsen;
Row 4 Hulda Jensen, Lilly Claussen, Annie Hell, Dora Bohnsack, Minnie Ohde, Maggie Karstens, Henry Bohnsack;
Row 3 Emil Dammann, Toni Claussen, Ernest Dammann, Nettie Hinz, Pastor A. Fruechte, Alma Ossenkop, Herman Dammann, Ella Kruse, William Bohnsack;
Row 2 Anita Wunder, Emma Dammann, Elsie Joens, Emma Bohnsack, Amanda Mundt, Maurie Heesch;
Front Eddie Dammann, Harry Dammann, Herman Frahm, ? Bolte.
---
We are attempting to find out more information about these members of the confirmation class.
Down below is information found in the Manning Centennial book and other sources.
We believe that Minnie Ohde married Alfred Lage and their daughter was Francis Lage who married Art Fielweber.
Kenny Dethlefs said that he is related to a Heesch.
We believe that Harlyn Hinz's mother was an Ossenkop.
We think that Louie Bohnsack is the father of Louis (class of 1949) & Vergene (class of 1942).
We would also like to learn more about Pastor A. Fruechte.
Please E-mail if you have information..

Manning Centennial Book information

Harm and Hermine Kruse and four children emigrated from Ostfriesland, Germany in 1871 and homesteaded 160 acres east of Westside in Crawford County. Six more children were born there in a four-room frame house built with lumber hauled from the railroad in Arcadia. There were no trees for miles and the prairie grass "stood as high as a horse's chin."

John was the youngest child, born in 1882. He graduated from Westside High School in 1899, and later studied civil engineering at Iowa State. In 1903 he took over farming the land while becoming a familiar musician by playing for dances and celebrations in the area. Music was his lifetime avocation, and in his later years he was still gathering fellow musicians for local celebrations. He was also a familiar auctioneer through the years.

After the birth of his daughter, Ione Emma, and the death of his wife, Emma Schweke, in 1912, he remarried in 1913 to Beryl Olive of Scranton. They built a new house on the homestead in 1920, and restored the old, original homestead. Together they started the first chick hatchery in Iowa in the basement of their farm home. It grew in size until in 1930 they owned four hatcheries in the surrounding towns, and it was necessary to purchase a large brick building on Main Street in Manning to move their main operation there. A 10-room hotel was also established in the same building.

John was active in the Manning community, and for several years was chairman of the annual Children's Day. He enjoyed working with the 4-H, and encouraging young people. He'll be remembered by many for his help in their time of need, providing a home, job or encouragement when needed. In 1941 the Kruses moved to Carroll, and leased the Manning Hatchery.

John was the father of four children: Ione, Allen Wendell (died in infancy), Joan Olive and Wallace David. The family farm was sold in the 1940's, Beryl and Wallace (Bill) died in 1943, and Ione (Mrs. Verdis Hansen) died in 1968. One daughter, Joan, two grandchildren and four great-grandchildren survive.

Eddie Dammann (given name Henri Edward) is father of Edna Dammann Rudnick.
Emil Dammann and Ernest Dammann were brothers of Eddie.
There was a 4th son (not shown) Julius Dammann.
Their parents were C.C. (Claus) Dammann.
All are deceased and buried in the Manning cemetery.

C.C. Dammann had a sister named Margareth (Gretchen) who married the other Claus Dammann who were residents of the Manning Area.
The two Clauses were not related.
Harry Dammann, Herman Dammann and Emma Dammann are children of Claus and Margareth.

Elsie Joens was born 2-2-1893 and died 2-21-1968. She and her husband and parents are all buried in the Manning Cemetery.
Her parents were John Joens and Anna Lemster. She married William (Willie) Schroeder. She had 3 sisters, Emma, Amanda and Laura, so I don't know who the Joens male is in row 4.
I believe there were 2 Joens families in the area, one related to Matthias Joens and the rest related to John Joens.
Elsie and William stayed in the Manning area.
submitted by Vanessa Lambert

Henry Ahrendsen was born in Husum, Germany, May 13, 1867. Margaretha Wunderlich was born May 28, 1869, in Schweinhusen, Germany. They were married March 3, 1893, and had three children, Ella (Mrs. Ben Lampe, now deceased), Leona (Mrs. Leona Willesen), who resides in Hutchinson, Kansas, and Hugo. Hugo Ahrendsen married Eunice Grau in 1932, and he purchased his father's farm 10 years later. Hugo and Eunice lived and farmed there for 43 years; they moved into Manning in 1975. They have three children, Alice, Janice, and Jon.

Emma Heesch (back row) is the daughter of Heinrich Detlev Heesch and Christina Heesch.
Emma Johanna Heesch was born Dec. 17, 1894 and died February 11, 1977.
She married John Christian Schrum on October 22, 1913.
He was born July 4, 1889 and died April 8, 1979. Emma and John had 4 children: Carl, Elroy, Helen and Delmas Schrum.

One of Manning's pioneer merchants, George P. Schelldorf, was also the town's original "Music Man." George and his brother, William opened the Schelldorf Drug Company in 1903, which provided the citizens of Manning with medicines, a soda fountain and retail goods, plus musical instruments which George sold door-todoor using a buckboard for the pianos which were demonstrated by his daughters. Thus, Mr. Schelldorf sold many Manning-area families their first piano, violin, or Edison phonograph.

George Schelldorf arrived in America with his parents when he was five years old from Polhude, Schleswig-Holstein, Germany, and began his career in Manning as afield man for the Arney Brothers and Dethlefs Hardware and Implement; he married Emma Dau in 1893. Emma was born in DeWitt, and moved to Manning with her parents, Mr. and Mrs. Fred Dau, in 1882, when Manning was one year old. In 1894, George be came associated with C. H. Reinholdt Hardware and Implement Company. George and Emma had four children: Louis (1894), Herbert (1896), Milda (1898), and Florence (1904). The Schelldorf home built in 1915 still stands on the corner of Sue and Second Streets.

Mr. Schelldorf was a fiddler, and his musical aptitude was inherited by all of his children. Louis, Herbert, Milda and Bruno Thompson formed, one of Manning's earliest musical groups. George also brought the first covered automobile to Manning. George Schelldorf retired in 1919; he spent six winters in California and took a trip to Europe in 1927 with his family. He passed away in 1937.

Louis Schelldorf married Alma Pfoltner, and the couple had two children, Geraldine and Charles. Herbert married Luella Knapp, and they had one son, Wayne. Milda married William Rath, and they settled in Omaha with their children, Betty Louise and Robert. Florence married Ted Rix, and they had one son, Richard.

Louis and Herbert established the Schelldorf Brothers Clothing Store in 1913, and owned the store jointly until 1947, when Herbert sold his share to his brother-in-law, Ted Rix. Ted and Louis sold the clothing store in 1951, thus ending forty-eight continuous years of a Schelldorf mercantile establishment in Manning.

August Reinke was born in Bordenau, Hannover, Germany, March 24, 1887. In 1912 he came to America and settled in Manning. He followed his trade as a blacksmith and became highly respected as a businessman, who owned his own shop. It was located on the corner of Main and Second Street. In 1917, he married Minnie Stumpe and they had two sons, Elmer and Harold.

Minnie Stumpe Reinke was born in Bremenhaven, Germany, February 5, 1892, the daughter of Reinhard and Caroline Boeger Stumpe. She came to America with her parents and a brother, Fred, in 1893. Her father was a tinner and worked in the shipyards in Germany. He continued his trade in Manning, working for Kuhl and Vogt Hardware. Minnie became a skilled linotype operator for the Monitor office.

August Reinke died in the flu epidemic in 1920. His young son, Elmer, died of scarlet fever.

The blacksmith shop was sold to the new Independent Light Company; the VFW Hall now occupies the site.

Harold Reinke married Elaine Petersen, daughter of Carl and Olivia Petersen, Sr. They had nine children: Roger, Mary (Mrs. Dale Segebart), Vergene (Mrs. Richard Juergens), Karen (Mrs. Dave Riesselman), Helen (Mrs. Darrell Avitt), Duane, Donna (Mrs. Allen Campbell), Dale and Diane. They also have 12 grandchildren. Harold operates a salvage business in Manning.

There are three generations of Reinkes residing in Manning.

Herman Frahm

opened his garage in 1919, after completing a course in the National Automobile School at Kansas City, Missouri. He purchased the building at 215 Main Street from Tom Parkhouse, and his brother John soon entered the firm, which became known as the Frahm Brothers Garage. They sold the famous Studebaker, and were the first to introduce the free wheeling, Chrysler and Plymouth cars to Manning in the 1920's. They also handled accessories, Goodrich tires, and had a repair shop.

The brothers dissolved their partnership in 1945, and Herman continued to operate the Frahm Motor Co. until 1960.

Mr. and Mrs. August Claussen came from Schleswig Holstein, Germany in the 1880's. Mrs. Claussen, then Catherina Schlueter, met her future husband in Germany. They lived in neighboring villages. Upon coming to America the Schlueters and Mr. Claussen eventually located in Fremont, Nebraska. Catherina and August were married October 11, 1889 in Fremont. They moved to Carroll County in 1902 and farmed near Manning for a number of years. When their son, Arthur, enlisted in the Army, they left the farm and moved to South Manning.

Mr. and Mrs. August Claussen celebrated their silver wedding anniversary in 1914, while they lived on the farm. For this occasion, refreshments were brought to the Manning Opera House in large cases on a hayrack. More than 300 guests enjoyed the Claussen's hospitality.

October 11, 1939, Mr. and Mrs. Claussen were honored on their golden wedding. According to the Manning Monitor, this was one of the biggest celebrations ever held in Manning. A program and dance held at the Legion Hall was attended by numerous relatives and friends. During the afternoon reception, they were delighted by the appearance and music of the Manning High School Band.

Mr. and Mrs. Claussen were privileged to enjoy their 62nd wedding anniversary.

Mr. Claussen entered into rest in 1952 and Mrs. Claussen in 1957. They were the parents of six children. Lillian, Antonia, Arthur and Frances are now deceased. Florence and Iris reside in California.

In 1910 Albert married Emma Kruse, daughter of Wilhelm and Lizzie Kuhl Kruse. One son, Willis, was born to this couple in 1912. Albert worked as a carpenter in Manning for a few years. Then, in 1914, they moved to a farm east of Manning where Albert began a cattle feeding operation which lasted for 55 years. While on the farm, he also began a farm equipment retail business which eventually moved him back into Manning. In 1928 Emma passed away. In 1932 Albert married Amanda Mundt, daughter of Henry and Anna Ewoldt Mundt.
Willis Puck was born October 19, 1912, in Manning, the son of Albert and Emma Kruse Puck. Willis attended Pleasant Prairie rural school for his elementary education, then Gray High School for two years and finished his high school education in Manning. In 1936 Willis married Lavon Brimer, daughter of Charles and Calla Gammett Brimer of Ute. The couple had three children: Warren, 1939; Kenneth, 1942; and Peggy, 1949.

Claus and Margaret Dammann were born, raised and married and started their family in Schleswig-Holstein, Germany. In 1885, they and their two sons, Henry and John, migrated to the United States and settled in Minnesota. There, their family grew by three more - Annie, George, and Bill. In 1891, they moved to a farm two miles south and a mile west of Manning where Claus made his living as a farmer. Another son, Herman, a daughter, Emma and another son, Harry completed the family of Claus and Margaret.

Henry (known best as Hank), the eldest son, was married in 1900 to Emma Kortum. They first made their home and living on a farm just east of Templeton and then later moved to the Douglas Rogers farm 1 mile north and 1/2 mile east of Manning. Eventually, they, too (as Hank's parents) lived and farmed at the farm south and west of Manning. It was at this farm that the Dammanns had a small dairy herd. Like all farmers of that day, they separated their milk maybe a little differently. They used a small pony to "power" their separator.

Emma and Hank were parents of five children: Vena, Rosie, Hazel, Goldie and Lester.

After some time Hank quit farming and moved to the town of Manning. Here he owned a livery barn. The first barn was located on Main Street in the area now occupied by the Manning Plaza; later he and his brother, John, moved their livery barn to what is now Manning Motor Company. Another brother, Herman, worked with them. They maintained a few horses which could be rented for those needing a mode of travel or for funerals and weddings. Another service was to stable horses of travelers and, particularly, for the many who came to dance at the Manning dance hall located near the barn.

Following many years in the livery barn business, Hank became town constable for Manning. It was his job to serve any legal papers, evict non-paying renters, and, in general, keep the peace.

The only son of Hank and Emma, Lester, married Ruby Cavanaugh of Audubon and they, too, soon settled in the Manning area. The depression hit and Lester considered himself one of the lucky ones - he was working. He was a common laborer at the ManCryCo Farms, a dairy operation near Manning. They purchased a small acreage in the nearby village of Aspinwall and Lester continued to work at the farms. In 1946, Lester became herdsman of the ManCryCo herd. It was then that they moved from Aspinwall to the farm on the northwest edge of Manning's city limits. In 1963, Lester and Ruby purchased the dairy farm and herd from owner, Leo Bruck, and continued to build the well-known herd.

One of the largest dairy dispersals ever held in Iowa was held at the farm in September of 1974 when the dairy herd was sold.

Lester and Ruby continue to live at the farm and still have a crop, pig, and stock cow operation -- and sometimes a small milking herd.

They are parents of six children: LeRoy, who farms west of Manning; Richard, owner-operator of Manning Auto Supply; Sandra (Mrs. Keith Hass), secretary and agent at Manning Insurance Agency; Geraldine (Mrs. Kenneth Spies), bookkeeper at Manning Heating & Sheet Metal, all of Manning. Youngest daughter, Nancy (Mrs. DeWayne McCord) of Carroll, clerks at a department store there. Another son, Kenneth, was tragically killed in a car-pedestrian accident in Cedar Falls, in 1973. At the time of his death, Kenneth was serving as state president of the Iowa Chapter of the Epilepsy Foundation of America.

Dave Kusel's web page