Manning Fire Department
Fighting fires in Manning's first few years was not a very efficient process. Those who wanted to pitch in could fill a bucket at the nearest well or cistern, then toss the water on the flames. According to early accounts, there was no bucket brigade or any form of organized fire fighting methods.
In September, 1883, the town council approved a $1,000 bond for fire protection, and in May, 1884, a meeting was called to organize a hose company. Members were president N.J. Smith, vice-president J.M. Nettle, foreman F.W. Arney, assistant foreman W.P. Guild, secretary Neil McArthur, treasurer G.F. Chapman, trustees E.C. Perry, A.L. Wright, C.S. Lawrence, and members R.L. Zane, J.B. Henshaw, D.D. Clark, W.F. Carpenter, C. Johnson, E. Smith and F. Wilkins.
A hose and cart were purchased in August, 1884, which included 600 feet of 2 1/2 inch hose, three 36 inch brass swirl handles, one set of coupling tools, one hydrant gate, and a 18 foot blade on a windmill tower to supply water. A 30 foot tall water tower holding 50,000 gallons was completed on Christmas Day, and in January, a 16 by 20 foot hose cart house was built on Third Street next to the water tower. The water works system had cost $4,832, and the building was $105.
Purchases in 1885 included two hooks, sufficient rope and chain, two axes, and two lanterns, with six fire ladders being donated. Funds for the hose company were raised through Firemen's Dances, which for a time were held the first Thursday night of each month.
The first fire bell, which weighed 400 pounds and cost $125, was purchased in June, 1891.
July 9, 1891, the town of Manning purchased the Manning Hose Company's interest in the fire fighting equipment and the cart house for $175, and the Manning Fire Department assumed its name.
During the next three years, the town's water supply became less and less adequate. The reservoir, which was sunk south of the present American Legion Building, was supposed to supply filtered water from the creek, but high water often flooded the reservoir and filled it with sediment and impure water. A well was then dug east of the reservoir, but failed to supply enough water in the dry years of 1893-94. In 1894, nine three-inch sand wells were sunk and connected with the pumping station, which was converted from wind power to steam power at that time.
A mile of 6 and 4 inch water mains were laid, with 14 double fire plugs connected to the mains. By then, the fire department had 1500 feet of hose, three carts to wheel the hose, and a hook and ladder truck equipped with ladders, buckets and other appliances. This combination of an improved water system and additional fire fighting equipment provided Manning with the best of service available.

1964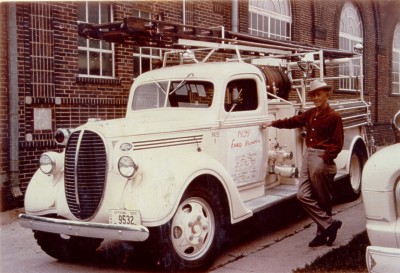 Firechief Lawrence "Cy" Nickum.
The first rural fire truck was purchased in 1939.
On top is a 40 foot wooden ladder which took 6 men to raise.
This ladder was originally mounted on the 1928 La France. Lawrence Nickum ran/operated the Manning Rendering Service which was located just north of the Milwaukee railroad out on West Street, then west about a quarter-mile on a lane along the north side of the tracks.

Fire Department Emergency Vehicle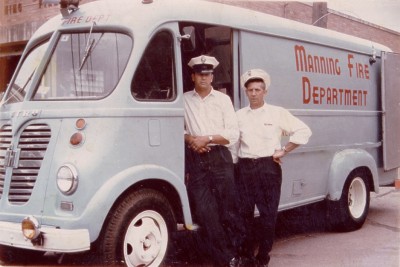 Phil Zerwas nephew of Francis Zerwas.
Juel Hoffman on right brother to Willy Hoffman.

1962 GMC Fire truck.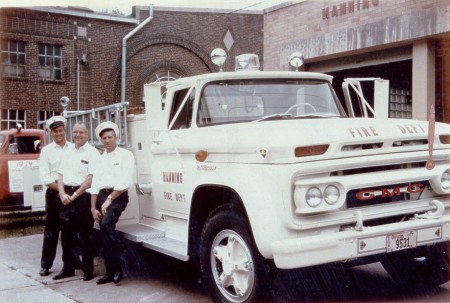 Left to right: Phil Zerwas, William F. Ohde, Juel Hoffman.