<![endif]-->
---
World Champion Running Team
The equipment was pulled by hand, and, many long hours were spent in training. Speed and coordination were the key to getting to a fire as fast as possible, and the men were assigned to certain positions, such as those at the pole, at the lead, and who would work the rope, the reel and do the coupling.
Teams from around the state held annual tournaments, competing in straight away races, running coupling, a chief's race, leader's race, and hub-and-hub races, which were usually held between the two fastest teams.
In the state races at Perry in July, 1913, Manning's running team won the state cup for the third time and lowered two previous marks, setting a new world's record. The cup was permanently awarded to the Manning Fire Department.
The team included John Rostermundt, P.H. Jones, Herman Goettsch, Ray McMillian, Hugo Grundmeier, Ernest Grundmeier, August Gruhn, Frank Mantz, Joe Rusenberg, Art Goettsch, R.H. Wheeler, Otto Kempf, Flemming, Chas. McLaughlin, Harry Hoffmann, Louie Reinhold, Williams, and George Dethlefs. The training squad also included Russell Free, J. Schoening, Summerfeldt, and Wm. Dillingham. Intense training sessions had been conducted by Dr. J.J. Miller, Frank Hoffmann, R.H. Wheeler, Frank J. Mantz, and Captain Gruhn, and an automobile was used to pull the cart the last two weeks of training to give the couplers additional practice.
The hours of training paid off for the fire department's running team, which set a new world's record in 1913 and won permanent possession of the cup (large trophy below).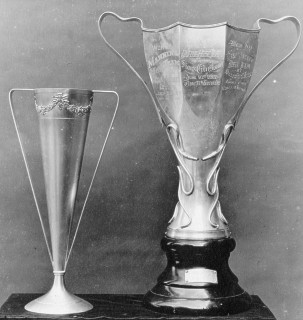 State & Interstate Cups.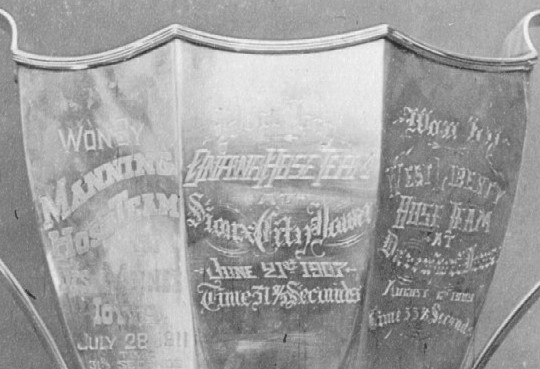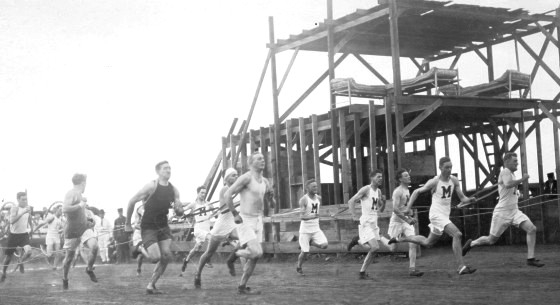 Perry, Iowa Firemen's tournament July 23, 1913 --- Manning leading on right.
Zion Lutheran Church in the background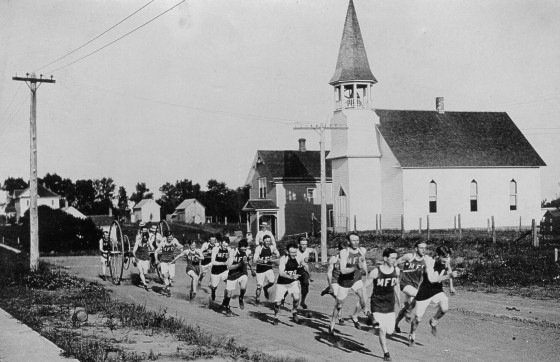 Racing against time: Manning's "running firemen" make a 200 yard sprint down Second Street, pulling the hose cart as if they were racing to a fire. The picture was taken in 1910, the year before the team won the state championship for the first time.

July 25, 1914 in Maquoketa, Iowa


John Rostermundt, Harry Hoffmann, Dick Caswell, Frank Mantz, Lou Reinhold, Art Goettsch, O.C. Kempf, J.J. Miller Manager, Frank Hoffmann, Everett Dyson, Herman Goettsch, ? Conway, H.P. Hansen, Henry Grelck (back row: sixth from left), Harry Werder, R.H. Wheeler, Joe Rushenberg.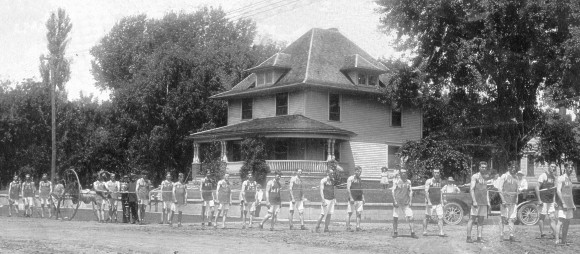 In front of 503 Third Street (present day home of Dr Robert & Janice Vonnahme).