Swearingen descendants found these pictures.

Below are 3 pictures that were found with photos of an ancestor of ours. From what we understand, they were neighbors of the Swearingens in the Manning area.
They were emailed to us by a cousin somewhere down the line.
The first picture below had identification on the back, "Wonderleigh Family, neighbors of the Swearingen's."
Updated information 2008: Based on an observation by Howard Erbst using the obituary of John Wunderlich, in all probability this first picture is of John & Flora (Gardner) Wunderlich and one of their daughters.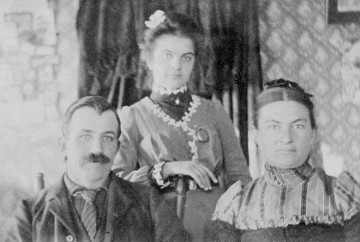 John, Jennie, Flora Wunderlich
The next two pictures were Lyden Studio Manning photos but had no identification on back.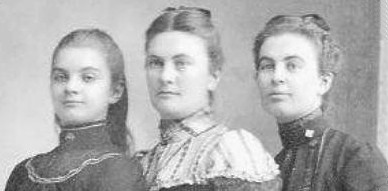 Jennie, Flora and Flora's sister Mary A Gardner

Flora and Jennie
Please e-mail Dave Kusel if you have any information on these pictures.
Back to Preserving history
Shortcut back to Dave Kusel's web page