Amazing historical collection
One of very few examples where the family has kept nearly all of their old history.
About 20 years ago, I started working with Russ & Linda (Meggers) Frank on their amazing "who's who" of Manning collection.
Russ' mother was Marjorie Moore, who was granddaughter of Joseph Moore; a Civil War Veteran of Manning.
I asked Linda why she had so many scrapbooks, old pictures, and various collections and she said that all of her relatives knew she was the family historian so when a relative died who had no children or the kids didn't want to keep their old pix, they would give them to Linda.
I scanned the Frank/Meggers collection over several years, many that were from Linda's side of the family. Unfortunately, Linda had a stroke in the early 1980s but was still able to communicate and Russ would help me understand her when we went over the pictures.
I was never able to finish scanning all of this collection before Russ & Linda passed away, because of my work on the Manning Quasqui & School history book projects along with the many other projects, then last winter I bugged their kids about going through all of the huge collection one more time.
Since I had scanned most of them decades ago, I wanted to also rescan a lot of them with my much better scanners/software and at much higher resolutions, and also scan the ones I missed the first time around.
The Frank kids had put all of the pictures into plastic totes - 8 in all, from small to very very large totes.
So now I'll be spending the next couple of months scanning this collection.
The ones not identified as I scan them I'll dig through the previous scans in my database to see if Linda or Russ were able to ID them decades ago for me.
This will probably be the last of the old and large Manning family collections I'll run into.
Most of the old pictures from this era have been thrown away or spread out to the four winds with various individuals who inherited them, or I have already scanned them.
I know there are a lot more old Manning pix out there and for various reasons most people won't bother to get them to me to scan, but if you have old Manning connected pix and want them properly scanned and preserved in my Manning Historical Database, then let me know.
Thanks,
Dave
Below are more samples of the new scans I'm making from this HUGE collection.

8 totes full of pictures and family/Manning history

I scan just about everything connected to Manning history


To Carl & Marjorie (Moore) Frank from Aunt Hulda


Read the last line - something you seldom see today!!!
A family of patriots and Veterans of many wars!


Russell Frank first furlough home Christmas 1956

Earl Martens, son of Emil and Malinda (Mundt) Martens


Earl is buried in the American Military Cemetery at Brest, France
Earl was first reported missing in action; he was later reported KIA in France September 13, 1944.

Manning Monitor 1943

A Soldier's Experience
"It was almost midnight, and I laid there in mortal terror. All was still and dark. I knew that at any moment, the horrible thing would come. The very thought of my doom brought shudders and chills up and down my spine. But I was determined to meet it bravely.

After all, I reasoned, this must come to every soldier some time.
Now I was calm and ready. Now I had the courage to face the inevitable.
The sound of footsteps caught my ear. I lay there tense-ready. Closer and closer the footsteps came. I held my breath, for fear the least sound might betray me.
Suddenly, a blinding light flashed in my face, and a voice roared: '"Get out of that bunk, you're on the Midnight Shift."'
Pvt. Earl H. Martens.
I'm trying to figure out where Ray fits in - please help


Major Ray Mundt WWII
Note the "passed by examiner" stamp at the top


Merry Christmas from Major Ray Mundt
Box 144 in the Aleutians Kennydale, Washington
Information from one of my historical helpers - James Stoffers:
Raymond Mundt was born in November 1897, the biological son of Hannes and Annie (Ludwig) Mundt. The 1900 Census has the Mundt's living in Lincoln Township, Audubon County.
Raymond's older step-siblings were Mollie, Hannes Jr., Fred, William and Peter
The 1910 Census has Annie Mundt living in Westside with Raymond.
The 1920 Census has Raymond C. Mundt as single and living in Sac City and employed as a pharmacist - which might explain his officer rank in the Army.
Ray Mundt died in 1982 and is buried in the Santa Clara, California, Mission Cemetery.
His wife is listed as Frances E. Mundt.
Ray served in the U.S. Army from November 5, 1940 to February 22, 1946.
Hopefully someone will come forward to confirm one way or the other that this is the same Mundt family that Ray in the picture fits in.
Joseph & Martha (Richards) Moore family


Back: Martha, Charley, Julia
Middle: Deed, Rhoda
Front: Joseph, Maud, Brick
I wonder what happened to the medallion that Joe is wearing?


Joseph Moore (1914) - Civil War Veteran and charter member of McPherson Post in Manning


Joe is wearing a medallion in the family picture.
I'm thinking it is a special charter officer medallion of Manning's McPherson Post.
The picture just above shows a McPherson Post member ribbon which has a similar design.
Joseph Moore enlisted in Co. "D" 47th Indiana Volunteer Infantry in February 1864. Joseph was wounded at the Battle of Champion Hills, Mississippi, on May 16, 1863.
He was engaged in action at the following: Alexandria, Louisiana, May 5-12, 1864; Atchafalaya, Louisiana, July 28, 1864; Fort Spanish, Alabama, March 27, 1865; Fort Blakely, Alabama, April 9, 1865; Mobile, Alabama, April 12, 1865.
Joseph's father, Gilbert, served in the Civil War and made the ultimate sacrifice to help save the Union and free the slaves.
Gilbert Moore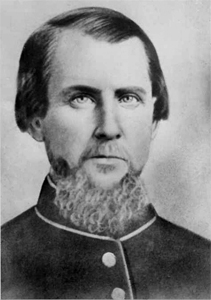 Gilbert Moore, enlisted on August 16, 1862, in Co. "F" 101 Regiment, Indiana Infantry Volunteers at the age of 43. He was captured at Chickamauga, Georgia, September 20, 1863, while assisting a wounded comrade to the field hospital. He was imprisoned in Libby Prison, Richmond, Virginia; Belle Island, also in Richmond; Danville, Virginia Prison; and last at Andersonville Prison, Georgia. He died at Andersonville Prison, Georgia, September 4, 1864. Gilbert is buried in Andersonville Prison Cemetery. Section H, Grave 7820.



---
As I continue to preserve Manning's history - capturing area history for over 50 years, I'm always in awe at the amazing backgrounds of the Manning Pioneers and their descendants.

Then I see the daily nonsense in the news where ignorant punks, so-called news media, and anti-American politicians continue to tear down our history, monuments, statues, and our country in general.
They don't solve problems; They create problems!
I never hear any reporter ask these people their backgrounds and family history.
First of all I doubt they would have a clue about their own personal past and if they did they would probably have to protest themselves for having family members who were truly racists and participated in what these modern moronic protestors claim to be fighting against.

They attack everything that the 2 Moores (who served in the Civil War) and Martens (who gave his life during WWII) fought for - the GREATEST nation on earth.
A nation of people that ended slavery and freed the world of Japanese Imperialism, German Nazi socialists, and continues to fight off the endeavors of Socialist/Communist nations to rule the world.


I continue to seek pictures and history for military personnel who are connected to Manning.
Click to see Manning's military history
I hope you'll take some time to click on each era of military history and then scroll through the over 1000 names I have listed.
If you are connected to Manning and served in the military and I don't have your name listed or if I don't have your name linked, please contact me.
We want you included in the future 2-volume Manning Veterans' history book.


As I continue to scan this amazing historical Manning connected collection, I'll be posting pictures that are not identified and hope that someone will be able to help fill in the blanks.

If you see an error in the captions, please let me know ASAP.

Pictures previously posted...


Russell Frank (front) at Great Lakes Naval Base
It is probably a coincidence but the fellow in back sure looks like a Manning fellow I should be able to ID.
But he was probably a friend that Russ met at Great Lakes.

Clinton Joseph Moore December 14, 1905 Age 8 1/2 months 28 pounds
Father of Edward, Dorothy, & Robert
Both Lyden Studio pictures just above and below.


Max Steckelberg, John Asmus, Ernst Frank, ?Louis? Beckman, John Andersen, Peter Hansen
Ernst was Russ' grandfather.


Martha (Wenzel) & John Asmus - from the Ardith Lage collection
I'm fairly sure John in the group picture is the one who married Martha...
Below is the Peter Hansen family - the same as Peter Hansen shown in the group picture.
It is interesting how Peter always put his left foot forward in the pictures.


Peter & Margaret (Sierks) Hansen family - from the Larry Fischer collection
Picture below from the Lola (Hansen) Ahrendsen collection


Back: Anna Pruder, Hugo, Otto, Molly Hass, Elma Miller
Front: Lillian Hansen, Peter, Margaretha (Sierks), Hilda Fischer
This is why it is important that more people get their pictures to me to scan, so I can compare the pictures they have that are identified to those I have that are not identified and vice versa...the more pix and history I have scanned into my unique Manning historical database, the more I can help everyone.
---
Back to Dave Kusel's main page