Songs from 1974
---
Jean Garner - 1974 AFS student inspired me to create this special feature about the class of 1974.
If you find errors and can help out with identifications please e-mail me.
As you'll soon find out, I have lots of pictures for many of the classmates, but none for some of them...if you want to be included in the Manning historical database then dig out your Manning connected pictures and then e-mail me so we can work out a time for you to mail them or bring them to me so I can scan them.
If you are a Manning connected Veteran then take a special look at Dean Moeller's story. He wrote up some wonderful military biographies.
Then e-mail me so we can start working on your military story.
I still working on the Manning Veterans' history book project that will feature over 1000 Manning connected Veterans...so don't get left out of this special historical project.
You can read more about Jean Garner further down below.

This is some history about the Manning High School Class of 1974, and also former members who were a part of the class but did not graduate at Manning.
Included in this detailed story will be family members.
I won't have pictures of all the family members or school pictures for all of those members of 1974, but this will hopefully encourage more people to contact me so I can get their pictures scanned and added to the Manning Historical Database I'm building.
I've always wanted to see how many pictures and information I would have in my Manning Historical Database for a specific subject, that I've been digitizing since 1996 and gathering for over 40 years.
Even though I'm showing a lot of pictures and information about the class of 1974, I would be able to find more if I spent extra time on the family history but I have to end this project somewhere, so I can get back to my other scanning and history projects.
I was surprised at how much data I actually found for the class of 1974.
It has helped me work on this project by knowing a lot about Manning history to lay out a story of the 1974 class.
I will guess that many of the members of the class of 1974 won't know a lot of the information featured here about their classmates.
I also hope you will pay attention to the Veterans connected to many of the classmates.
If you are a Veteran and have not contacted me about your service so I can include you in the Manning Veterans' history book - please do so ASAP.
---
1974 MHS graduates: Jon Sidney Ahrendsen, Daniel L. Arp, Beverly Jean Baker, Randy Dean Baker, Christine Kay Beck, Joseph Walter Blum, David John Croghan, Colleen Jane Dammann, Diana Lynn Doyel, Barbara Ann Drees, Jeffrey James Drees, Christine Marie Edmunds, Dean William Fara, Gwen Marlyn Fielweber, Nancy Kay Fogleman, Michael E. Foley, Jean Patricia Garner, Michael John Gawley, Dwight Thomas Gore, Gary Craig Graner, Douglas Dean Hansen, Kimala Ann Haubrich, Martha Ann Heinicke (salutatorian), Mary Ruth Heinicke, Barbara Kay Hudson, Linda Louise Hughes, Randy Wayne Jahn, William A. Johnson, James Walter Karsten, Jeffrey Lynn Karsten, Jan Lee Kasperbauer, Jerilyn Joy Kusel, Rick Paul Lohrmann, Randy L. Mahnke, Dean Joseph Moeller, Larry L. Mundt, Randy Alvin Musfeldt, Stanley Alan Musfeldt, David Jon Nelson, Debra Kay Opperman (valedictorian), Dale Dean Reinke, Paul James Renze, Randall Joseph Renze, MaryJane Bernice Rohe, Dale N. Rohe, Susan Elizabeth Rutz, Peggy Ann Sibbel, Dale Kevin Sieve, Keith Dale Stribe, Becky Sue Tank, Karen Ann Tank, Connie Sue Weems, Bob Larry Weiskircher, Daniel Lee Williams, Jessica Marie Zerwas, Steven R. Zinke

1974 former students: Paula Andreasen, William Baley, Sheila Bauer, Glenda Baugh, Darwin Betterton, Craig Brady, Donna Dentlinger, Pam Drees, Darwin Farrell, Nylene Freese, Keith Frisinger, Bev Geerdes, Duane Gehling, Sally Grimm, Cindy Halbur, Jacqueline Hansen, Paul Hartman, Darrell Hinners, Robert Hinz, Debra Hodne, Michael Irlmeier, Laurie Jahn, John Karbula, Jane Kunkel, Carol McCammond, Daniel Moore, Daniel Nelson, Louie Schwiesow, Earl Shoemaker, Marilyn Taggart, James Thompson, Jerry Voge, Terry Voge, Debra Wassom, Diane Zentmire, Mark Zerwas, Steve Zerwas



---
Jean Garner and I have been e-mailing back and forth and she is interested in hearing from her classmates and schoolmates.
My year at Manning was a very important one in my life and I can't believe it was so many years ago, time has flown.
I am happy for you to put my email address out there.
Jean Garner
jeannie43@hotmail.com

Jean is also interested in contacting Duane Griffin and his parents - her host family during her stay at Manning.

In sharing memories with Jean it gave me an idea. I really don't have the extra time but I'm going to see how many pictures I can come up with in my database for the MHS class of 1974...Here are a few samples with more to come in a special feature.

Peggy Sibbel, Susan Rutz

1974 Good Ole Days - Larry Mundt, Mike "Chuck" Foley, Mark "Row" Rowedder, Bill "Twiggy" Johnson

Jean Garner in full view and Gwen Fielweber partial view on right

Keith "Bud" Stribe, Mary Jane Rohe

Ain't they cute???

"Little Leo"

Remember Phil Lawler?
William Johnson, Michael Gawley, Larry Mundt, Jon Ahrendsen, Randy Renze, Paul Renze
Mike, Larry, Jon, and Randy were the delegates to Boys' state.
Bill and Paul were the alternates.

On April 16, 2018, Jean Garner, left a message on my guestbook.
Her message reminded me that I needed to update my AFS web page with scans of better images for those students.
In 2003, I went to the school library and borrowed the AFS framed portraits so I could scan them. While I knew there would be some fading and deterioration, I never expected how bad it actually was. Photos that were originally in color were almost black and white or really off-color, so I just scanned them in gray scale.

My goal then, as it is now, is to get original AFS photos from classmates or the host families so I can scan them and replace the database with better images.
The second picture below is a scan from one of those billfold size pictures we all shared with our classmates and schoolmates.
It has been in a scrapbook so it hasn't been damaged by natural and artificial lighting.

Jean Garner AFS 1974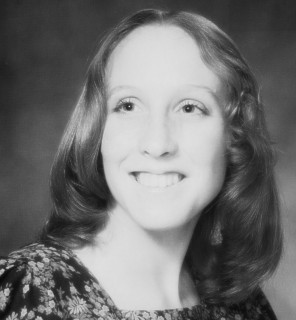 Scan from the school display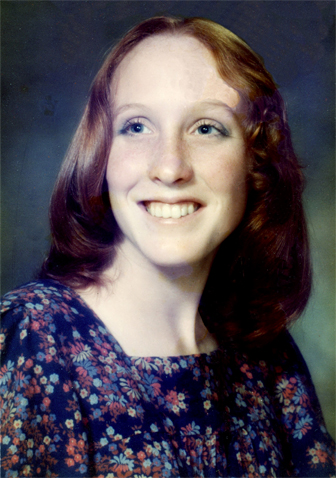 Scan I made from a billfold picture of Jean.

Now some of you may wonder why I don't just show the good picture, but as a preservationist I need to continually show everyone what is happening to their pictures and try every way I can to get people to send me their old pix and history to make high resolution scans and add to the Manning Historical Preservation Database.

To see the whole list of foreign exchange students, click on "Long term projects" on the left side of my main web page - then scroll down on the right side to the Manning Foreign Exchange link.