In Loving Memory of Darwin Dammann
Darwin Dammann, age 60, of Avoca and formerly of Manning, passed away on Saturday, October 23, 2021, in Kansas.
Funeral Service 2:00 p.m. Saturday, October 30, 2021 Calvary Baptist Church Manning
Officiating: Phil Stracke
Prerecorded Music Selections: "One More Day" Diamond Rio "I'm Already There" Lonestar " When I Get Where I'm Going" Brad Paisley "Save The Roses" Lee Brice
Casket Bearers: Matt Scheuring, Steven Irlmeier, Grant Stracke, Klay Ramsey, Chance Gruhn, Andy Nieland
Honorary Casket Bearers: All of Darwin's Grandchildren
Interment will be held at a later date - Manning Cemetery
---
Funeral services will be at 2:00 p.m. on Saturday, October 30, 2021, at Calvary Baptist Church in Manning. Visitation will be from 4:00 p.m. to 7:00 p.m. on Friday, October 29, 2021, at Ohde Funeral Home in Manning.
Darwin Charles, son of Walter and Malinda (Otto) Dammann, was born August 10, 1961, in Carroll, Iowa. He grew up south of Manning in Audubon County and graduated from Manning High School in 1979. After graduation, Darwin began farming and, starting in about 1990, he also began trucking.
In the early 1980s, Darwin was united in marriage with Darcy Lohrmann and two sons were born to this marriage. The couple divorced in the early 2000s. It was about this time that he gave up farming and turned to trucking full time.
Darwin met Liz Richards in late 2009, and they made their home in Avoca. Together they expanded his trucking business, Double D Express. On July 11, 2015, Darwin joined Liz in marriage.
Darwin was a hard worker. He enjoyed driving truck, long phone conversations with fellow truckers, fishing with his grandchildren, yard work, and above all, spending time with his family and grandchildren.
On Saturday, October 23, 2021, Darwin died in a truck accident in Wichita, Kansas. He was 60 years, 2 months, and 13 days of age.
Darwin is survived by his wife Liz Dammann of Avoca; his children: Nick (Brittany) Dammann of Denison; Jon Dammann of Manilla; Daniel Read of Omaha; Michaela Mason of Hooper, Nebraska; Justin (Shelby) Mason of Weeping Water, Nebraska; and Krystal Richards of Weeping Water, Nebraska; 10 grandchildren: Courtney, Hunter, Katrina, Krystin, Ava, Leeam, Addy, Lizzy, Emmy, and Taytum; a great-grandson Breccan; two sisters: Diane (Larry) Cross of Waukee and Darlis (Rex) Wambold of Van Meter; and by numerous nieces and nephews. He was preceded in death by his parents and a brother Daryl Dammann.

Page 203 of the Aspinwall Centennial book 1982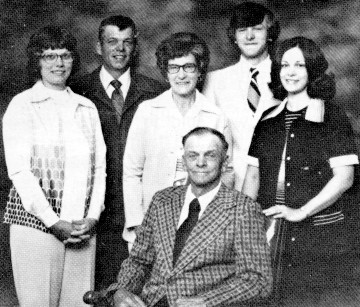 Malinda and Walter Dammann and their children: Diane, Daryl, Darwin, and Darlis
WALTER DAMMANN FAMILY
Walter Dammann, son of William and Dora (Fischer) Dammann, was born April 23, 1915, in Audubon County. He was married January 22, 1946, to Malinda Otto, who was born May 10, 1923, to Carl and Tena (Hass) Otto of the Aspinwall vicinity.
Walter and Malinda farmed for eight years on the farm owned by Carl Schroeder, now owned by Wayne Ranniger, one mile west, three miles north and west of Aspinwall, and 22 years on the Ralph Gordon Sutherland farm in Audubon County. They then moved to a farm formerly owned by Carl Otto, 2 miles west and 2 1/2 miles north of Aspinwall. They purchased this farm in 1971.
They have four children.
Daryl was born September 26, 1946. He graduated from Manning High School in 1964, served two years in the Armed Service, and was married in 1968 to Deanna Winther of Kimballton. They live on an acreage northwest of Aspinwall and he is a carpenter. They have three children, Gaylene, 12; Dwight, eight; and Darren, four.
Diane was married to Larry Cross of Des Moines May 24, 1970. They are parents of two daughters, Tina, 10, and Renee, nine. They now reside on an acreage near Waukee, Iowa.
Darlis was married to Rex Wambold of Afton, Iowa January 9, 1971. They have two sons, Jason, five, and Ryan, three. They now live on an acreage near Van Meter.
Darwin was born August 10, 1961. He graduated from the Manning school in 1979 and is living at home. Walter passed away July 2, 1982.

1979 MHS graduates: Danny Joe Beck, Julie Susanne Bruhn, Lauri Lyn Christensen, Michael Robin Christensen, Darwin Charles Dammann, John F. Dentlinger, Norine Lucille Felker, Carmen Jean Fogleman, Debra Ann Grau, Lester Lee Grau, Nancy L. Hacker, Kristy M. Halbur, Regina Mae Halbur, Linda Kay Hansen, Karie Jo Haskins, Jeff Joe Haubrich, Joseph E. Herbers, Douglas Dean Hicks, Michael Gene Hill, Nadine Marie Hinners, Susan Fae Hinners, Ronald Bret Hodne, Brian Scott Irlbeck, Joleen Caroline Irlmeier, Asa Christina Jacobsson, Scott G. Jensen, Carol Lynn Justice, Julie Ann Karsten, Bary Jon Kienast, Thomas Jay Lee, Petra Roswitha Mayer, Teresa Marie McKay, Daniel David Mohr, Dean A. Mundt, Thea Marie Mullen, Beth Anne Myer, Lisa Kay Nelson, Mark A. Ohde, Robert W. Opperman, Valarie Joan Opperman, Lynn Robert Phillips, John Kennedy Pratt (valedictorian), Christine Marie Ramsey, Craig Alan Reynolds, Janet M. Rohe, Karen Kay Rosonke, Russell William Ruhde, Kimberly Kaye Sailer, Daniel Dean Schroeder, Denise Lyn Schroeder (salutatorian), Aaron Neal Schultz, Renee Mary Siepker, Lyle L. Sporrer, Thomas D. Stangl, Sue Ann Stribe, Donna Mae Sturm, Keith A. Vollstedt, Micheal Lynn Vonnahme, Ralph Edward Weets, Corey Lee Wegner, Debra Sue Wegner, Paul Michael Weiskircher, Elaine May Weller, Roger Allan Wiese, Patricia E. Willenborg, Gary Lynn Williams
1979 former students: Theresa Amsden, Jody Ashton, Harold Auten, Douglas Barten, Bob Bell, Deborah Benter, Paula Betterton, Julie Blasey, Mike Colglazier, Michael Enenbach, Gerald Espenhover, Gregory Evans, Sandra Falck, Teresa Folsom, Scott Granowski, Billy Hansen, Diane Hendrickson, Justin Kasperbauer, Christine Kirsch, Kimberley Klinker, Julia Leinen, Connie Linder, Christine Madsen, Julie McConnell, Cheryl McMillen, Gary Melick, Kimberly Molzen, Joan Nepple, Shawn Pierce, Tamera Pruitt, Scott Rix, Lauren Robertson, Lorri Ross, Lyle Schlichte, William Schoba, Jody Schumann, Harold Schumann, Jr., John Sebeniecher, Michael Sebring, Loran Sporrer, Cletus Thielen, Jon Thompson, Larry Thygesen, Michael Trecker, Donald Vogl, Kenneth Vogl, Kathleen Weitl, Douglas Wilde, Cathy Zerwas

Nick Dammann IKM-Manning 2009


Nick Dammann #20 MHS vs Logan January 16, 2007


Walt Dammann farm

Diane Dammann MHS 1966
Freshman Homeroom A

Back: Karen Brady, Bill Graner, Colene Anthony, Barry Kusel, Therese Hummer, LeRoy Joens, Tom Bromert, Mr. Tom Fogarty - Sponsor
Second: Jerry Hockett, Joleen Justice, Joan Graves, Gene Beckman, Sheryl Hill, Raymond Hagedorn, Kay Hass
Front: Ruby Dammann, Jane Espenhover,

Daryl Dammann

, Marian Handlos, Ronald McConnell, Patricia Knueven, Bob Heithoff, Genevieve Asmus

Mrs. Golda Sander third grade students in their Easter hats - 1960


Back: Betty Mundt, Julia Croghan, Mary Jo Haise,

Darlis Dammann

, Pam Foley, Mike Wegner, Myra Weems Front: Kathy Felker, Sandra Vinke, Kathy Hinze, Donna Spieker, Eddie Meiers, Mark Spack

Carl Otto farm
1969 graduation - girls' locker room in basement of gym

Back: Donna Spieker, Kathy Potthoff, Gail Wegner, Betty Mundt, Sandi Vinke,

Darlis Dammann

, Janice Johnson
Front: JoAnn Rohe, Linda Turner, Sue Irlmeier



Spotlite staff: Diane Dammann, Sharon Grimm, Jeanne Lamp, Carol Ranniger, Kathy Olsen, Janet Ranniger, Angela Kusel (editor), last 2 Linda Spack & Donna Ramsey

Darwin Dammann

I originally had 2 other pictures in this tribute but did not realize there are 2 different Diane Dammanns, one MHS 1963 and the other Diane Dammann MHS 1966 in Darwin's family.
Thanks to Sharon (Grimm), for catching this error and e-mailing me so I could correct the errors.
Anyone who notices errors on my web pages will hopefully contact me so I can correct things.
I don't want these errors to continue in my Manning database.
---
Back to Dave Kusel's main page