When Christopher Plummer died recently, it brought back memories of my visit to the northeast part of Germany in 1997.
I found out where my Kusel ancestors immigrated from which was at that time in 1855, called Prussia.
Then after 1945, the area my Kusel ancestors came from was part of the divided Germany called East Germany (GDR).
In 1997, I also found out about the Peter Kusel family...they have to be related to me but I am unable to find the exact documented connection.
Peter and his family had a very horrific experience when the Berlin Wall was built. If you want to find out how socialism destroyed their lives for decades then please follow along below.

I write about what Peter told me and comment about how I had my eyes opened to details about WWII and the aftermath that you don't read about in most history books and definitely not about Peter's specific situations.



Freedom of speech is a principal pillar of a free government; when this support is taken away, the constitution of a free society is dissolved, and tyranny is erected on its ruins.
Benjamin Franklin


History is so intertwined and most people are completely oblivious to all of the connections and I think why our country is in the desperate shape it is in today...because of the ignorance of the interconnection between our local, state, and national history and the ways it has been twisted and perverted into something far from the actual truth.

Christopher Plummer, 91, passed away February 5, 2021.

The movie I remember Christopher the best in, is the "Sound of Music."
If you have never seen this movie I would recommend you take the time to watch it several times...let it sink in. I don't know how accurately it follows the true lives of the von Trapp family but it will give you an idea of what life was like during the 1930s through early 1940s in war-torn Europe - specifically Austria where Adolf Hitler was born and then later immigrated to Germany.

Sadly, some of the situations/scenes in that movie are now being reenacted here in the US in 2021.

von Trapp family singers in the Sound of Music
Now you are going to ask - what connection does Manning have with the Sound of Music/Christopher Plummer...
It is a small connection but Virginia Struve (Mrs. Roy) actually stood on stage with the real Maria von Trapp...here is some information Virginia gave me during an interview in 2016.

Virginia Struve holding her violin.

Virginia was a senior in high school in 1950 when she met Maria von Trapp at St Anthony's Academy in Carroll.
During the school assembly, Virginia and another student were chosen to go up on stage to stand with Maria.
Students in 9 through 12 attended the assembly program.
Virginia doesn't remember much about what she spoke about anymore but it mostly covered the Catholic faith. None of the other von Trapp family members were there and Maria did not sing any songs.
At this time, Maria wasn't as well-known and famous. In the 1950s the family made a series of records of their singing and not until the Broadway musical "The Sound of Music" in 1959 and the film came out in 1965, did the von Trapp family singers become widely known.
Lacrosse, Wisconsin, is where the nuns that taught Virginia came from - their "motherhouse."
Virginia knew she would like to become a nurse while in high school and when she received a scholarship that sealed the deal so to speak.

The other time that Virginia got up on stage during an assembly was when a violinist came to play his Stradivarius. Virginia also played the violin but never expected she would actually be able to hold a Stradivarius in her hands like she did that day on the stage.
Virginia came from a family of 11 children…2 died very young. She was born in Le Mars, Iowa.
Her parents took a trip to California and while there they decided to move from Iowa to California. Her dad stayed behind and her mom came back to Iowa to sell the house and move the children out to California.
This was during the prohibition days. Her mother always made wine so to sell the wine it was "sold with the basement."
Roy met Virginia at a dance in Carroll. Roy and Lester Joens went to the dance.
Virginia was in nurses' training school at this time and since she lived in Carroll she could drive the family car so she took several nurses with her to the dance. While they were dancing, Roy came over and asked Virginia to dance and they did...the rest is history.

Then the intertwined connections, which are endless, continued between the Struve family and my Kusel family.
My mother and Roy Struve graduated together from MHS in 1941. Then I went to school with Roy & Virginia's kids, and graduated with their daughter, Carol.



---
Intertwined history - continuation of the Sound of Music feature:


Socialism destroyed Europe
People never learn from the past.

I take personal offense, based on my family genealogical perspective, with socialists/communists/marxists/Nazis and similar ilk.

I am unable to determine the connections between my Kusel relatives in the northeast part of present day Germany, because of the aforementioned groups...
Please follow along below with the story about Peter Kusel who is a relative but many of the church records, official information, and other documentation had been destroyed which prevents me from determining the exact genealogical connections by the aforementioned groups that over-powered the people of Europe during and after WWII.

In 1997, I went with my cousin to Germany to trace our common ancestors.

I had absolutely NO idea the amazing and life-altering history I would be told by someone who is my relative but there is no documentation or records that show our blood connection...Please follow along to learn the "Story of Peter Kusel."

Since my cousin can speak some German he called to talk to the Vicar at the Seedorf church to schedule a time when we could meet him at the parish and to see if he knew any Kusels in the area we could meet.

The Vicar didn't know any Kusels but spread the word that a Kusel was coming to the area from the US and wanted to meet with Kusels or anyone related.

Keep in mind that the towns on this map down below are between 1 and 10 miles apart...when Peter Kusel heard the rumor of my visit he was very excited but did not know who was the contact person in the area so he drove to various towns to ask around and finally found out that I was coming and when.
We were eventually able to get in contact with Peter to make plans for when/where to meet.

Peter's son recently notified me about his dad's death, which prompted me to create this tribute in his honor.
Also to show how evil ideologies can destroy your life over-night.


1997 Peter Kusel & Dave Kusel just outside of Lenzen, Germany
1 Deibow is where my great-great-great-grandfather Andreas Kusel and great-great-grandfather Johann Kusel were born.
2 Nausdorf is where my great-grandfather William Kusel was born.
3 Seedorf is where my great-great-grandfather Christian Kusel was born and where we eventually found the records of my specific Kusel ancestors in the town parish.
4 Bäekern is where Peter Kusel's family lives and grew up.
5 Lenzen is mentioned in William Kusel's obituary stating he was "born in Proenitz at Lenzen, Prussia, on June 24, 1850."
We have never been able to find Proenitz but Lenzen is located in the district of Prignitz, state of Brandenburg...more than likely the Kusel family lost track of the exact spelling for his obituary when William died in 1917.
Lenzen was the significant clue that gave us the area to search for where my Kusel ancestors in Prussia immigrated from to Iowa in 1855.

1997 Dave Kusel, Seedorf Vicar, Margarethe Meinke-Peters, Peter Kusel and his son Jürgen

We were going over the records that showed Friedrich George Christian Kusel & his wife Catharina Maria Dorothea Meinecke Kusel...names and dates that were very close but I only knew the names as Christian & Dorathea (Meinke) Kusel.
It was not until a year later, when another researcher who could read and speak German fluently, was able to find more Kusel names in the Church records for me, and finally found the children of Friedrich & Catharina which matched exactly to the names we have for Christian & Dorathea's, children.
The researcher also discovered 2 more generations back from Friedrich.

Church in Lenzen

Lenzen city hall 1713

Peter Kusel home near Bäkern about 1 mile from Lenzen.

A tributary of the Elbe River behind the Kusel home.

Back: Jürgen Kusel, Margaretha Meinke-Peters
Front: Jutta, Frieda von Bargen, Peter Kusel

Margaretha's great-grandmother was a Kusel and her maiden name is the same as my great-great-grandmother Kusel. We found out about her in Hamburg and she came along with us to meet the Peter Kusel family.

Frieda is Jutta's mother.

Now we start getting into the life-altering Kusel family history.
It all begins around the time of WWII.
Frieda's husband, was forced to fight in the German Army on the Russian Front and was never seen or heard of after that. Their daughter, Jutta would have been around 8 at the time of his death.

It is hard for me and I would assume most of us living today, to understand how terrible it was for the von Bargen family to never know the when/how/where their loved one died on the Russian Front, and what happened to his body. Maybe he was a prisoner of war and was tortured and starved to death by the Russian Army - I'm sure Frieda and her family had nightmares over their loss.

Peter Kusel was 4 years old when WWII started in Europe and 10 years old when it ended.
His family had survived the destruction caused by the Nazi Socialist Party, Adolf Hitler, and then when Soviet troops moved in from the East at the end of the war.
Right after the war ended the USSR (Union of Soviet Socialist Republics) started its censorship, indoctrination, occupation, and control of Eastern European countries including the eastern half of Germany, which split the city of Berlin in two.

Now the Kusel family had a new and just as evil regime to live under - the GDR (German Democratic Republic) which sounds benign because of "Democratic" and "Republic" but the country and people were under dictatorial, Socialist/Communist rule...
In 1952, the Kusel family summoned the courage to leave their farm and fled East Germany to the safety and security of West Germany.

The Kusels were farmers and owned several farms - Peter was 17 when they left everything they knew, loved, and owned for generations and fled for freedom in the West.

Before they fled they thought about the consequences of their actions...How long before they could return? If/when they return will they be able to prove they owned their land?
Here is the amazing answer to that part of their life-altering past...
This appears to be a home, but it was originally the Kusel barn.
After the Kusels fled their farms the new occupiers, under the socialist ditatorial GDR government rule, converted it into a home, while another family occupied the Kusel home.

Jürgen & Peter Kusel show us the inside of the house/barn

Before the Kusels fled to West Germany, they gathered documents that proved they owned the land, along with valuables and linen aprons and put them in cream cans and buried them 6 feet deep in a corner of the barn.

They knew that if they were stopped during their flight and they had valuables and documents, then the military and police would know they were trying to escape East Germany.

Hole they had to chop in the concrete floor in 1996 of the "now" house which was previously their barn.

Now remember that they left official documents in the cream cans so they could prove they owned this land once they returned, BUT realize that for the previous 38 years, there were new occupants and owners of the buildings and land.
Once they returned, the Kusels had to wait until 1996, before they could get the occupants out of the house/barn and dig up the cream cans which would help them prove the ownership of most of their land.


Peter told me that they would make the trek to the Elbe tributary each winter (so the leaves were off the trees) and look across the river and could watch the new occupants of their farm and home walk around the yard...I cannot imagine the anger and frustration it must have been for the Kusels to watch those strangers walk around on the Kusel land.

Then think of the anger and frustration when these "occupiers" had to leave what they thought was now their homes and land...for a while the reunificaation really tore apart the peoples of what was once East & West Germany to become a whole Germany again.

Peter Kusel telling the story about the cans.

Linens stored in the cans.


Peter Kusel displaying the apron.

Lenzen (Elbe) - area where Peter Kusel lives near Bäkern

Lenzen
The "Iron Curtain" started out as a political boundary created by the USSR in 1945, and then in 1961 the GDR & Soviets built the wall in Berlin and much broader fence across Germany.
This wall/fencing was NOT built to keep people from the West out of Eastern Europe, BUT to keep the citizens of East Germany from fleeing socialism, communism, and the horrible living conditions it created.
It was sometime right before or maybe during the construction of the wall/fencing that Peter and his family fled to West Germany.

Guard towers were spaced along the fence.
This is one of the towers Peter saw when he returned to his home in 1990.
View of the landscape in the area - lots of open land which made it difficult to sneak through and try to scale the fence.

Below is the gravesite where Peter Kusel's parents and other relatives were buried.
I asked Peter why there were not tombstones, headstones, or monuments.
He then shocked me and proceeded to tell me that the GDR (German Democratic Republic) and USSR (Union of Soviet Socialists Republics) socialists removed the tombstones and either buried them or crushed them and used them to gravel roads. Fortunately other gravesites of the area hidden farther in the forest were not found so those tombstones were spared.
Peter Kusel telling how the socialists/communists desecrated as many gravesites they could find, with the objective to destroy historical records, destroy Christianity, and anything that was part of the previous society.

Remember that many of the people who came into power in the GDR after WWII were the German citizens and neighbors who lived among those they were now oppressing.


We visited the Lenzen Museum.
One thing I'll never forget was the curator repeatedly telling us that the shelves in the businesses, especially grocery stores were barren much of the time during the GDR era...commercial food items were scarce.
The pictures below show shelves full of food and other items but that was to show the various items that existed from 1946 through 1990.

Various signs kept in the museum for display after the GDR regime ended.
3rd sign: "border only open to authorized personnel"
"enter and drive across forbidden"

Cobbler's bench and worksite

Remember that these early 1900s trades continued on until 1990 in many cases...the economy of the GDR did not make it possible to upgrade to newer technologies, nor were those newer technologies allowed in from the west.
Had the East German government allowed technology and new ideas in from the West, it would show how the socialist way of life was failing in the East and how the West was succeeding and changing.

Kitchen items

Phonograph & transportation - again what many of the East German people had up to 1990.

Memorabilia & transportation

Map of some type for the Lenzen area - I don't remember anymore from 1997

Living room

Reading books

Poster of woman operating a combine.
DDR (Deutsche Demokratische Republik)
"Socialistic state of the workers and farmers"
There were no individual farmers or land owners.
Workers were part of a communal farming operation, based on the Russian socialist version of agriculture.

Bathroom
Grocery store - AGAIN, the curator emphasized the shelves would have been barren much of the time during the GDR regime.

Picture in the Lenzen museum of some of the fencing and gated areas.

Picture in the museum showing another view of the fencing and guard towers.

Picture in the museum showing the removal of the fencing after 1991.
We also visited the Berlin Museum.

Map of the Berlin wall

Photos on display in the museum.
The East German who attempted to scale the wall was shot and left there to bleed to death.
This is what socialism gives you...
One of the cars that was modified with steel and concrete and used to successfully bust through a check point in 1961.

Homemade motorized glider used to fly over the wall to freedom in the West on May 28, 1988.

Harness used to lower people over the wall.

Radio console hollowed out of its components and used to smuggle people through check points.

Footage of Ronald Reagan looped over and over.

2 suitcases with ends cut out and then butted together so a person could be smuggled in the trunk of a car.

Homemade breathing apparatus to escape under water in the rivers and tributaries.

Mesh fencing with spikes to prevent swimmers from escaping underwater in the rivers and tributaries.
In order to keep the car springs from compressing, which would show that a hidden body was being smuggled in the car, rubber balls were put in the springs.

Various scenes of how horrific socialism treated the East Germans.

Hidden compartment in a Volkswagen Beetle.
Picture of a horrific scene on display in the Berlin Museum.
Oskar Brüsewitz Lutheran pastor burns himself alive 1976
Oskar Brüsewitz (May 30, 1929 - 22 August 1976) was an East German Lutheran pastor who committed public self-immolation to protest the repression of religion in the Communist state of East Germany.
Michaelis Church in Zeitz, Germany.
With the Second World War nearing its end, Brüsewitz joined the Wehrmacht in 1944 as a fifteen-year-old, was captured by the Red Army and became a prisoner of war. He worked as a shoemaker after the war and converted to Christianity in 1954 under the influence of his family then attended a Lutheran seminary from 1964 until 1969 in Erfurt. In 1970 he was ordained in the Evangelical Lutheran Church at Rippicha in the district of Zeitz. He was critical of the East German Communist regime imposed by the Soviet Union after the war and symbolic acts of protest, including the installation of a cross of neon lamps at his church, brought him to the attention of the authorities. The leadership of his church sided with the state, rather than its priest, and asked, in 1976, for Brüsewitz to be moved to another rectorate. This was the immediate trigger for his suicidal protest in a public market in front of the church in Zeitz. The fire was quickly doused by officials from the Ministry for State security, but Brüsewitz died four days later from his burns.
On the day of his protest he carried pamphlets accusing the communists of repression which read; "Funkspruch an alle: Die Kirche in der DDR (Deutsche Demokratische Republik) klagt den Kommunismus an! Wegen Unterdrückung in Schulen an Kindern und Jugendlichen" ("A Radio message to everyone: The church in the GDR accuses communism! Because of the suppression of children at school"). In his suicide note he wrote of a "feigned deep peace, which had also intruded Christianity" in East Germany while in truth there was "a mighty war between light and darkness"("zwischen Licht und Finsternis ein mächtiger Krieg").
Brüsewitz died of his severe burns on August 22, 1976 in a hospital in Halle Dölau. His self-sacrifice brought support from both his parishioners and figures in the church and led to a reappraisal within the church hierarchy of its relationship with the Communist dictatorship. The Protestant Church now sees Brüsewitz's protest as an early step towards the mass popular protests which led to the collapse of East Germany in 1989.
The Communist authorities initially attempted to suppress news of the event then, when news leaked and public support for his action grew, they branded him a psychopath. On August 31 Neues Deutschland, the official newspaper of the ruling Socialist Unity Party (SED), printed an article entitled "Du sollst nicht falsch Zeugnis reden" "You shall not bear false witness" which asserted that self-immolation was the action of a sick, crazy man. A similar article appeared in Neue Zeit, the newspaper of the East German Christian Democratic Union.
The Protestant church of the ecclesiastical province of Saxony commemorated his sacrifice twenty years later in 1996, six years after the reunification of Germany. Bishop Dehmke called his death an "act of desperation" in protest against the repressive nature of the communist regime and the collaboration of church members who had grown too close to the state.

On display in the Berlin Museum.

East German youth protesting the US Marshall Plan - Yankee go home
Indoctrinating the youth is one of the first things socialists do to gain control of the population for long term.
State media control is also a high priority...so there are no means of communication for people who oppose socialist/communist dictators.
The Freie Deutsche Jugend (Free German Youth) rallies in East Berlin to protest the Marshall Plan and the Western Powers, with a banner reading "Yankee, go home," May 1950

1948 Rumors of an "X-Day" Putsch in Berlin
Unease in Berlin
Bill Downs CBS Berlin September 13, 1948
Berlin this morning is in that uneasy and uncertain condition that passes for normal here. The expected fireworks from yesterday's Communist demonstration did not develop. The shooting incidents during last week's mass meeting in the Western zone are being pushed in the background. Right now everyone is waiting for the next development in this lukewarm war of blockade, words, and threats between the East and West.

Any official action here-namely further meetings of the four military governors of the city-must await more conferences in Moscow. It is expected that another round of negotiations between General Clay and his opposite numbers in the British, French, and Russian zones will take place, but only after new instructions have been received. Those instructions will have to be agreed upon in the Kremlin meetings which may begin today or tomorrow.

However, rumor has replaced action in this besieged city. One of the Berlin papers this morning carries a big scare story outlining what it claims is the second phase of a German Communist plot to bring about a dictatorship of the proletariat for Berlin.

The story, which quotes no sources, speaks ominously of an "X-Day" for kicking the Western powers out; for abandoning parliamentary procedure. This is to follow a series of strikes, disruptions, and demonstrations designed to create such disorder of Berlin life that the so-called "people's government" will be able to seize power to preserve peace. The story speaks of the Communist training of "workers' commandos" and says that this second phase of a putsch will begin immediately. But the so-called "X-Day" will be sometime after the November elections in America.

We can expect more and more of these stories in the future. Meanwhile, in assessing the events of the past week, the East and West demonstrations and all, it is clear that the Western powers have a much greater popular support from the Berliners than even they expected-a fact that must give pause to the Soviet side.

But it will only be a pause. The Communist fight to discredit the West-to drive us out of Berlin if possible-will continue unabated.
This is Bill Downs in Berlin. Now back to CBS in New York.

Henry Toluzzi Stars and Stripes
East Berlin, May, 1950: With an enthusiasm that may have been tested as they spent the next two generations or so standing in line to buy soap, marchers at a pro-Communist Freie Deutsche Jugend, or Free German Youth, rally urge fellow East Berliners to reject the U.S.-funded Marshall Plan. Between 1948 and 1952, the Marshall Plan sent a total of over $12 billion in goods and services to European nations recovering from World War II.
By DWIGHT SCHEAR
STARS AND STRIPES
Published: May 21, 1950
GERMAN YOUTH IS marching again. On Sunday, May 28 - Whitsunday, normally in Germany as elsewhere: a quiet religious holiday - historic Unter den Linden and other broad avenues of Eastern Berlin will ring with the massed tramp of tens of thousands of feet in militant step. The drums, the bugles, the bright uniforms and flags will give Berlin, and indeed the world, cause to wonder if the ghosts of a decade ago have not risen from the land between the Oder and the Elbe.

In a remodeled office on the third floor of a bomb-scarred building in East Berlin last week, a blond young man in a blue uniform dictated messages to a secretary, studied documents on his desk and in between the rush of business, answered the questions of a reporter from the Western side of town, where Guenther Schlesinger intends someday to establish his new office.

Schlesinger's phone rang constantly. As press chief and official spokesman for the "Free German Youth" (FDJ - Freie Deutsche Jugend), he is a very important young man.

"How could I say," Schlesinger said, "whether or not other youth organizations (than the FDJ) would be permitted in Eastern Germany? The question has never come up. No other youth organization has ever asked for permission to organize.

"After seeing the great success of our united organization, the German youth became certain that there is no need for any other."

According to Schlesinger, the FDJ now has 1,133,309 members in Eastern Germany, not including the "Young Pioneers," the junior FDJ organization for children aged 6 to 14. HICOG officials estimate that the combined FDJ and "Young Pioneers" number about 2,000,000.

A detailed HICOG report says the FDJ "has actually been expanded into the official 'mass organization' for youth in the Soviet Zone, with bold eyes cast in the direction of West German youth as well.

"Every means," the report also said, "ranging from direct and indirect pressure to exploitation of youth's natural love for pageantry and flag-waving, has been applied by Communist leaders to gather the Soviet Zone youth into a coherent hierarchic organization over which they exercise the control."

Schlesinger says: "Our organization of course developed its strength independent of the occupation power. But it has received financial assistance from the Soviet Union and other democratic powers."

How does one join the FDJ? A boy "joins" by playing football (soccer). His team is automatically an FDJ sport club. A young factory worker "joins" because the trade union to which he must belong is, for its younger members, interwoven with and indistinguishable from the FDJ. A student "joins" because by refusing to do so he cannot qualify for a university scholarship. (Schlesinger says 108,000 FDJ members have received scholarships.) A first-grader "joins" because his teacher tells him that every good little boy is a "Young Pioneer."

Little choice is left, and with the consolidation of the Communist hold on all phases of Soviet Zone life, the choice is growing less every day. The church remains almost the sole field of organized activity outside the all-embracing FDJ open to East German youth. Schlesinger dismisses the church groups as "strictly religious" and "not actually youth organizations."

ACCORDING TO THE comprehensive HICOG report on the FDJ, an intensified campaign is now under way "to recruit by fair or foul means every last Soviet Zone child into the 'state' youth movement."

Spring brought new splashes of color to the drab but heavily crowded streets of downtown East Berlin, the most dazzling of which were the bright blue shirts of young FDJ street orators.

To display the ardor of its youthful political zealots - and perhaps in the hope that sparks of their enthusiasm would take hold with the passing sidewalk crowds - the FDJ Central Committee ordered blue shirt enthusiasts to hold public street corner "discussions" on "vital topics" such as the unemployment crisis to West Berlin, the "warmongering" of the Western Powers and the future of the "German democratic republic."

A few bold blue shirts tested their slogans on West-sector street corners. West Berlin police, under orders to ban Communist demonstrations in the West sectors as long as a similar ban prevails on democratic demonstrations in the Soviet Sector, acted swiftly. Seventy FDJ members were arrested in West Berlin within a single week. It was without doubt fortunate for the intruders that the police were able to move in a hurry. Many of the arrests were in effect protective custody. West Berliners have little patience with their fellow countrymen who speak for the Soviets, and in rubble-strewn Berlin, missiles are always at hand.

Those FDJers who deliberately court martyrdom in the Western sectors, as well as those who make the speeches and wave the banners in East Berlin, are not considered typical of the organization's rank-and-file. Western observers are convinced that the vast majority of the members have little enthusiasm for the political aims of the FDJ. They follow the blue banners because there are no other banners to follow.

"It is estimated," the HICOG report stated, "that only about five per cent of FDJ members are convinced and zealous workers for the cause."

That five percent, however - that hard core of burning fanatics - have proved themselves as trusted and hard-working components of the overall Communist machine. They have made the FDJ without doubt the most successful of the Soviet Zone "mass organizations" and can guarantee communism a continuing cadre of leaders in Germany, regardless of the future, above ground or underground.

Although the official age limit of the FDJ is 25, most of its top functionaries are older: These are classified as "friends of the youth." Ask Schlesinger what sort of "graduates" the FDJ seeks to turn out and he will answer with such stock Kremlin slogans as, "fighters for the peace" and "those who know they are a part of a great community."

In addition to "sports evenings," "literature evenings" and the like, every FDJ member, according to Schlesinger, is supposed to attend at least one evening of political discussion a week.

Perhaps the most shocking aspect of the training now being given hundreds of thousands of young East Germans is the relationship of the FDJ and those parts of the "people's police" which are in effect military organizations.

Political activity of both organizations is closely coordinated, and, according to U.S. officials, there are indications that all eligible male FDJ members will soon undergo two months of basic training with the "police" units.

"There is evidence," the HICOG report said, "that FDJ leaders, who have already given proof of their street-brawling capabilities in the Berlin S-bahn strike of May and June, 1949, are being instructed in guerrilla warfare."

The FDJ grew out of so-called youth committees established by Soviet officers on the heels of the German capitulation. Central control is maintained through a tight chain of command and there has been no evidence of any independent discussion or any deviation from the line laid down by the central committee. The organization's constitution provides for expulsion for any breach of discipline.

U.S. officials estimate that the FDJ has recruited perhaps 50,000 members in Western Germany. Schlesinger predicts that this same number will come from Western zones to the Berlin Whitsunday meeting. However, he claims that many of these will represent organizations other than the FDJ.

"The FDJ," he said, "will work continuously on the development of our organization in Western Germany. However it is very difficult over there because the Adenauer government interferes with our work."

For months, the FDJ has devoted its main efforts to preparing for its gigantic May 28 show in Berlin. Sharp reaction by Allied leaders and the West Berlin population to FDJ threats to storm the Western sectors on that date has resulted in repeated assurances that only a peaceful demonstration is planned.

The assurances may be valid this time. But those who remember the assurances of the last regime which organized a marching German youth believe that in Berlin, most especially, vigilance is the price of freedom.

Poster on display in the Berlin Museum

On display in the Berlin Museum.
Manning has at least one connection to this event...read below.

Berlin Airlift
After World War II ended, Germany was in ruins, and the situation in its capital, Berlin, was dire. About 2.5 million Berliners were still living in the war-ravaged city, but food was scarce and shelter was hard to find amid all the rubble. The economy was mostly black market goods at that point.
To begin rebuilding, the Allies split Germany between the U.S., Great Britain and Russia. Berlin was also divided into occupation zones; the Soviets controlled the eastern portion while the west went to the U.S., UK and France.
Unfortunately, the Soviet-Allied alliance deteriorated quickly, and tensions fully erupted by 1948.
On June 24, 1948, Soviet forces blockaded all road, rail and water routes into Berlin's Allied-controlled areas, stifling the vital flow of food, coal and other supplies. Soviet troop numbers dwarfed those of the Allies, which had drawn down after the war, so there was little the Allies could do about it militarily. But the Soviets couldn't block Allied airspace, so U.S. and UK forces took to the skies to get supplies to the Allied sectors. On June 26, the U.S. launched Operation Vittles, which the U.K. later joined. It was the biggest aerial resupply mission ever embarked upon. The Allies also imposed their own counter-blockade, restricting trade with East Germany and East Berlin.
More than 2 million Berliners were relying on the aid, which included much-needed food, fuel and medicine. Over time, though, it became more efficient, and the number of airdrops increased. At one point, Air Force and Navy planes were landing at Tempelhof Airport every 45 seconds. On Easter Sunday, April 17, 1949, the constant procession of planes managed to deliver 13,000 tons of cargo, including the equivalent of 600 railroad cars of coal - all in one day! Things weren't going well for the Soviets. The airlift had been going on for 10 months, and the Allies had proven they could keep it up indefinitely.
The Russians had gained a reputation as bullies because of their blockade. On top of that, an Allied counter-blockade was causing severe shortages in the Russian sectors, leading to fears of an uprising.
The Soviet Union gave in and lifted the blockade on May 11, 1949; however, the airlift itself didn't end until Sept. 30, just in case the Soviets decided to change their minds.

C54 landing in Berlin
Pictures from Chuck Henderson of Manning (now deceased)


Charles Henderson

Charles Henderson enlisted in the United States Air Force on February 2, 1948. The Air Force was only three months old and was operated by U.S. Army Officers and NCOs who followed Army regulations and directives. In effect, Charles received U.S. Army "Basic Training" which was a total of thirteen weeks. After basic training, he was sent to the 59th Air Depot Wing Griffis AFB in Rome, New York. In July he was deployed to Burtonwood AFB, Warrington, England, along with the entire 59th Air Depot Wing.

During his Air Force career, Charles served in the "Berlin Air Lift", also known as "The Berlin Blockade" and "Operation Vittles" from 1948 to 1949. He also served from 1953 to 1954 in Korea at K-9 Air Force Base near Pusan. Charles retired from the USAF in April 1968 with the rank of Technical Sergeant. During his twenty-year career he received the following decorations and service ribbons: National Defense Service Ribbon, AF Good Conduct Medal, AF Longevity Ribbon, Medal for Humane Action with BAD, United Nations Service Ribbon, Korean Service Ribbon, Air Force Commendation Medal, and Small Arms Expert Marksmanship Ribbon.



---
As we drove around the area with Peter Kusel, he told us lots of things about the mistreatment, abuse, and inhumane acts imposed on the people under the thumb of socialism/communism of East Germany.
I noticed a number of large concrete buildings that looked like apartment buildings.
They were some of the communal living facilities forced upon the people of East Germany.
When the USSR lost their control over East Germany and the wall fell, the East German citizens were free again.
One of their choices was NOT to live in those communal buildings.
Peter told us that not even the homeless people of former East Germany would stay in those buildings when the wall fell, because of their strong hatred of the former GDR government and the socialists who ruled over them.

I also remember Peter telling me that while they hated Hitler and the Nazis, they despised just as much if not more for what Socialism/Communism did to the people of East Germany after the Nazi reign of terror.

Communal buildings


As we continued to drive around the area we saw skycranes everywhere in East Germany.
While West Germany was able to rebuild after WWII with help from the Marshall Plan and military defense from the US, the socialist government of East Germany basically "fed" itself and left the citizens to their own means.
After East Germany rejoined West Germany, the West spent a lot of money to help rebuild the East part.

Buildings all over the old East Germany were being restored and new buildings constructed.

Check Point Charley

Checkpoint Charlie (or "Checkpoint C") was the best-known Berlin Wall crossing point between East Berlin and West Berlin during the Cold War (1947-1991).
Even though I took these pictures 7 years after the fall of the Berlin Wall, I could still get a sense of the horror that the people of Germany had to live with for decades.
This image I photographed in the Berlin Museum shows how close the US CIA headquarters and USSR Stasi headquarters were from each other.
The lighter squares on the building walls are where sections of buildings were damaged by bullets and artillery during the war and arms fire between the East & West and are now repaired.

Probably hundreds of millions of pictures have been taken of the Brandenburg gate but I can lay claim to this one I took in 1997.

Brandenburg Gate

Built between 1788 and 1791 by Prussian King Frederick William II as a key entry point to the city of Berlin, Brandenburg Gate was topped off with a statue known as the "Quadriga," which depicted a statue of the goddess of victory driving a chariot pulled by four horses. The statue remained in place for just over a decade, before falling into the clutches of Napoleon Bonaparte and his Grand Army. After occupying Berlin that fall and triumphantly marching beneath the arches of the Gate, Napoleon ordered the Quadriga dismantled and shipped back to Paris. The horse and goddess were hastily packed up in a series of crates and moved across the continent. Napoleon, perhaps preoccupied with the crumbling of his recently established empire, appears to have forgotten about the statue, and it languished in storage until 1814, when Paris itself was captured by Prussian soldiers following Napoleon's defeat. The Quadriga was returned to Berlin and once again installed atop the Brandenburg Gate, this time with one change: As a symbol of Prussia's military victory over France, an iron cross was added to the statue. The cross was later removed during the Communist era, and only permanently restored in 1990 during the unification of Germany.
Statues that go back to the days of Napoleon Bonaparte & the French Revolution that conquered much of Germany.

I'm not smiling and probably fitting when I think right now of the horrible crimes that occurred to hundreds of millions of people during WWI, WWII, and the Cold War and what my distant cousins in Germany had to live through and some died from.


While the United States was helping to rebuild Germany and Europe after WWII, the socialist/communist USSR built statues in Berlin and occupied/controlled many countries of what became part of the Eastern bloc of nations.
Soviet War Memorial (Tiergarten) in Berlin, Germany
The Soviet War Memorial is one of several war memorials in Berlin, erected by the Soviet Union to commemorate its war dead, particularly the 80,000 soldiers of the Soviet Armed Forces who died during the Battle of Berlin in April and May 1945. This memorial was erected in 1945, within a few months of the capture of the city.


I wish now I had taken a lot more pictures of the Berlin Wall in 1997. Not until recently scanning the prints I have, did I realize some of the more historically important images I had unknowingly captured and what they actually depicted.

At that time, I would have never dreamt in a million years that socialism/communism would rear its ugly head in the United States like it is today and around the world.

I checked the Internet and there are still sections of the Berlin Wall that were preserved and now are historically protected.
Unlike what is happening to our historical statues and structures here in the US.

---
On August 13, 1961, the Communist government of the German Democratic Republic (GDR, or East Germany) began to build a barbed wire and concrete "Antifascistischer Schutzwall," or "antifascist bulwark," between East and West Berlin. The official purpose of this Berlin Wall was to keep Western "fascists" from entering East Germany and undermining the socialist state, but it primarily served the objective of stemming mass defections from East to West. The Berlin Wall stood until November 9, 1989, when the head of the East German Communist Party announced that citizens of the GDR could cross the border whenever they pleased. That night, ecstatic crowds swarmed the wall. Some crossed freely into West Berlin, while others brought hammers and picks and began to chip away at the wall itself. To this day, the Berlin Wall remains one of the most powerful and enduring symbols of the Cold War.

Berlin Wall sections that remain, as of 2020

In 1990, after the Berlin Wall had ceased to be functional, the eastern side of the wall was painted by 118 artists from 21 countries, resulting in the longest open air gallery in the world.

Dave Kusel standing next to a section of the Berlin Wall in 1997.

Remember that in reality, this wall was not to keep people out of East Germany but to make East Germans prisoners of the state.

Note the "East Side Hotel" sign on the other side of the wall.

Star of David

Painted November 9, 1989

1997 - Soli Deo Gloria (Glory to God Alone)


Image from the internet that shows graffiti on this section years after I took my picture.

This section of the wall was originally painted in 1989 when Germany was reunified, it has since remained as a memorial to freedom, and the images painted on it have remained. They have been badly damaged by graffiti, so for the 20th anniversary of the reunification that occurred on October 3, 2010, the original artists were invited to repaint their original images.

Painted August 1990
My God, Help Me to Survive This Fatal Attraction, romanized: Góspodi! Pomogí mne výzhit' sredí étoy smértnoy lyubví; German: Mein Gott, hilf mir, diese tödliche Liebe zu überleben), sometimes referred to as the Fraternal Kiss (German: Bruderkuss), is a painting by Dmitri Vrubel on the eastern side Berlin wall.
Painted in 1990, it has become one of the best known pieces of Berlin wall art. The painting depicts Leonid Brezhnev and Erich Honecker in a socialist fraternal kiss, reproducing a photograph taken in 1979 during the 30th anniversary celebration of the foundation of the German Democratic Republic.

Actual 1979 photo of Leonid Brezhnev and Erich Honecker

My own personal experiences here in Manning.
During the 1990s through early 2000s we hosted farmers from around the world to come see how agriculture is done here in Iowa.
Many of them had technology shock when they saw the equipment we used and how a lot was controlled by computer technology.
One group of farmers was from the Ukraine, a former satellite state of the USSR.
I'll never forget the response from these farmers when I showed them the horse-drawn cultivator and plow on display in our Quonset, that my dad used.
Without missing a beat, they told me that this was the type of equipment they used up until the break-up of the Soviet Union - eastern bloc in 1991.

Jenny Lind cultivator


plow


The Ukranians also told us that they had to create a Ukrainian name for a "farmer" because all they knew was communal farming started by the Soviets.


One of the most eye-opening group of farmers was from China.
They were very polite and only the interpreter spoke English, so I did not have any one-on-one conversations with any of the Chinese farmers.

I noticed one of the Chinese farmers moving the handle of the water hydrant up and down. I realized right away, having had experience with the old cistern hand pumps, that he thought he had to "pump" the handle to get water.

I went over and raised my hand in a motion to stop. Then I put the handle in the up position and then motioned again to wait. Then the water started coming out of the spigot.
He gave me a big smile and realized we had water pressure.

Because of the language barrier, I wasn't able to explain to him that the water pressure was because of gravity from a cistern higher up on the yard.
After they left, we found out later that there was one armed Chinese man (not a farmer), who was there to make sure no one defected.
---
While writing about these Chinese farmers, I remembered how Jim Mork of Manning was stationed in China during WWII.
The US used bases in China to resupply and refuel allied offenses against Japan.
It is hard to believe that the TINY island nation of Japan had captured Nanking, China, in 1937 (capital at that time) which was called the "Rape of Nanking."
If you aren't familiar with this aspect of history you can search the Internet.
Now what is infuriating to me today is that the people of China have completely forgotten how the US basically saved their butts from Japan during WWII and now they are stealing our technology, and becoming aggressive to the world.
To make matters worse, the current administration appears to be going back to the appeasement strategies of the past.

So anyone in this country who thinks socialism/communism is a good thing and better than democratic capitalism, needs to go to Berlin to see the wall, and then they need to speak to other peoples from around the world who live/d under the boot of those types of governments.
Once people are riding in the "socialist cart" they expect to be pulled by the rest of us in front of the cart...eventually there won't be enough people pulling the cart to keep our society going.
---
James R. Mork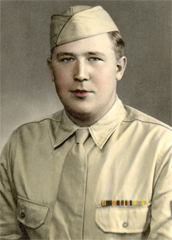 James Mork, 17070130, enlisted in the Army in October of 1942. He reported to Camp Dodge, in Des Moines, Iowa. Minimal basic training took place in Victoria, Texas, followed by three months of schooling on B-25s and B-26s in Wichita Falls, Texas, and then a month of schooling on B-24s and B-32s in San Diego, California. After schooling, James was assigned to the 16th Airway Detachment. They boarded a ship and sailed, unescorted (one of the first since the beginning of WWII), across the Atlantic Ocean, to join World War II. He served in the Pacific Theater, primarily in China. James returned to the States on New Year's Day of 1946 and received his honorable discharge on January 6 of the same year.
---
James Mork's Memories of the War
Most of my group was rural farm boys. We all had done some type of mechanic work.

When we arrived in our base in China (about 200 miles from Vietnam and about 200 miles from the islands of Japan)

we were issued a weapon, we had to memorize the serial number, make, and model.
We were supposed to store them at the quarter master. If we need them we had to go over the quarter master and tell them the number, make, and model.
Our group decided that if we were ever under attack it would be foolish for all of us to walk over and wait in line to get our weapons - so we kept our weapons in our tents. We moved our tents to an area away from the main base - located by a cemetery, a school and a bluegrass pasture with a river running through it. The Japanese used this as a landmark for their flying fighters, so we knew that they would not destroy this area.

One day we were working on the planes (P-40s Flying Tigers) and trucks - we noticed a Japanese plane land on the road we all ran over to see what was happening. When we got to the plane the pilot was a kamikaze pilot. He was chained to his seat with 3/8 inch log chain - we had to get a torch and bolt cutters to get him out.

Before entering the military I worked as a mechanic and along the training I received I was able to work with parts from different vehicles to keep everything. Our group realized that the rain-gear we received was made of a material that we used to repair the diaphragms in the fuel pumps for the planes and other vehicles we worked on. Our group of mechanics realized that the when the fuel arrived at our base in 55 gallon drums water would condense in the drums. When the planes would be refueled and took off - they would spit and sputter - we knew that you had to let the fuel separate for 30 minutes you could drain off the water. We also had to be careful when we had to buy parts from the Chinese - sometimes we ended up buying our parts back. There were some guys who would strip parts from our vehicles and sell them to the Chinese for whatever they needed.



---
Now this feature switches to show how those of us living today need to learn our history a lot better so we can appreciate and understand how good we actually have it.

I continue to beg and plead for Manning connected Veterans and family members of deceased Manning connected Veterans to get their military pictures, documents, and information to me so I can scan those items and include that information in the Manning Veterans' history book project database...sadly my requests mostly fall on deaf ears. BUT I'm not deterred and continue to plug away.
I've had pressure by some Veterans who have already submitted their military stories to publish the book - arguing that I'll never get everyone...BUT I'm so glad I have resisted publishing the Manning Veterans' book because I keep finding more Veteran names and more information and every now and then my historical helpers keep digging up more names and information.
This last batch of information one of my helpers found really grabbed my attention. I knew I didn't have all of Manning's Civil War Veterans in my database but to find this many new names or the spouses/wives names of Manning's Civil War Veterans is amazing and so great to have.
Here are the new names of Manning's Civil War Veterans: Isaac Sherman, John Phillips, widow Debard Patsey, Edward Pardle, mother Margaret Mayberry, widow Priscilla Lieurance, Henry Hanchett, widow Parthena Chapman, and Charles Brown.

Now I need to find out the first names of the husbands/son of the Civil War Veterans whose wives/mother's name I have listed above.

This new list of names increases the number of Manning Civil War Veterans to 69.

https://www.davidkusel.com/veteran/hframe.htm

I've written about and shown in various feature stories on my web page in the past about Iowa/Manning's involvement in the Civil War, but it needs repeating, especially during the times we live in where very few people appear to fully understand and appreciate what Abraham Lincoln and the Northern military did to save the Union and free the slaves.

First listen to this short video to understand how amazing Iowa's involvement and sacrifices by its citizens were during the Civil War.

Civil War - Iowa

Did you catch all of those stats from the Civil War re-enactor? Including the fact that Manning has one of those Congressional Medal of Honor winners, Henry Peters.

Recently, while working on the Frank/Meggers collection, I discovered that Joseph Moore, another Manning Civil War Veteran, had brothers, John & Jacob, who also serve in the Civil War...with the ultimate price paid for by their father, Gilbert, who died at Andersonville Prison. Even though Gilbert, John, & Jacob are not directly connected to Manning I will include them with Joseph Moore's military write-up in the Manning Veterans' book. One of my goals with the Veterans' book is to connect and show all of that intertwining military history that also shows the family members who were Veterans.

I asked Tom MacDonald-Williams to use a photo taken from the water tower of north Main Street that showed the back side of the GAR hall and below is his artist's rendition of what the front would have looked like.

McPherson Post 33 GAR

From the History of Manning 1898


McPHERSON POST, NO. 33, G.A.R., was mustered in, March 17, 1881, by Major, A. Cully at Center School House, Jefferson Township, Shelby County.
The Charter officers and members of this Post are Commander, S.E. Whitcher; Senior Vice Commander, Henry Ferrell; Junior Vice Commander, H.C. Williams; O.D., B.H. Lathrop; Quarter Master, J.L. Hall; Chaplain, Francis Leonard; Members -- M. Hanchett, W.J. Blair. B.J. Jenkins, C.J. Hawkins, Harvey Stocker, Joseph Moore and J.I. Halford. The Post was transferred to Manning in December of this year. In September 1882, Cook Hall was completed and was leased by the Post, and the dedicatorial services took place October 6, following.
The G.A.R. (Grand Army of the Republic) and W.R.C. (Woman's Relief Corps) Hall was purchased in December 1884, by those two lodges, and since then, has been remodeled and fitted up, making a comfortable and attractive home for these worthy institutions. The present membership of this Post is 14.
The object of the Order is fraternity and benevolence toward the soldiers, and orphans and widows of soldiers of the Civil War, and it is earnestly desired by the Post that all persons eligible join the Order and have their names enrolled on the Roll of Honor -- to honor through life and be honored in death among that innumerable band of our Grand Army of the Dead.
The present officers of the Post are: Com., J.G. Beal; S.V., C.F. Leonard; J.V.C. Ad'j't., J.L. Hall; Q.M., A.W. Blakeslee; Q.M.S., D.W. Sutherland; O.D., W.H. McVey.

Note: The National Woman's Relief Corps, Auxiliary to the Grand Army of the Republic, Inc., is a patriotic organization whose express purpose is to perpetuate the memory of the Grand Army of the Republic, as their auxiliary organized at their request on July 25 and 26, 1883 in Denver, Colorado, and incorporated by Public Act of the 87th Congress on September 7, 1962


Recently a number of politicians (along with many in the media) questioned the National Guard as to their loyalty to the constitution, and demanded the defense secretary vet the troops before the presidential inauguration...the secretary acquiesced even though he stated there was no intelligence to indicate such a threat.

Such despicable comments by politicians and others to question the men and women in our military are inexcusable.

These and other politicians are even suggesting that tens of millions of Americans need to be deprogrammed.

No one on the receiving end of these un-American and unconstitutional attacks should be surprised...this type of socialist/communist/Marxist/Nazi thinking has been slowly infiltrating every aspect of our American culture and society for decades.


This next section is something I posted in 2017.
I'm showing these comments twice about the 2006 move of the Trinity Lutheran Church to Manning...right here and you will see it later with more commentary...just to show that racist and anti-Christian people can't resist attacking those of us who live in rural America.
Pay special attention to the first comment below about the color of people in Manning - then remember all of the Civil War Veterans connected to Manning who fought and died to save the Union and free the slaves.
Special note: I'm glad I captured these comments from Youtube several years ago, that were posted for at least 10 years...BECAUSE now some of those more extreme comments have been removed.

I disagree with that move by Youtube to purge some comments - Youtube should have left them there for all to read - removing the posts does NOT change the minds of such close-minded, inconsiderate, and even evil people. We need to hear and read their hateful comments which will hopefully cause more people of good conscience to speak up and refute those terrible thoughts.

What possibly, by moving the historical country church to Manning, would be offensive to anyone who does not live here and has absolutely no connections to the "one color" folks who lived/live here and cherish Freedom of Speech, Freedom of Religion, and the Right to Keep and Bear Arms?
There is/was NO political statement in the church moving video - nothing that attacked another race, creed, person, etc...It is just a video of moving a church by a small community which was documented for the "Monster Moves" series.

I won't get into a "tit for tat" with people who agree with these negative comments below, so don't bother sending me your comments.
If you DO NOT like or agree with my analysis - then spend your own money and time and create your own web pages and have at it - I won't protest your right to do so but I also won't be visiting your site - I choose to "turn the channel" rather than try to infringe on your rights - have the same respect for me!!!

Freedom of Speech needs to get back to the way its original intent has been - no matter how offensive, it has to be protected...more speech, not less is what we need.
WHO is going to "sit on high" and decide who/what is offensive - there is NO perfect person so then everyone needs to be "cancelled."
Please don't give me the false comparison "yelling fire in a crowded theater" example...


2017 feature begins just below
Normally I wouldn't give the Entitlement generation space on my web page for their venom but in this case I think it is necessary to show the extent of how low some people will go because they think it is necessary for them to voice their opinions about everything - even when it has absolutely nothing to do with them and doesn't affect them one way or the other - referring to the video of moving the Trinity Church to Manning...

https://www.youtube.com/watch?v=tfXm2eJxXII

Comments left below the Trinity Church moving video on Youtube...
NOTE: Youtube removed a number of these comments recently but what you see below is what I copied 4 years ago.
Tangogonzo 5 years ago
@OakPark11MileRd
There is only one color in Manning.

David 5 years ago
Ridiculous.

Michael Lee 5 years ago
I wish it would of toppled :(. Depressing it didn't.

Hippotoast 7 years ago
They found a shit load of alter boys buried underneath it.

Moose Kay 7 years ago
They couldent smell jesus

CreatorAdriaan 8 years ago
lol thats no church thats a chapel. Those crazy americans with there cheap prefab buildings.
Why moving somthing that was only there for 100 years? Make it 300 and it would have some value.

Hippotoast 8 years ago
I detest religion and truly appreciate it for what it really is a disgusting fallacy, but i just love this freaking song.

Ignacius Avetus 9 years ago
Why do they use a tractor to move the church and not God´s special powers?

Green Silver 9 years ago
Rednecks are weird, I seen the movies. Incestious homo's... right strange bunch if you ask me. So what did ya do wiv the graves then, did ya dig em up and take em wiv ya?

normalnorman41 9 years ago
i would have blown the f##ker to bits

asdf 9 years ago
god only exists int he minds of human beings. he imaginary, lets move on as humans and drop this shit its silly---- press thumbs down lol sry for thinking

John Doe 9 years ago
yeah how much money from that churches patrons did the church suck out of them to get it moved?

GueroMuerto 9 years ago
FAKE!!! The religion, that is.

Lee Mason 9 years ago
Why go to all the trouble. All they had to do was to ask Benny Hinn, Pat Robertson, Billy Graham, Paul Crouch. George Bush,. etc. to ask god to move it!

Roysito 9 years ago
first of all...
why did they move that church???
i mean!!! it's like if you spend 2000 dollars on something useless just cuz you have the money...

Now some people would say to just ignore these individuals...they are just the fringe.
Normally I would agree but I think it is time for the majority of people in the US who have been silent for decades and who love their country to stand up and peacefully speak up - against this type of destructive narrative that is so intertwined in society today.

Here is the complete feature story I posted in 2017
What is the truth?
Whose "facts" do you believe?
Everyone has opinions on everything - just ask them.
Everyone's rights are being infringed upon - just watch the news.

A series of historical events and examples to give a different perspective than commonly heard today.
Scroll down through each of the 6 eras.

#1
From the Greatest Generation...

From:
LEON W. JOHNSON
Brigadier General, USA
Chief, Personnel Services Division
23 March 1946
Mrs. Therese T. Detlefsen 124 East Street
Manning, Iowa
To:
Dear Mrs. Detlefsen: In regard to First Lieutenant Heinz W. Detlefsen, these records indicate that your son was killed on 8 November 1944, when his aircraft a P-51 (Mustang) fighter plane crashed at Bersenbrueck, twenty-one miles north of Osnabruck, Germany. These records further indicate that his body was recovered and buried at Bersenbrueck on 9 November 1944, at 8:00 A.M. in the Cemetery. Lieutenant Detlefsen rests in grave 118, row 2.
After receiving his Wings at Williams Air Field, Arizona, in November 1943, Heinz received his combat training at Santa Ana, California, in the P-38 fighter plane.
April 1, 1944, his squadron, the 435th, was sent to England and became part of the 479th Fighter Group. He completed 260 hours of combat leaving only 40 hours for completion of his required hours over enemy territory.
At the time of his death, November 8, 1944, he was flying a Mustang. From the book which describes the activities of the 479th Fighter Group, the following quote is taken: "Lts. H.W. Detlefsen and T.V. Smith, 435th pilots, had a mid-air collision during a cross-over in the Lubeck (Germany) area and did not return."
Lt. Detlefsen was awarded the Air Medal with three Oak Leaf Clusters, the Distinguished Flying Cross, plus the rank of 1st Lieutenant.
Heinz's remains were later removed from the Bersenbrueck, Germany, cemetery and moved to the Margraten U.S. Military Cemetery near Vaal, Holland, as seen in these three pictures of the crosses.
His wife, the former Elnor Vannote, taught in the Manning High School from 1939 to 1940.

These cemetery photos were taken in February 2017 by Peter S. of Holland, who, at my request, graciously offered to take high resolution digital pictures and e-mail them to me.
Heinz Detlefsen, son of first generation German immigrants Hans and Therese (Thede) Detlefsen, was born July 11, 1920, in Manning.
Max Detlefsen, also son of Hans and Therese, was born September 22, 1915, in Manning. He graduated from Manning High School in 1933 and worked for Dultmeier Manufacturing.
Max then attended Coyne Electric School in Chicago for two years. He returned home and worked for the Manning Municipal Light Company.
In 1941 he was drafted into the United States Army, where he served for four and a half years, teaching munitions and demolition to recruits at Ft. Leonard Wood, Missouri.
On December 27, 1942, Max was united in marriage with Marjorie Smith in Williamsburg, Iowa. The couple met in Manning, where Marge was a Home Economics teacher.
After his honorable discharge from the Army in 1945 they lived in Williamsburg for a short time before moving to Manning. Max then worked for Manning Municipal Light Company for several years before buying Schelldorf Electric Shop in 1948, renaming the business Detlefsen Electric.
Max and Marge had two children; daughter, Ann, and son, John. Max semi-retired when John took over the business in 1981.
Max was a charter member of the Manning Rotary Club, a member of the American Legion, and a volunteer with the Manning Fire Department. With Lyle Arp, he built L & M Bowl in 1960.

#2
To the Manning Pioneer Generation...

WWI, Iowa Governor William Harding's The Babel Proclamation May 14, 1918.
"Only English is legal in public or private schools, in public conversations, on trains, over the telephone, at all meetings, and in all religious services."
By permission of Governor Harding we are again able to preach German sermons. But the sermon must first be rendered in English and everyone who wants to hear it in German must first hear it in English. Every second Sunday in German but depends that those who would rather hear the German will also be present on those Sundays when only English is preached.
Pastor John Ansorge - July 21, 1918, entry in the official Lutheran Church record book

In response to local accusations against the Lutheran Church, whose members were of German ancestry or direct German immigrants, the local pastor provided these facts.

August 22, 1918 - letter to the editor by Pastor Johann Ansorge, Lutheran pastor in Manning
The American Lutheran Church Is A Loyal Church
Some have looked askance at our Church because a good portion of her members are of German descent. But German blood does not make for disloyalty.

Do you know that during the Civil War 48 generals, who were Germans by birth, fought on the side of the Union? They include some of the most distinguished Generals of the great Civil War. Had it not been for the Germans, both Missouri and Maryland would have been lost to the Union." These are the words of General Sherman, spoken in the House lately.

The writer is proud of the fact that his grandfather, under a German general, fought to retain Missouri for the Union.

Why Roosevelt said the other day in the Kansas City Star: "I also have German blood in my veins." And you will not say that Roosevelt has a drop of disloyal blood in his veins. Why should he, who has English or Irish or French blood in his veins, love this country more? The Lutheran Church has no interest whatever in any language; her business is to preach the Gospel according to the Master's commission. "Go ye into all the world, and preach the Gospel to every creature." She is preaching the Gospel in 17 different languages in this country. Language has nothing to do with loyalty.

If the Lutheran Church were disloyal, do you believe that the Government would open to us her army camps and forts? Pastors of our own Lutheran Synod are working in over 260 army camps, and are in the service of the government overseas as chaplains.

The 35,000 of Lutheran boys who have gone into the service of their country are being spiritually cared for by our own Lutheran ministers, our congregations cheerfully and willingly have taken upon themselves the enormous expense which this work entails. We are erecting chapels and comfort huts in the various camps. And the government is rendering us every aid and encouragement, because it recognizes that our boys need the spiritual aid of the Church. Would the government do this if the Lutheran Church were disloyal? No, the Lutheran Church is loyal and is rendering her country a real service.

Can the same be said of those who slander the Lutheran Church?
Johann Ansorge

Ill feeling developed between those who either immigrated from Germany or were American born citizens of German ancestry and those residents of Manning who were of non-German ancestry.
Threats were made, and at one point, it was rumored that Manning's German Savings Bank was to be painted yellow. The bank directors held a hasty meeting and changed the name to the Iowa State Savings Bank.

Peter Rix, owner/publisher of the German newspaper Der Manning Herold, bought the Manning Monitor, combined the two plants, and discontinued the German paper.

Some families changed their surnames to "less German" sounding, such as Anton to Antone.
The German singing group Der Manning Liederkranz, stopped singing and meeting during both WWI & WWII.

The U.S. declared war against Germany April 6, 1917, and by June, over 175,000 American troops were in France for training.
It was a gala day in Manning April 20, 1917, when ten young men left Manning to enlist in the service of their country in the World War. Patriotism ran high and the men were escorted to the depot by the band and an enthusiastic crowd of fellow townsmen carrying flags. They left amidst the cheers and tears of the people.
The youngest of these men, 17 year old Albert Dethlefs, did not return alive.

When the United States entered the war, there was no draft but May 18, 1917, Congress passed a selective service act, and within days all men between the ages of 21 and 31 had to register.
The effects of the draft were felt in many homes; in one call alone, 98 men from Carroll County - nearly half with Manning addresses - were put into uniform.

Bill, Herman, Harry, Herbert

Hans and Magdalena (Buhmann) Claussen, both German immigrants had a 4-star flag in their window signifying that four of their sons, Harry, Herman, William and Herbert were serving in the American Expeditionary Forces.

Before the peace agreements were signed in July 1921, the "War to End War" had taken the lives of 3578 young Iowa men; eight were from the Manning area.

Over 330 men from the Manning area served during WWI.


August 28, 1919

Eight Manning men did not return home alive: Albert Dethlefs, Emil Ewoldt, William Wulf, Fred Passick, Louie Rowedder, Arthur Stang, Bernhardt Stuhr, Julius Vinke.

PROUD OF RECORD - Carroll Herald 1918
Citizens of Manning can feel proud of the number of volunteer young men who have joined the colors. Should other towns furnish a number in proposition there would be no need of drafting or conscription. The young men go to all parts of the world, and perhaps in a few months they will be scattered thousands of miles apart. Here's hoping that a year from now all will be able to return to Manning feeling that the year had been a profitable and pleasant one by them.

You'll give it to Manning, yes, Manning with its heavy percent of German population, when it comes to showing the best phase of loyalty to this government. Manning several days ago had sent 29 boys to the country's army. That's better evidence of patriotism than putting up the flag or engaging in heated debate. Manning, you may stand at the head of the class. published by the Carroll Herald 1918.

Some Manning men of German ancestry would have potentially fought against some of their relatives in Germany during WWI and WWII...no specific cases are known where actual direct fighting between relatives occurred where a Manning soldier was shooting at a German soldier from the same family line, but this would have been on the minds of those who fought for both sides - that they could kill an uncle, cousin, or brother who was fighting for the "other side."

Joseph Brandt served in the German Army before immigrating to the United States in 1913.
His grandsons, Bert and Joe served in the U.S. military.
Jurgen Hinz served in the German Army in 1895 before immigrating to the United States in 1902.
His grandsons, Larry Genzen served in the Iowa National Guard, Dale Hinz served in the US Marines, and Gary Gruhn in the US Army.

Today, there is only one person living in Manning with both a German relative and American relative who served in the military during WWI. They were uncles of Gerhardt Theodore Voge who will be 95 in 2017.
Ironically, Gerhardt Theodore Voge is named after those two uncles - Gerhardt Lamp, who served for the U.S. Army and Theodore Voge, who served for the German Army during WWI.

Throughout the 1800s and intensifying in the latter half of the 19th century, ensuing political instability, restrictive religious laws and deteriorating economic conditions in Europe began to fuel the largest mass human migration in the history of the world, with 1907 being the record for this era with 1.25 million immigrants.
From 1855 to 1890 approximately eight million immigrants, mostly from Northern and Western Europe, came to the United States.

#3
To those who saved the Union and freed the slaves...

Grand Army of the Republic - McPherson Post, Manning Veterans
Halsey D. Atherton, H.W. Bailey, J.G. Beal, Frank Blair, William J. Blair, Addison W. Blakeslee, L. Putnam Brigham, John Campbell, George W. Coe, Elisha Cole, Andrew J. Corbin, Nathaniel G. Dillingham, Cornelius Dunnick, P.A. Emery, C.M. Failing, James Foster, Horace M. "Hod" Free, Julius W. Gardner, A.C. Gaylord, James Halford, James L. Hall, David Hamm, Merrill Hutchins, Charles "Carl" Knapp, Carl Koepke, Benjamin H. Lathrop, Francis Leonard, Uriah Lenhart, Gilbert Moore, Joseph Moore, Jacob L. Nickum, John Noble, Samuel B. Parrott, John Parker, J.O. Pattison, Henry J. Peters, E.A. Pickett, Silas Priest, Joshua Rogers, Joseph Sawtell, Morgan Spencer, George Stocker, Harvey Stocker, Donald W. Sutherland, Thomas Tarpy, Martin V. Tate, Selden Whitcher, S.L. Wilson, Alexander Young

All but two of these Civil War Veterans lived in Manning/area.
Sawtell & G. Moore never lived in Manning but have direct Manning connections.
Gladys (Sawtell) Schmidt is the great-granddaughter of Joseph Sawtell.
Gilbert Moore died at Andersonville prison. He was the father of Joseph Moore and great-grandfather of Charles Moore who both lived in the Manning area.

Union statistics - which vary more or less among historians and military officials
2.2 million served for the Union - 360,000 death toll - around 330,000 were caucasion and 30,000 were black

Emiline and James Hall

Joseph Moore 1914

Donald Sutherland

John Parker

Silas Priest

Martin Tate

Henry Peters - Medal of Honor

Joseph Sawtell - Civil War diary

Civil War members in newspaper article June 5, 1913

The following are the Manning Veterans who saw that Memorial Day was properly observed. It was their pleasure to assist in decorating the graves of their departed comrades. Following are the Veterans in the picture, S.B. Parrott, Donald W. Sutherland, A.C. Peters, John L. Hall, John Parker, Cornelius Dunnick; except H.D. Atherton and Nat Dillingham.

Note there are ribbons on the men's coats in the picture above
Below is that ribbon


Manning McPherson Post #33

January 10, 1883 - McPherson Post G.A.R., is organized at Manning with the following charter officers: Commander, Seldon E. Whitcher; S.V.C., Joseph Moore; J.V.C. , George Stocker; Officer of the Day, Henry Stocker; Adjuvant, C. M. Failing.

James Birdseye McPherson in whose honor the Manning post was named
#4
To those who built Iowa and truly knew what hard work was...

1921 Alfred Nissen, cross-cultivating corn that was planted using the wire-check method.

1920 Joe Herbers, cross-cultivating corn that was planted using the wire-check method.

Loading manure by hand

Picking corn by hand
1913 - local farmers were hired to use their teams of horses & mules and slip scrapers to help build the grade of the Milwaukee RR.
circa 1917 Alfred Ehrichs owned/operated this corn sheller, made by the Joliet Manufacturing Co. At the top of the corn pile are Chris Ehrichs, Louie Ehrichs, August Ehrichs, and Carl Otto

Feeding hogs by hand

Threshing oats

John Kienast plowing with horses

1938 Roy Struve working with his FFA steer

1938 Amos Kusel working with his FFA sow

Loading loose hay
Hugo Ahrendsen on top of hay
Amos Kusel top of ladder then Melvin Kusel then Alice Ahrendsen
August Kusel leaning against hayrack

1942 filling loose hay in the barn on a 400 acre farm about 2 miles southwest of Botna

July 1942 Jasper "Jap" Ward trucker
Billy Meggers in door
Eddie Meggers holding the horse
Bill Gruhn holding the hay rope
Lester Gruhn and Elmer Fischer on truck
Andy Jansen heading toward the barn
Russell unknown - little boy
Horse's name is Charlie
Andy Jansen is brother to Alma Jansen Gruhn - Alma's husband was William Gruhn

"Plowing bee" from the Handlos collection.
When a farmer died or was injured, the neighbors pitched in and helped.

August 1948 bailing hay on the Kusel farm - Gene Ehrichs on the hayrack.

1963 "recycling" tearing down a barn on the Parker farm, that was built using wooden pegs in the timbers.


Using the large timbers and salvaged lumber from the original barn to build the new one.

Building another barn, all by hand.

Unloading ear corn into the corn crib

Ernest Kuhn with a full load of ear corn - hand picked

Milking the cow

Radeleff family shelling corn

Shelling corn

Claus Nielsen, Sr. harness shop in Manning...one among several harness shops.
Radeleff ice business


Lou Ohm with Bob Radeleff driving

Radeleff ice business

Outhouse at a country school
If you are 70 and older and were rural you probably used one of these.


No heat, no air conditioning, no air fresheners - just the air slots at the top of the structure.
They were generally on the north side of the house which made for very quick trips during the winter.
Many times they had to scoop through deep drifts of snow to get there...
The days of square hay bales.


1949 Melvin Kusel, August Kusel, Amos Kusel, Hugo Ahrendsen

Amos & Melvin Kusel getting ready to paint the barn September 1951

June 1950 next to the Kusel farm - RR workers repairing the Great Western track after a major flood

Martin Benischek & Dewey Schilling after loading hay on the truck by hand.

Dale Vollstedt & Paul Vollstedt after loading hay on the cart pulled by "Cutie" on the Emil Opperman farm.
A common scene on farms June 1950


Dorothy Kusel feeding her chickens
A common scene in homes during the 1960s and before

The kitchen cook stove on the left not only was used to make breakfast and cook meals during the day, it also was used to heat the kitchen. Corn cobs and chunks of wood were generally the source for fuel.

A common scene on farms December 1961


Barry & Amos Kusel haying the stock cows.

A common mode of transportation during the early 1900s


Louie Ehrichs with his horse & buggy.
#5
To the bedrock of the community...

1902 German Lutheran Church - first structure on Second Street


This church was moved and turned into a home - now located at 31 Sue Street

1921 Zion Lutheran - second structure on Second Street


1963 Zion Lutheran - third structure South Center Street

Calvary Baptist Church today


Roof burned off the Calvary Baptist Church

First Christian Church on the corner of Second and May Streets 1887 to 1920

United Methodist Church on Second Street 1883


United Methodist Church on Second Street

First Presbyterian Church on Second Street 1883


First Presbyterian Church 2005


First Presbyterian Church 2005

The first Catholic Church facing Third Street 1889


Taken in 1969 Sacred Heart Church built in 1916


Sacred Heart Church built in 1956


Sacred Heart Church 2005

The first Trinity Lutheran Church in Lincoln Township 1894


The second Trinity Lutheran Church was built in 1901


It was destroyed on March 24, 1913 by a tornado and the same structure was rebuilt by the fall of 1913.


These WWI soldiers who attended Trinity posed on the steps in 1918.


On June 6, 2006, the church was moved to the Manning Heritage Park

1895 census of Manning
Total number of inhabitants .................. 1144
Males ....................................................... 582
Persons over 18 years of age................. 653
Persons 5 to 18 years of age ................. 347
Persons under 5 years of age ................ 156
Single....................................................... 654
Married.................................................... 490
Widowed.................................................... 48
Divorced...................................................... 7

Born in Iowa ..........................................588
Born in Germany .................................. 246
Born in Canada ....................................... 15
Born in Ireland ......................................... 9
Born in England ..................................... 10
Born in Denmark ..................................... 7
Born in Norway ........................................ 3
Born in Austria ........................................ 4
Lutheran ............................................... 451
Christian ............................................... 115
Presbyterian ........................................... 96
Methodist .............................................. 135
Catholic .................................................. 73
Congregational ....................................... 14
Universalist .............................................. 5
Episcopal .................................................. 2
Baptist ...................................................... 5
Evangelical................................................ 3
United Brethern ....................................... 7
Church of England .................................... 2
No religious belief ................................. 242
Old soldiers ............................................. 24
Births ....................................................... 32
Deaths ..................................................... 13
Subject to military duty ........................... 176
Voters ..................................................... 288
Not naturalized ..........................................16
Foreign born between the ages of 6 and 17 ........... 7
#6
To the Entitlement Generation...

kneeling during the National Anthem

kneeling during the National Anthem

Foreign flags flying during a protest in the United States

Stomping on the US flag during a protest

"Brave" photographers taking pictures of a burning US flag

Destroying property on a college campus while protesting other people's Freedom of Speech -
people who happen to have a different viewpoint than they have.

Freedom of Expression and Speech???

Freedom of Expression and Speech by wiping the flag with your butt???

"Goose-stepping" by some modern day foreign armies

"Goose-stepping" by some modern day foreign armies

"Goose-stepping" by Nazi Germany
---
Disrespect on every level and to every extreme and justified by those who feel the need to hold the United States of America at fault with just about anything they can think of.

Remember the era #5 above showing the Churches of Manning.
Normally I wouldn't give the Entitlement generation space on my web page for their venom but in this case I think it is necessary to show the extent of how low some people will go because they think they have the right to voice their opinions about everything - even when it has absolutely nothing to do with them or affects them one way or the other - referring to the video of moving the Trinity Church to Manning...

https://www.youtube.com/watch?v=tfXm2eJxXII
Tangogonzo 5 years ago
@OakPark11MileRd
There is only one color in Manning.

David 5 years ago
Ridiculous.

Michael Lee 5 years ago
I wish it would of toppled :(. Depressing it didn't.

Hippotoast 7 years ago
They found a shit load of alter boys buried underneath it.

Moose Kay 7 years ago
They couldent smell jesus

CreatorAdriaan 8 years ago
lol thats no church thats a chapel. Those crazy americans with there cheap prefab buildings.
Why moving somthing that was only there for 100 years? Make it 300 and it would have some value.

Hippotoast 8 years ago
I detest religion and truly appreciate it for what it really is a disgusting fallacy, but i just love this freaking song.

Green Silver9 years ago
Rednecks are weird, I seen the movies. Incestious homo's... right strange bunch if you ask me. So what did ya do wiv the graves then, did ya dig em up and take em wiv ya?

normalnorman41 9 years ago
i would have blown the f##ker to bits

asdf 9 years ago
god only exists int he minds of human beings. he imaginary, lets move on as humans and drop this shit its silly---- press thumbs down lol sry for thinking

John Doe 9 years ago
yeah how much money from that churches patrons did the church suck out of them to get it moved?

GueroMuerto 9 years ago
FAKE!!! The religion, that is.

Lee Mason 9 years ago
Why go to all the trouble. All they had to do was to ask Benny Hinn, Pat Robertson, Billy Graham, Paul Crouch. George Bush,. etc. to ask god to move it!

Roysito 9 years ago
first of all...
why did they move that church???
i mean!!! it's like if you spend 2000 dollars on something useless just cuz you have the money...

Now some people would say to just ignore these individuals...they are just the fringe.
Normally I would agree but I think it is time for the majority of people in the US who have been silent for decades and who love their country to stand up and peacefully speak up - against this type of destructive narrative that is so intertwined in society today.

John F. Kennedy "Ask not what your country can do for you - ask what you can do for your country." January 20, 1961

I guess this is where some of the "country hicks," referred to in the diatribe listed above, once lived.
This is how some of the Pioneers of this area lived. I'll guarantee they did not whine and complain -
they had to work hard just to survive...

WWII was a nation-wide effort - EVERYONE, including kids did their part for the war effort -
here you see them collecting metal scraps for the war effort.

Students proudly raised the US flag every morning during the school week at the old Manning High School.

Something you don't see any more on school property.


1973 Gun saftey, cleaning and refinishing class at Manning High School

As a kid I remember almost every boy in school had a pocket knife...
Those in high school and old enough to drive and were hunters had their guns mounted on the racks of their pickup rear windows while parked next to the school.
The boys in the gun safety class walked right into school with their guns.
No one was ever shot by a gun or seriously hurt from a pocket knife in school.
There were no locked doors - kids could come and go and for years we had a Manning Campus.
Today, not only are all outside doors locked but they lock the classroom doors. Security cameras are everywhere.
Why is it that when the Nativity scene was displayed on school grounds and knives and guns were brought right into school by students that no one was hurt? - now we have something similar to a prison system, BUT the good people are locked up...
With all of these safety measures - Are we better off and safer now???

Maybe, we as a society need to reflect back through history and reconsider some, if not all, of those so-called culturally positive and politically correct changes that have occurred over the last 40 years.
---
One last response:
The very first negative comment about moving the Trinity Church in the diatribe above is "There is only one color in Manning."

Let me educate that ignorant person...
During the 1870s through the early 1900s, the largest wave of immigrants came to the United States - predominantly from Europe.
Between 1850 and 1930, about 5 million Germans immigrated to the United States, peaking between 1881 and 1885 when a million Germans settled primarily in the Midwest, with Iowa receiving the largest percentage of these immigrants of all the states in the US.

At first immigrants of English descent started moving west across the Prairie during the 1860s and 1870s to where Manning is now located. Manning was incorporated in 1881 and this is when German immigrants started moving in. They did not move to the southern parts of the US or stay in the Northeastern parts of the US that were already populated and had existing businesses...
These early Manning residents wanted to start their own trades here in the US. By the fall of 1881, Manning grew from a few buildings on Main Street to businesses on both sides of the street, from north to south.
Farmers were already here, too, with more moving in to build the community into an agricultural force never seen before (the Midwest breadbasket of the world).

In less than a decade - Manning (like so many other small Midwest towns) became a self-supporting community.

Yes, "Manning was WHITE" - but not because the citizens thought they were better than other people...they did not have time for petty beliefs...they had to work hard every day of their lives just to survive. There were no government safety nets, no programs to help the helpless, just the Pioneer Spirit to survive.
Nearly 70 Civil War Veterans had moved to Manning during this time - they were part of that early generation of Americans who helped save the Union and free the slaves.
The other citizens of German ancestry immigrated to US and then to Manning after the Civil War was over, and long after the slave trade era during early US history.

During WWI & WWII around 1000 Manning area citizens (many of whom were of German ancestry) served their country - 24 who paid the ultimate price with their lives defending this country.

So anyone who accuses the people of Manning in the past of being prejudice needs to consider all of the sacrifices they made as Pioneers who built up the Midwest and who fought and died to help preserve the rights for everyone.

Did/does prejudice exist in the Manning community - YES - but no different than any other community or race or creed, who are all part of the imperfect human existence and has just as much evil and untoward tendencies against other people who are different from them.

So, even with all of the faults the Manning community and the US community as a whole has, I'm proud of what our ancestors and the Pioneers gave us, and because of the sacrifices they made - everyone living in the US today has a privileged life.
We ALL have no clue as to how good we have it today!!!
---
Back to Dave Kusel's main page