Helen Wiese of Aspinwall - the BIG clue I needed to figure out more connections of this WWI Veteran shown below, who all I originally had was his commander picture...then Connie found some military information and burial site which gave me the EXACT spelling of his last name - which can be a big deal when searching for him on the Internet, but still no detailed information about him.
Then Connie found an article about Al that gave me more clues as to why he moved to Manning and his connections here.
So if anyone has even a little clue or tidbit about a Manning Veteran - PLEASE contact me, as your information might make the connections to information I have in my database that will help me with a Veteran or some aspect of Manning history.

Private Algot S. Jacobson
August 8, 1898 - November 4, 1968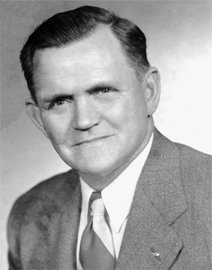 1929-30 American Legion Commander
---
Buried Hills of Rest Memorial Park, Sioux Falls, South Dakota
Unit SATC (Students' Army Training Corps)
Service Number 5283689
Enlistment October 3, 1918
Discharge December 13, 1918
---
Anyone who has more information about Al's service - please e-mail Dave Kusel
Argus Leader article
Original source of this article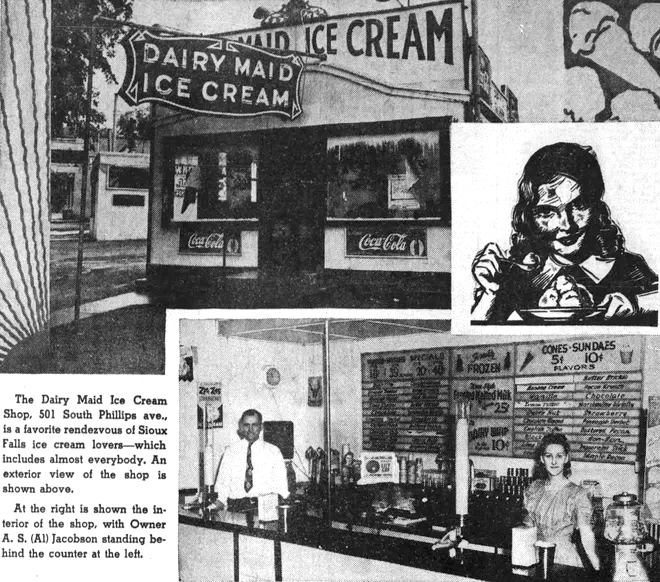 Algot S. Jacobson


By Eric Renshaw, Special to the Argus Leader October 26, 2018
Sioux Falls, South Dakota

Looking Back: Beloved ice cream shop owner also wrote to dozens of WWII soldiers
Eric Renshaw Special to the Argus Leader
Dairy Maid Ice Cream shop on Phillips Avenue was owned by Al Jacobson, with some customers coming from nearby Washington High School.
There once was a little ice cream shop on the southwest corner of 13th Street and Phillips Avenue. It didn't last long, but to some, it was never forgotten.

It was called Dairy Maid, and it was owned by a man named Algot Jacobson. His friends - indeed everyone - called him Al. He'd insist on it. Al was born August 8, 1898, in Glenwood City, Wisconsin. He graduated from Glenwood City High School and served his country during the First World War, returning home to attend college.

Al attended Iowa State College in Ames, Iowa, where he was prominent in the dairy program. He was president of the dairy club, a member of the ag club and on the dairy products judging team before graduating in 1926. After college, Al found employment in Manning, Iowa, and worked to become the foreman of the Manning Creamery Company.

On May 5, 1928, Al married Helen M. Wiese of Aspinwall, Iowa, daughter of Meves and Erma (Hayes) Wiese. Together, they had two daughters, Judith and Marjorie. The family moved to Sioux Falls in 1935 to get in on the ice cream game. Al opened Dairy Maid Ice Cream at 814 S. Main. By 1937, the business had moved to 501 S. Phillips, a spot with much better visibility. Dairy Maid attracted students from Washington High School, which was just around the corner. The students loved the delicious treats Al served, but they also liked his fatherly demeanor.

As an ice cream shop that stayed open year-round, Dairy Maid was a rarity. Al had a mind-dizzying variety of ice creams from which to choose, including vanilla (perennial favorite), chocolate, strawberry, cherry nut, chocolate almond, chocolate chip, butter brickle, maple nut, buttered pecan, black walnut, black raspberry, lemon flake, peppermint, zigzag varieties of strawberry, raspberry, orange, pineapple, and lime sherbet. Hand-packed pints and quarts of all of these were ready for pickup anytime. Dairy Maid also served the usual soda fountain fare: malted milks, sundaes, fountain specialties and soft drinks.

It was the Dairy Maid philosophy that ice cream should be upgraded from a mere dessert to a food. It should be enjoyed year-round, and at least one pint should be found in every household at any given time.

In 1941, the U.S. entered World War II. Many of those fresh-faced kids who got to know Al at Dairy Maid were shipping out to serve their country. At a time when overseas phone calls were rare and expensive, correspondence was important for keeping up the morale of our fighting forces. Al began writing letters to many young men to give them something to look forward to. He wrote the letters longhand, up to the point in which he'd collected more than 40 pen pals. At that point, he mimeographed a newsletter for them. This wasn't a marketing scheme, and there were no ulterior motives; Al just knew that it helped, and he was that kind of guy.

Al opened a hatchery with a new business partner, John F. Smith, in 1946. Al stayed on at Dairy Maid but closed the business in 1949. In its place, a new location for Lorin Motors, a used car company, was built.

In 1964, Al was honored by the Kiwanis club for his letter-writing campaign. It was 20 years after the fact, but those who had returned from World War II still remembered and were grateful for what he had done. In early 1965, The Argus Leader named him citizen of the week for the same reason.

Al Jacobson died November 4, 1968, at the age of 70. He was remembered for his amazing ice cream and for his good heart. People like Al should be remembered, so I'll carry on the tradition of reminding the community of the effect a good person can have.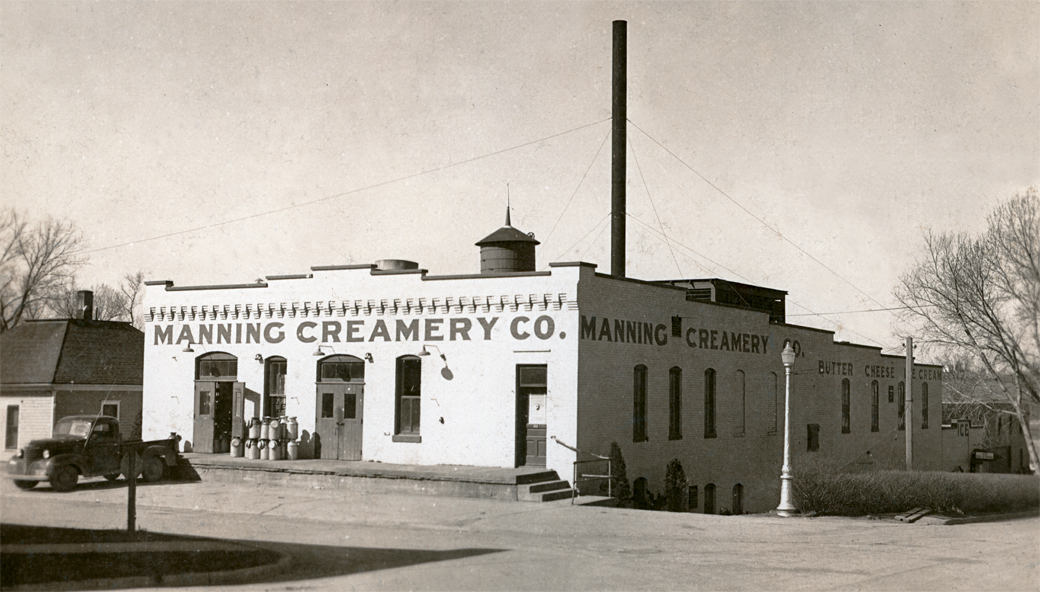 This is what the Creamery looked like sometime in the 1940s...
Probably similar to what it looked like when Al was the foreman before moving to Sioux Falls in 1935...
The business expanded several times over the years, along with changes to the front.
When I look at digital pictures I took during the early years of digital cameras (my first one, a Canon in 1994) I could kick myself now for taking low resolution pictures and even downsizing many of them because hard drives were small and very expensive with no externals for backup, so after transferring them from my camera I would downsize them so they didn't fill up the hard drive so fast.
Now with relatively inexpensive external drives that are Gigabytes in size, I take the highest resolution pictures my camera will take.
When you see me complain about low resolution pictures people make when they scan things themselves, my experiences of the past are what taught me about size and resolution.
These are the full size images from my database.


October 17, 2000

Razing the building April 6, 2001
---
Back to Dave Kusel's main page