Another Manning mystery solved, 10 years later.
In 2012, I scanned the Manning Homemaker's Club charter scrapbook (1940 to 1942) that is stored in the Manning Library, and in it was a military section with several Veteran pictures and items.
There are 2 pictures I could NOT figure out why and what their Manning connection was.
Thanks to the obituary of Carl Baumhover that Connie found now in 2022, the mystery is finally solved.
Below are the 2 Baumhover pictures that are in the Homemaker's club scrapbook, along with the information in the scrapbook and what I was now able to find because of Carl's obituary.

Carl W. Baumhover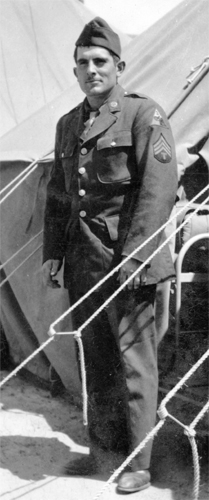 Tec 4 85th Cavalry Reconasance Squad Mechanized BSM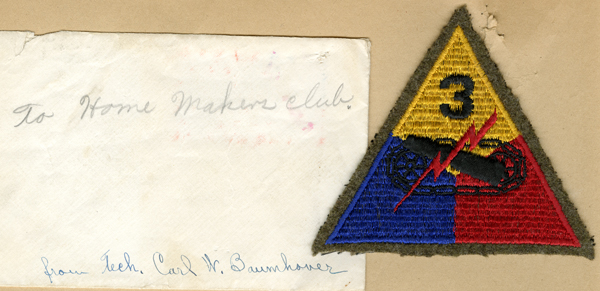 A military patch of the branch he served in.

Carl Baumhover Is Taken by Death

Carl W. Baumhover, 32, who operated a welding shop here (Carroll, Iowa) and also worked for the Iowa Electric Light & Power company, died at the gas plant at 1:30 this morning, January 10, 1950. He had been employed as night-man at the gas plant since December 1.

Funeral services are set for 9 a.m. Thursday at St. Lawrence church of which Mr. Baumhover WWI a member, The Rev. Fr. Arthur S. Poeckes will offer the requiem mass.

Burial will be in Mount Olivet (SS. Peter and Paul's) Cemetery, Carroll, Iowa.

The body is resting at the Sharp Funeral home, where the rosary will be led by the Rev. Fr. Poeckes at 8 o'clock each night before the final rites.

Mr. Baumhover, son of Louis and Emma (Budden) Baumhover, was born on the home farm one-half mile east and one mile south of Mt. Carmel, April 19, 1916. He attended Our Lady of Mt. Carmel School.

A veteran of World War II, he was inducted into the Army July 3, 1941, at Fort Francis E. Warren, Cheyenne, Wyoming. He served with the 3rd Armored Division in the European Theatre, having been overseas two years and four months. He took part in the Battle of the Bulge and served with one of the first occupational troops in Berlin.

After receiving his discharge on October 1940, he returned to Carroll.

He was married to Delores Eischeid January 28, 1948, at Holy Angels Church, Roselle, by the Rev. Fr. Bernard Montag.

Surviving are his wife, a daughter, Linda, one year old; his parents, who live on the home farm; three sisters and six brothers: Mrs. Paul Boell (Helen), Manning, Iowa; Louis Baumhover, Sutherland, Nebraska; Albert J. and Andrew, Carroll, Iowa; Mrs. Albert Wernimont (Rosella), Breda, Iowa; Fred, Carroll, Iowa; and Elmer, Robert, and Alice at home.

Corporal Fred Baumhover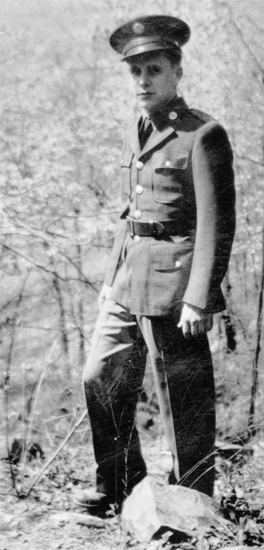 Fred Baumhover

Frederick Henry "Fred" Baumhover


Born May 16, 1919 Mount Carmel
Died August 14, 1961 Denver, Colorado
Burial Fort Logan National Cemetery, Denver, Colorado
Son of Louis and Emma (Budden) Baumhover
Brother to Carl Baumhover WWII

Here are some other pages of the Homemakers scrapbook.
While these Baumhovers have no direct connection to Manning, I'll still probably use them in the Manning Veterans' book with the Homemaker's club part that covers their letters sent to WWII soldiers...since I now know the connections for this family.

First page of the Homemaker's Club scrapbook - Helen (Baumhover) Boell highlighted in white

Letter from Carl

Letter from Fred
These are the types of historical items I'm looking for from the various Manning Veterans to use with their military biographies.
It is sad that quite a few Manning Veterans and/or their families won't work with me so I can add their information in this future Manning history book - the last book I'm going to publish about Manning's history.
SAD, NOT because they aren't working with me but SAD that a lot of Manning Veterans WILL NOT be in the Veterans' book because no one provided the information.
So if you are a Manning Veteran or family member of a deceased Manning Veteran and you have not yet contacted me - NOW is the time, because my plans are to start laying out the book at the end of this year and work on it over the winter into early 2023.
Once I start laying out the book, I will no longer accept information or updates because it will delay things and be impossible to fit a Veteran in their section that is going to be alphabetical.
I remember getting heck from a few people/families, when I was laying out the Manning Quasquicentennial and School history books, because they procrastinated and then wanted to submit information way past the deadlines.
Remember, I'm not getting paid ONE PENNY for ANY of this Manning history I work on - in fact it has cost me thousands of dollars over the decades - I'm not stating this to brag or expect any thank-yous or pats on the back but so people don't think that I'm getting "rich" somehow off of their information.
Dave
---
Back to Dave Kusel's main page