From the 1982 Aspinwall Centennial history book
CHRISTIAN J. BRANDT
Chris was born May 20, 1935, to Joseph and Katharina (Mueller) Brandt. Chris was born and raised on the home place, a mile west of Aspinwall. He is the youngest of eight children and attended Aspinwall School.
Chris married Mary Ann Hagedorn May 20, 1967. Mary Ann was born July 11, 1940, to Lewis and Marie Ehrichs Hagedorn. She has three brothers. The Hagedorns farmed two miles west and 3/4 mile north of Aspinwall, where Jeff Joens now lives. Mary Ann attended country school 3/4 mile south and one mile west of her home. She went to Manning High School for the 9th and 10th grades, and the 11th and 12th grades to Manilla High School, where she graduated.
Chris and Mary Ann live on a farm on the southwest edge of Aspinwall, formerly owned by Andrew Soll.
JOSEPH BRANDT FAMILY
Joseph Brandt, son of Joseph and Rosalia (Kindseder) Brandt, was born in Nodern, Bavaria, Germany April 13, 1889, and served in the military. As a young man of 24, he came to this country and settled in the Templeton area, working as a farmhand.
November 29, 1922, he was married to Katharina Mueller, daughter of John and Maria Achatz Mueller, who came to this country in 1921 from Auerbach, Bavaria, Germany (in this family, five children died in infancy; an only brother passed away in 1945 in Germany). Joseph and Katharina lived on the Clark Arnold farm near Gray until moving to the present location one mile west of Aspinwall in 1931, 51 years ago. Joseph passed away September 11, 1955, and Katharina continued to live on the home place until her death April 25, 1982, at the age of 86 years.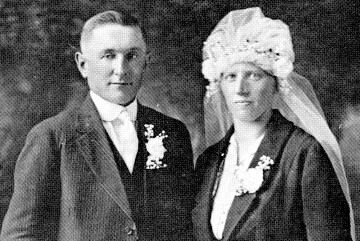 Joseph Brandt and Katharina Mueller were married November 29, 1922
The Joseph Brandt family included, from left, front row: Christian, Katharine, Joseph Sr., Joseph Jr., and back row, Catherine, Margaret, Gertrude, Engelbert, Sophia and Rosalie.

Eight children were born to this couple: Gertrude married Erwin Gehling (now deceased) and farmed near Emmetsburg; they have a daughter and two sons. Margaret (deceased) married Lawrence Tranter of Carroll and were parents of one son and a daughter. Engelbert, who farms near Manilla and who served in the Army in Korea, married Mary Ann Nees; they have four sons and two daughters. Sophia and Katherine, in a double wedding ceremony, married cousins Marcus Esser and Walter Bissen. Sophia and Marcus farm near Woodbine; they have two sons and five daughters. Katherine and Walter farm near Earling; they have five sons and four daughters. Rosalia, unmarried and at home, was employed at the Manning Monitor for several years. Joseph, unmarried, who also served in the Army in Korea, lives on the home place. Christian, married to Mary Ann Hagedorn, lives near Aspinwall and co-farms with Joseph as Brandt Brothers.
---

Joseph Brandt, Sr.

Joseph & Katharina (Mueller) Brandt

Katharina (Mueller) Brandt playing the Zither in Germany
Note: at the top of this picture you can see the original Milwaukee right of way (pre-1915)
The road with the car on it is now Highway 141


Brandt farm 1940s
Formerly owned by John H. Kuhl, then Marx Kuhl
Joe & Katharina moved to this farm in 1931

This aerial photo came from the Frank Ehrichs collection.
Frank was Mary Ann's uncle who ran the post office and grocery store in Aspinwall.
Sometime in the later 1940s, Frank hired a company to take aerial photos of farms in Hayes & Iowa Townships and then each week he would run one of the pictures in the Denison newspaper as a contest of whose farm it was.
Mary Ann then gave me Franks' collection to scan and how I'm able to show old farmsteads in tributes like this...

Engelbert "Bert" Brandt farm several miles west of Aspinwall on the north side of 141


Engelbert "Bert" Brandt


Bert Brandt visits Jack Lorenzen in Seoul, Korea, September 10, 1951

Joe Brandt (right) in Korea


Joe on left

??, Roy Schilling (home on leave 1957), Virgil Reid, Chris Brandt
August 14, 1982 during Centennial parade


Back: Karen Bissen, Walter Bissen, Marcus Esser, Rosie Brandt, Katherine (Brandt) Bissen
Middle: Sophia (Brandt) Esser, Gertrude (Brandt) Gelding, Eric Stangl in front of his mother LaVerna Stangl
Front: Jeanette Esser, Mark Stangl

Chris Brandt (left) at the 5 Mile House Schuetzen Verein

Chris Brandt & Jack Lorenzen at the 2003 Old Iron tractor ride
---

Chris and Anna (Schroeder) Kruse-Ehrichs - grandparents of Mary Ann Brandt


Marie (Ehrichs) Hagedorn - mother of Mary Ann Brandt

Chris & Mary Ann Brandt - September 16, 2001, Ehrichs gathering

Ralph Sailer funeral: Chris Brandt, Alvin Schilling, Joe Brandt, Milton Sinow