While working on more obituaries we ran across this one from 2019.
I'm featuring it here because there will be some MHS students who had him as a teacher.
I also have included some school information below his obituary.

Richard Munster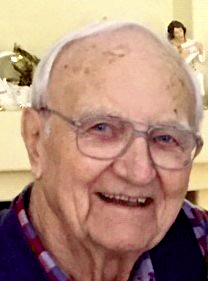 ---
Richard "Rich" D. Munster

Dr. Richard D. Munster, age 91, of Bella Vista, Arkansas, fell asleep with Jesus on November 13, 2019. He was born August 16, 1928, to Elmer Munster and Ida (Krueger) Munster in Hartley, Iowa. He was raised during the Depression and learned the value of hard work and doing a job right during his formative years. He began college at Iowa State Teacher's College in Cedar Falls, Iowa, but just a few months after starting, a friend from Hartley convinced him it would be a good idea to join the Army during WWII. He did so and was stationed in Alaska. He was proud of his service and proud of his country.

After returning from active duty, he re-entered college on the GI Bill and earned his Bachelor's degree from Iowa State Teacher's College. Thereafter, he began his teaching career in Paulina, Iowa as a high school physics teacher and a driver's education instructor. That latter position drove his wife and daughters crazy later in life as he frequently reminded them of how to drive properly. Even at age 91, he drove until the last day of his life. It was in Paulina that he met the love of his life, Phyllis Lehnhardt. They were married in August of 1954 and spent 65 wonderful years together.

After marriage, they moved to teaching jobs in Manning, Iowa (1954-1958), Primghar, Iowa, and then to Glidden, Iowa, where Rich was the Superintendent of the Glidden/Ralston School District. During those years, Rich obtained his Master's Degree in Education Administration from Colorado State College of Education and more importantly, they had three daughters. In 1966, Rich decided to return to school to obtain his Ph.D., so the family moved to Ames, Iowa. In 1968, he received his doctorate in Education Administration from Iowa State University, and the family moved to Bettendorf, Iowa, where Rich was an Area Extension Director for Iowa State University for 23 years.

In retirement, Rich and Phyllis moved to Bella Vista, Arkansas, where they spent many years actively involved in their church, hosting family vacations and reunions, fishing, golfing, playing bridge, gardening, and writing. Richard is preceded in death by his parents and his brother Harold (Betty). Left to cherish his memories are his loving wife, Phyllis, his brother, Dennis (Judy), daughters, Laura (Ruben), Lisa (Rod), Michelle (Mark), grandchildren, Derek (Rachel), Amanda, Justin, numerous nieces, nephews, and friends.

Memorial services will be held at 11 a.m. on Friday, November 22, 2019 at Bella Vista Lutheran Church. Arrangements are by Bella Vista Funeral Home & Crematory, Bella Vista, Arkansas.


September 23, 1954 Spotlite
MEET MR. MUNSTER
Whenever the "Jackie Gleason Show" is on or the music of the old Benny Goodman era is playing, I'm sure there is one person who is completely enjoying himself and he is none other than Richard Munster.
After graduating from Iowa State Teachers College, he taught two years in Paullina, Iowa. This year in Manning he is teaching general math, biology and chemistry.
Among his favorites are movie, "Magnificent Obsession"; actor, John Wayne; actress, Jeanne Crain; color, purple and popular song, "Rain, Rain, Rain." His pet peeve is having to wait for people.
The student body gives Mr. Munster a hearty welcome to the Manning High School faculty.
By Betty Foley

October 24, 1957
WHAT'S NEW IN THE CLASSES PHYSICS - MR. RICHARD MUNSTER
by Sylvia Vollstedt
The physics classes, consisting of both juniors and seniors, have just completed a unit on the "Mechanics of Gases". The classes are now ready to begin work on the molecular theory. Next week the students will turn in the names of their projects they will be working on for the year. Some of them are making water lenses, making storage batteries, and taking physical tests of fibers. Each student is responsible for his or her own project.
---
Back to Dave Kusel's main page