The list of names of Manning connected Veterans continues to grow...with well over 1000 of them.
Before I had thought about publishing a Manning Veterans' book, I started gathering names and posting them on my Veterans web page in 1996.
As I found pictures and information, I started adding some of it to start a military bio for the various names.
Even though I've been working on this database for over 25 years, I had a lot of names with NO information/pictures.
Fortunately now, with Connie & Ann, we are starting to "fill in the blanks" so to speak for a lot more names.

Here is an example of just one of the names I found by accident when reading about another Veteran.

---
What a lot of the Manning Veterans' write-ups have looked like for many years on my Veterans' page - JUST a name...
Roy Schoening
His name was listed in a Monitor article under Lawrence Nickum...this is all the information I have.
---
Sadly, this is what some of Manning's Veterans military bios will look like in the book, especially the Vietnam to present day Veterans, if I don't get more help from them and/or the family members of deceased Veterans.
Right now I'm working on the information I've received from several sources, including one of Roy's relatives, who I have been in contact since 2012 when he found my web page.
At the time I wasn't working on a Veterans book, so I didn't bug him more about the Veterans in his family. But now that I'm trying to find information on all of Manning's Veterans, with the help of Connie & Ann's findings, I'm able to connect more names, pictures, and information I have in my database...it so happens that the relative had some military pictures I could scan and now I'm able to connect them all with the recent information he sent me.
After compiling all of the raw information I've received in the last few days - here is what Roy's write-up looks like now.
Roy Schoening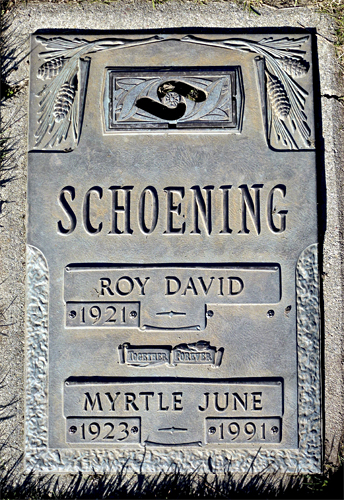 His name was listed in a Monitor article under Lawrence Nickum...this is all the information I originaly had for decades.
Now in 2022, I have finally made the connections and have gathered more information.
As you can see, Roy's burial plaque mentions nothing about his service, so unfortunately we'll never get to read about his service in detail.
Some of the information that I can't corroborate will not be used in the Manning Veterans' book, but my reason for showing it here is so hopefully a relative will find it and correct it and add to it.
---
Roy was born December 16, 1921 and passed away December 22, 1995.
He is buried with his last wife, Myrtle McGill, in Skylawn Memorial Park, San Mateo, California.
Information from a relative remembered that Roy served in the Navy. He was fairly sure Roy was on a ship in Pearl Harbor in December 1941 but could never verify this by finding the ship's name and complement.
The relative knew that Myrtle had a daughter, Patty, from a previous marriage who Roy helped raise.

Roy is the son of Albert and Mary (Hull) Schoening.
Roy's sisters: Edna Farrell and Frances Vieth
Roy's maternal grandparents: August and Auguste (Heunemuller) Schoening
Their children all born in Manning between 1875 - 1895: Ferdinand, Adolph, Clara, Albert, Emma, Ella, Augusta, August served in WWI, Erna, Robert, served in WWI, Dora, Frieda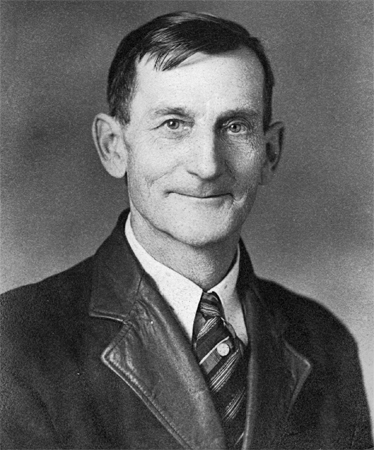 Albert Schoening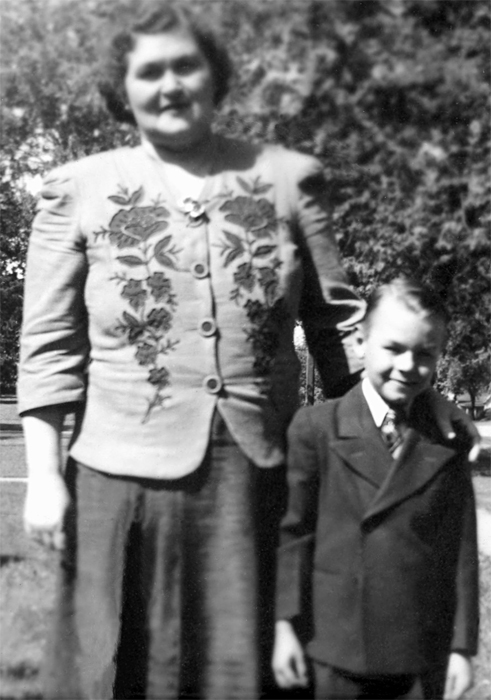 Mary (Hull) Schoening with grandson, Duane Farrell
---
Here is some more Schoening information and pictures from the Schoening relative I scanned several years ago.
As you will see there were Veterans in the Schoening family. Everyone in this Schoening generation was born Manning between 1875 - 1895 and all attended Manning's school: Ferdinand, Adolph, Clara, Albert, Emma, Ella, Augusta, August, Erna, Robert, Dora, Frieda

Robert Schoening WWI
Son of Friedrich and Augusta (Huenmueller) Schoening.
Died March 17, 1978
Enlistment May 4, 1917
Discharge October 9, 1919

August Schoening
August 8, 1890 - December 13, 1958

August Schoening served from October 11, 1917 to June 23, 1919. He was a Sergeant in the U.S. Army and is buried at Ft. Rosecrans National Cemetery, Section S, Site 556.
---
Enlistment October 11, 1917
Departure April 30, 1918 at Hoboken, New Jersey on the SS Manchuria
Rank Private First Class
Service Number 2282118
Unit Company E 405th Telegraph Battalion, Signal Corps National Army
Discharge June 23, 1919
Son of Friedrich and Augusta (Huenmueller) Schoening.
Buried with his wife, Esther S. (Wilson) Schoening
One daughter, Lillie Julieta Schoening.

Camp Lewis, Tacoma, Washington - training center for August
If I use this picture in the book, then I'll digitally repair this image.
This is one of the Schoening girls who graduated in Manning but not 100% sure right now which one.


Possibly Ferdinand or Adolph

Dora (Schoening) & Arthur Jordan

Frances (Schoening) Vieth
Hull side of the family


Rolf and Jess Hull on the original East Street bridge over the Milwaukee RR
I remember the concrete posts that led up to the pipe railing - not sure when they removed them.
For some reason I have no pictures of when they replaced this bridge
sometime before 2000 but I don't remember right now.

Here you can see the Milwaukee tracks to the west of the bridge.


The discouraging thing for me over the last 2 decades is that people who have never lived in Manning but have connections to Manning, seem to be more willing to send me their old Manning pix and history to scan, than many of the citizens who lived/live here, and seem to have little interest in helping me preserve Manning's history.
The pictures and information sent to me by the Schoening relative are an amazing insight into Manning's early history and so VERY prescious historically.

So hopefully this feature will inspire more direct Manning connected folks to come forward so we can publish the MOST amazing community Veterans book...
---
Back to Dave Kusel's main page