Would our ancestors be proud of what we are doing and have accomplished in our lifetime?

Peter Fechter - January 14, 1944 shot dead on August 17, 1962


Peter's body finally being carried away by an East German guard.

Statue honoring Peter

"A statue, depicting dying Peter Fechter being carried away by East German border guards who shot him down at the former death strip at Bernauer Strasse in Berlin, lies on the ground after being vandalized. The temporary sculpture which was installed on Saturday, June 11, 2011, was destroyed by unknown people on Wednesday, June 24, 2011. The sculpture by Florian Brauer was inspired by an iconic photo taken on August 17, 1962."

Does this look familiar to the destruction of statues and monuments in the US over the last several years?

The information below will explain the pictures above.

While working on the family story linked down below about a Manning Alumus, one thing led to another and I discovered I didn't have 2 obituaries for family members of that alumnus and then while transcribing the one obituary, another story highlighted on that same page of the 1962 newspaper caught my eye.
West to Bar Soviets Driving Armored Cars
As soon as I read this sentence in that article I knew immediately what it was about.
The youth was left to bleed to death at the wall while just beyond it, in West Berlin.

I had a flashback to 1997 when my cousin, Jon Ahrendsen, invited me to go along with him to Germany to trace our common ancestors.
To make a long story short, we visited the Berlin Museum and I vividly recall taking a picture of the display on the wall of the young man who died while scaling the "Iron Curtain."
Here is a picture I captured from the Internet and 2 articles about this young man and his struggle to gain his freedom from Socialism.

Peter Fechter, helplessly bleeding to death in the "death strip", August 17, 1962
(Photo: Polizeihistorische Sammlung/Der Polizeipräsident in Berlin)


Here is the article I noticed while working on the obituary.
West to Bar Soviets Driving Armored Cars
WASHINGTON (AP)
The Western allies are reported ready to tell the Soviet Union it cannot use armored cars to bring Soviet soldiers to the Soviet war memorial in West Berlin.
U.S., British, and French representatives are believed agreed in principle that such an order be issued, but its exact timing has not yet been decided.
The State Department refused comment as reports of the order circulated Thursday night in diplomatic quarters here.
Last Saturday the Soviet Union began using bigger and heavier armored vehicles to transport its soldiers from East to West Berlin for sentry duty at the Soviet war memorial in the British sector.
The heavier carriers were put into service after angry West Berliners hurled stones at the buses that had transported the Soviet soldiers to the monument.


The stoning was an angry reaction to the slaying of a fleeing East German by Communist border guards at the Berlin wall. The youth (18) was left to bleed to death at the wall while just beyond it, in West Berlin, West Germans and allied troops stood by helplessly.


U.S. authorities have been wary lest the Soviets use the armored cars as a wedge for parading Soviet military might around West Berlin.
Carroll Times Herald September 7, 1962

This is an article that goes with the picture above.
East German guards gun down a young man trying to escape across the Berlin Wall into West Berlin and leave him to bleed to death. It was one of the ugliest incidents to take place at one of the ugliest symbols of the Cold War.
The 1962 incident occurred almost a year to the day that construction began on the Berlin Wall. In August 1961, East Berlin authorities began stringing barbed wire across the boundary between East and West Berlin. In just a matter of days, a concrete block wall was under construction, complete with guard towers. In the months that followed, more barbed wire, machine guns, searchlights, guard posts, dogs, mines, and concrete barriers were set up, completely separating the two halves of the city. American officials condemned the communist action, but did nothing to halt construction of the wall.
On August 17, 1962, two young men from East Berlin attempted to scramble to freedom across the wall. One was successful in climbing the last barbed wire fence and, though suffering numerous cuts, made it safely to West Berlin. While horrified West German guards watched, the second young man was shot by machine guns on the East Berlin side. He fell but managed to stand up again, reach the wall, and begin to climb over. More shots rang out. The young man was hit in the back, screamed, and fell backwards off of the wall. For nearly an hour, he lay bleeding to death and crying for help. West German guards threw bandages to the man, and an angry crowd of West Berlin citizens screamed at the East German security men who seemed content to let the young man die. He finally did die, and East German guards scurried to where he lay and removed his body.
During the history of the Berlin Wall (1961 to 1989), nearly 80 people were killed trying to cross from East to West Berlin. East German officials always claimed that the wall was erected to protect the communist regime from the pernicious influences of Western capitalism and culture. In the nearly 30 years that the wall existed, however, no one was ever shot trying to enter East Berlin.

Change the wording on these 2 highlighted sentences just above and use them to describe the southern border of the US when political idiots kept comparing the wall being built, to stop illegals from entering the US, to the Socialist wall that Russia built to keep East Germans IN.

I keep hearing a lot of people telling us how horrible the US is and how many of its citizens are "ist" yet the illegals from all over the world, including from socialist/communist countries, keep flooding into the US...if we are such a bad country then why don't we have to build a wall to keep the US citizens from fleeing their terrible plight - we sure wouldn't need a wall since the rest of the world wants nothing to do with our horrible country (sarcasm).

Here is the photo I took of the huge display on the wall in the Berlin Museum in 1997 that showed the teenage boy bleeding to death.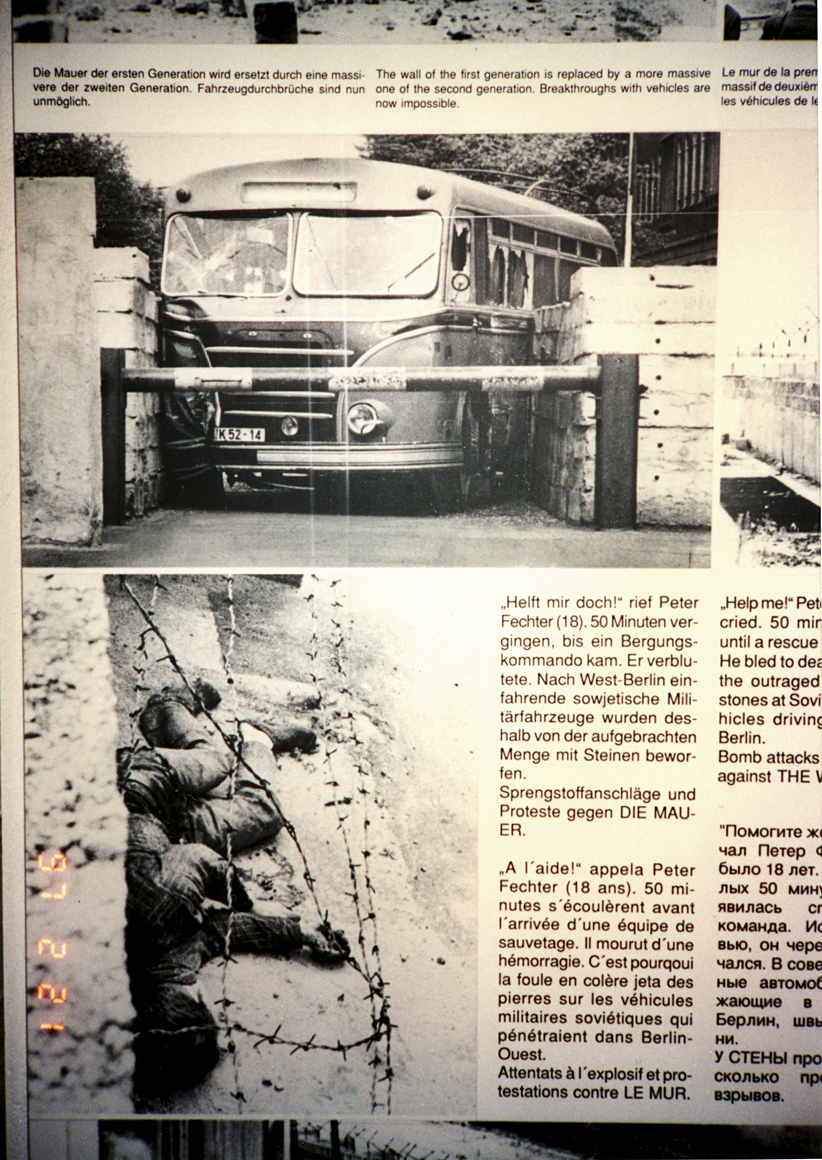 While in Germany, I met Peter Kusel who is related to me but we could not find the direct lines because so many church records, cemeteries, and other documents were destroyed during WWII and by the Russians/East German regime.
This is the link to Peter's tribute I made after he passed away in 2020...along with his story of fleeing to West Germany to escape being a captive/slave to Socialism and pictures I took of the wall that was still standing, and more from the Berlin Museum.
Peter Kusel's story

I often talk/write about how proud we should be of our ancestors and those who came before us, but then I got to thinking - would our ancestors be proud of what we are doing and have accomplished in our lifetime...
This thought popped into my head when I received another e-mail from a person who I got to know as a kid in school activities and at the Rec Center...now he isn't someone who is more prominent than anyone else his age or in our society but he has accomplished a lot of impressive things over the years.
His family ancestry isn't necessarily more prominent than anyone else's, but it too, is very impressive.
One thing I've noticed is that this person and his family does not seek recognition and this little tribute I made was my idea and no one from that family suggested I do this - to the contrary, I know when I make tributes that most people/families feel uncomfortable and just prefer to go quietly about their daily lives.
But I think pretty much everyone's story should be documented and told...at least in some small way if nothing else.
Everyone has an amazing ancestral background, but most don't know what it was or who their ancestors were, and sadly some don't care.
Please click on the link below to find out who I'm referring to and some ancestral background on his family.
---
Back to Dave Kusel's main page