Amazing, now we found another Spanish American War Veteran who was born in Manning.
The Babcock family was another very prominent Pioneer name in early Manning history which has completely disappeared today.


Arthur Babcock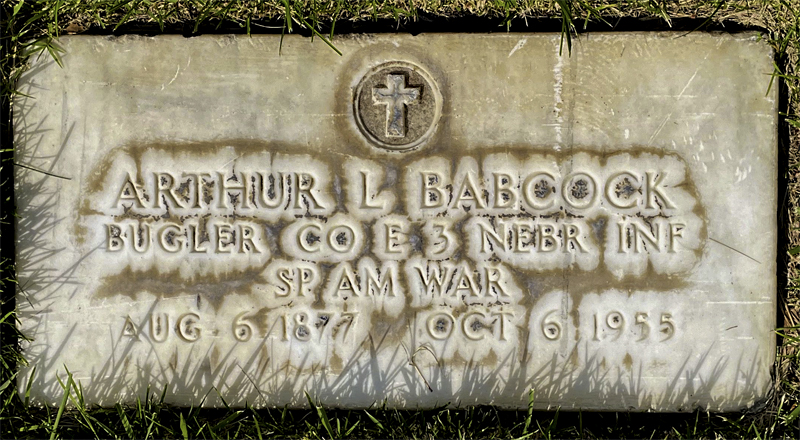 ---
Wife Ida Lillian (Berner) Babcock July 16, 1884 in Toronto, Iowa - October 28, 1969 in San Diego County, California, with burial in Glen Abbey Memorial Park, Bonita, California

Born Manning
Enlistment June 8, 1898 at Omaha, Nebraska
Discharge May 11, 1899 at Augusta, Georgia
Company E, Nebraska 3rd Infantry

Buried Los Angeles National Cemetery, Los Angeles, California

Siblings Sarah "Sadie" Robbins, Ernest, Clarence, Alice Yeager (all born in Manning)
---
Arthur Babcock Rites Tomorrow

Services for Arthur L. Babcock, 79, of 10009 Washington Avenue, will be held at 11 a.m. tomorrow in the funeral chapel of the Biby and Belyea Mortuary, 8665 California Avenue.

Services will be conducted by Elks lodge 1415 of Huntington Park and Veterans of Foreign Wars Post 952 of Huntington Park. He was a member of both organizations.

Burial will be in Sawtelle Veterans Cemetery.

Mr. Babcock, born August 6, 1877, son of Charles W. and Margaret V. (Smith) Babcock, died October 6, 1955. He came to California 29 years ago and lived in South Gate for 18 years.

He also was a member of William McKinley Camp 23 of the United Spanish War Veterans of Long Beach.

Surviving are his wife, Gertrude, of South Gate; four sons, Charles W. of La Mesa; Floyd of National City; L.D. Babcock of Hollywood; and Russell of National City; a daughter, Mrs. Helen Peterson of Stockton; and two sisters, Mrs. Sarah "Sadie" Robbins and Mrs. Alice "Adie" Yeager of Nebraska.
South Gate Press, South Gate, California October 9, 1955


There is so much amazing historical information I've never heard about and continues to give Manning more "bragging" rights to important periods in our country's history.
I just ran into this article and sure hope there is a family member who still has these maps and that they contact me so I can get them to make high resolution scans of them and use 1 of them in the Manning Veterans' history book.

Clarence Barten of Manning was guest speaker at the Manning Rotary Club meeting held in the Legion Hall in Manning. He talked on the weather. Mr. Barten was a meteorologist during World War II and was stationed in England at the time of the Normandy Invasion. He assisted in drawing weather maps for the invasion and displayed one at the meeting.
Carroll Daily Times Herald March 7, 1957

Unfortunately I have no pictures of Clarence or his family.
But in 2015, I saw this dogtag listed on E-bay and immediately purchased it.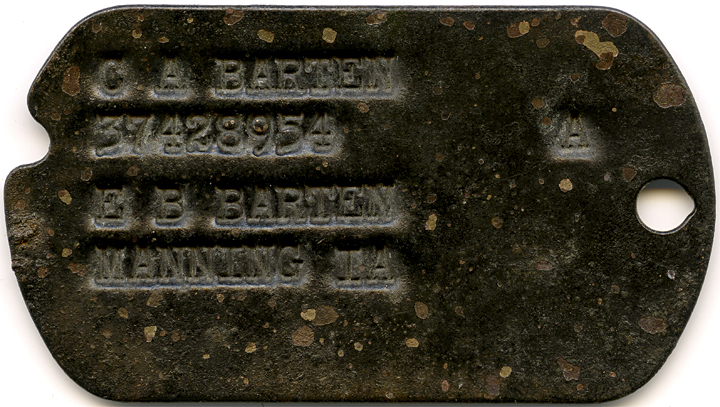 Purchased off e-bay from Don Kochi in California.
This tag came from his personal collection he is selling.
He purchased his tags at flea markets, garage sales, swap meets etc. - before the days of the Internet.
He has no idea where he purchased the Barten dog tag.
E.B. Barten would be Emma (Ross) Barten, mother of Clarence


We always hear/read about the bravery and loss of life during the D-Day Invasion but seldom, if ever, do we hear/read about the operations behind the invasion...
What if Clarence and the other meteorologists made a major error in the prediction of the weather and D-Day occurred during a rain storm or other serious weather event...probably many more thousands of boys would have died/injured or the invasion might have failed.

So it is little pieces of history like this article above that need to be brought forward and recognized/documented, and in Manning's case, preserved in the Manning Veterans book and historical digital database I'm building.
So if you haven't brought me your military pix and information to scan and add to the history book database - there is no better time than the present.
I've heard every excuse why some won't do this.
Even worse are those who tell me that "just the knowledge of their relative serving is good enough for them" and that "the say their relative wouldn't want to be honored in a book" is really amazing.

Once those relatives who "remembered" their Veteran are deceased, who is going to carry on and preserve that information?
I also question that their relative really would not have wanted to be recognized in the Veterans' book...There are a couple of situations where I had visited with a Veteran about getting their information and then they pass away before I got that information - then when I talk to their children they tell me the excuses above.
Of course I would really like to tell them that their dad was going to work with me but he passed away - all it would do is create animosity towards me by contradicting them or they would say I was lying, so I just keep quiet and hope I might find information elsewhere.
But I can't force people to provide military information for the Veterans in their families, NOR would I even try, but I do try to "encourage" and remind them about that information for a book.

Maybe you have already submitted military pix/information for a Veteran in your family but check to see what I might have found and added.
Make sure it is correct.
If you haven't submitted anything yet, take a look to see what I might have for the Veteran in your family, and then please dig out the military stuff you have or a relative has and make sure what I have is correct and get me the pix/information I don't have.
Realize that you only have to look up 1 or maybe a couple of names, while I'm working on over 1000 Manning connected Veterans' histories

Now what is on my Veteran web pages is not the sum total of what I probably have in my database about a Veteran - the web page was originally set up in 1998 to show the names I have and some information and maybe a picture of that Veteran.
I don't have the web server space to show everything, nor would I.
Posting everything I have is too tempting for people to come, grab everything, and then leave - never once contacting me.


As I continue to skim through the newspapers that my 2 helpers send me links to, I notice all kinds of amazing little trivia about Manning and its citizens.
I need to concentrate on capturing the obituaries and military information from those newspapers, but this other history is always tempting so occasionally I capture and OCR it, proof read it, and then save it.
Here are a few examples from 1915 & 1946. Most of the names I'm very familiar with since I've been working on Manning's history for so long...
And since I've been scanning/digitizing pictures/history since 1994, I even have pictures of many of the people/locations listed and will show just a few because I don't have time to search for more and then edit them for this feature.

Oh if the "old timers" I use to visit/work with about Manning history were still alive: the 80 - 100 year olds during the late 1970s through the early 1990s, I would ask them so many more questions...
I highlighted the name/topic in yellow that I am showing pictures of...

Karl Schmidt resigned his position with the Fairmont Creamery Company in Manning and Lloyd Harmon has taken the place.
Carroll Times April 29, 1915

Karl Schmidt MHS 1910
This picture of Karl, along with around 20 more, came from a collection in Wall Lake.
No one up there wanted them, so now I have them and scanned them all.


The Fairmont Creamery in 1910 - later became the Manning Creamery.
Note in the short news clip above that Karl was operator in the Fairmont Creamery until 1915.
Ironically this picture was taken when Karl graduated but is from a different collection I scanned.
The regular meeting of the American Legion was held in the Legion Hall Thursday.
New members taken in were Myles Dau, Loyd Borkowski, Alvan Hansen, and Wesley Lage.
The building of an appropriate memorial honoring Veterans of World War II was discussed. J.L. Bingham is chairman of this committee.
The post will again sponsor the Boy Scouts. Donald Schrum was selected scoutmaster.
Peter F. Hansen was chairman of the food committee which served lunch after the close of the meeting.
Carroll Times Herald November 1, 1946

Myles Dau WWII


Wesley Lage WWII
Uncle of Brian Lage - Wes and my dad, Amos, graduated in 1938
Ralph H. McGrath, a veteran of four years' service in the Pacific area, is confined to his home with an attack of malaria.
Carroll Times Herald November 1, 1946

Ralph McGrath home on furlough November 1944
Daughers Sandra & Vicki
Ernest S. Babcock last year sold 7783 acres of land, mostly Minnesota land. This week he reports the sale of 160 acres to our townsman, Orrin W. Emmons, 160 acres to a Mr. Wier, of Grundy Center, and 80 acres to a Schleswig gentleman, all near the town of Austin, Minnesota. About fifteen farmers living near Manning or Westside moved to Austin last spring.
Carroll Times April 29, 1915
Circa 1920 Orrin Emmons family


Back: Clarence Scott "Pat", Robert Edmund, Floyd Howard "Spud"
Front: Florence Eleonore Riggs, Orrin William, Jennie Centennial (Scott), Genevieve Mae Armstrong
Nick Rostermundt and John Hoffman returned from California recently and nearly as soon as Mr. Hoffman got off the railroad cars he was looking for a suitable location to build a dwelling for himself. He did not like "sunny California" and sold his property in that state, after one years' residence, and joined the procession coming back to Iowa.
A lot was purchased from Peter Rothfolk east of Mr. Rothfolk's residence.
Carroll Times April 29, 1915

Peter & Emma Rothfolk


The "castle house" 332 Third Street where the Rothfolks lived
The senior class of the Manning Public Schools will be drilled for their class play by Mr. Rigors, a Moville gentleman who had charge of the play last year. This year's play is entitled "The Servant Problem." The class of 1915 will consist of thirteen members, namely: Hilda Schelldorf, Clara Puck, Alma Rohr, Rose Hinz, Ruth Rogers, Minnie Potthast, Cecelia Addison, Sarah Campbell, Irene Grantz, Hilda Dethlefs, George Weidner, Walter Grau, and Herbert Blair.
Carroll Times April 29, 1915

Herbert Blair - WWI (scanned from small snapshot in the Legion Hall - Herb was the commander 1925-26)
I've never heard of the Schelldorf Orchestra - lots of Schelldorfs in Manning and several played in bands but I don't recall hearing about a Schelldorf orchestra.
J.D. Barborka, the celebrated harpist, assisted by Manning talent gave a musical in the opera house Tuesday night for the benefit of the Presbyterian Church.
Following is the program: Orchestra, Schelldorf's; Instrumental Duet, Clara Puck, Milda Schelldorf; Vocal Solo, Mary Boyer; Harp Solo, J.D. Barborka; Vocal Duet, Mrs. Strong, Mrs. Carpenter; Reading, Mrs. C.B. Miller; Vocal Solo, Miss Turner; April Shower Drill, Second Grade Girls; Instrumental Duet, Ruth and Clyde Kenyon; Harp Solo, J.D. Barborka; Ladies Quartette, Mesdames Wyatt, Strong, Bridwell, and Miss Anderson; Vocal Solo, Mrs. Strong; Bell Solo, Bruno Thompson; Tambourine Drill, Seventh Grade Girls; Harp Solo, J.D. Barborka; Vocal Solo, Melitta Moser; Monologue, Delphia Hays; Instrumental Duet, Eula Sweger, Margaret McCulloch; Vocal Solo, Mrs. Merlin D. Wyatt; Indian Club Drill, High School Girls; Schelldorf Orchestra.
Carroll Times April 29, 1915

Clyde Kenyon MHS 1922

I've only been able to find this image in newspapers and fliers and so far not an actual printed photo.


The opera house (Germania Hall) burned down in 1924.
The Manning Schuetzen Verein brick building replaced it.
In 1975, this building (later called Firemen's Hall) was torn down.
Today it is where Level B restaurant is located.
The brick walls are all up and the roof on the big business block being built by George Dau (505 Main Street). The building is 65x130, two stories high and basement under entire building. Mr. Dau claims he does not as yet know who will occupy the building when completed.
Carroll Times April 29, 1915

George Dau building 1915 - Gotch Garage business inside
This building caught fire and was destroyed in 1947.
It was replaced by the present one-story brick building owned by Robert Schmidt (Manning Service Center)


George Dau - scanned from a 1906 atlas
Study this 1936 comic feature in the Manning Monitor.
It is an example of how things have changed in our society.

---
Back to Dave Kusel's main page