I finished adding more pictures and information for some of the Veterans below. Please take a close look and read about the requests if you are one of the relatives. I have a lot of dead-ends and missing information for many of these Veterans who gave their lives in the service of our country.

For a number of these Veterans I have no other family connected pictures or contacts which leaves me at a standstill. If family members don't come forward - what I have posted here is all that will be in the history book about those particular Veterans, which is not much.

I know it will take you time to go through this latest feature but I sure hope you will and if you are a relative of one of these Veterans - won't you please take some time to help me out with any pictures and information you may have?
Even if you have nothing please e-mail me. I may have questions you can answer which will save me a lot of time doing research elsewhere.

If you can help with Veterans featured here please email David Kusel right away

By adding more family and other connected pictures and information to the Veterans below who paid the ultimate price...maybe it will help someone realize they are related to a Veteran which will hopefully encourage them to dig in their old pictures to see if they might have something I'm looking for.

The main idea in featuring these Veterans is to hopefully reach out to someone who will have pictures and information about them.

When something is lost/destroyed or a loved one has passed away, that is when we realize how important they were and how much we'll miss them.

If you listened to some of the interviews of the survivors of the Moore, Oklahoma, tornado the first thing that was brought up, after they said how fortunate they and their family members were to have survived the storm, was if they were able to find and save their PICTURES...even with most of the communications down they did not say how they missed their facebook/twitter accounts...it was the pictures that they probably seldom looked at but were a major concern in saving.

Formerly known as Decoration Day - Memorial Day originated after the American Civil War to commemorate the Union and Confederate soldiers who died in that war.
By the 20th century, Memorial Day had been extended to honor all Americans who had died while in the military service.

For many years I have been asking for pictures and information about the 1000+ Manning Veterans to use in a future Manning Veterans' history book.
Sadly, not even a lot of family members are coming forward with that information about the deceased Veterans in their families.

Many people proudly attend the Memorial Day and Veterans' Day events...just 2 days out of the year this is done.
While these 2 National Holidays are very important...we need to do a much better job in preserving the memory and in honoring those who have served our country.

The Veterans who need to be honored at a higher level are those who died while serving their country.
One way to do that is to put their faces on the cover of the Manning Veterans' history book.
Unfortunately there are quite a few of those Veterans I have no picture or only a copy made from the 1981 Centennial book or a newspaper clipping.
The only way to get a good quality image of these Veterans is for friends and relatives to look for original photos of these and other Veterans and bring them forward so I can scan them.

Below you'll see various images of most of the Veterans who paid the ultimate price...Most of these scans I have did NOT come from family members. If it wasn't for friends and neighbors who had these pictures and came forward I would not have as many as I do.

So if you are a relative or maybe someone whose parents or grandparents were friends of any of these Veterans please take a look in that old scrapbook or box of pictures...you may have exactly what I'm looking for.

Even if I have a good quality image for some of these Veterans you may have other poses and images of these Veterans...I'd like to scan them too.

PLEASE take some time to go through this list of names/pix below and see if you can help out with this small part of the Veterans' book project.
Thanks - Dave

Emil Ewoldt
in whose honor the Manning American Legion Post #22 was named after
KIA during the Battle of Argonne Forest WWI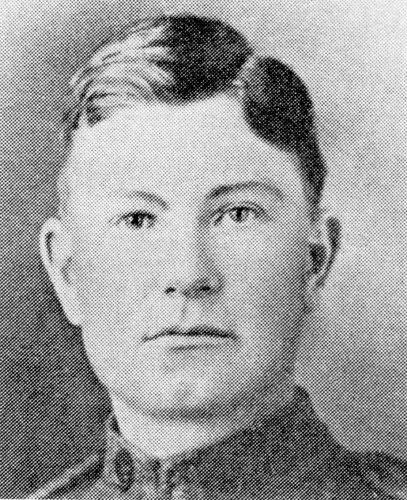 Scanned image from the Veterans' section of the 1981 Manning Centennial book
I'm showing a blown up view of what a scan made from text books look like - with all the dot patterns.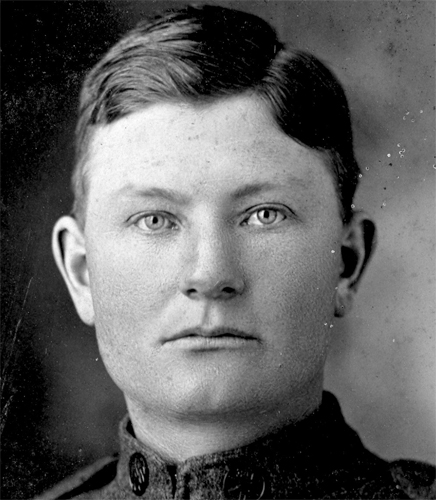 This picture will need to be digitally cleaned up - which takes time
but it is a much better image to use in the Veterans' book
fortunately Russ & Linda (Meggers) Frank had this photo and let me scan it.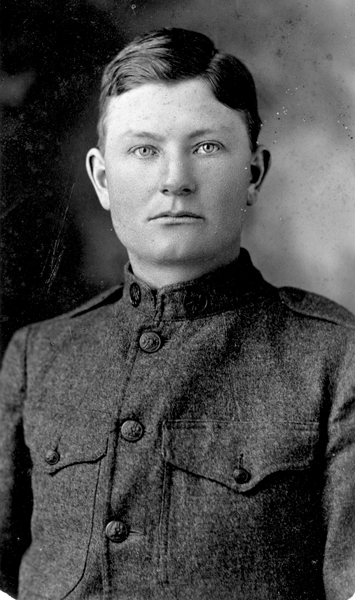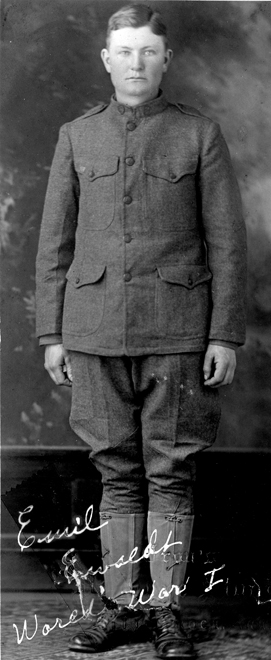 This was a picture-postcard sent to Amanda (Mundt) Puck - a friend of Emil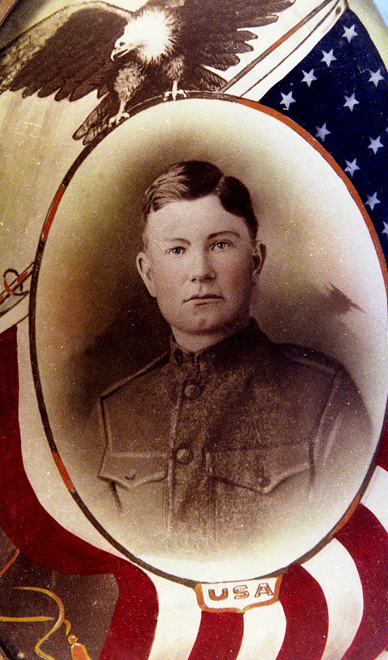 A scan I made from Orval Fink's collection...years ago he took a picture of the large portrait image made of Emil...The original image was recently dug out of the Legion attic by Gary Knueven and is now on display in the Legion hall.
---

Albert Dethlefs
Served several months in the St. Mihiel, France, sector
became ill and died of the Spanish Influenza on September 14, 1918
Albert's sister was Lillian Mohr

I have NO pictures of Albert - need original photos to scan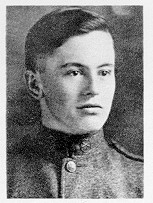 scan made from the 1981 book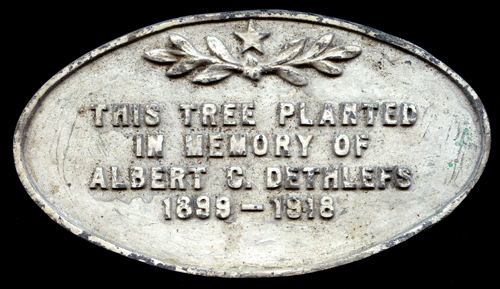 WWI plaque of honor placed in the city park for Albert
---

William Wulf
He saw action at the Verdun front
then returned to the US and died February 18, 1922, at the Fitsimmons Hospital in Denver
I have NO pictures of William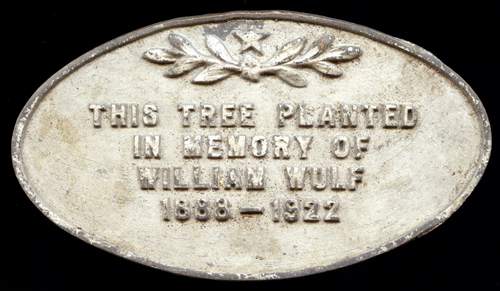 WWI plaque of honor placed in the city park for William
---

Fred Passick
Became ill from diphtheria near Brest, France, and spent time in a hospital
he returned to the front and was KIA August 2, 1918.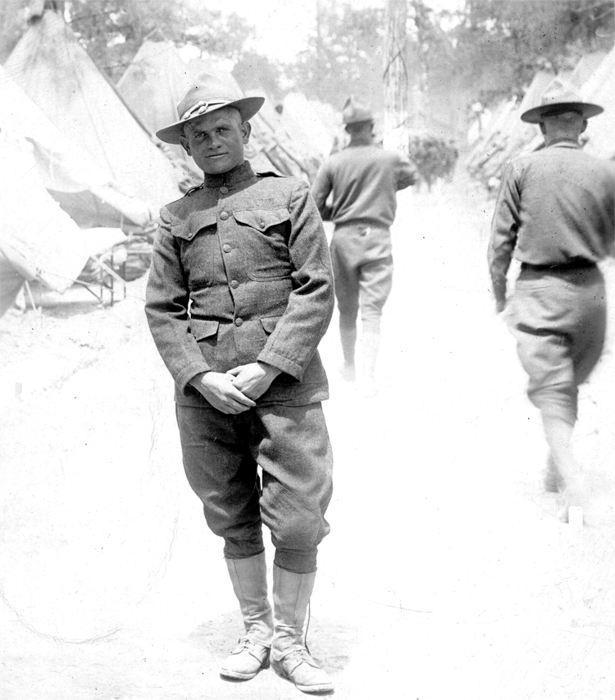 Photo from Marian (Arp) Knueven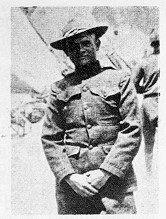 scan from the 1981 history book
Photo from Jan Lahndorf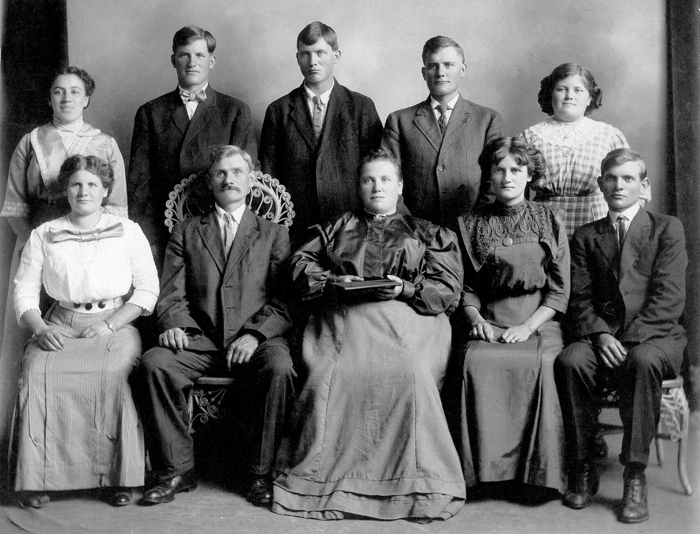 Back Row: Anna Petersen, Henry, August, Detlef, Catharina Arp
Front: Mary Schumann, Otto, Sophia, Minnie Hagedorn, Fred
Marian Knueven's mother was Catharina, a sister to Fred Passick.
Marian's brothers were Lyle & Norman Arp.
Marian & Joe Knueven had 4 children: Karen Price, Jan Lahndorf, Gary, & Deb Knueven
---

Louie Rowedder
died October 21, 1918, as an infantryman while serving with the American Expeditionary forces in France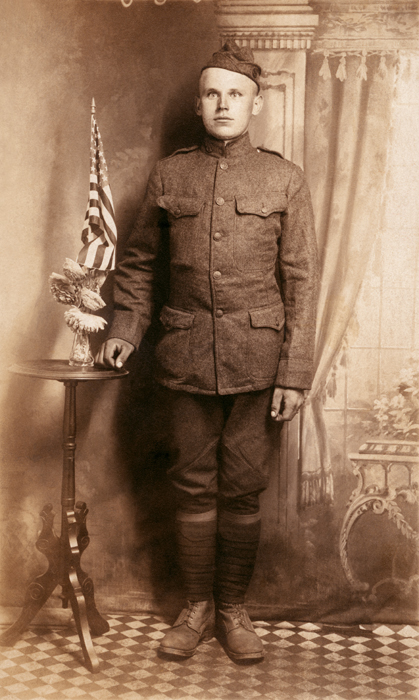 Photo recently provided by Louie's nephew, Robert Hansen of Manning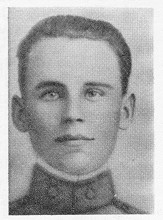 scan from the 1981 history book

There were 12 children born to William & Anna (Kall) Rowedder
Herman born August 19, 1879, and died December 12, 1957, in Aspinwall
Willie 1881 to 1954
Henry born January 29, 1883, and died in 1926 in Manning
Emma Langbehn 1885 to 1962
Lena Wiese 1888 to January 1927
Amelia Schroeder 1890 to December 8, 1963
Hilda Hansen 1892 to ?
John born March 18, 1894, and died January 1965, in Iowa
Louie 1896 to 1918
Ella who died in infancy
Julius born April 30, 1901, and died June 1970, in Manning
Laura Kasperbauer 1904 to 1951

Louie's brother, John's, family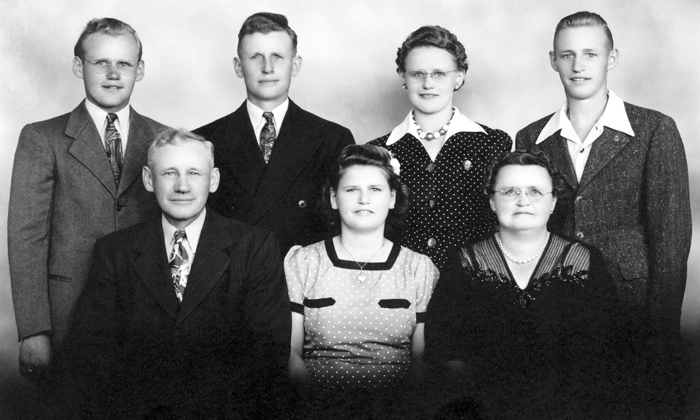 Back: LeRoy, Gilbert, Berdine Ehrichs, Virgil
Front: John, Joan Mohr, Ella (Mordhorst)

John and Ella Rowedder spent their entire lives in the Manning area. John Rowedder was born in Hayes Township, Crawford County in 1894. He was one of twelve children born to William and Anna (Kall) Rowedder. William and Anna were both born in Germany in the Hamburg and Schleswig area and came to the United States at a young age. John received his education in rural schools in the area and married Ella Mordhorst, daughter of Henry and Alvina Jipp Mordhorst on December 8, 1915. Ella was born in 1895 in Muscatine County and came to Crawford County as a young girl.
Her father was born in Schleswig Germany and her mother in Benton County, Iowa. She attended rural schools in the area and worked at home before her marriage.
She was one of four children including a twin sister Stella Jahn.
Following their marriage, John and Ella lived in Manning for a year before farming northwest of town. They later purchased a farm in that area and lived there until their retirement to Manning in 1953. Besides farming they enjoyed fishing, playing cards, and John liked to play horseshoes.

They were the parents of six children: Gilbert, born in 1916, Berdine in 1919, LeRoy in 1924, Virgil in 1929 and Joan in 1933. One son, Leonard died in infancy.
John continued to help with farming after his retirement until his sudden death in January of 1965. Ella continued living in her Manning home until shortly before her death in May of 1972.
Gilbert was married to Ethel Brockmann and they had two daughters, Diane and Patsy.
Gilbert died in April 1981
Berdine married Wilmer Ehrichs. They had nine children: Janet, Judy, Barbara, Beverly died in 1947, Bonnie, Deborah died in 1954, Randy, Sandy and Tom. Berdine passed away in January 1997.
LeRoy married Winona Joachimsen and their two children are Douglas and Linda. Winona died in September 2000. Virgil married Colene Gray and their children are Mark and Becky. Virgil died in April of 1984.
Joan married Russell Mohr and their children are James, Jay, Jeffrey, and Rhonda. Jay died suddenly in September of 1997.
---

Frederick C. Schroeder

(no military picture, little information)
Killed in Action while serving his country.
Son of Henry & Anna Schroeder - they lived in the Manning area and retired in Egan, South Dakota in 1918.
The Schroeders were the parents of nine children. They are Herman and August of Flandreau; Louie, Henry and Mrs. Irving (Emma) Stombaugh, Egan; Mrs. John (Augusta) Vinke, Mrs. Herman (Elfreda) Jahn, and Johannes of Manning.
One son, Frederick, a Private in the Army, gave his life during the first World War.
---

Arthur Stang
Died from the Spanish Influenza on October 21, 1918, while serving in France.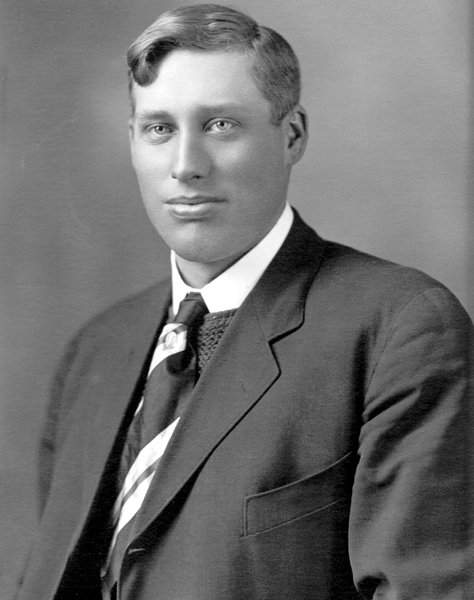 Photos from Rozora (Kuhn) Schroeder

As large a family this was I would think that someone out there would have a military picture of Arthur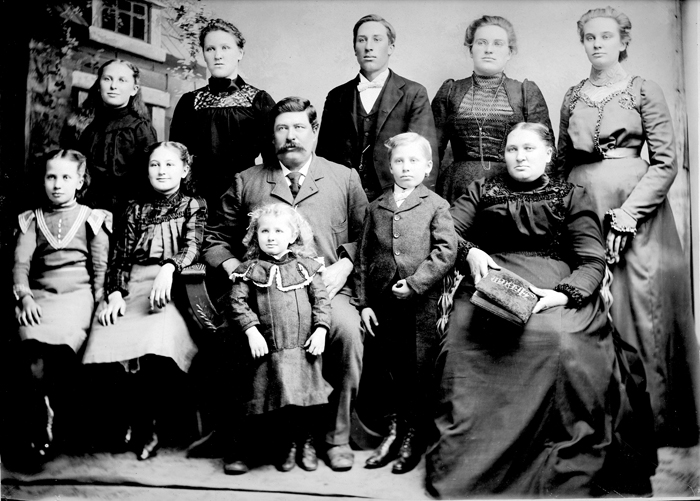 Back: Ella, Lillie, Bill, Mary, Carolyn
Middle: Lydia, Margaret, Adam, Arthur, Augusta
Front: Florence
Margaret was Rozora (Kuhn) Schroeder's mother.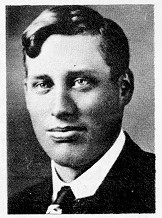 scan from the 1981 history book
Arthur's sister Ella & brother Bill
These 2 pix are scans from Lola (Hansen) Ahrendsen's collection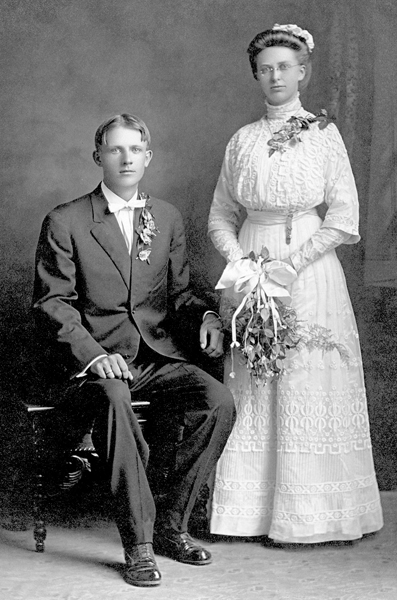 John & Ella (Stang) Schroeder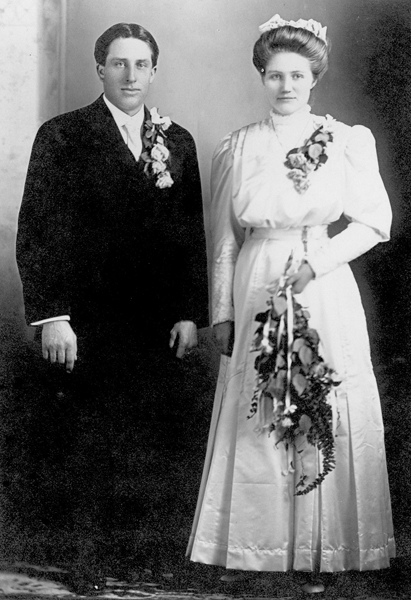 Mr. & Mrs. Bill Stang
---

Bernhardt H. Stuhr
Died from the Spanish Influenza on October 8, 1918, while training at Camp Dodge, Iowa.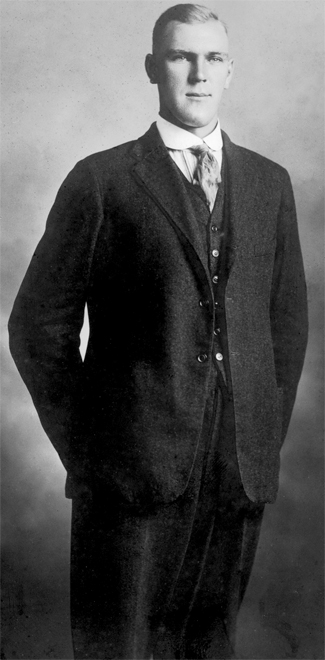 Photo from Jean (Lyden) Farley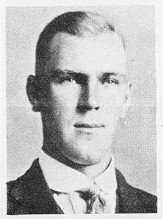 scan from the 1981 history book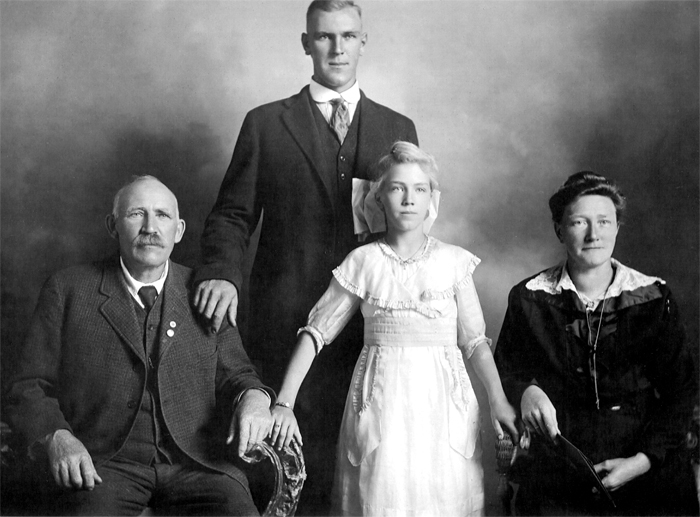 Claus, Bernhardt, Mildred, Emma

Claus Hinrich Stuhr, known as C.H. Stuhr, was born in 1859 in Luhrachau, Schleswig, Germany, and died in 1929 in Manning. Emma Juels was born in 1872 in Schleswig, Germany, and died in 1941 in Manning. They are both buried in the Manning Cemetery. They had one son Bernhardt and an adopted daughter Mildred Stuhr. Mildred's birth mother was Mary (Petersen) Klue.

Claus came to America and first settled in Minden, Iowa, where he and his brother owned and operated Stuhr Brother's Hardware. They sold hardware, furniture, coffins, and agricultural implements. Claus later returned to Germany to bring Emma Juels (his wife to be), her brother Gustav, and his wife to be, Maria Bruhn, to America. They were married in Minden and settled there. Gus and Maria later moved to Avoca, Iowa, and raised ten children. Claus and Emma moved to the Manning area and purchased a farm three miles north and one and a half miles east of Manning. Vernon Rohe purchased this farm from Mildred (Stuhr) Lyden in 1951.

Bernhardt was born in 1895 at Minden, Iowa. He died in 1918 from the Spanish Influenza Epidemic while at Camp Dodge, Iowa, where he had served in the Army for one month. He is buried in the Manning Cemetery. Mildred was born in 1905 in Council Bluffs, Iowa. She died in 1991 and is buried in the Manning Cemetery. Claus and Emma were Mildred's great-aunt and uncle.
She married Vincent Lyden, Sr., son of Charles E. Lyden who was a Manning photographer. Mildred and Vincent had three children. Vincent, Jr. lives in Turner, Oregon. His wife, Lillian, is deceased. Marianne (deceased) married Harold Addington of Concordia, Missouri. They had one adopted son Dan who lives in Chicago, Illinois. Jeanne and her husband Ronald Farley live in Aplington, Iowa. They have three children, Sherie, Ronald Jr., and Diane.

Mildred and Vincent Lyden owned an acreage where the present Lutheran church is located. During their younger years they had a large truck gardening business and sold their produce to local stores and the public. Vincent worked as a lineman for the Manning Electric Company.

Henry Juels came to America at the age of seventy after his wife died to live with his daughter Emma. Albert Juels came to America in 1902. He was a nephew of Emma. Albert married Minnie Petersen who was born in South Dakota. Minnie was a niece of Claus Stuhr and a sister to Mildred Stuhr's birth-mother Mary (Petersen) Klue. Albert and Minnie had six children: Hazel, Vera, Arnold, Harold, (all deceased), and Edna who lives in California.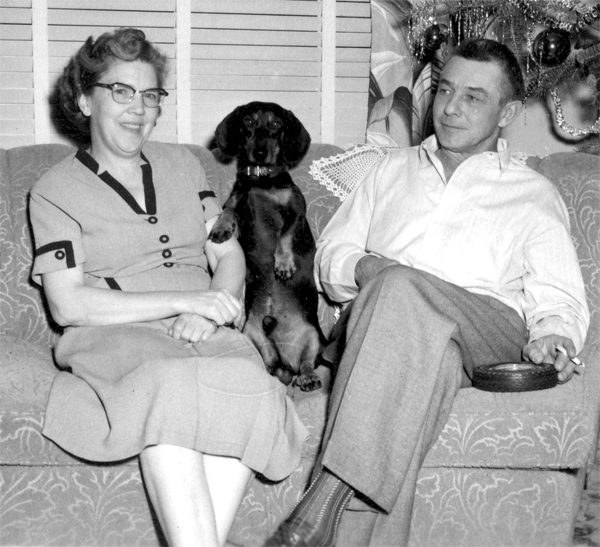 Mildred (Stuhr) with her husband Vincent Lyden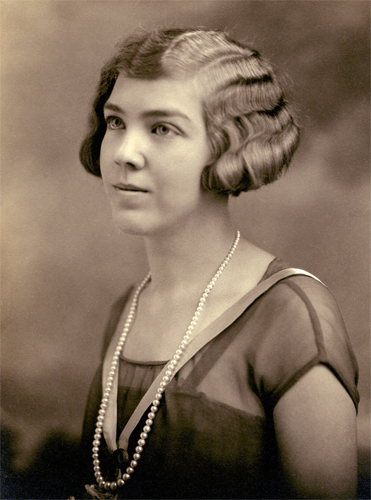 Mildred Stuhr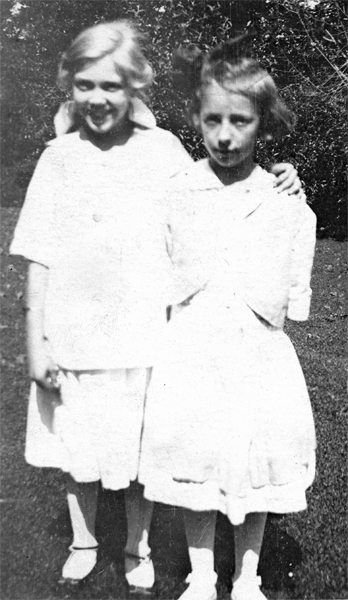 Mildred Stuhr & Edna Vollstedt
---

Julius Vinke
Became ill from the measles & mumps on the ship half way to Europe and died October 1, 1918.
I have NO pictures of Julius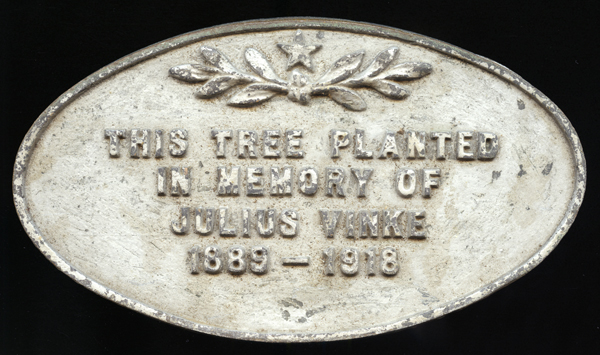 WWI plaque of honor placed in the city park for Julius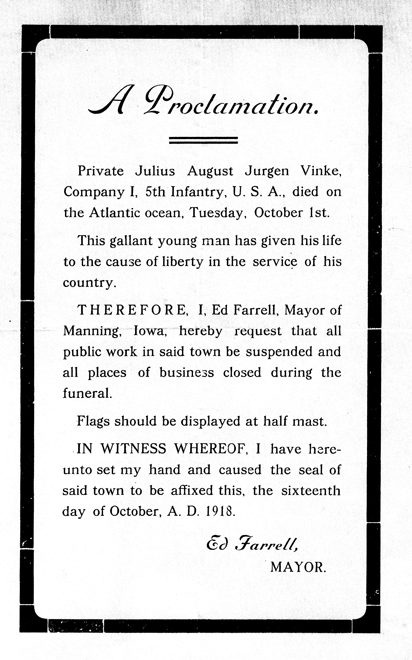 A proclamation I found in the Manning Monitor microfilm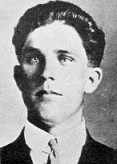 scan from the 1981 history book
---

Robert E. Bonnesen
KIA while on board the ship L.C.F. along the Normandy Coast June 6, 1944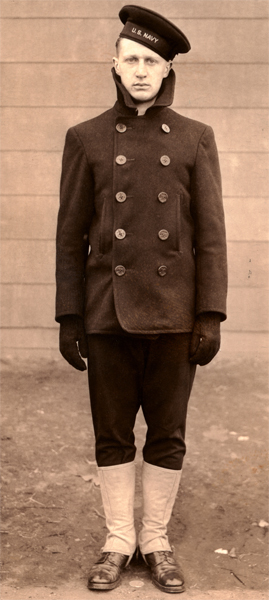 Photo from Evelyn & Harry Hacker
The Bonnesens & Hackers were close neighbors/friends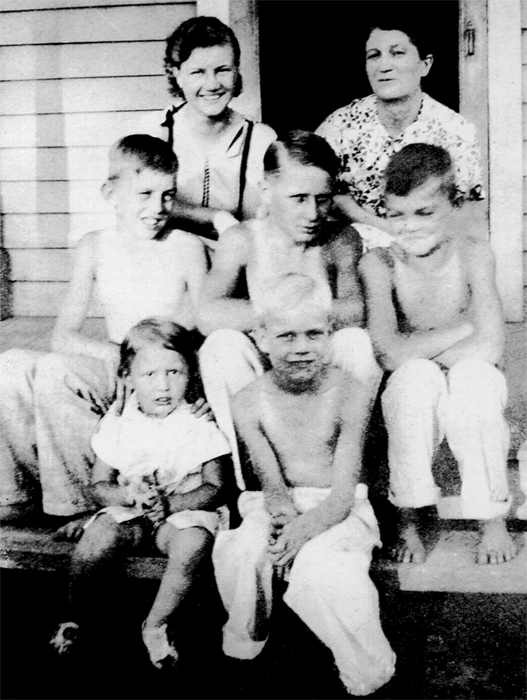 Back: Arlene Friedrichsen, Pearl Bonnesen
Middle: Harry Hacker, Robert Bonnesen, Delmus Hacker
Front: Mardel (Bonnesen) Fuller, Bob Hacker


Pearl Bonnesen is mother of Robert & Mardell
Harry, Delmus & Bob Hacker are sons of Bill & Selma (Friedrichsen) Hacker
Arlene Friedrichsen is the daughter of Ferd & Malinda Friedrichsen
Friedrich & Augusta Friedrichsen are the grandparents of the Hacker boys and Arlene & Ray Christensen.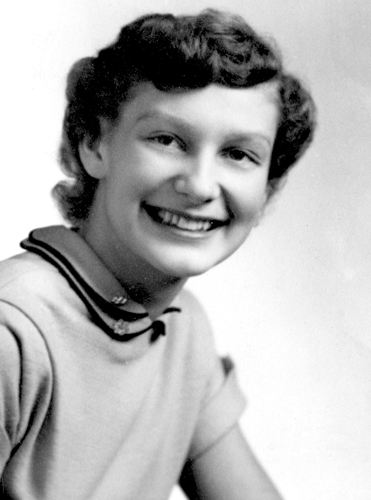 Mardel Bonnesen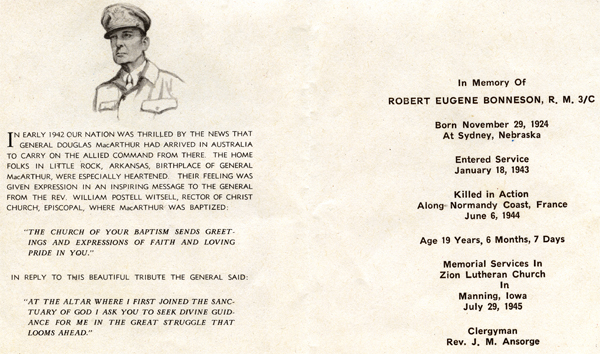 Robert Bonnesen - memorial
---

Albert Buss
Died in France in 1944
I have no pictures of Albert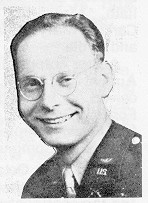 scan from the 1981 history book
---

Heinz "Cotton" Detlefsen
KIA while flying his Mustang over the Lubeck, Germany, area


Photo from John Detlefsen (nephew of Heinz)
Heinz Detlefsen MHS 1937

An amazing story behind a film that was preserved from several of Heinz's missions will be featured in the Veterans' book.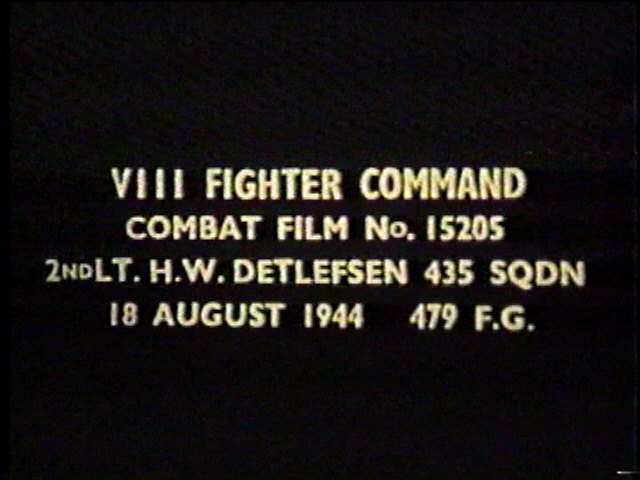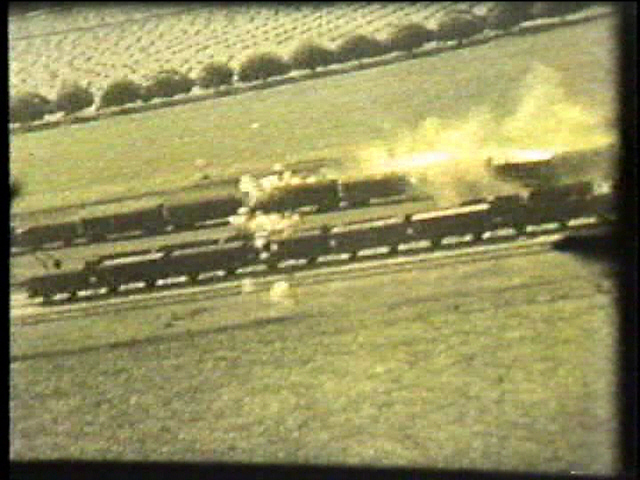 Heinz strafing train cars in Germany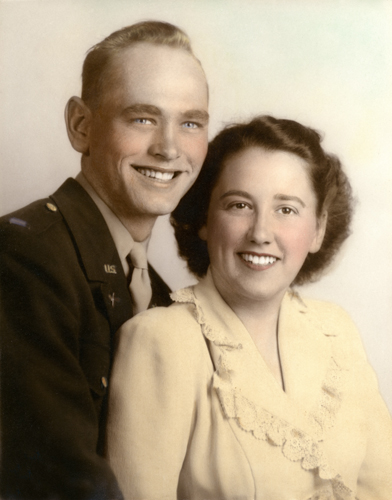 Heinz & Elnor (Vannote) Detlefsen
Elnor taught at Manning schools.

Max & Marge Detlefsen - Max was a brother of Heinz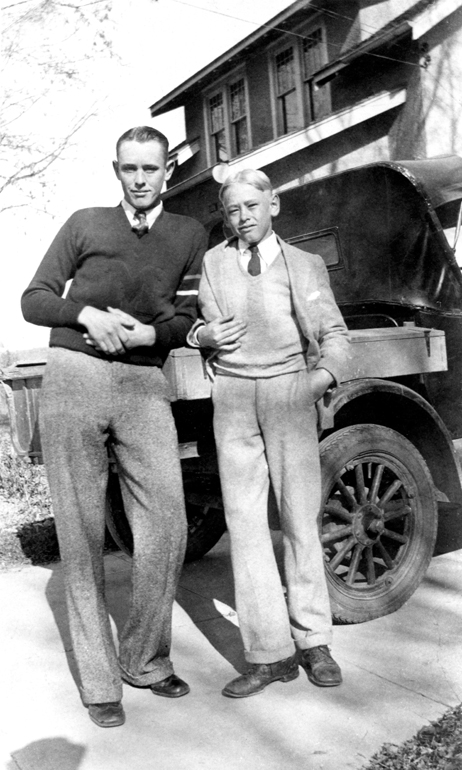 Max Detlefsen with his younger brother, Heinz
1937 BB team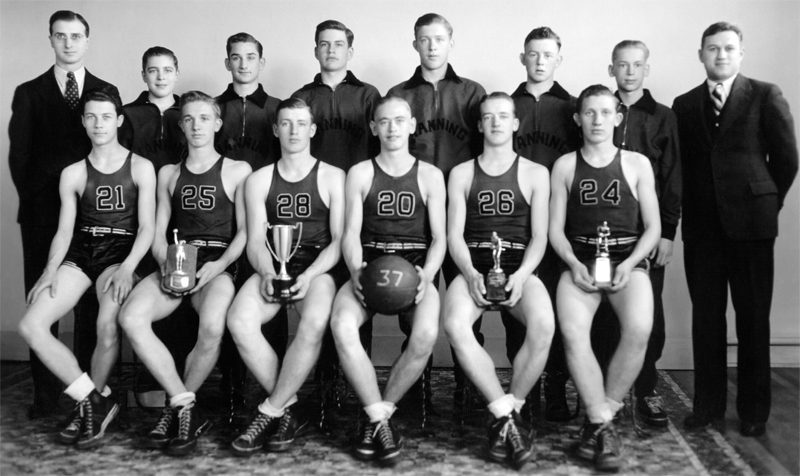 Back: Superintendent Marvin Waltz, Gene Claussen, Russell Lathrop, Richard Ohm, Harold Nickum, Lyle Arp, Wayne Schrum, Coach Joe Rogers
Front: Billy Hunter, Kenneth Esser, Amos Misselhorn, Heinz Detlefsen, Robert Hoffmann, Randall Petersen

Fortunately Max Detlefsen and his son, John, have a deep respect for the preservation of history and genealogy and have a lot of information and history about Heinz...plus they have always been willing to share their things with me to scan.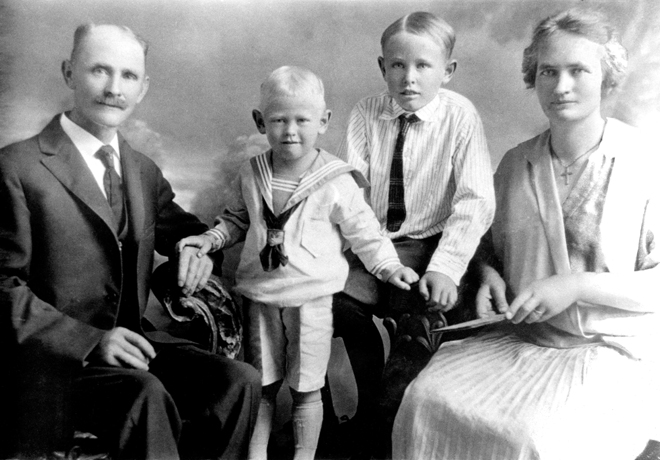 Hans, Heinz, Max, Therese Detlefsen
---

Gilbert John Ewoldt
KIA at Anzio Beachhead in Italy June 2, 1944
I have no pictures of Gilbert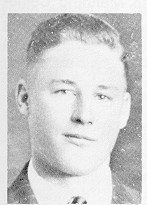 scan from the 1981 history book
---

John Hoffmann
Killed in a plane accident between India & China on January 2, 1944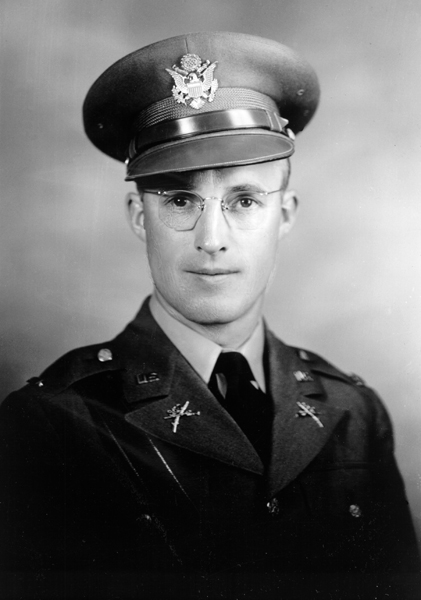 Hoffmann photos from Dean Hoffmann (nephew of John)
John Hoffmann MHS 1928
The Hoffmann family was not only prominent in Manning's history but many of them also served our country.
Dean Hoffmann has been the family member to proudly carry on the family heritage and also preserving Manning's history.

Harry Hoffmann, WWI - uncle of John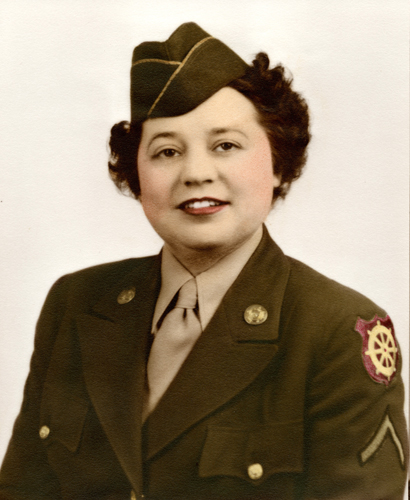 Regilda (Hoffmann) Fraser, WWI - cousin of John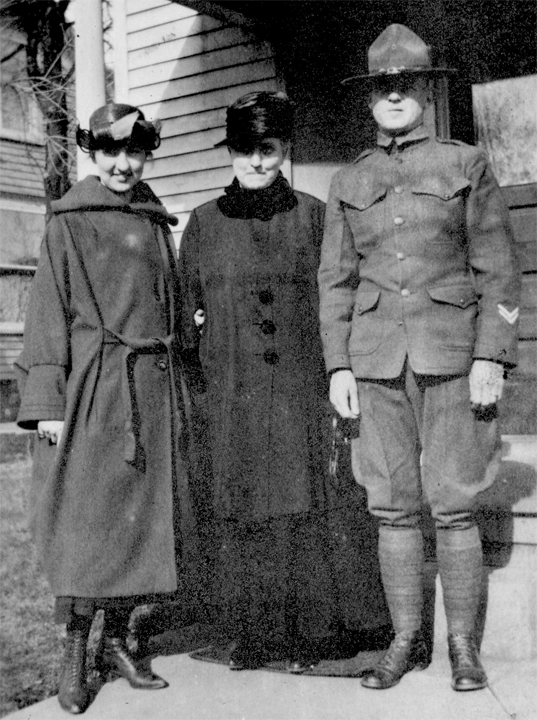 Herman Hoffmann, WWI - uncle of John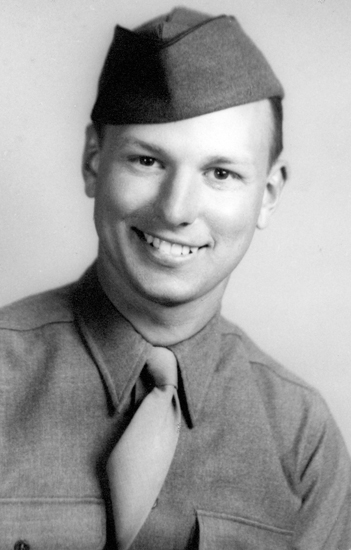 Lyle Hoffmann, WWII - cousin of John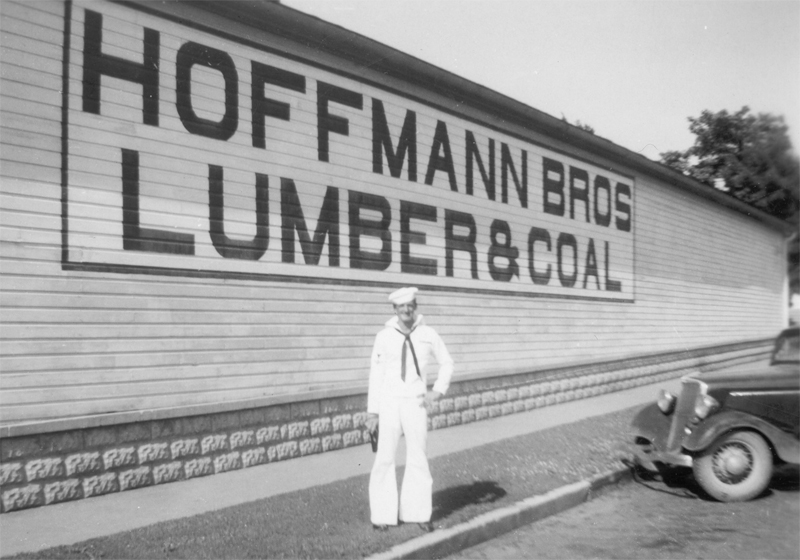 Robert Hoffmann, WWII - brother of John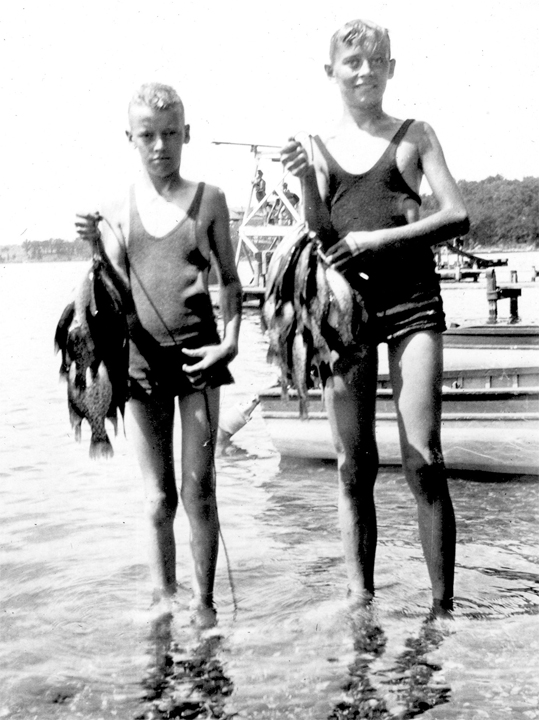 Robert Hoffmann & John Hoffmann fishing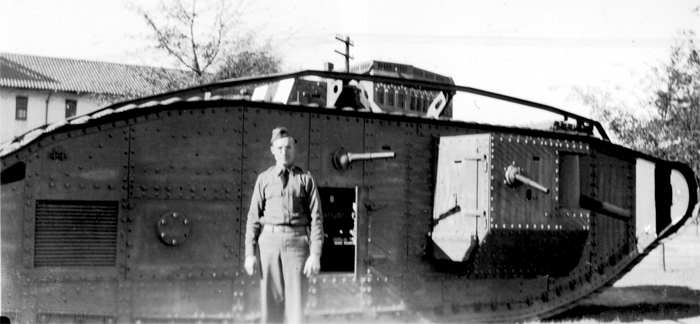 John Hoffmann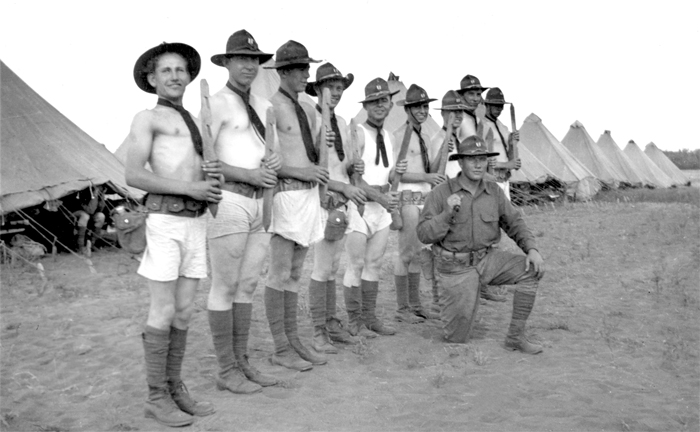 John Hoffmann's group at boot camp horsing around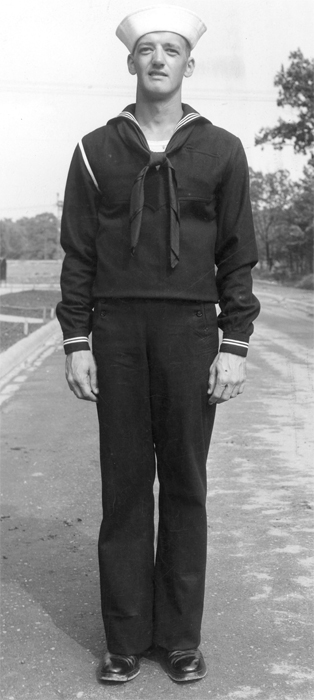 Robert Hoffmann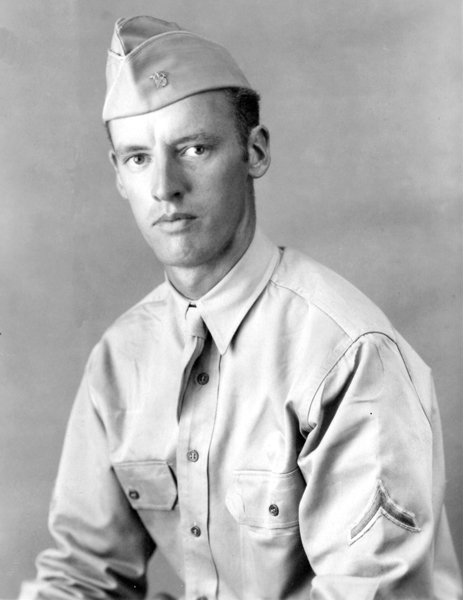 Harold Hoffmann - brother of Robert & John
Photo featured in the December 8, 1927 Monitor
Coon Valley football team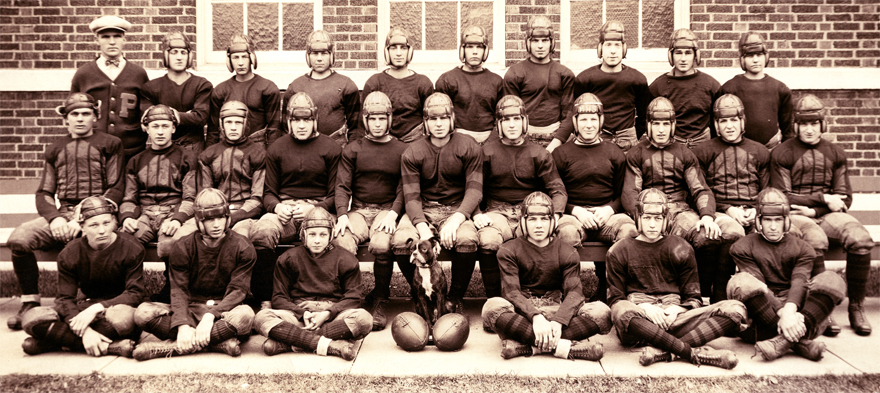 Back: Coach Kenneth Hicks, Gale Griffith, Clarence Barten, Fred Soll, Howard Signall, Walter Hass, Felix Hagedorn, Edwin Martens, Ruel Whitcher, Russell Curtis
Middle: Walter Sonksen, Ernest Barten, Carl Hass, Harold Martens, Herman Kuhl, Bob Wiese, Ray Frahm, William Knaack, John Hoffmann, Dale Griffith, Captain Otto Lamp
Bottom: Alvin Hass, Chester Kuhl, Johnny Horn, Johnny Jahn, George Brady, Chester Kortum

Photo from Michele (Mohr)
---

Harry M. Keat
KIA on the ship S.S. Gulfoil that was torpedoed by an AXIS submarine in the Gulf of Mexico on May 17, 1943
I have no pictures of Harry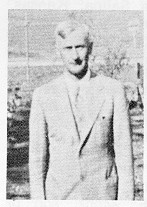 scan from the 1981 history book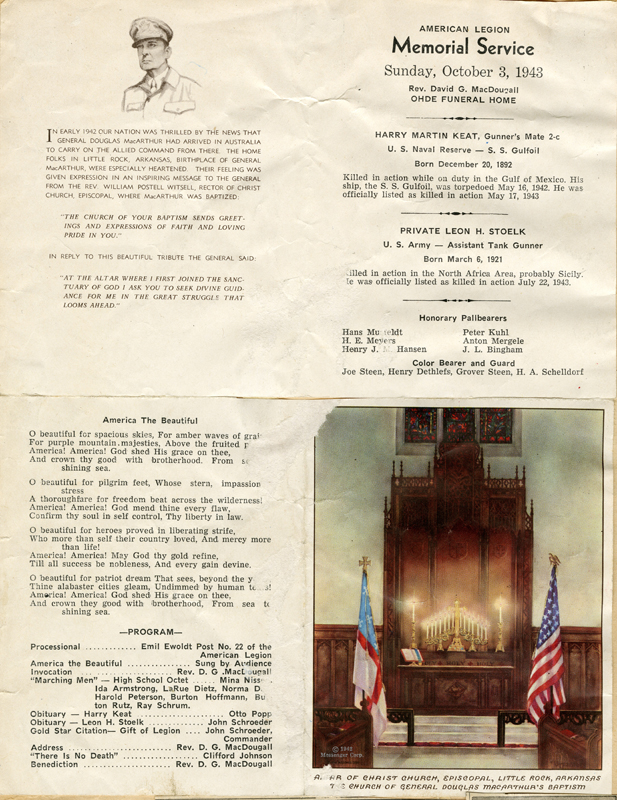 Memorial & burial service for Harry Keat & Leon Stoelk
I only have 1 Keat obituary and there is no Keat family history in the Centennial books so I don't know how these Keats below are connected to Harry.
Hopefully someone from these other Keat families will come forward and be able to help with pictures and information on Harry's service.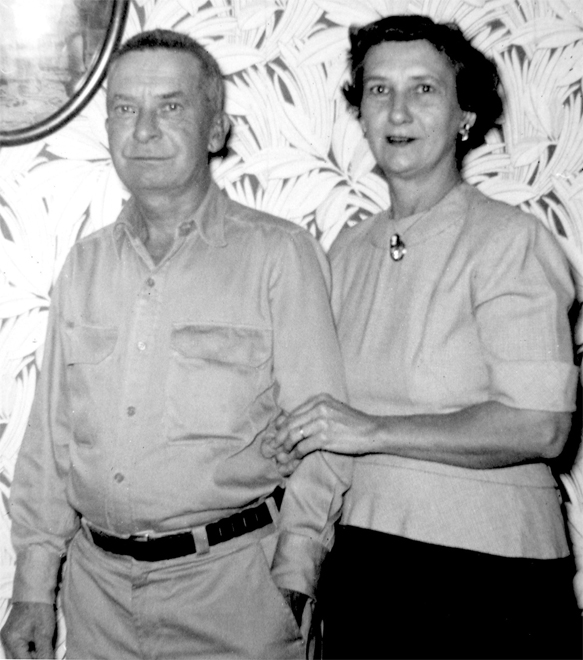 Bob & Lilian Keat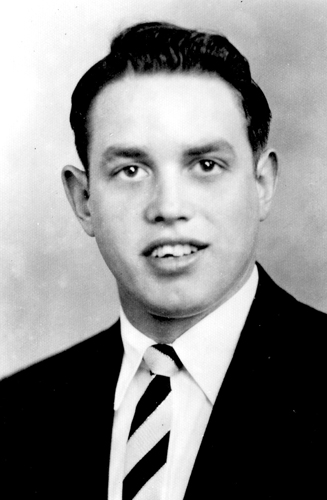 Donald Keat MHS 1958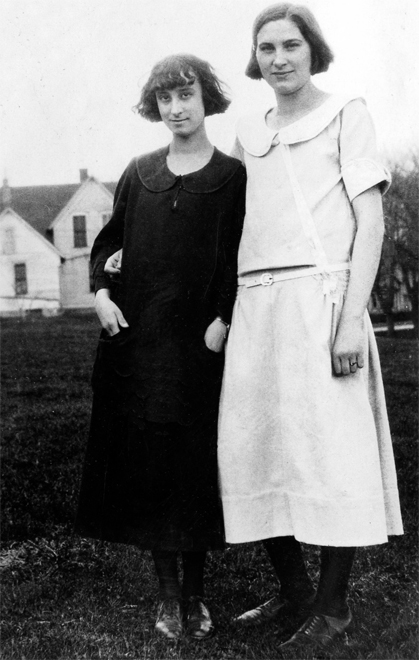 Nellie Keat & Alice (Lohmeier) Grau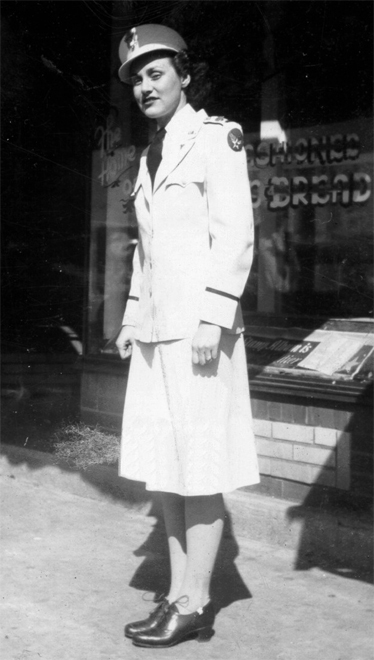 Leola Keat
Below is the only information I have about Leola's military service...hopefully a relative will come forward to help with her information too.
Manning Monitor article 1944
Leola Keat Completes Basic
Leola Keat, 20, seaman second class, daughter of Mr. and Mrs. J. W. Keat, Manning, has completed her basic training and indoctrination course at the Naval Training school for WAVES, the Bronx, N. Y., and is proceeding to Naval Training School (yeoman), A & M college, Stillwater, Oklahoma, for further instruction.
Before she entered the Naval service, Seaman Keat was employed as stenographer and bookkeeper with the Daly General Agency, Inc., Denver, Colorado.
She is a 1941 graduate of Manning high school, and graduate of a business school in Omaha.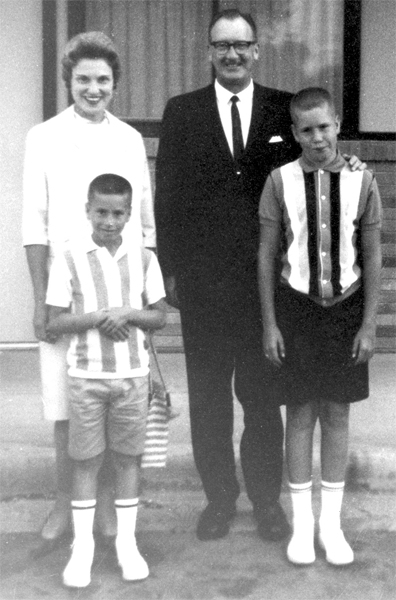 Leola (Keat) & Bob Petersen
Front: John & Charles Keat
February 1966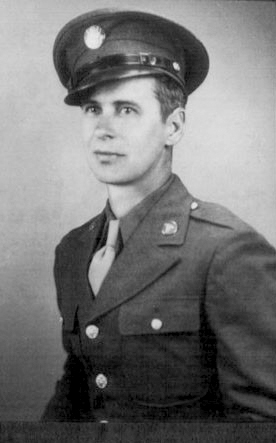 George Keat - MHS 1927
George Keat was born September 13, 1909, and died September 30, 1970.
He married Lenore Anita Lamp (1908-1998). They had three children.
I found this picture and information on a web page.
I contacted the web master but he did not know where he got the information from.
---

Robert Lee Lake
KIA at the Battle of the Bulge, Luxembourg, on February 19, 1945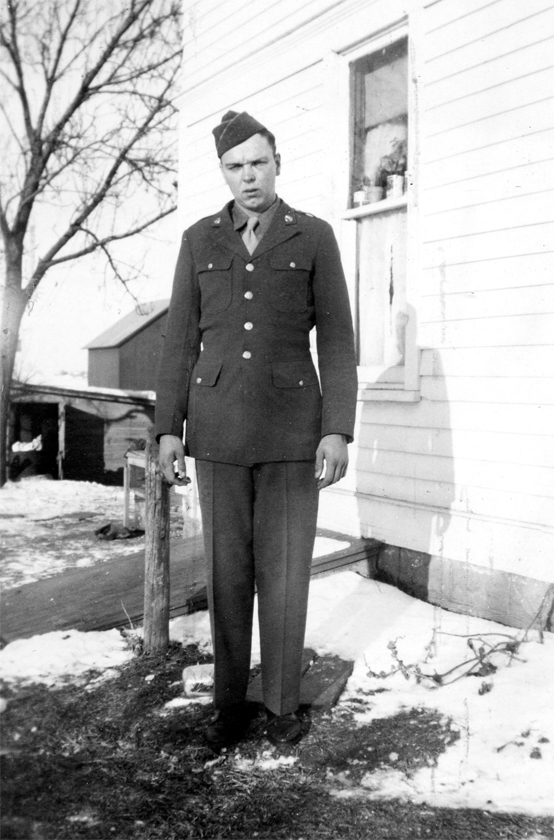 Photos from Jean (Lyden) Farley


Robert with his father, Eustace Lake

Fortunately I have Robert's mother's obituary to help fill in some Lake connections - hopefully a family member will come forward with more pictures and information about Robert to use in the Manning Veterans' history book.

PAULINE ANNA DOROTHEA LAKE
Funeral services for Pauline Anna Dorothea take were held Wednesday, September 9, 1981, at 11:00 a.m. at Zion Lutheran Church in Manning with Pastor Edward F. Heinicke officiating. Organist was Dorothy Kusel. Interment was in Manning Cemetery with Terry Lake, Randall Lake, Nathan Lake, Richard Tibben, Vernon Ehlers and Paul Ehlers as casketbearers. The Ohde Funeral Home in Manning was in charge of arrangements.
Pauline, daughter of Gustav and Anna (Fischer) Ress, was born September, 25, 1897, in Lincoln Township, Audubon County, Iowa. She was baptized on October 10, 1897 at Trinity Lutheran Church in Lincoln Township, and on May 7, 1911, she was confirmed in the Lutheran faith at that church. She attended the German elementary school at Trinity Lutheran Church.
On December 5, 1923, she was united in marriage with Eustace Lee Lake at the Lutheran Church in Man­ning. Pauline and Eustace made their home in Man­ning, where Eustace was in the hatchery and feed business, and later owned and operated Manning Heating and Sheet Metal. Eustace died on August 5, 1967, and a year later Pauline moved to the Manning Plaza. She passed away at the Plaza on Sunday, September 6, 1981, at the age of 83 years, 11 months and 11 days.
In addition to her hus­band, Pauline was preceded in death by two children, Carl Leroy Lake in 1934, and Robert Lee Lake in 1945; also by a grandson, Michael Jon Lake, and one brother and one sister.
She is survived by three children: Margaret Pauline, Mrs. Leroy Hansen of Bel­lingham, Washington, Dorothy Anna, Mrs. Vernon Larsen, of Audubon, Eu­stace Roger (Junior) Lake, of Story City, Iowa, and one stepson, George William Lake, of Bellingham, Wash­ington. Also surviving are 8 grandchildren and 4 great grandchildren; 5 sisters and 2 brothers: Mrs. William (Ella) Asmus, Audubon, Mrs. Herman (Ida) Joachim­sen, Manning, Anna Hole­scher, Perry, Mrs. William (Edna) Hansen, Manilla, Mrs. Rockley (Norma) Wen­zel, Frazee, Minnesota, Hugo and Emil Ress of Manning; as well as nieces, nephews, cousins and other relatives and friends.
Pauline was a member of the Zion Lutheran Church in Manning and a member of the Dorcas Society. Pauline was also a Gold Star Mother.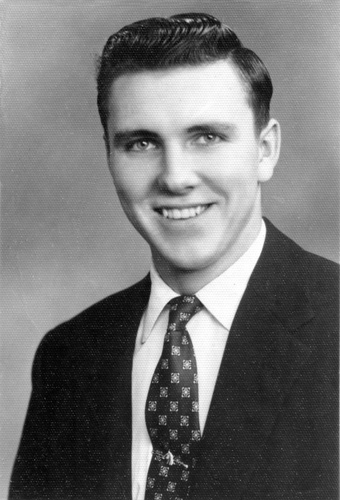 Eustace Roger Lake, Jr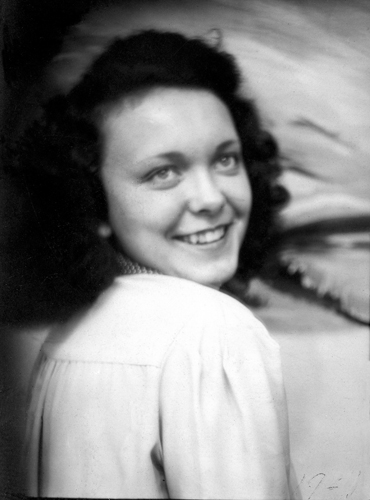 Margaret (Lake) Hansen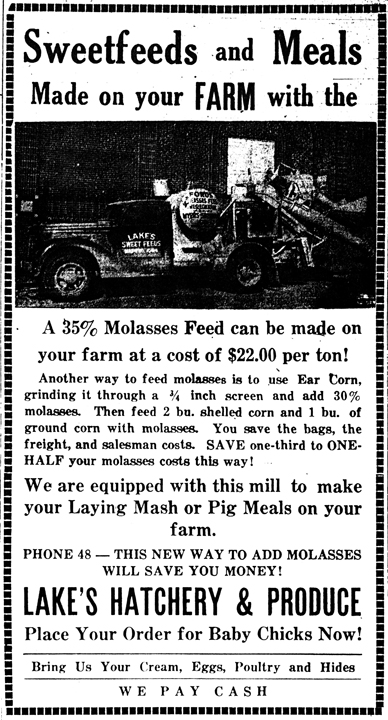 March 20, 1941, Lake Hatchery ad in the Monitor
---

Earl H. Martens
KIA in France September 13, 1944 - buried in France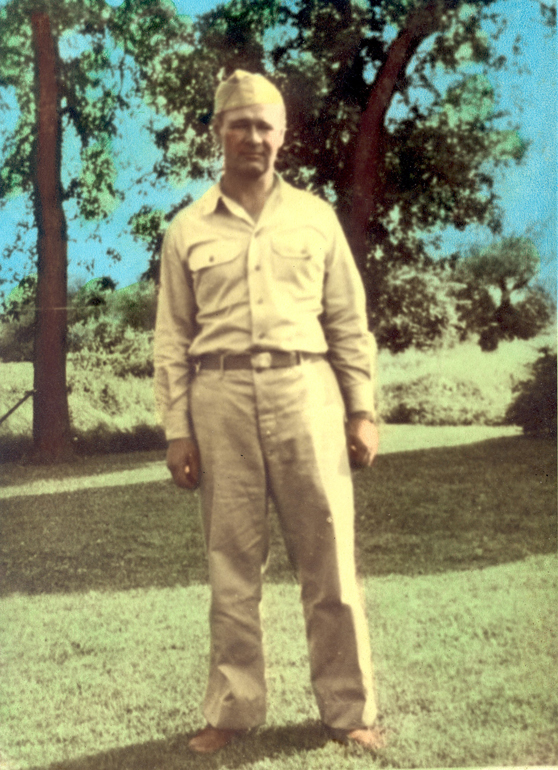 Photos from Russ & Linda (Meggers) Frank
Linda was a niece of Earl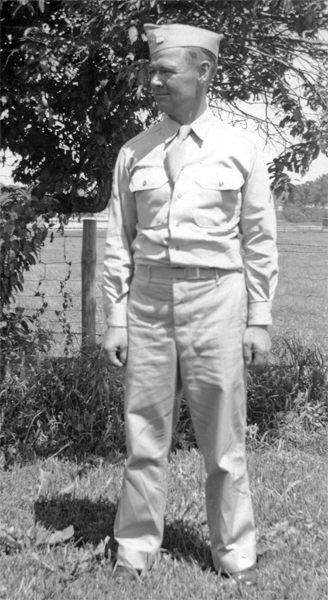 June 25, 1944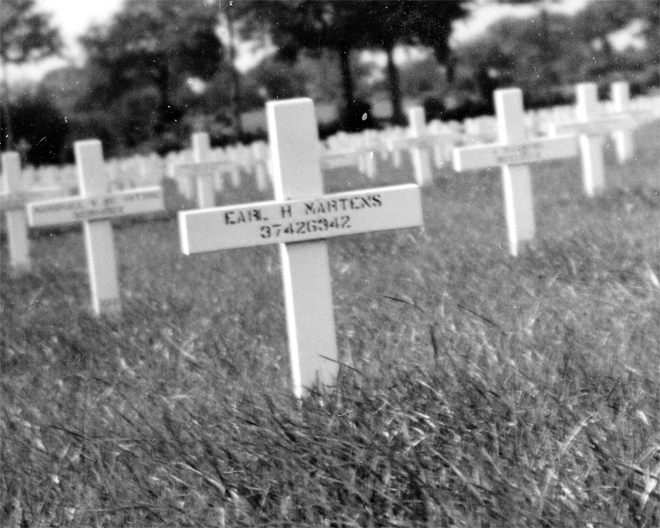 American Military Cemetery Brest, France


American Military Cemetery Brest, France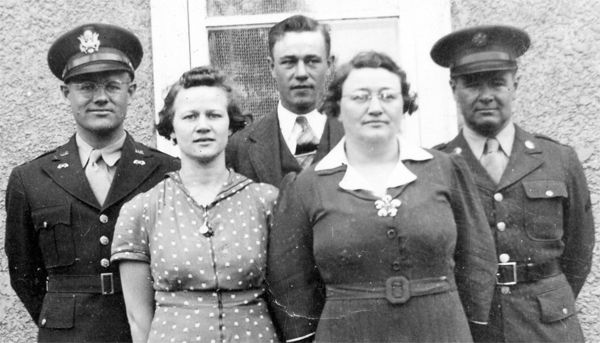 Back: Clarence Martens, Virtus Martens, Earl Martens
Front: Dorothy (Martens) Schrum, Irene (Martens) Meggers
---

Daryl E. Mohr
KIA at Luzon Island, Philippines, on May 13, 1945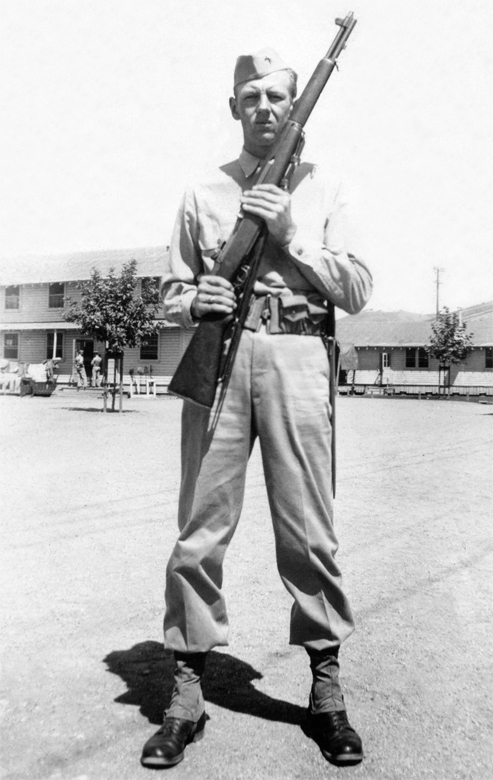 Photos from Michele (Mohr) Olney, niece of Daryl


Daryl Mohr MHS 1941
Since I have featured the Mohr family on several occasions in the past, both on my web pages and in the Monitor articles, I won't show all of the pictures I have for this family right now. I have a lot of pictures thanks to Michele (Mohr) Olney and Ardith (David) Lage.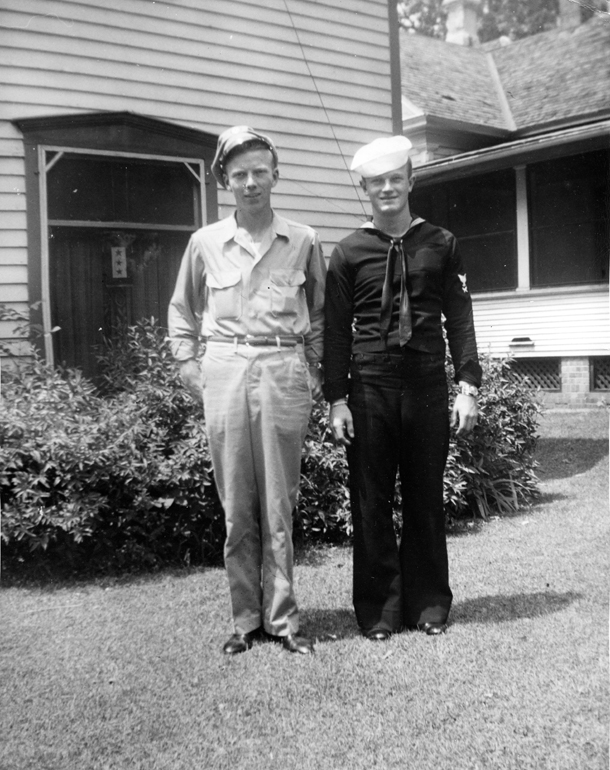 Dale Thomas Mohr, Donald Francis Mohr - in front of the Mohr home September 1946.
---

Arnold Musfeldt
KIA in France on November 26, 1944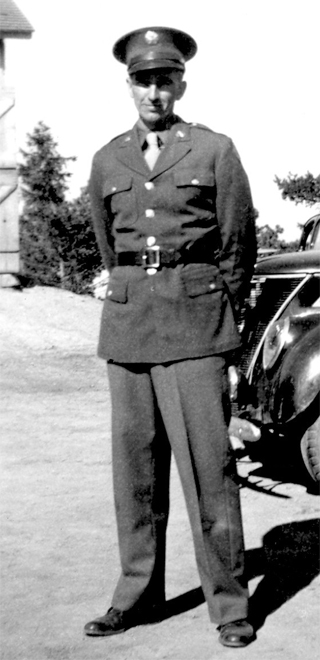 Photo from Lola (Hansen) Ahrendsen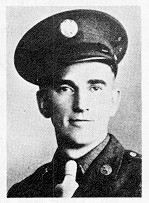 scan from the 1981 history book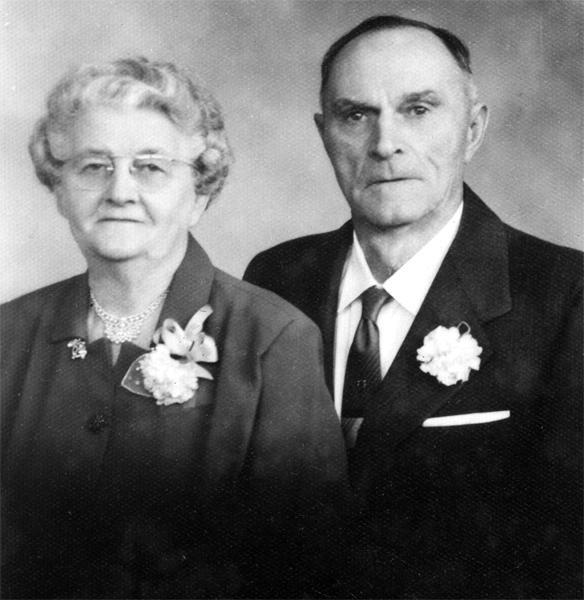 Golden Wedding Anniversary, Katie & William Musfeldt February 29, 1958


This picture came from the Jessie (Stribe) Nissen collection that Bob Nissen has.
I assume these were Arnold's parents. In Arnold's writeup in the Veteran section of the 1981 Manning Centennial book it only says Arnold was the "son of Mr. & Mrs. William Musfeldt of Lincoln Township"
The Musfeldt families were big back then so there may have been several William Musfeldts, and why I need more help with family connections and pictures.

Unfortunately these vague histories were written that way years ago, leaving off the wife's first name, many times her maiden name...even in obituaries. This is why we need to continue to collect and preserve our history and get the "proper" facts written down and not use the vague "Mr. & Mrs." or first initials "Mr. & Mrs. W. Musfeldt" type poor historical identifications.

When I find obituaries and other types of documents, or history books poorly written with these vague IDs I will try to find the full names and then change those original documents to the full information. Not doing so now will make it even more difficult in the future for genealogists and historians to figure out exactly who these "abbreviated" people are.
---

Ernest J. Nissen
KIA on a bombing mission over Munich, Germany, June 6, 1944
I have 1 picture of Ernest in uniform.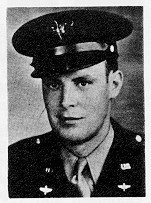 scan from the 1981 history book
Ernie Nissen MHS 1935

In the 1981 Centennial book write-up about Ernest it mentions him as the son of E.C. Nissen and exactly what I was mentioning under the Musfeldt feature above. It is situations like this that take me extra time to figure out what the initials stand for and which family is connected.
If you are older than me or are related to Ernest you may say to yourself, "why I know who E.C. is" but it doesn't help me if you don't contact me and tell me.
So then I have to read through obituaries, look in the Manning Cemetery records, hope there is something written in the 1981 Centennial books, or I have to call someone which all takes me a lot of extra time.

So to give you and idea of what I have do to "Sherlok Holmes" many of the pictures I work with, here are some pictures of Nissens that I know the names and connections but will intentionally leave that information off for now.
See if you can figure out who they are and their family connections.

These pictures came from various sources, and not all were Nissen family members.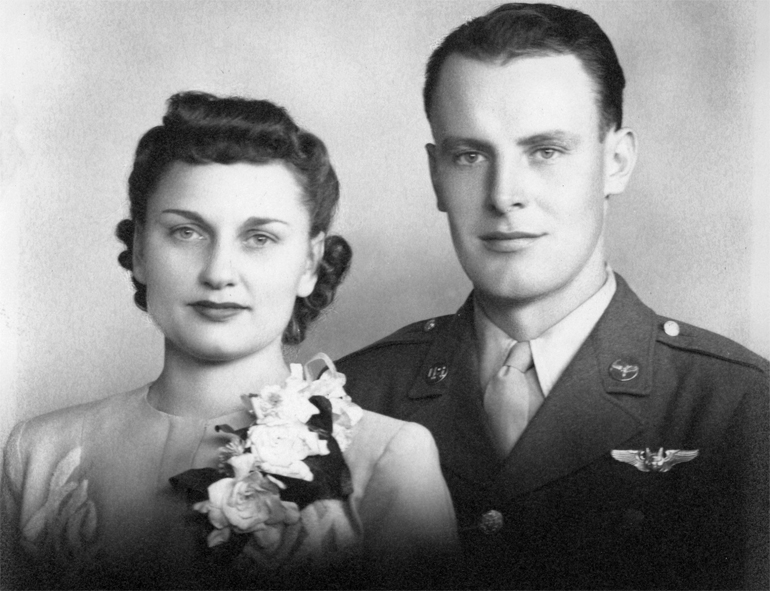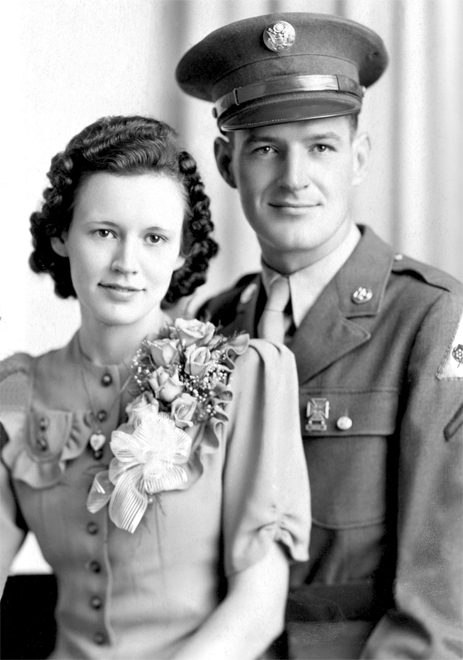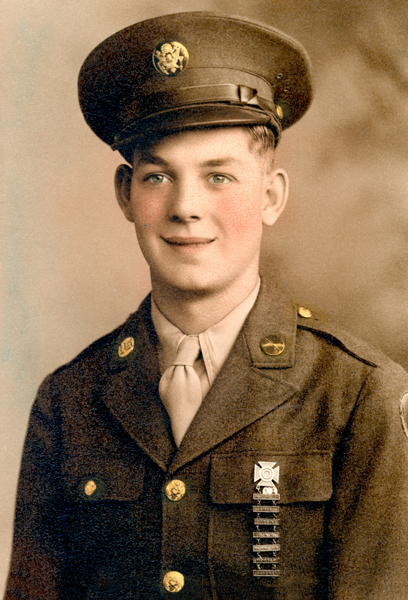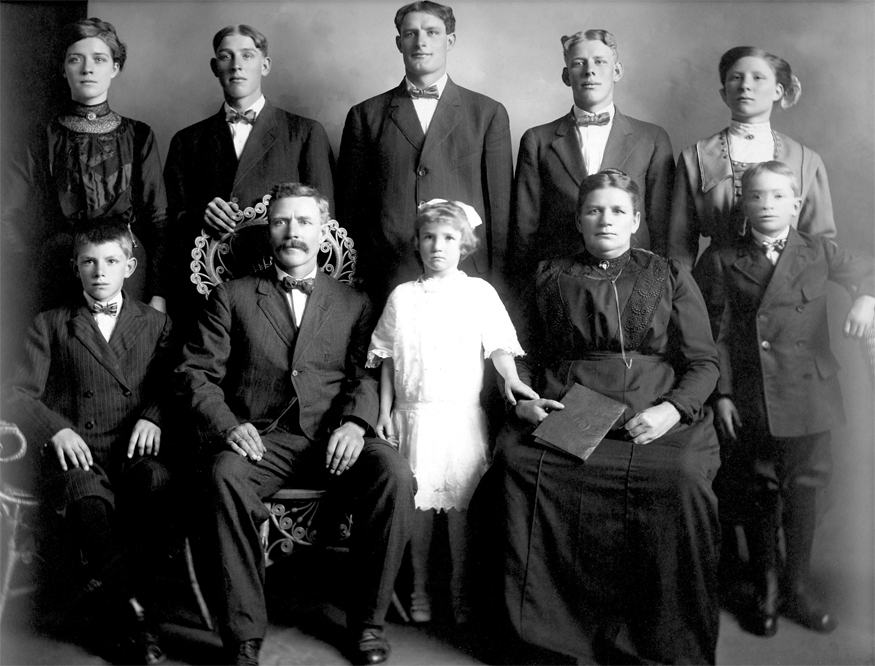 ---

Leroy Paulsen
KIA in Germany, November 10, 1944
I have no pictures at all of Leroy
Leroy was the son of Pete & Cora (Weavers) Paulsen. He married Viola Davidson and they had one son.
He is buried in the Manning Cemetery

I have no idea if or how these Paulsens shown below are connected to Leroy but all I can do is show them with some information and hope some family member will see them and come forward.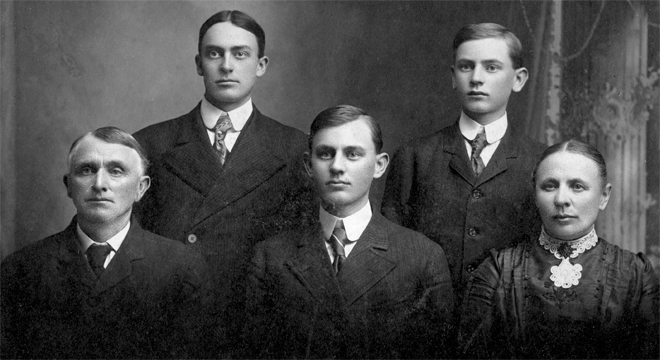 Back: John, Herman
Front: Henry, Alfred, Eline (Paulsen)
3 sons John, Alfred, Herman
Herman was father of Wesley and Walt Lage

Back Henry Hass & Elvina Stammer
Front Henry Paulsen & Evalina Hass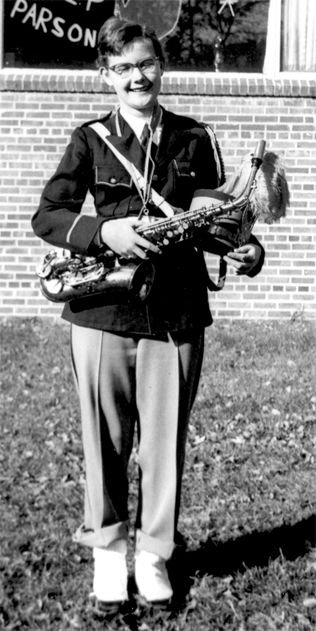 Susan Paulsen 1953 Band contest
Susan was a former member of the MHS class of 1958
Picture from Wesley Cooper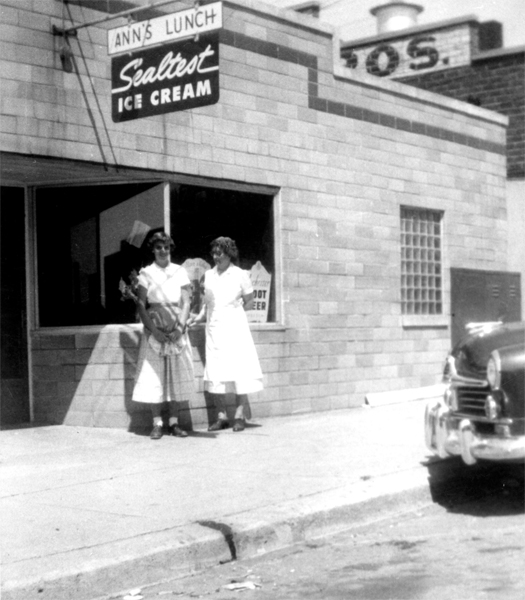 Ann's Lunch - Bev Nielsen with her mother Bernice (Paulsen) Nielsen.
Picture from Bev (Nielsen) Smith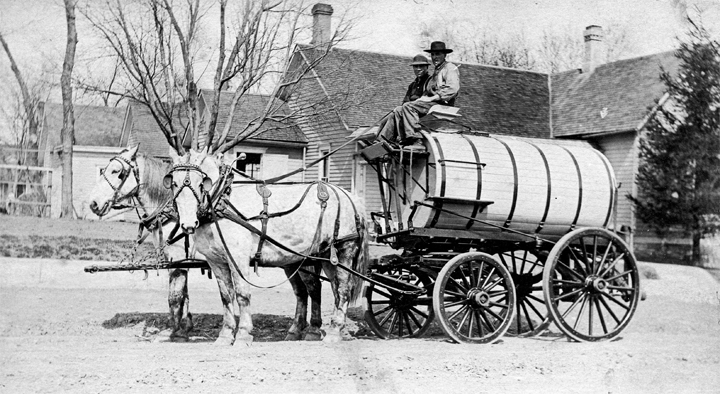 Adolph Paulsen & Bill Claussen - water wagon sprinkler to settle dust on city streets
Picture from Bev (Nielsen) Smith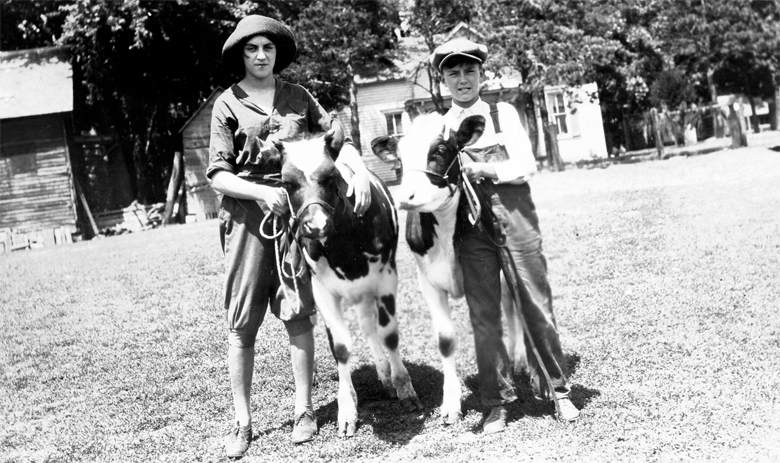 Bernice & Vinton Paulsen
Picture from Bev (Nielsen) Smith
Goochs Best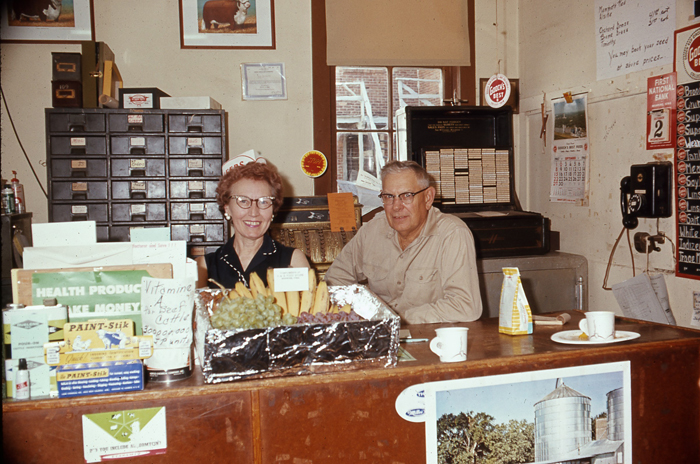 Esther Paulsen, Ted Paulsen 1963
This was the annual pancake day that Bud McMahon put on.
Goochs Feed company provided the "Goochs" pancake batter.
Esther & Ted worked at this store for quite a few years - before Bud Mohr
Esther worked at the Golden Rule store on Main Street
Bud McMahon's wife was Elsie (Paulsen) and was related somehow to Ted Paulsen.
Picture from Orval Fink slides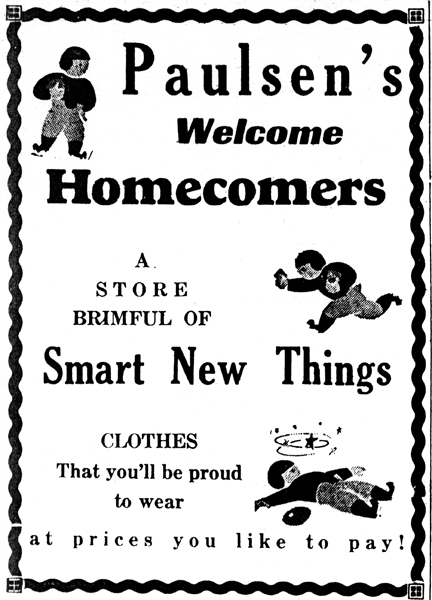 November 9, 1939, Monitor Ad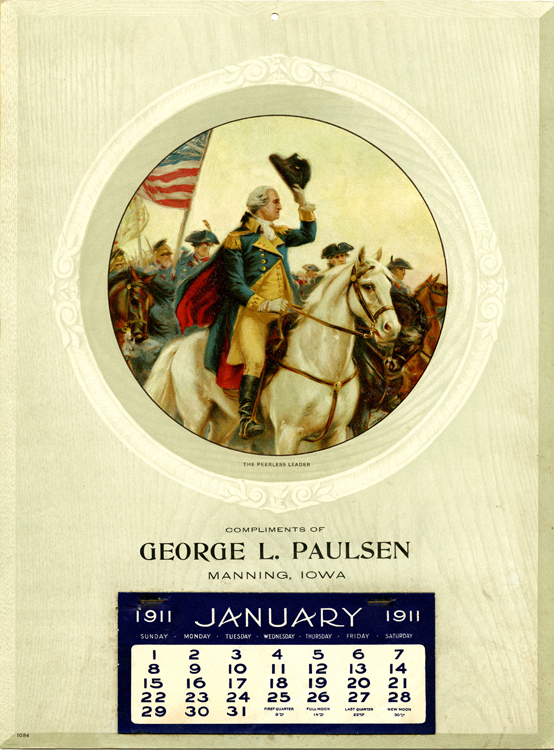 1911 George Paulsen calendar
5 Generations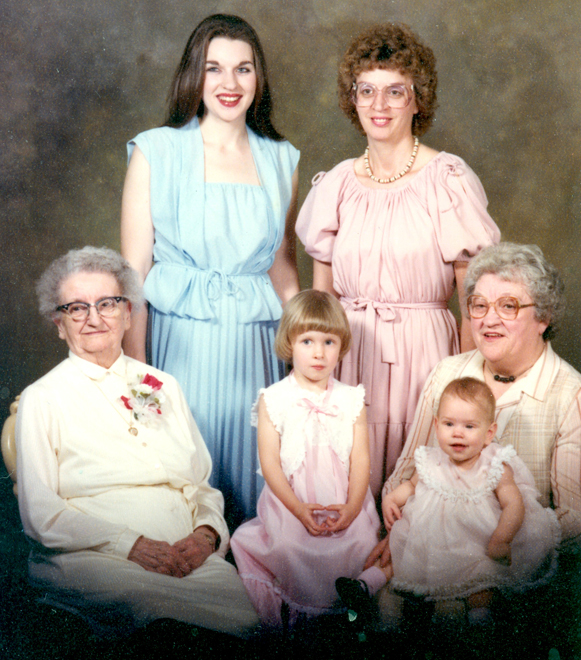 Back: Kim Mitchell, Beverly (Nielsen) (Mitchell) Smith
Front: Anna (Klindt) Paulsen, Brandi Mitchell, Bernice (Paulsen) Nielsen holding Heather Wannamaker
---

Lee Rocksien
Died of a heart attack 1 day before he was to fly to Burma for active duty on December 4, 1944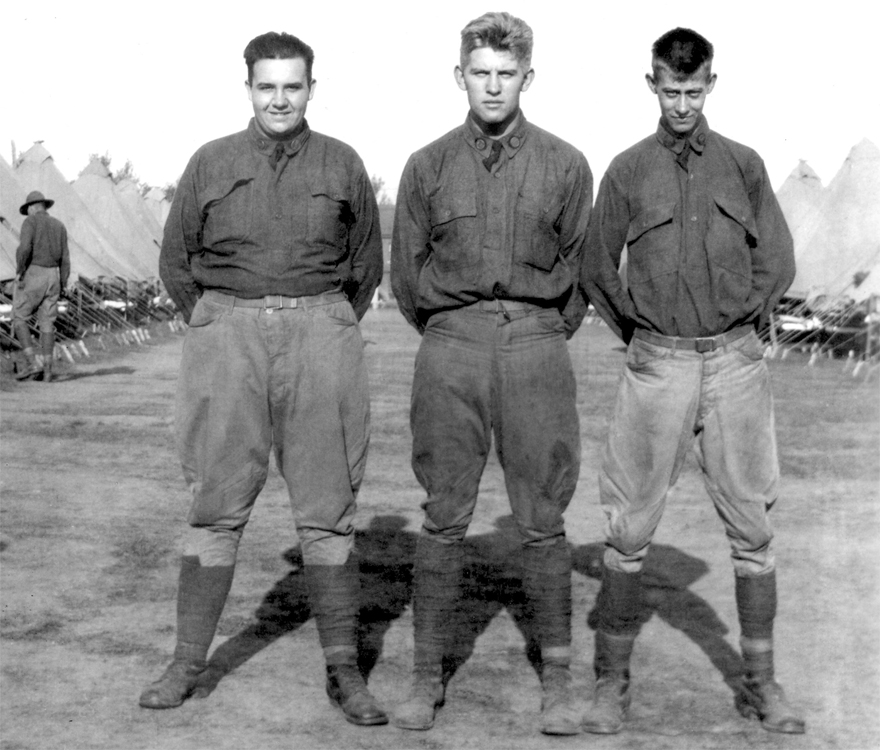 Arthur Eden, Lee Rocksien, Robert Easterly - C.M.T.C. 1926 Ft. Des Moines
Lee Rocksien MHS 1925, Arthur Eden MHS 1925, Robert Easterly MHS 1923
Photo from Sue Wieland, daughter of Lee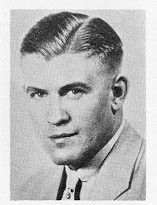 scan from the 1981 history book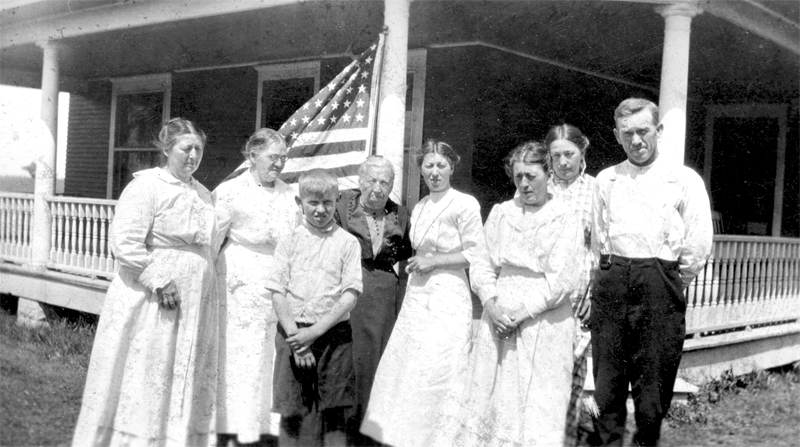 Grace, Jennie, Ann Levan, Clara, Ida, Minnie, Charles Rocksien
Lee Rocksien in front
Older lady in middle Ann Levan (sister of Mary Parker & aunt to the Parker sisters in the picture)
Photo taken at 400 N East Street
Lee Rocksein 3rd from right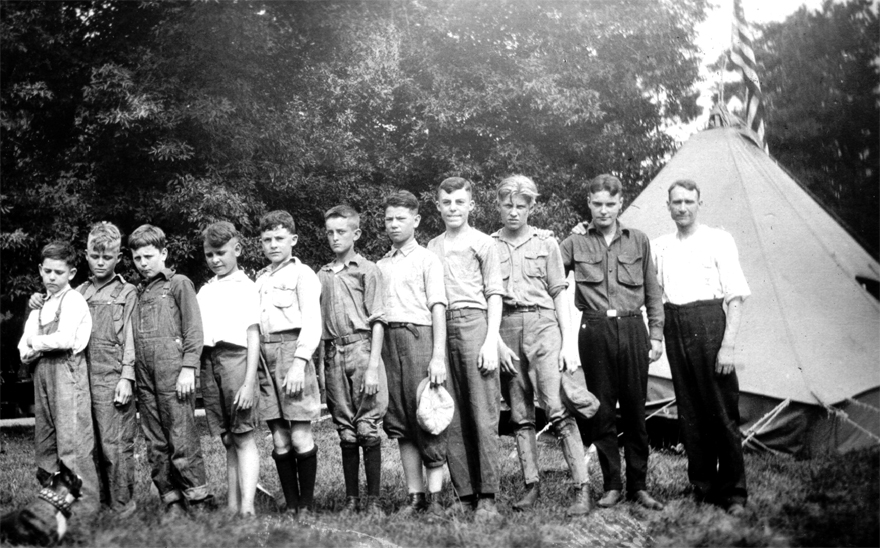 These could be all, or mostly, or no other Manning boys - nothing is known about this picture.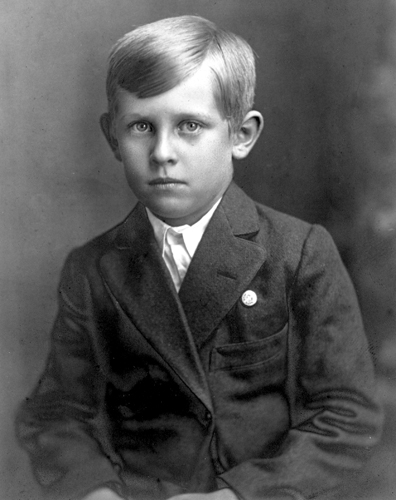 Lee Rocksien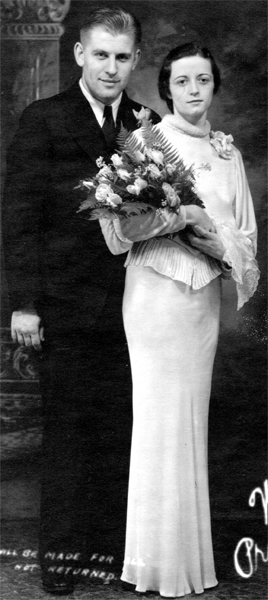 Lee Rocksien with his wife, Helen Miller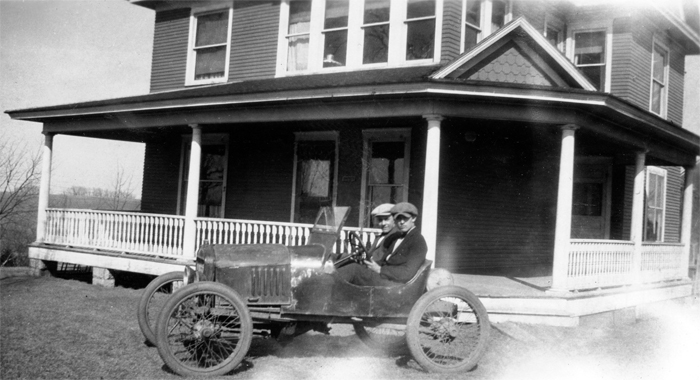 Lee Rocksien driver with Clarence "Pat" Emmons in front of 400 N East Street.
---

Leon H. Stoelk
KIA during the invasion of Sicily on July 22, 1943


Photo from VFW hall collection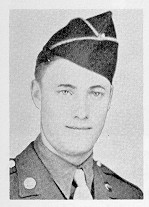 scan from the 1981 history book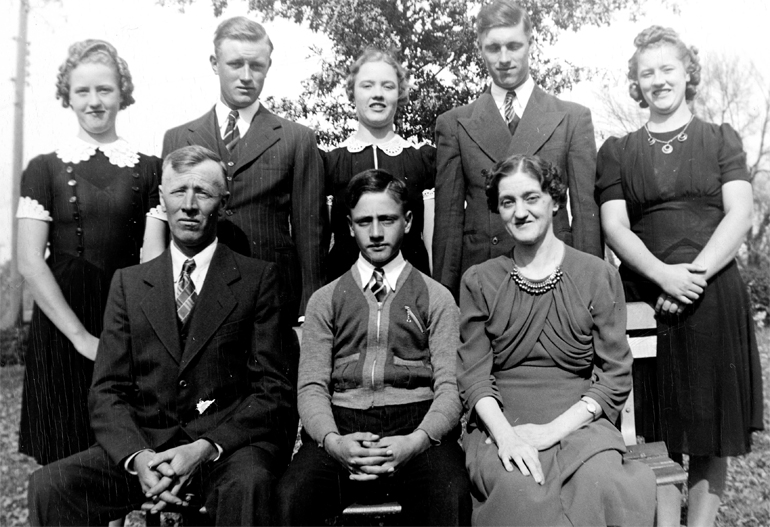 Back: Berdine, Merle, Darlene, Leon, Janice
Front: Albert, Donald, Elsie (Klindt)
Elsie was a sister to Ann (Klindt) Paulsen
Berdine married Orrie Herbers
Darlene married Otto Porsch
Leon was KIA during WWII
Janice married Alvin Popp
Merle married Eileen Jensen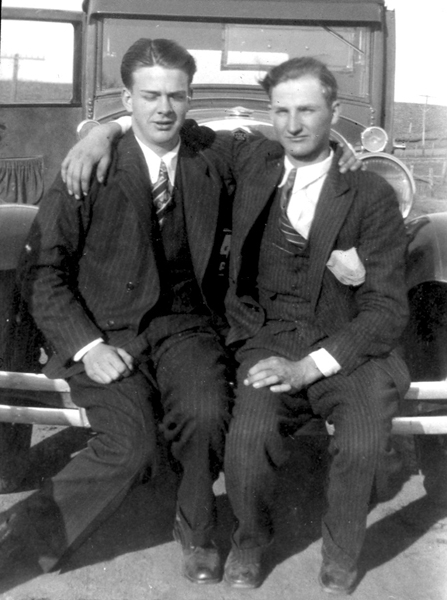 Vince Gerkin, Bill Stoelk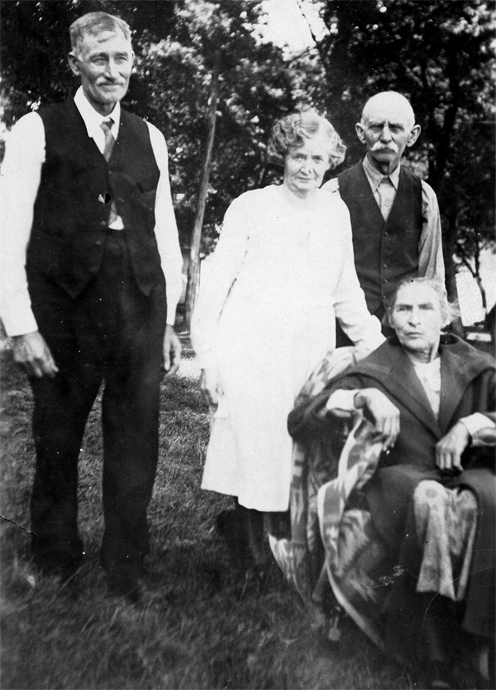 Back: Henry Stoelk, Dora Stoelk, Ted Stuhr
Emma Stuhr in front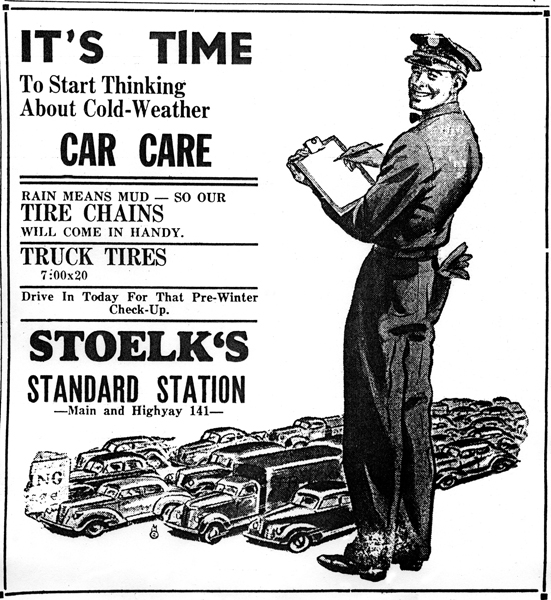 September 20, 1945, Stoelk Standard Station - Monitor ad
Does anyone know which Stoelk this was???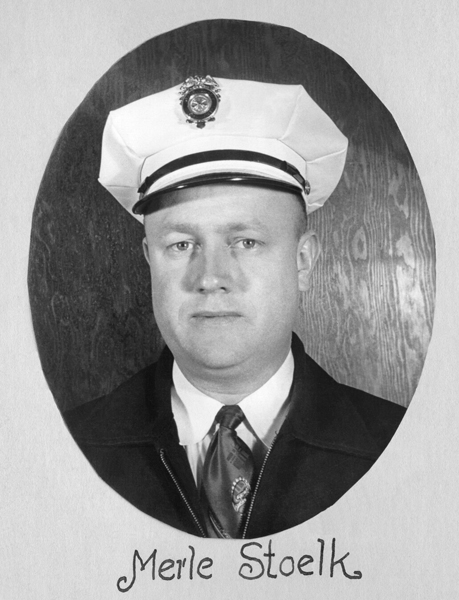 Merle Stoelk, Manning Fire Department 1954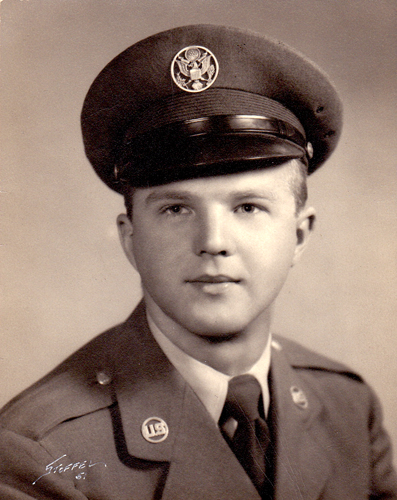 Erwin Stoelk, 1951

I don't have the exact Stoelk family connection to Leon but Erwin is also a Kusel descendant.
Erwin's parents were Lawren & Ida (Hansen) Stoelk and his maternal grandparents were August & Emma (Kusel) Hansen.

I list this connection to show how important it is for Veterans and their families to include some family background so the reader will know if/how the Veteran is related to the citizens of the Manning area.

Albert Stoelk & Ann Paulsen in the Zion Lutheran fellowship hall.

Lawren was the father of Erwin Stoelk
Lawren was a brother to Albert Stoelk featured in the family picture above.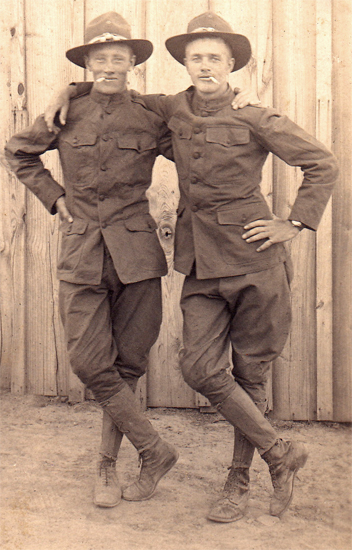 Soldier from Honeycreek, Iowa and Lawren Stoelk on right - Camp Pike 1918
---

Gene Strathman
Killed in a Liberator Bomber that exploded on September 3, 1944, in a flight over Mount Illiamna in Alaska.
6 of the crew were able to parachute to safety but Gene went down with the plane. His body was later recovered and he is buried at Anchorage, Alaska.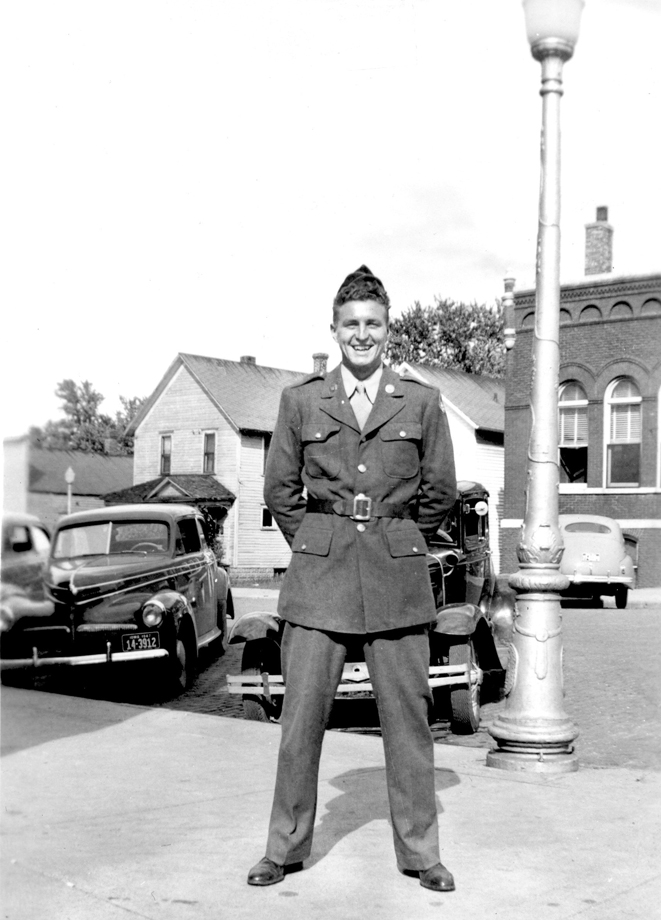 photo taken on the NW corner of Third & Main Street
MHS 1941

Warren Bartels, Gene Strathman, Eugene Shipp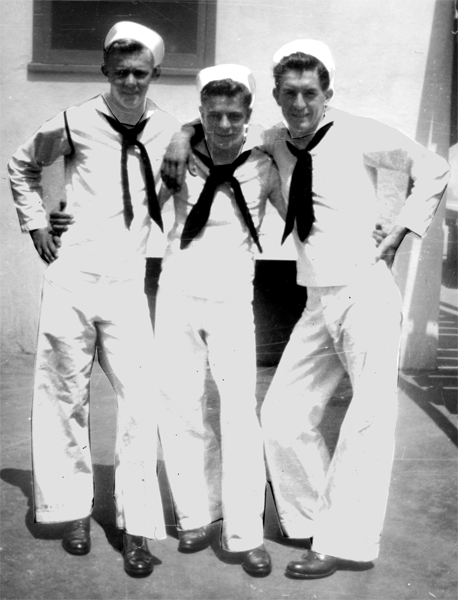 Wilbur Karsten, Bill Strathman, Frank Wegner
Bill is a brother to Gene Strathman


In 2007 I was contacted by the niece of Gene who thought they had had letters, other pictures, and other things about Gene but I never heard back from them.
I tried her e-mail address but it no longer works.

I shared a few pictures with them I had of Gene in the hopes that would encourage them to return the favor.
---
To the hundreds of others who have contacted me in the past - maybe looking for information and pictures I may have for someone in your family - have you promised you would look for and send me pictures and information you have???
If you haven't fulfilled that promise maybe you could do so now.
You can always find my e-mail address on my web page but more than likely you have changed your e-mail address which leaves me completely left out in the dark as how to reach you.
---

Hugo E. Ress, Jr.
KIA near Hadong, Korea, on July 27, 1950
I have no pictures of Hugo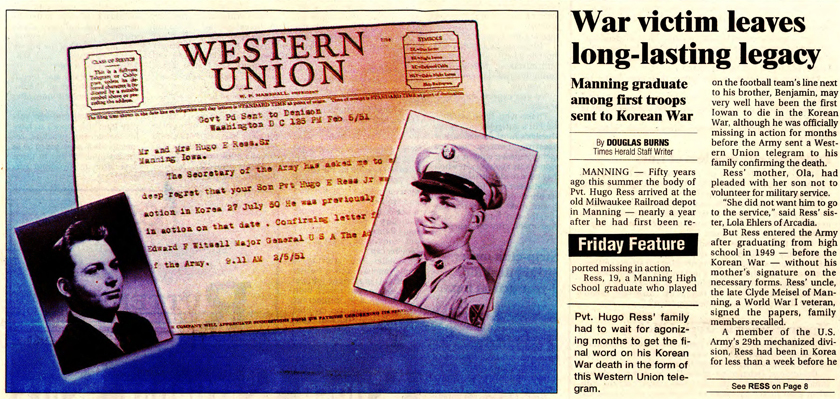 Times Herald article

scan from the 1981 history book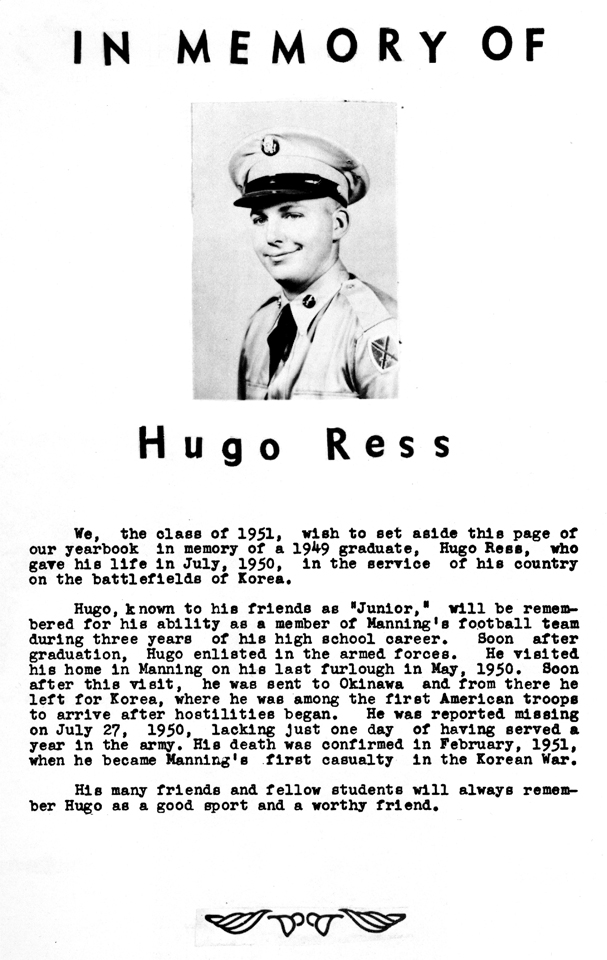 scan of the MHS class of 1949 yearbook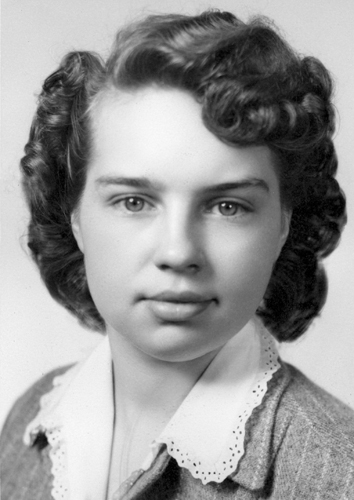 1947 Lola Ress, sister of Hugo, Jr.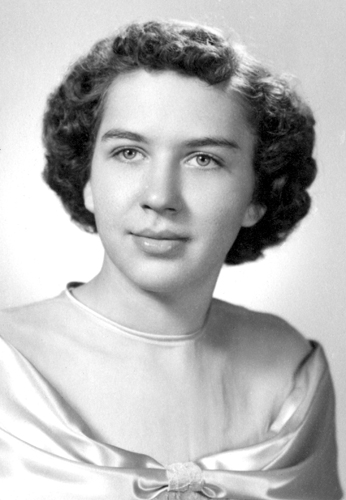 1952 Zita Ress, sister of Hugo, Jr.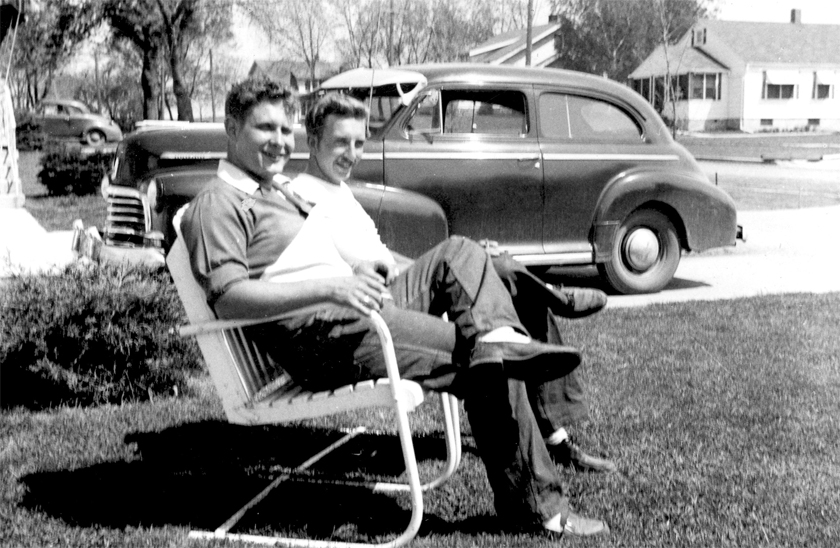 April 1952 Don Horbach and Benny Ress, brother of Hugo, Jr.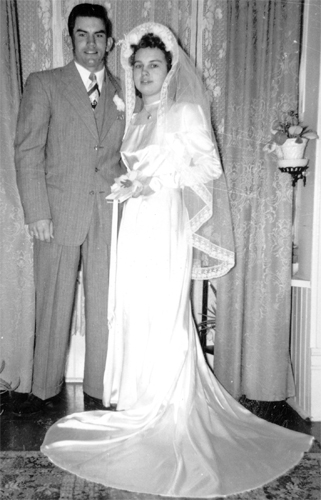 Vernon & Lola (Ress) Ehlers September 11, 1949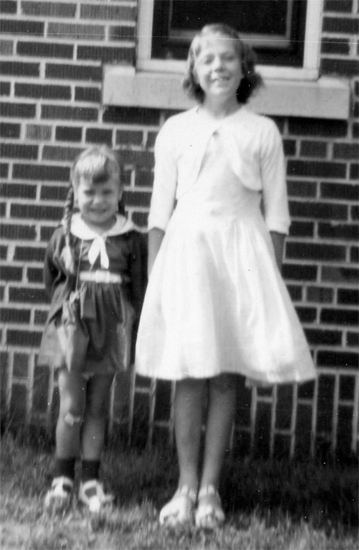 Melissa Eschenbacher and Janice Ress - Janice is a cousin of Hugo, Jr.
---
Now you may think to yourself that I have a lot of pictures of the Veterans. BUT this is only one part of the equation...Then I have to get family background and the military information to go along with the pictures. This is very difficult to do if no family members come forward and help me.
---
The Manning Veterans' history book is not just a book about those Veterans who served in action or overseas. If you are/were connected to the Manning area and served in any branch of the military, National Guard, etc we want your story and pictures...BUT it probably won't happen if those living Veterans don't come forward or the relatives of Veterans who have passed away don't come forward.

I have tried nearly every possible way to encourage Veterans to submit their stories. I will continue to do so for the time being but eventually I'll have to set a deadline. Once that happens you'll no longer be able to become part of a very unique community military history book.

Please don't delay any longer and start digging out those pictures and writing down your military story.

If you can help with Veterans featured here please email David Kusel right away
---
Back to Veterans' promotion page
Back to Dave Kusel's main page