John Mellencamp "Small Town" 1985

Manning needs a dentist

You may be young and mobile now, but wait until you get older and eventually won't be able to travel whenever and wherever you wish.
I've also heard young couples with children tell me they are running ragged taking their kids to all kinds of school and other type events and now they have to run their kids out of town for a dentist...
Please fill out this survey to help get a dentist back in Manning.
Marty & Carol Ahrens served the community since 1975 and are missed greatly.

Below is a link to a four-question survey that will help determine the need for a dentist in Manning.
This information will be shared with potential dentists during recruitment efforts.
Please take one minute to fill it out and pass it on to everyone in the Manning area.
No name or personal information is required.


Manning needs a dentist

Until we get through the open house and then farm equipment sale, I won't be updating much on my web pages.


Allen and Gretchen (Tank) Rowedder wedding

Allen and Gretchen will be celebrating their 50th wedding anniversary on August 13, 2017.
Anyone who would like to send an anniversary card - their address is 1210 Southfield Drive, Jefferson, Iowa 50129

As I state all too often, I never have enough time to get to living Veterans to visit with them about their military service, and then I find out they have passed away.
Several months ago I found out about Art Zerwas moving back to Manning and into Char-Mac assisted living. My intentions were to go out and visit with him several times to get his military service and also some Zerwas history. The Zerwas family, once a prominent part of Manning, has disappeared, like so many other pioneer family names, and I was hoping to glean some of the Zerwas history from Art.

All I had in my military database is that Art was a Veteran...no pictures, no information - I didn't even know what branch he served with.
Fortunately, a buddy of Art, Greg Schurer, had a couple of pictures of Art and he sent them to me to scan.

In 2015 I was able to sit down with Don Hinners to get his military story. Like most Veterans I've visited with, he said he never did anything special but he served his country and I could tell he was very proud of it.
A very small percentage of the US population serves in the military, so to me those who served out of Manning, whether in peacetime or time of war, whether on the front lines or behind, whether they served stateside or overseas, whether they are a private or a General, they did their part and SHOULD be honored in the Manning Veterans' history book.

The indifference and even resistance to this project by some is really baffling to me, but I'll keep plugging away to get pictures and information for those who want to be featured in the Manning book and preserved in the Manning Historical database.
---
In Memory of Arthur Zerwas


December 12, 1935 - July 10, 2017

Click to see the tribute

In Memory of Donald Hinners
Click to see the tribute

Jerry Carter


April 24, 1961 - July 3, 2017

Memorial Service July 10, 10:30 AM Kingdom Hall of Jehovah's Witnesses, Decatur
Jerry Carter, 56, of Decatur, Illinois, passed away Monday after a courageous battle with colo-rectal cancer.
He was born April 24, 1961, in Manning, Iowa, the son of Merlin and Arlene Carter. He grew up in the Manning area and attended Manning Community School. He graduated from Manning High School in 1980.
He was baptized as one of Jehovah's Witnesses on August 7, 1977. As a member of the Denison congregation, Jerry enjoyed attending and participating in meetings at the Kingdom Hall and sharing his Bible-based faith with others through the door-to-door ministry. He enjoyed reading the Bible and Bible-based publications and learning about creation. He also served as an auxiliary pioneer when his circumstances permitted. All of that helped him develop a solid relationship with Jehovah God. After high school, he took an auto-mechanic's course through DMACC. Jerry owned TSS Speedshine for several years before moving to Branson to work as a time-share consultant.
It was during his time in Branson that he met Rebekah (Becky) Hadden, who became his wife on April 17, 2009. Jerry and Becky went to school for audiology, receiving degrees in 2012. They moved to Decatur in 2014. Known for his goofy sense of humor and his love of music, he was always one of the first to laugh. He loved a good joke. His hobbies included raising fish, gardening, cars and motorcycles. He had great faith in his Creator and did his best to set an example worthy of imitation. Jerry will be missed greatly by his family and friends, all of whom eagerly look forward to seeing him again after he is resurrected in Paradise.
Jerry is survived by his parents Merlin and Irene Carter, Manning, Iowa; wife Rebekah Carter, Decatur; daughter Danielle Carter, Denison, Iowa; son Lucas Carter, Decatur; step-daughter Samantha Hadden Decatur; sisters Sara (Wade) Reikofski Bellevue, Nebraska, and Leah (Ron) Preul Arcadia, Iowa; numerous nephews, nieces, uncles, aunts, and cousins. He was preceded in death by his paternal grandparents, Orville and Grace Carter, and his maternal grandparents, Mike and Catherine Schneider; Uncle Dean Carter and Uncle Galen Carter; Aunt Leota and Uncle Beal Austin.
A memorial service will be held at 10:30am Monday July 10th at the Kingdom Hall of Jehovah's Witnesses, Decatur, Illinois.
The family suggests memorial contributions to Rebekah Carter.
The family of Jerry Carter is being served by the Moran & Goebel Funeral Home and Cremation Services, Decatur, Illinois.
Condolences and memories may be shared at www.morangoebel.com.
1980 MHS graduates: James Dean Bauer, Jerry Alan Carter, Rebecca Kay Clipperton, Mark J. Drees, Connie Lou Eischeid, Karen Ann Freese, Melvin Francis Gawley, Dana L. Genzen, Paula Jean Genzen, Steve Grau, Randy J. Gross, Dwight Allen Gruhn, Ivy Lynn Grundmeier, Shona June Hagedorn, Jeffrey Lynn Hagedorn, Patricia Ann Handlos, Tracy S. Hansen, Dawn Renee Hargens, Joan Marie Hinners, Bradley Lyle Joens, Deanne Sue Joens, Steven L. Johnson, Lisa Marie Justice, Laura Ann Kalkhoff, Ron Robert Kerkhoff, Timothy Alan Lee, Zammya Ivette Moreno Ubidia, Peggy Jo Muzney, Rhonda Jean Opperman, Brian Keith Pfoltner (valedictorian), Jeffrey Lee Potthoff, Lisa Jo Phillips, David Dennis Ramsey, Carla Rae Reynolds, Wayne Leo Rosonke, Lori Ann Rothfolk, Kristine Marie Sailer, Michael William Schmidt, Darla Mae Schroeder, Dean Edgar Schulte, Elton Robert Schultz, Vicki Renee Schwiesow, Terri Jo Sextro, Debra Kay Stoberl, Randy Ray Stoberl, Steven Lee Stripling, Rebecca Lucille Thompson, Bradley Brian Vollstedt, Karen Jean Vollstedt, Joni Kay Wanninger, Keith Gerard Wanninger, Michael John Warner, Roger E. Wegner, Bonnie Sue Weller (salutatorian), Patricia Ann Weller, Carol Ann Williams, Thomas Earl Wittrock, Susan Gerette Zubrod

1980 former students: Leah Adams, Dennis Barten, John Blum, Brent Branning, Lisa Bruch, Celia Davis, Paul Espenhover, Michelle Feick, Leilani Granowski, Danny Gray, Larry Hagedorn, Lony Haubrich, John Hoffman, Jene Kasperbauer, Shirley Kasperbauer, Julie Kunkel, Veronica Lake, Gene Leinen, Tracy Leinen, Neil Lerssen, Cynthia Linder, Bruce Meeves, Dawn Mueller, Randall Nissen, Gina Orey, Ruby Orey, Ricky Petersen, Steven Pierson, Gene Rauch, Alan Ress, Debra Ridgley, Terri Rix, Tammy Rowedder, Jerry Rutherford, Wayne Sebring, Alan Vaughn, Michael Walsh, Linda Warnke, Sheila Wilde, Kelleen Willis, Mark Yarrington, Jack Zerwas

Merlyn Irlbeck has been building a small museum on his farm for years.
He comes up with all kinds of interesting ideas too.
Merlyn has a license plate collection and now he wants to collect another set of plates for each state and then form them into a map of the United States.
Here is a list of plates he still needs to complete this project.
Connecticut, Delaware, Georgia, Idaho, Kentucky, Massachusetts, Mississippi, Montana, New Hampshire, New Mexico, North Carolina, North Dakota, Oklahoma, Rhode Island, South Carolina, Vermont, Virginia, West Virginia

If you have one or more of these plates to give to Merlyn - for now you can e-mail me and then I'll get you in contact with Merlyn.
My e-mail address is in the upper left frame of this web page.
Merlyn Irlbeck proudly showed this amazing New York plate to one of the New York firefighters from the 9/11 exhibit that was here in Manning recently

Restoration of the 1902 water tower begins July 7, 2017
It is now on the National Register of historic sites...
One of Manning's own helped design this structure - Henry Brunnier, also one of the engineers for the Oakland Bay Bridge in San Francisco.

Not a job for the "faint of heart" or scared of heights!!!


Power washing the metal surface
The city asked me to make high resolution scans of the 6 blueprints of the Manning Water Tower.
Even though I have a large format scanner, I have to make 8 separate scans on the large print and then merge the 8 images into one, which is difficult when there are some crinkles/folds that take things out of square...so I have to adjust and rescan some of the sections so they match up better.
I'm just about finished with one of the three largest prints having already spent 8 hours from start to finish.
The print below was relatively easy with only 4 separate scans in a single column to merge.

The city wants to make full-size reprints so I'm making super high resolution scans of them.
This smaller blueprint is 550 MBs (39x14 inches by 600 DPI) and saved in TIF format...the largest print is 1.2 GBs in size which just about maxed out my software limits.

This blue print is in fairly good condition for being 115 years old, but there was a dime size hole in one spot and the usual scuffs and marks, with dark/light areas. Now is the time to scan something like this - most of the time I'm given very brittle blueprints, documents, and papers that will crack and be very difficult to work with...especially when they are rolled up.
Digitally touching up the defects is what takes the most time with projects like this. I could spend even more hours tweaking it more but feel it is much better now.

August 18, 1902

I'm not even an amateur at reading blueprints but it appears that under each leg there are seven (15 inch thick) slabs of stone/concrete that give 34,000 pounds of resistance against uplift. I'm not sure if the weight of the combined slabs under each leg is 34,000 pounds or it would take 34,000 pounds of uplift to pull out each leg from the ground it is buried in...either way it would take 136,000 pounds of uplift to pull the water tower out of the ground.

Even though I am absolutely swamped with scanning projects and other history projects - when something like this is presented to me - I drop everything and get the scanning done...I have learned from past experiences where I was given opportunities to scan old/rare/one of a kind historical items but then I asked them to wait - GUESS what? A lot of the time the item was thrown away or got damaged or disappeared. So when the city asked me to scan these old rare documents - I grabbed them to work on right away.

Even though it is an ever-increasing challenge for me to get or find willing individuals who have Manning connections to send me their old family/Manning pictures and information, I am fortunate from time to time to be contacted by someone who has never lived here but their parents/grandparents did...and they are willing to share what they have.

Joan from California has been mailing me pictures by USPS to scan over the last several months.
Her mother was a Muhlbauer and her father a Kuhse.
The reason why I ask people to send me their "family" pictures/albums is because almost always there will be non-family member pictures and Manning events in their collection and they also have pictures of family members who are more distantly related.
Anyone who frequents my web page should realize my quest to get pictures and information about the over 1000 Manning connected Veterans.
In 1996, I started this quest when I set up a specific Manning Veterans' page and began posting names, pictures, and information about the various Veterans I had information on; which has now grown to over 1000.
I realize this project has been going on much longer than most people have patience to continue to wait for the final publication but there are hundreds of Manning Veterans who I have absolutely no pictures or information about and I want to get as complete a listing as possible.

Sadly, and this happens more than most people would realize, some children of deceased Veterans feel that their father/mother would not want to be featured in the Manning Veterans' history book.
While Veterans and their family members have the right to decide if they want the Veterans in their families to become part of this amazing Manning history, it is very troubling that some people are deciding that the deceased Veterans in their family should not be honored in this future historical book.
Having published two previous Manning history books, I know for a fact that if I live long enough to get the book published and sold that I'll hear complaints from future family members as to why their relative was not featured in the Manning Veterans' history book...as if I had intentionally left them out.
I could respond by telling them "...you mean because your grandparent, parent, sibling, or other close relative told me they didn't want that relative honored in the book..."
But I'll just politely tell them that it was an accidental oversight, or no one came forward at the time.

As I was going through Joan's collection I was very excited to find a picture of Henry Muhlbauer in uniform.
All I had was his name, rank and serial number...now I have a picture of him.
Most people would never get excited about finding a single picture but having searched for over 40 years, I know how hard it is to find "key" historical pictures (that are identified) like the one of Henry below.

Now I realize that when I write about this topic that some family members of Veterans or even the Veteran him/herself will become offended and feel I'm attacking/criticizing them for not coming forward.
While it may appear this way - all I'm doing is to state facts about who I have pictures and information for, in the hopes that a family member may not be aware of this project and that I have very little if anything about their Veteran family member, and they will then come forward to share what they have.
Here are some of Joan's wonderful Manning connected pictures...

Henry J. Muhlbauer
Serial Number 20909790; Enlisted Camp San Luis Obispo, California, September 17, 1941

William Struve, ? Ohrt, Lillian (Ohrt) Kuhse, Clarence "Click" Kuhse - standing on 141
It is hard to see but the Germania Hall is behind the trees in the back left. This building burned down in the mid-20s and was replaced by the brick Schuetzen Verein (AKA Firemen's hall).

Lillian (Ohrt) Kuhse - now this is what hard work once was for women...
They not only cooked and washed by hand, they also helped with chores and farmwork.

Wayne with his father, Clarence "Click" Kuhse.
I haven't seen a steel hogpan like this for decades.
Ohrt family


Back: John, Hulda, Julius, Katie (Frahm)
Front: Lillian
Kuhse family


Back: Wayne, Robert
Front: Clarence, Lillian (Ohrt)
Ohrt family


Back: Hulda, Julius, Lillian
Front: John, Mildred, Kate (Frahm)

Father of John Ohrt

Katie (Frahm) Ohrt
You can see the "toughness" in her face...
they lived a good life but it was very harsh at times with lots of physical work - mostly by hand

Wayne Kuhse

Lester Kuhse with his nephew, Carl Johnson, in 1923
So if you have old Manning connected pictures, and especially military related photos and information connected to Manning, please come forward.
While you may consider your things YOUR family history, it is also a part of Manning's history!!!

Fourth of Julys from the past

Deloris "Dolly" Nissen


(January 9, 1931 - June 29, 2017)
Deloris Nissen, age 86, of Carroll and formerly of Manning passed away on Thursday, June 29, 2017 at Iowa Methodist Medical Center in Des Moines.

Click to see the tribute

I decided to search for "New York" in my database to see what would pop up...
Here are 2 of the more historically important images that connect Manning citizens to New York.

Johannes Bunz immigrates to the US in 1929.

Wilmer Ranniger (82nd Airborne) was in this parade - he was part of the D-Day invasion
The last day (June 28) of the display was another HUGE success!
No official count was made but I would guess another 600+ people went through the exhibit.
Many folks from nearby communities also came to participate in this amazing event.
The fellows from New York, again commented on the great hospitality they were given by the Manning volunteers and the friendliness of Iowans.
If you live locally or nearby and did not take the time to visit this exhibit, you missed a once in a life-time event. Situations like this seldom come up and fortunately we have citizens in Manning who are always looking to bring interesting things to Manning and willing to volunteer time and donate money to achieve these goals.
It was estimated that over 1000 people went through the exhibit (June 27)...over 200 attended the opening ceremony.
A truly once in a life-time experience!!!
Manning is by far the smallest community this exhibit has been in (hands down) and so far the farthest west in the US.

Merlyn Irlbeck brought this unique license plate to show the New Yorkers.
This, again, overwhelmed them as to what amazing things exist in a very small town.

9:32 p.m. heading east on 141 - sad to see the end of such a great success.
NOW another part of Manning's amazing history!!!
June 27

The Manning Firemen borrowed the boy scouts' flags and set out this display of US flags coming in from the east into Manning to welcome the New Yorkers and visitors to the display.

9 - 11

The date itself reminds us
Of the number that you call
So Firemen, First Responders,
And Police can help us all

They'd humbly say "Doing our jobs
Don't think of us as heroes"
But too many lost their lives
Bravely at Ground Zero

Seeing this memorial
Your mind can't help but go back
Where you were and what you thought
On the day of the attack

Why did it have to happen?
What enemy would dare?
Our hearts felt sorrow for all
Especially the Iowans there

Much like Pearl Harbor's date
9 - 11 we'll never forget
And proudly back America
Against any and all threats

5 - 12 - 2017
Craig "Spitter" Moeller

Here is a web page I set up that had pictures borrowed from around the world that showed support for the US right after the 9/11 attack.
Thank you from the USA
The images you'll see are small by today's standards but remember that 16 years ago, dial-up Internet was the norm so large picture files were not used, and computer monitors were 640 x 480 resolution so these images filled up the screen.

Nothing ever happens in a vacuum in a community - each action has consequences and sometimes it takes decades to fully appreciate the results.
From 1913 to 2017, amazing events continue to occur in Manning!
Follow along with this pictorial history to find out about another amazing event that is coming to Manning in June.

Manning Fire Department running team - world champs 1913.

Manning Fire Department running team practicing on Third Street.

Japanese Midgit sub on Main Street - used as a US war bond fundraiser during WWII.

The sub sat right in front of what today is Cliff's Place.
I wish I knew who in Manning was able to get this sub to such a little town like Manning...
It may have come in on the railroad which has been one of Manning's strengths.
Mildred Horbach took the sub pictures which I scanned in 2003.
From my understanding, after she passed away most of her pictures were thrown away.
I'm so glad she was willing to share and that I was able to scan her pictures or this amazing event would be lost to time.

1976 US Bicentennial Freedom Train going through Manning on the Milwaukee RR tracks.
This image will be used on the cover of the Manning Veteran history book...
Along with thumbnail images of the 27 Manning men who died in the service of our country...
Assuming I can get pictures for several of them who I still don't have any images.

Ron McKay honoring the men & women who died during the September 11, 2001 attack on America.
September 11, 2001
Fallen Heroes
Only the good Lord knows why
he called you all home on that dreadful day.
His works are strange and mysterious;
He wanted it this way
Perhaps he didn't want to take you alone.
But, rather with your friends,
who were also in the danger zone.
Yes, he took you in his hands
the moment you got off the ladder
He couldn't stand to see you be any sadder.
As Lady Liberty provided the light to get you through
the smoke and the haze, tears ran down her cheek
as up to heaven she did gaze
With the World Trade Center still burning and
crumbling from this terrible deed,
The grass in the distance was a beautiful
green without a single weed.
September 11th, 2001 is a date we will never forget.
To all those who arrived to help-
We say Thanks
your heroism may never again be met.
Poem written by Dan Rosonke
Manning, Iowa
In conjunction with the Ron McKay artistic tribute.
Sixteen years ago Stephen Siller, a New York City Firefighter, gave his life helping others on 9/11. His family established the Stephen Siller Tunnel to Towers Foundation - in his honor and in his memory.
In September 2013 the Foundation dedicated the "9/11 Never Forget Mobile Exhibit." The unit has traveled from Phoenix, Arizona, to Tampa, Florida.
The mobile exhibit is a high-tech, 53-foot tractor-trailer, which unfolds into a 1000 square foot exhibit.
There are artifacts in this exibit, including actual steel beams from the towers, documentary video, recordings of first-responder radio transmissions and more.
There will be guided tours by FDNY firefighters with informative timelines provided by the 9/11 Tribute Center.
The exhibit is free of charge and the goal is to provide an educational experience that will help communities to "Never Forget."
There is no "vacuum" of volunteers in Manning
A few weeks ago, Manning Police Chief Sam Hansen was checking events at the Jefferson, Iowa, Casino website to see if the AC/DC tribute band was coming there this summer.
While looking through the casino calendar of events Sam noticed an event called 9/11 Never Forget Mobile Exhibit.
Sam thought to himself "Why couldn't we bring this event to Manning - only an hour away?"
Sam went online and found the web page and contact information.
9/11 mobile exhibit
He made contact with their scheduling agent to get some initial information, and then decided to bring this idea up with the Manning Rotary.
From there it expanded into fundraising and getting more volunteers.
Sam also worked to convince the agent to give Manning a reduced rate since their display would be in Jefferson which is fairly close to Manning.
Kirk Heuhn volunteered along with Ron Reischl to organize a fundraiser.
Planning group: Sam Hansen, Ron Reischl, Kirk Heuhn, Todd Stadtlander.
Donations as of May 20: Manning Chamber, Manning Insurance Agency, Ron Reischl, Home Mutual, Manning Rotary, State Farm, Thrivent Financial, Deb's Corner Café, Ohde Funeral Home.
The fee to get the display in Manning is $3500.
Extra funds are also needed to pay for room and board for the mobile unit workers during their stay in Manning.
So anyone interested in making a donation for this upcoming event please contact Kirk Heuhn kirk.huehn.mv08@statefarm.com or Sam Hansen.
Come see the display at the parking lot of the old hospital along Main Street and Highway 141 - starting at 2:00 P.M. June 27
Todd Stadtlander is coordinating with the Manning Fire Department to provide a grill-out for the mobile unit workers at Manning's new fire station, and also show those workers what Manning has for fire equipment. Several of the workers with the Mobile Unit were actual fire fighters during the 9/11 attack.
First responders - EMTs, fire department members, and law officers of the Manning area are asked to attend this event and wear their uniforms.
This is also an invitation to all former Manning alumni and former residents of Manning to put this event on your calendar.
"Come Home" and visit old friends and family members and enjoy this historical display - which will be another UNIQUE event in Manning's amazing history.
Remember that Manning now has a hotel.
Boulders Inn & Suites Manning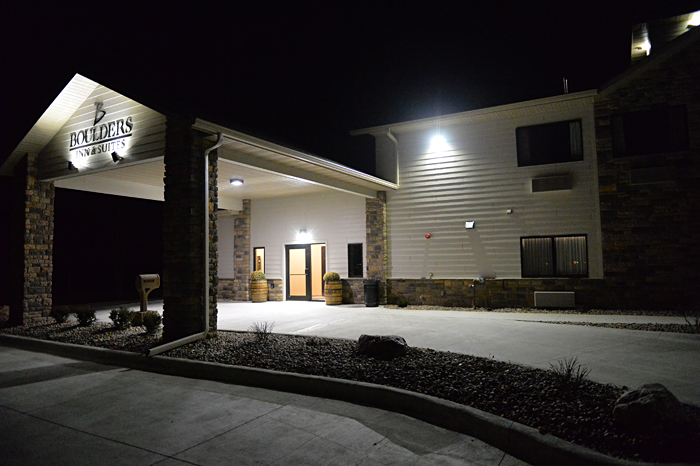 120 Heritage Drive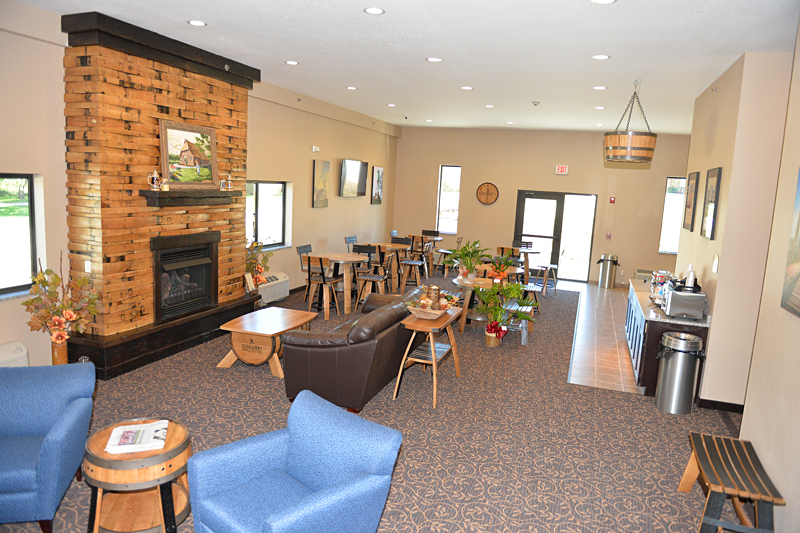 When the pioneers settled this area and developed Manning, Iowa, during the 1870s and 1880s, they would have never been able to envision this community would become home of the "world champion fire department running team," a sub from half-way around the world that was used in the first major attack on our country would end up on Main Street, that the official US Bicentennial Train would go through Manning, and now a display about 9/11 will be in Manning.
One thing I know for sure - the pioneers would be proud that the citizens of this community have followed in their footsteps to continue to build upon their hard work and make Manning a great place for future residents to live and grow up and to make their own AMAZING Manning history.

Obituary for Sheila M. Golwitzer
Visitation Tuesday June 27 6:00 PM - 8:00 PM Hoy-Kilnoski Funeral Home and Crematory 1221 North 16th Street Council Bluffs, IA
Funeral Service Wednesday June 28 10:00 AM St. Peter's Catholic Church 1 Bluff Street, Council Bluffs
Burial Garner Township Cemetery 1372 Jennings Ave, Council Bluffs
Sheila M. Golwitzer, age 54 of Crescent, Iowa, passed away June 23, 2017.
She was born in Manning, Iowa, on April 16, 1963, to the late Vernon and Rita (Irlmeier) Stangl. Sheila married Dennis Golwitzer on August 6, 1983. She worked as an auditor of medical records and was a member of St. Patrick's Catholic Church.
Sheila is survived by her husband, Dennis Golwitzer; daughters, Jessica McGinnis (Ryan) and Erica Golwitzer; brothers and sisters-in-law, Duane and Vicki Stangl, Larry and Sue Stangl, Dale and Renee Stangl; a host of other family and friends.
Visitation is 6-8 PM with a Vigil Service at 5:30PM on Tuesday June 27, 2017, at the Hoy-Kilnoski Funeral Home. Mass of Christian Burial is 10:00a.m. on Wednesday at St. Peter's Catholic Church - 1 Bluffs Street in Council Bluffs. Interment is in the Garner Township Cemetery. The family will direct memorials.
Paw Prints staff: Seniors are the cowboys and the Juniors are the Indians

1 Sheila Stangl

, 2 Kim Pfannkuch, 3 Jackie Handlos, 4 Rhonda Mohr, 5 Carolyn Renze, 6 Joni Wanninger, 7 hidden, 8 hidden, 9 Dawn Hargens, 10 Bonnie Weller, 11 Vicki Schwiesow, 12 Brad Joens, 13 Keith Wanninger, 14 Brad Vollstedt, 15 Jeff Hagedorn, 16 Tracy Hansen, 17 Brian Pfoltner, 18 Peggy Muzney, 19 Lisa Stribe, 20 Lisa Langel, 21 Toni Dammann, 22 Annette Hinners, 23 Debbie Stoberl, 24 Lori Colling, 25 Jim Hinners, 26 Bruce Monson, 27 Kathryn Wiese, 28 Nick Drees

1981 MHS graduates: Robert John Barsby, David Allen Beck, Sara Louise Bunz, Lee Rodney Christensen, Danny Eugene Clipperton, Lorie Lei Colling, Dennis Croghan, Sonya Marie Curlile, Toni Jean Dammann, Pamela Mary Dentlinger, Nicholas T. Drees (valedictorian), Steven Harlow Fogleman, David Daryl Genzen, Lonnie Gene Grau, Kyle D. Gross, Jeffrey Jerome Halbur, Scott W. Halbur, Jacqueline Ann Handlos, Bonnie Jo Hansen, Kyle Hans Hansen, Marcia Jean Hansen, Teresa Lynn Hass, James Frank Herbers, Annette Susan Hinners, James Robert Hinners, Scott David Hodne, LaNora Marie Hull, Brenda Kay Jahn, Tonya Marie Joens, Teresa Marie Johnson, Kevin Albert Klocke, Debra Sue Knueven, Lisa Ann Langel, Ronald James Long, Patrick James Mohr, Rhonda Joan Mohr, Sherri Ann Mohr, Bruce Nathaniel Monson (salutatorian), Anita Jane Mueller, Martin John Mullen, Alan D. Mundt, Rick E. Musfeldt, Dale Ray Nelson, Stacy Lynn Nelson, Theresa Marie Nulle, Ariel Paniagua, Kimberly Kay Pfannkuch, Catherine Marie Ramsey, Gary Allen Reischl, Carolyn Marie Renze, Kathy Jean Rothfolk, Dana Lynn Schroeder, Gaylan Wayne Schroeder, Kenneth Robert Schulte, Todd Allen Singsank, Sheila Mae Stangl, Lisa Rae Stribe, Marcella Marie Vaughn, James L. Waterbury, Curtis D. Weems, Tommy Lynn Wegner, Susan Marie Weiskircher, Kathryn Kay Wiese, Steven B. Willenborg, Teresa Rae Wishman, Toni Renee Wishman, Robin Elizabeth Woods

1981 former students: Denny Addington, Zina Aylor, Kevin Bauer, Jimmy Benter, Kathy Blazey, Darcy Branning, Michele Camden, Martin Davis, Lori Feltner, Joseph Gentry, Derek Gerdes, Kevin Griffen, Mike Heller, Brent Higday, Jay Huldeen, Chris Karstens, Jill Kasperbauer, Danielle Kuker, Richard Alan Kusel, Jolene Lamaack, Nancy Lohmeier, Wanda Lyman, RaNae McNeil, Nancy Melick, Jane Merickel, Don Moore, Mary Peters, Tammi Rix, Randy Schumante, Ricky Schumante, Bradley Sebring, Peggy Shipps, Randy Talbott, Kari Taylor, Thomas Vaughn, Leon Vogl, Penny Weis, Mark Wise, Renee Zerwas

While working on the discrimination feature for The Manning Exchange I discovered another Manning Veteran who gave his life for our country during WWI.
He was Clinton Welch. I had his name in my database along with a Sam Welch who also served, but I have absolutely no information or pictures for either of them.

Featured in the WWI Homecoming edition August 28, 1919

I was always using the list of fallen names that were featured in the 1981 Manning Centennial book...but recently I discovered Harry Corbin, who is featured further down below, and now Clinton Welch are not listed in the 1981 book.

Hopefully a Welch relative will come forward and let me know what happened to Clinton and where he is buried.

I have run into a really busy spell, which is why I haven't updated as much on my web pages.
Hopefully in a week or so I'll be able to get back to the history projects and updating my web pages.

Please visit the Manning Exchange for local news, articles, and information...a work in progress.

Featured this week June 19 to June 26
Traveling German American display at Heritage Park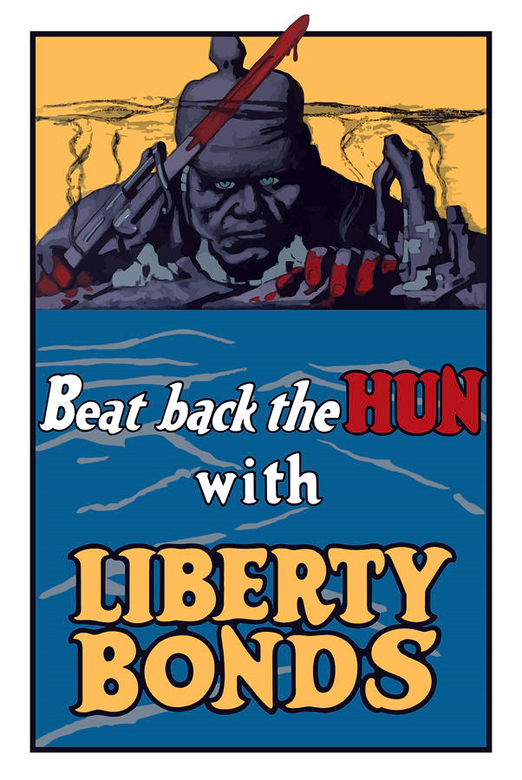 Discrimination against German ancestry during WWI & WWII

Now the Germans have German school during the summer...This German preacher will have much to do with these schools...Some members of the County Council of Defense feel that this school should not be permitted to open...Now on the other hand, the Danish do the same thing here and are now running the Danish schools here. There is a difference that the German nation is our enemy while the Danish is not. - Robert C. Spencer

Audio rendition coincides with the Lord's Prayer in German shown in the discrimination feature


Many upcoming events.

Korean War Veterans continues


There are lots of Manning Veterans of the Korean era with no pictures or information.
Will you be in the Manning Veterans' book???
Unless more post-WWII Veterans come forward there will be a lot of 1946 to present day Manning connected Veterans missing from the book.

For those of you who are occasional visitors to the Manning Exchange - please make sure to click on the "archived articles" section where previous featured stories are kept.

Click to visit the Manning Exchange

Are we products of our environment that surround us?
When we are very young and growing up we learn a lot of what makes us the person we turn into as an adult.
Back in 1881 the citizens of Manning knew the importance of community and celebration. The first social event held in Manning was called the "Thanksgiving Hop."
They were 'thankful' for what they had during the birth year of our town.
Now 136 years later we continue with an event that began around 1882 and was set up as a day specifically for children - called Kinderfest by the growing population of Pioneers of German ancestry.
Note the themes in the following pictures - even though most people don't specifically think of it, each idea is teaching the children about something most of us as adults want our society to reflect...Patriotism, Faith, Veterans, the future of our youth and more.


Kinderfest 2017 in Manning, Iowa


Colors always lead the parade

VFW Cub Scout Pack 110

Don Struve directing the IKM-Manning elementary marching band
Don, also a Veteran, has retired from IKM-Manning so this was his last event representing the school

Agriculture - the lifeblood of the nation and the Manning community
Without food nothing else can function

Great-grandparents who are Veterans and enjoy celebrating our Freedoms

Our future - having fun

Manning police officers checking the speed you can throw a baseball
Engaging with the community and providing security for all

Our future - having fun

Our future - having fun

Various church organizations reaching out and providing fun for everyone.

Our future - having fun being silly

Our future - having fun with balloon sword fighting

Our future - with a turtle face painting
As I fall further behind with my web page & history projects, events continue in Manning, so I capture them as best I can and then try to find time to present them in web pages.
Hopefully I'll be able to catch up with all of the past events I've fallen behind with.

What's in a name?
Just another person you don't know?
So long ago - who cares?
Our history is so easily lost.

I continue to look and ask for information and pictures about Manning's 1000+ Veterans...but sadly it is mostly ignored now.

Recently Scott Humphrey visited Manning and provided me with some new information about Manning history.
I had some basic information about the Humphrey family to share with him, but what really caught my eye is when I saw the Corbin name in Scott's notes.
I knew immediately that a Corbin served in the Civil War.
With more searching I found another Corbin in my WWI database.
I had no information about this Veteran or if he was related to the Civil War Veteran...now I do, thanks to Scott who took the time to come to Manning and share with me.

Manning Cemetery


Andrew Jackson Corbin - Company B 37 Illinois Infantry
Now why I do I think it is so important to gather information about another Veteran?
He went to school in Manning.
He was the grandson of Andrew Corbin.
He served in the Army during WWI.
His name is Harry T. Corbin.
Harry's parents were Henry and Josephine (Humphrey) Corbin.
His siblings were: Hazel, Franklin, and Andrew.
Nothing extraordinary or unusual about this family history...
The biggest and most important information I received from Scott is where Harry Corbin is buried.
In the Manning Centennial book there is a military section that lists the Manning Veterans who died serving our country.
I had always assumed this list was complete...now I realize it wasn't.
The notes Scott had listed Harry as buried in the American Cemetery in St. Mihiel, France.
It had never occurred to me that more Manning citizens died serving our country beyond the list I previously had, and I would not have known to search for Harry Corbin in a cemetery overseas...or that he was another KIA Veteran of Manning.
I found the website of this cemetery and discovered some more information about Harry. Then I e-mailed the staff at this website with the hopes I could find someone to take a picture of Harry's burial cross.
To my amazement, I received several pictures the very next day. Apparently a photographer took pictures of all of the markers in 2014.
Saint-Mihiel American Cemetery in France

Harry T. Corbin - buried in Plot D, Row 3, Grave 31
Now I hope someone from the Corbin family or other relative of this family will come forward with pictures of Harry and hopefully Andrew, and other military information.
This is another example of why we need to collect information about all of our Manning Veterans and digitize their military related photos - NOW and not hope someone in the future will do this.
100 years from now, will another local historian be looking for information and pictures about Manning's Veterans who were not preserved and documented with this current Manning Veterans' history book project?
I guess those of us living now will never know but it is sad that Harry T. Corbin almost fell off the face of the earth, only to be remembered by a marker over in France...
Now we have connected him to his grandfather who fought to preserve our UNITED STATES of AMERICA.
There were no "safe places" for Andrew and especially Harry to go to - they knew how important it was to stand up and fight for this country and its values.

You read about my pleas to anyone and everyone who has Manning pictures and history to contact me and work out the details to send me or bring me their historical stuff to scan so I can add their things to the Manning Historical database I'm building.
A lot of people from out of town and out of state contact me to see what I might have for pictures and information pertaining to their families and many times I will have things for them.
The only thing I ask in return is for them to share what they have with me so I can scan it.
The Loucks family from Illinois is one such great family who is willing to share and has sent me the first batch of their slides to scan.
The slides are GREAT and very historically important.
Click on the link below to see some of the Joseph Loucks' slides.

So if you have received my requests for your pictures and have committed to sending me your things - PLEASE do so now.
Before you send anything - make sure to e-mail me first.
I have extra special steps for you to use when mailing pictures and documents to me through mail.
Having used these extra steps for 20 years there have been no problems sending and returning these precious historical items safely.

What happened 60 years ago at Manning?


Click to see the "Kodachrome slide show."

What happened 70 years ago at MHS?
May 15, 1947 Spotlite
BACCALAUREATE
Sunday, May 18
Processional,
"Pomp and Circumstance" Esther Stryzewski
(Audience Standing)
"Lo, How a Rose Ere Blooming" Praetorius
Mixed Quartet
"Danse des Mirlitans" Tschaikowsky from "Nutcracker Suite"
Flute Trio, Address The Rev. Johann M. Ansorge
"Prayer Perfect" Stenson
"I Heard A Forest Praying" De Rose
Girls' Sextet
"Open Our Eyes" Macfarlane
"The Lord Bless You and Keep You" Lutkin
Mixed Chorus
Recessional,
"Pomp and Circumstance" Esther Stryzewski
(Audience Standing)
COMMENCEMENT
Wednesday, May 21, 1947
Processional,
"Pomp and Circumstance Esther Stryzewski
Welcome, Mary McMahon
"Invictus," Huhn Gene Wiese
"Adante Et Scherzo" Ganne Justyn Sutherland
Introduction Superintendent Ken B. Koch
Address, Dean M.D. Heiser
(Junior College Dean, I.S.C., Ames, Iowa)
"Dedication," Franz"My Johann," Grieg
Girls' Glee Club
Presentation of Class of 1947 Miss Marie Perkins
Presentation of Diplomas Mr. Al W. Martens
(President, Board of Education)
CLASS MOTTO
"Success Treads on the Heels of Every Right Effort"
CLASS FLOWER CLASS COLORS
Red Carnation Red and White
CLASS SPONSOR
Miss Millicent Read - (future Mrs. Sam Wiese)
CLASS OFFICERS
President Wilbur Karsten
Vice-President Harvey Hargens
Secretary Robert Popp
Treasurer Letty Frahm
CLASS ROLL
(The first six represent an alphabetical honor roll)
Paul Behrens
Dorla Eckley
Donna Ehrichs
Mary McMahon
Robert Suhr
Justyn Sutherland
Anna Marie Asmus
Delores Dammann
Letty Frahm
Louise Grau
Marjorie Hansen
Harvey Hargens
Maxine Hinners
William Hoffman
Wilbur Karsten
Bonita Kasperbauer
Michael Kasperbauer
Donn Kelsey
Glenn Kuhse
Don Livingston
Dorothy Lohmeier
Marianne Lyden
Lila Mohr
Robert Mohr
Marvin Mordhorst
Louis Muhlbauer
Norma Musfeldt
LaJune Neubaum
Ralph Petersen
Kenneth Pfannkuch
Doris Phillips
Robert Popp
Lola Ress
Billy Sander
Charles Schumann
Leonard Sextro
Bill Sibbel
Patricia Siem
Donald Stoelk
Billy Strathman
Fern Struve
Bob Wegner
Frank Wegner
Earl West
Eugene Wiese
What happened 70 years later, May 21, 2017, at Manning?

Grace Sextro with her grandfather, Leonard Sextro

Leonard Sextro - 1944 - ninth grade graduation

Back: Robert Mohr, Ruby Borkowski, Ralph Petersen, Delores Dammann, Marvin Mordhorst, Bonita Kasperbauer, Bob Wegner, Marianne Lyden, Robert Popp, Bill Sander
Third: Bill Wailes, Maxine Hinners, Paul Behrens, Dorla Eckley, Roger Slates, Leo Rostermundt, Norma Musfeldt, Bill Sibbel, Grace Joens, Bob Suhr, Doris Phillips
Second: Bill Strathman, Donna Ehrichs, Glen Kuhse, Justyn Sutherland, Charles Schumann, Margie Hansen, Wilbur Karsten, Pat Siem,

Leonard Sextro

, Fern Struve, Don Petersen, Lola Ress
Front: Lila Mohr, Harvey Hargens, Anna Marie Asmus, Donald Stoelk, Dorothy Lohmeier, Gene Wiese, Mary Alice McMahon, Earl West, Mary Anna Fox, Louis Muhlbauer, Louise Grau, Michael Kasperbauer

2017 IKM-Manning Valedictorians: Jon Greazel, Rylie Muhlbauer, Jenna Mullen, Scott Halbur

1 example from the Logeland Studio wedding packets.

There are still quite a few Logeland Studio wedding packets available.

Click to read about this important project.
It will help to financially support the Manning Veterans' history book project.

What makes up a community?
Just ONE person
who is a son or daughter
who is a brother or sister
who has a school chum
who is related to someone in that town
whose friend has a friend in that town
whose friend is related to someone else in town
who may have moved away but still thinks of the place they grew up as home
We would like to hear from you, the "1983 Leaders of Tomorrow" who have relatives and chums in your hometown of Manning, Iowa.
In their own words
Attention "1983 Leaders of Tomorrow"


Who is the sister of the meteorologist linked below?
Click to see the answer in her own words

Who grew up on a farm south of Manning, has chased tornados, and is now a meteorologist for the National Weather Service?
Click to see the answer in his own words

I have been receiving questions from various "1983 kids" about what type of information we would like them to write about.
Please read through the meteorologist's story to get ideas for you own personal write-up.
Then send me an e-mail so we can work out your story.

Note: Your story does not have to be as thorough as found at the link above but at least send us a couple paragraphs to bring us up to date from 1983. Here is the DIRECT link to the 1983 web page.

Parents of the "1983" kids - please encourage your children to send in their updated information and any pix they may want to include.
Sometimes a little nudge by mom or dad will get the ball rolling!
Each 1983 "Leader of Tomorrow" has interesting family history.
Here are the names of the "1983 kids" who we are looking for an update from...
Aaron & Courtney Potthoff, Adam Croghan, Andrew & Amanda & Brandon Puck, Alex & Abbey Ranniger, Allison & Megan Keese, Angela & Heather & Michele Hass, Angie & Alan Irlbeck, Bradley Christensen, Bryan & Nathan Rohe, Chelsea Souter, Christin Ann Fara, Christopher Wegner, Cole & Ty Henderson, Dale & Vanessa & Derek Hargens, Daniel Wayne Tibben, Daniel & Janelle Stribe, Dawn & Derrick Rohe, Dawn & Michelle Willenborg, Elizabeth & Jamy Zinke, Ericka & Andrea Ehlers, Gary & Beth & Tim Ferneding, Heather & Jessica & Jimmy Switzer, Jackelyn McKeighan, Jamie Jo Irlbeck, Jeffrey & Joey & Jeremy Irlbeck, Jeffry & Kelli & Jason Lorenzen, Jeremia Rex Macumber, Jennifer & Jason & Renee Knueven, Jennifer & Jeremy Misselhorn, Jeremy Puck, Jessica Rasmussen, Jill Kienast, Joe Stein, Joseph & Mackenzie Hinners, Kasie & Andrea & Amy Lorenzen, Kenzie Kae Kerkhoff, Lauren & Shad Bauer, Marte Wanninger, Matthew & Mandi Weitl, Melissa & Angie Pfannkuch, Michael & Amy & Jeremy Kasperbauer, Michael & Michaela Hargens, Melissa & Michaela Vinke, Michael & Matthew Siepker, Michaela & Crystal Ehlers, Natasha Vonnahme, Ryan & Rachel Pfannkuch, Sabrina Lee, Sarah Kaszinski, Sheri & Trena Bell, Tara Zeman, Stephen & Ryan & Darren Andersen, Tonya Jo Wurr, Tiffany & Michelle Jahn, Tim & Matt Hugeback, Brian & Katie & Steph Beck, Troy & Robin Wanninger
If you send me some information about yourself, I may also be able to find some pictures of your parents, grandparents, family members that I have in my database (as shown above).
We can use them in your story along with your "1983" picture.
We'd like to hear from you !!!
What ever became of the
1983 "Leaders of Tomorrow"
Have some of your "Dreams" come true?

"Let it be known that he who wears the military order of the purple heart has given of his blood in the defense of his homeland and shall forever be revered by his fellow countrymen."
George Washington, August 7, 1782
Just as a reminder: the Manning History book committee continues to work on a Manning area Veterans' history book project.
For those of you who are Veterans or have/had Veterans in your family - will you come forward?
The history book committee will do their best to get as many pictures and information about the 1000+ Manning Veterans but we can't do it all by ourselves.
How many small communities do you know have published 5 history books? The first one was the History of Manning 1898, then the 1981 Manning Centennial book, next the 2006 Manning Quasqui book, and most recently the 2009 Manning School history book. Probably the last book to be published will be the upcoming Manning Veterans' book - unless someone comes forward in the next generation to take over these projects after I'm gone. Will you help with the Veterans' history book project? If you are a Manning connected Veteran or are presently serving and do not submit your military connected pictures and infomation you probably won't be in this once-in-a-life-time Manning Veterans' history book. With a limited number of volunteers we can only do so much on our own but will try to get pictures of as many Veterans as we can. There are over 1000 Manning Veterans so we have a long ways to go before the book can be published.
Manning Veterans are slowly coming forward and below is another example. We hope to eventually get more pictures and information for Mike to put in the book but for now this is what I have to show to you.
Amos Rutz WWII
One thing that many Veterans and people who are submitting information have not fully understood is that this next Manning history book is specifically a Veterans' only book. It won't be like the Centennial or Quasqui history books were, where there is a Veterans' section along with other community aspects. We are aiming for a 2-volume book (around 1090 total pages) which will really be unique!!!
This book will be ALL Veterans' information (and the post auxiliaries) - hence it won't be a "Name, Rank, and Serial Number" only history but we want a complete history for each Veteran.
For instance - below is Louis Boell's picture and the information that was published in the Veteran section of the 1982 Aspinwall Centennial history book. It has the basic information but we are looking for more and I spoke to Louie by phone and he sent more pictures and information - also for his brothers.

To see what Louis submitted click on the link underneath "Are you a Manning Veteran" shown below.

Note: we also want some family background such as parents and grandparents. All too often you will only see just the Veteran's name with their basic military information but without the family connections it will be difficult for future historians and genealogists to know for sure who this person belongs to.

Are you a Manning connected Veteran?

I would like to hear from you!!!
We are starting a Manning Veteran history book project and if you don't come forward you may not be included in the book. NOT because we want to intentionally leave you out but because you didn't come forward.
Same goes for those of you who have Veterans in your family who have passed away. If you don't come forward and help by submitting Veteran connected pictures and information your Veteran may not be included in this once in a life-time Manning Veterans' history book.

Please e-mail me about your Veteran questions manningveterans@davidkusel.com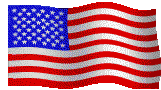 The United States flag
is proudly displayed here and NO other flag is as IMPORTANT!
1 Manning citizen served in the War of 1812
48 served in the Civil War
1 served in the Indian War
3 served in the Spanish American War
300+ served during WWI
550+ served during WWII
87+ served in the Korean war era
65+ (more names need to be found) served in the Vietnam era
55+ (many more names need to be found) served from 1975 to present
25 paid the ultimate price with their lives defending the U.S. Flag
Are you a Manning Veteran?
Are you currently serving and have a Manning connection?
We are starting the Manning Veterans' history book project
Don't wait until you see "Deadline" or it WILL be too late!!!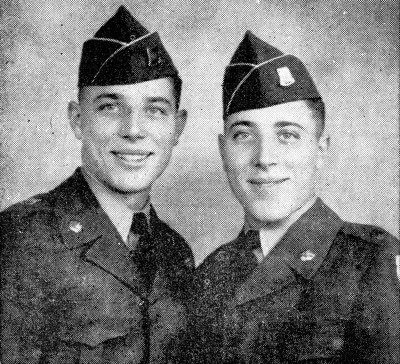 Click to read promos for the Veteran book


There are a lot of WWI and some WWII Veterans pictures with no IDs.

Before you spend time scanning pictures
please look at these instructions


I appreciate your efforts scanning pictures for me but if you only make low resolution scans you are really wasting your time. High resolution scans are the best and only way to really preserve those old pictures.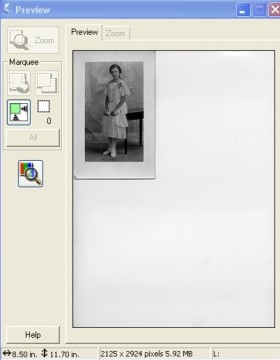 Click to see the tutorial
If you simply don't want those old family pictures you inherited please don't throw them - send them my way.
A lot of times I can recognize a face or location in those old pix.
---
One thing to keep in mind while you are looking for pictures - if they are glued in old scrap books please do NOT try to pull them out or cut them out. I can scan the whole page of the scrapbook and crop out the pictures you want to use in the book. If you attempt to forcibly remove the pictures you will probably damage them and when I scan them that damage will probably show up. This means I'll either have to use my graphics program to touch up the damage which can take a lot of time, or if they are badly damaged I just may not even take the time to scan them.