wrote:
Hi Jennifer,
I recently purchased an old Manning item on E-bay and the seller told me he bought it, along with other items from a Vertus Schroeder who he thought was from Flandreau and something about Eagan, also.
Do you know this Schroeder and/or which family he is in?
If so have you been in contact with him?
I'd like to find out if he might have other Manning/area items and old pictures that connect to Manning.
Thanks,
Dave

Hi Dave,
Virtus passed away in 1999. He was my grandma's cousin. I never met him, but he was well known in Flandreau/Egan.
Virtus was the son of Louis Schroeder who was born in Crawford County near Manning to Heinrich and Anna Schroeder, my GG Grandparents. Louis moved to the Flandreau/Egan area around 1910 with many of his family members. Egan is smaller than Flandreau… about 3 miles from Flandreau. Louis ran the hardware store in Egan with his brother Henry after their youngest brother, Frederic, died in WW1. The hardware store was originally Henry and Frederic"s store.
May I ask what the item was that you purchased?
Jennifer

Now just a little background on Frederic Schroeder (KIA WWI).


Private Frederic Carl Schroeder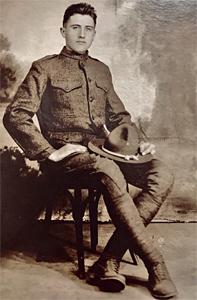 Born November 23, 1895 in Crawford County
Died September 30, 1918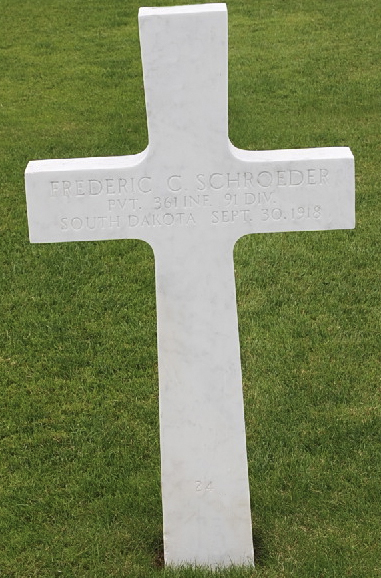 361st Infantry Regiment, 91st Division
Buried Meuse-Argonne American Cemetery and Memorial, Lorraine, France
The Frederic Carl Schroeder Legion Post in Egan, South Dakota, is named in his honor.
Son of Henry & Anna (Schröder) Schroeder - they lived in the Manning/area and retired in Egan, South Dakota, in 1918. The Schroeders were the parents of nine children. They are Herman and August of Flandreau; Louie, Henry and Mrs. Irving (Emma) Stombaugh, Egan; Mrs. John (Augusta) Vinke, Mrs. Herman (Alfrieda) Jahn, and Johannes of Manning, Iowa. One son, Frederic, gave his life during the first World War.
The American Legion Post 97 in Egan, South Dakota, is named in honor of Private Frederic C. Schroeder.
Full story about Frederic

Thanks to Jerry Callender for bringing Pat's passing to my attention...I had recently visited the area funeral home websites and noticed Pat was listed but at that point there were no details so I did not know for sure she was connected to Manning.

While my database is very exensive, there are lots of areas where I have little to nothing. I can confirm that the Mathisens attended Ewoldt No. 7, but only have Sandy Mathisen listed.
These lists of student names was the best I could get while working on the Manning Schools History book project, with the loss of so many country school records and not much help from the living students who attended those schools, but what I have is better than nothing and I'm always updating these lists.

I did not find the Mathisen name in the Lincoln Township country schools database.

So hopefully somone who attended these schools with the Mathisens will come forward and help out.

Patricia (Mathisen) Sunberg
November 9, 1942 - November 2, 2023


Patricia Mathisen MHS 1961

Patricia Ann (Mathisen) Sunberg

Patricia Ann Sunberg, the daughter of Stanley and Dorothy (Dreher) Mathisen, was born November 9, 1942, in rural Audubon County, Iowa and died November 2, 2023, at St. Anthony Regional Hospital in Carroll, Iowa at the age of 80 years, 11 months, and 23 days.

Pat was baptized and confirmed at Our Saviour's Lutheran Church in Audubon. Her father was in the U.S. Army and the family moved to Albuquerque, New Mexico, where he was stationed. After Stanley was honorably discharged, they returned to Iowa and rented farms. Pat attended rural school in Audubon County before they moved to a farm north of Gray, Iowa, where she attended Ewoldt No. 7 rural school in Carroll County, Iowa. During the summers she would help on the farm by driving tractors as they baled and stored hay. While in high school she was a catcher or center fielder for the Gray softball team and also was a waitress at Frank and Vi's Café in Gray. She then graduated from the Manning High School with the Class of 1961. Following graduation, she enrolled in the C.E. School of Commerce in Omaha, Nebraska. After she graduated she worked at First State Bank in Audubon.

On June 2, 1962, she was united in marriage to Dwayne Sunberg at Our Saviour's Lutheran Church in Audubon. They were blessed with three children: Terry, Tereasa, and Tanya. They lived on Dwayne's parents' farm. Pat worked at the bank for a number of years then retired to raise the children and help Dwayne on the farm. They did custom baling and Pat drove the tractor. She helped with chores involving farrowing sows, feeding baby calves, and helping lamb out 1,500 head of sheep. Later they custom fed 1000's of hogs. Pat had the job at the sorting gate. She helped with harvest keeping the grain away from the combine. In 1992, she took some time off to deal with an illness and resumed her work when she recovered.

Pat was a member of Our Saviour's Lutheran Church in Audubon, where she taught Sunday school. She was a member of the Altar Guild and helped make quilts when she had time. She was a member of the Rural Homemakers and later the R & R Club and enjoyed playing cards during the winters. Pat enjoyed putting jigsaw puzzles together and watching birds. She loved working in her flower garden and received the Prettiest Farm in Iowa awarded by the Our Iowa magazine in 2018. Pat enjoyed country and western music, but most of all enjoyed her family especially the grandchildren and great grandchildren.

Preceding her in death was her grandson, Matthew Sunberg; her parents, Stanley and Dorothy Mathisen, and Dwayne's parents, Merrill and Maxine Sunberg; her sister-in-law, Donna and husband Russell Miller; and her nephew, Jim Mathisen.

Survivors include her husband of 62 years Dwayne Sunberg of Hamlin, Iowa; her children Terry and wife Marla Sunberg of Audubon, Iowa; Tereasa and husband John Negrete of Johnston, Iowa; and Tanya and Mike Lamb of Greenfield, Iowa; 4 grandchildren: Amanda Young and friend Sam of Exira, Iowa; Melissa and husband Kyle Tena of Norwalk, Iowa; Danielle and husband Yoti Boutsalis of Pleasant Hill, Iowa; and Colton Thomas of Mitchellville, Iowa; 5 great-grandchildren: Matty Young and Hailey Young both of Exira, Iowa; Garrett Tena and Nora Tena both of Norwalk, Iowa; and Nikos Boutsalis of Pleasant Hill, Iowa; her brothers and sisters: Don and wife Wanda Mathisen of Council Bluffs, Iowa; Sandi and husband Ted White of Augusta, Montana; Sharlene Lanktree of Basin, Wyoming; Steve and wife Raydene Mathisen of Audubon, Iowa; and Arlene Jorgensen of Missoula, Montana; nieces, nephews, other relatives and friends.

The family will greet friends on Sunday afternoon, November 5, 2023, from 2:00 p.m. until 4:00 p.m. at the Kessler Funeral Home in Audubon, Iowa. Funeral services will be conducted by Pastor Dan Beattie on Monday morning, November 6, 2023, at 10:30 a.m. at Our Saviour's Lutheran Church.

Interment will be in the Maple Grove Cemetery. The honorary casket bearers will be Tom Pauley, Jeff Moreland, Bryan Clemsen, Howard Paulsen, Brad Weber, Rod Williams, Brad Suhr, Dennis Menefee, and Duane Christoffersen. The casket bearers will be Brent Chambers, Matt Chambers, Fred Muhr, Tom Muhr, Joe Muhr, and Jim Goecke.

The family prefers memorials to the Audubon Fire and Rescue Department.
https://www.kesslerfuneralhomes.com/obituaries/Patricia-Ann-Mathisen-Sunberg?obId=29798178#/celebrationWall

Page 38 of the Manning Schools history book

Back: Luana Jean Lamp, Curt Grimm, Gwenna Bogatzke
Middle: Bruce Grimm, Diane Gehling, Sandra Mathisen, Kenny King, Cindy Musfeldt, Lydia Hugeback
Front: Becky Hugeback, Vickie Musfeldt, Sharlene Mathisen, Al Grimm, Dave Friedrichsen
Sophomore Homeroom A


Fifth: Duane Karsten, Vicki Atkins, Judy Laurinet, Curtis Jansen, Norma Ahrendsen, Dick Hill, Wayne Pfannkuch
Fourth: Kerry Martens, Jim Hansen, Bill Chandler, Larry Fischer, Fred Gruhn, Pat Knueven, Ralph Dobler
Third: Diane Eischeid, Donna Foley, Pat Callender, Joy Hansen, Ann Detlefsen, Larry Ehlers, Donna Antone, Mr. Kenneth Loats, Sponsor
Second: Eugene Mahnke, Robert Fischer, Lyle Bald, Merlin Frahm, Don Mathisen, Charles Nepple, Kenard Carstens, Gary Gruhn
Front: Joyce Irlbeck, Ann Blum, Marcia Fredricksen, Diane Dammann, Bruce Fischer, Rosemary Ehrichs, Kathy Asmus, Nancy Dammann
FFA Freshman & Sophomore 1961


Freshman & Sophomore members Third: Lyle Zinke, Jim Hansen, LeRoy Joens, Pat Kneuven, Fred Gruhn, Mr. Luther Thompson, Sponsor
Second: Jerry Hockett, Duane Karsten, Raymond Hagedorn, Kenny Zebrod, Roger Schroeder, Ron Nissen
Front: Kenneth Spies, Russell Stribe, Paul Vogl, Calvin Stammer, Don Mathisen, Merlin Frahm, Duane Rohe
---
Don Mathisen MHS 1963

Sandra LeAnn Mathisen MHS 1966
Sharlene Mathisen Former MHS 1972
Steve Mathisen Former MHS 1975

IKM-Manning's $18.6 Million Bond Referendum Fails To Pass In Tuesday's Elections November 8, 2023
An $18.6 million bond referendum for the IKM-Manning Community School District to complete substantial facility construction failed to reach the required supermajority (60% +1) for approval in Tuesday's city/school elections. According to unofficial results from the Iowa Secretary of State's Office, the measure had the support of 52.8 percent of voters, falling nearly seven points short of the 60 percent plus one required to pass.
Voters in Carroll County overwhelmingly supported the measure, with 90% in favor of approval. Audubon County voters also backed the measure with 71.7% in support.
The referendum failed due to a lack of support from Crawford and Shelby County voters, who voted 27.3% and 15.5% in support, respectively.

Board of directors races: Zachery Meiners won the at-large position with 740 votes.
Mike Blum came in second with 535, and Sara Ferneding with 421 votes.
Jeremy Puck was the sole candidate to file and fill a vacancy on the board.
The District 1A race went to T.J. Sterk over Bridget Gore, 931 to 532.
Emmalie Rasmussen won the District 2A race with 892 votes to David Heller's 788.
Results from Tuesday's city/school elections are unofficial until canvassed by the respective county boards of supervisors.

Thanks to Roger Hansen, who is always very helpful with my history projects, he found this obituary for Marjorie (Hansen) Wade, who passed away last year.
Anymore, I depend on people informing me of obituaries for former Manningites. Most of the younger generations now no longer have the ancestral connections or knowledge of their parents old stomping grounds, and they seldom send the obituary to the Manning Monitor.

While working on Marjorie's tribute, like usual, I run into confusing and contradictory connections in my database - especially with a name like Hansen which is/was so very common years ago.
So in her tribute I have a couple of pictures that I'm not sure if they are connected to her Hansen family - there were at least 2 Hugo Hansens from that era.

I no longer have the old timers to go to in Manning to ask questions and find out the connections, so hopefully there are some of the younger generations connected to Manning who can help me.

When I work on these tributes, I run into all kinds of loose ends and unidentified pix in my database, and also find out sometimes that I only have partial obits or no obits for other family members, so I search the Internet and ask my helpers to search their sources.
I've added a few more obits lately that I discovered I didn't have or weren't complete, while making other tributes.
Now if you are very observant, you'll probably notice I generally add more facts since a lot of obits don't have them included and many times the family member will probably not even know those facts or are unsure. I also correct errors and adjust the grammar and tweak the style - never change any existing facts unless I know for sure they are wrong.

These additions and changes are mostly for my benefit, since I depend on obits when I work on Manning's family histories.

I actually originally uploaded obits to my web page starting in 1996, so I could access that information over dial-up connections when I was visiting with old timers at their homes in Manning about our history. I could then show them the obits and other information and pictures I had uploaded so we could go over IDs and other background information.
At that time they were completely amazed at how I could show them this information and I told them could be seen all over the world where they had Internet connections.
Now, today, most people think nothing of it, unlike 27 years ago when I started my web page.

Marjorie (Hansen) Wade

Click to see the tribute

Another big blow to Manning!

BUT based on the town's history and the people of the past who made it into the community it is today, I firmly believe that the younger generations taking over now and who are currently in charge will follow in the footsteps of Manning's Pioneers.

At times like this I like to emphasize to these younger Manning folks that if they want to maintain the "quality of life" we have right now in town that they will have to step up MORE - volunteer more, get involved more, donate more, put on their thinking caps more, and keep plugging away to help figure out a use for the building and lot it sits on and also other businesses that may be getting closer to the end of their existence - also getting a grocery store back in town.
We DON'T need any more "green spaces," parks, or trails!!!
I realize that most of these younger folks right now aren't thinking about a place to live when they get older or how to get groceries when they are old and can't travel out of town.
Even though these recent changes won't directly affect them right now - in time they will discover how important the present is and how it will affect their future - they need to think long-term and how it might affect them down the road.

When the buildings were torn down in 1964 to make room for the Plaza, I'm sure several of the proprietors of those businesses and the employees they hired wondered what was going to happen to their world. One of the owners moved their business to a building across the street and others found different employment.
So the end of something doesn't have to be the end of the world and someone usually comes up with a new idea to fill that void - based on our history, I'm hopeful that someone will come up with an idea on how to utilize the existing structure or replace it with something new and not thought of at this point in time...I prefer the former rather than the latter to raze the structure but we definitely need to start thinking about where this next episode in time will take us.

I remember hearing about the big controversy when it was announced that the Plaza would be built along Main Street.
Some business people and other citizens were dead-set against it being built there. They said property tax valuations would go down - it would be too noisy for the residents along Main Street, parking space for businesses would be used up, and so on.
But once the dust settled, most everyone agreed later on that it was the best location: the residents could sit on the big porch and watch parades, visit with people as they walk by - the large bay windows allowed the residents to sit and look out to watch the cars and people go by...and for years, the porch is where the Easter Bunny came to give the kiddies some goodies.

April 8, 2023


The Plaza was also right next to the hospital, so it was very close to take emergency patients to quickly.

Now a lot of people are upset that the doors are closing.

These Plaza pictures were taken by Orval Fink, who served on the Housing Board and many other boards in Manning...just ONE of hundreds of volunteers I remember who gave us this great community to live in. Fortunately, I was able to scan some of Orval's collection after he (1988) and his wife, Vera (2001), passed away.

April 1964

Left to right: Gambles, Robert Kuhl Tavern, various eating establishments, Ral-Mars (Ralph & Martha Hagedorn), Manning Library (2nd story) and Fire Station (lower level).

November 1964


I'm still sad that the Wyatt Hospital had to be torn down, but this is how change progresses - good & bad.

April 1966

January 1966


Yes, there were winters in the past when very little, if any, snow fell...
July 1966


Remember the 2 wonderful water fountains?
April 1965


The owner of the construction company flew in to inspect the job site.
December 1965 businesses in the background

From left to right: Monitor, next business I'm not sure about right now, then Chub's Place, Ral-Mars, Crystal Theater, and then the original part of the First National Bank.
The Monitor owner was Ron Colling, the next business I'm not sure for this time period but I think it was Iowa Liquor Store, then Linus "Chub" Heithoff had "Chub's Place," Ralph & Martha Hagedorn had moved Ral-Mars from the east side of Main Street when the buildings were torn down to make room for the Plaza. Before it closed I believe the Crystal Theater was operated by Gib & Bernie Peters, and the last building on the north is the First National Bank which is still owned by the same family today.

December 1965
Most of the time what's in the background of the picture is more important historically to me for my extensive research. In the picture just above you can see the Hoffmann Lumber Company, which was a MAJOR business in Manning since the early 1880s. Manning had several lumber companies during its early history. Joyce Lumber Company was located where the city park is now. The Greenbay Lumber Company was located along Third Street west of Main Street, and Hoffmann Lumber was located where the city hall is today.
There was also Town & Country Lumber owned and operated by Charles Fielweber. Charles purchased the business from Adolph Hinz who ran the "Hinz Building and Supply Company" previously. Before the Hinz business, the Manning Bottling Works operated there, and was owned and operated by Joseph Feldmann and his son, Emil. Emil then sold the business to Adolph Hinz who was married to Antonia Feldmann, sister of Emil, and then Hinz turned that site into a lumber yard.

After the Plaza was opened, 4 years later in 1970, several houses were torn down along Center Street and the Terrace Apartments were built. My mother (Dorothy Kusel) was the first director so I have lots of memories about her work there. At first there were alarm bells and strobe type light on top of the apartments that would go off when a resident pulled a string in an emergency.
Since mother had the master key she was on-call at night and many times I would go with her so she could let the police and ambulance crew into the apartment.
One big advantage in being around mother and her work at the apartments is I was always around old folks and while I never had problems communicating with them, it helped me tremendously when I started working on Manning and family history shortly after that time.
Even though I was decades younger than those old timers I could easily carry on a conversation with them for hours and even though I didn't personally know a lot of the people they talked about, I knew about them from all of the stories I listened to and family histories I worked on.

Over the decades I would also go in to visit with the various Plaza residents to get old Manning pictures identified and pick their brains about Manning's past...now I will no longer have that ability here in Manning to visit with the older residents about Manning's past.

1970 construction of Terrace Apartments


Looking northeast
The home to the right belonged to Hugo & Ola Ress - this home was later torn down when the east wing of the Plaza was built.

2003

For the last 20 to 30 years, Manning has gradually become a much younger community - which is great for the life-blood of the town moving forward.
Before that it became a retirement town, where farmers would retire and move to Manning, Manning business people would sell their business and retire in Manning, also former residents would move back to their old stomping grounds to live near their parents, relatives, friends, and schoolmates - this was before people started moving/living in the southern states, so today most Manningites no longer retire and move back to Manning or stay in Manning after they retire.
All of these changes have effected how the rural retirement and assisted living homes exist today, with many of them downsizing or closing altogether.
The saddest part (maybe devastating is a more fitting description) is for the Plaza residents who have been living here and have direct Manning connections: Carol Schroeder, Janice Monson, Russell Hansen, Rita (Nissen) Saunders, Virginia (Dammann) Johnson, and local employees such as Kathy Vollstedt & DeEtte Grabill.
I spent an hour today (October 27, 2023) visiting with these residents - no tears were shed but I'm guessing some tears popped out when they were told the Plaza (Accura) was closing.
Then there are the local pastors who will now have to travel to Carroll, where most of the residents are planning to move to in a different Accura facility.
I'm sure the local volunteers who came in and assisted with entertainment and other activities will also miss the interaction with the residents.
So many things that are/were a part of a local retirement home that most people don't think about or even realize that go on.
I decided to search my extensive and very unique and one-of-a-kind database for Plaza pix - here are just a few of the hundreds I have on this topic...

July 1999 new addition to the east

April 25, 2017 making bird food

September 13, 2016 - 50th anniversary party - Carol Schroeder getting a wagon ride

Carol is a deaf-mute and she and her family grew up in Aspinwall, also where my mother was born/raised so our 2 families have been friends all of these years.
Carol's brother, Wallace Schroeder, was taught by my mother in the Aspinwall School.
To keep herself occupied, Carol has put together countless puzzles over the decades and proudly gives them to friends and relatives.

She was thinking ahead and wrapped this Christmas present to the Kusel family.
I'll guess it is a puzzle she made.

May 2, 2012 - DeEttee reading the Manning Monitor to the residents
Arlene (Lohmeier) Musfeldt on right

December 19, 2011 school students singing Christmas Carols for the residents

July 20, 2008 volunteers brought in farm animals for the residents to see and touch
Here Laverne "Butch" Meier is having a wonderful time with his mother, Anna

2005

Pastor Vogel of Zion December 10, 2003
Now be honest...how many of you who live/lived in Manning had no idea all of these activities occurred in the Plaza???
And I've only scratched the surface of events over the decades and ONLY captured just a small amount of them myself.
I could post more pix/events but have to get back to all of my other Manning historical projects.

Larry Blake
May 9, 1959 - October 24, 2023

Click to see the tribute


Gene & Sherri (Mohr) Steffes windbreak on the southwest edge of Manning.
8:46 a.m. October 23, 2023
Saw my first Junco October 24 - last year October 17.
I try to note when the various migrating birds come and go.
The barn swallows are the most consistent arriving within one or two of the same days each year.

Thanks to Lois (Wilhelm) Peters and all of the family pix and information she shared with me over the decades, I have an in-depth pictorial history for Gene's ancestral family.

Gene Kuhl
July 18, 1934 - October 22, 2023

Click to see the tribute

Another former Manningite has passed away.
Thanks to Ann Trullinger I now have Sara's full obituary but through a round-about way from the Hugeback family, one of whom lives in Story City.
Always amazing on how I will get Manning information, but glad to get it no matter how or from whom.

In Memory of Sara Dappen
October 3, 1920 - October 14, 2023


Sara & Robert Dappen
In Memory of Sara (Frandson) Dappen
October 3, 1920 - October 14, 2023
CELEBRATING THE LIFE OF Sara Anne Dappen OCTOBER 3, 1920 - OCTOBER 20, 2023
STORY CITY CEMETERY, STORY CITY, IOWA Friday, October 20, 2023, 10:30 a.m.
Clergy: Rev. Jonathan Cooney
Graveside service Friday, October 20, 2023 - 10:30 AM - 10:45 AM Story City Municipal Cemetery, Story City, Iowa
---
Sara Anne Dappen, the fourth of five children born to Amy and Theodore (Skogerboe) Frandson of Story City, Iowa, on October 3, 1920. Country School began at Center School, Lafayette Township, and finished at Lafayette No. 6 thru the 8th grade.
Following high school in Story City, it was ISU - graduating in 1942. Sara taught Home Economics and English at Donnelson, Iowa, High School and then returned to ISU - finishing her M.S. and getting married to Robert R. Dappen. While her husband was in the service, she taught in the Home Economics Department at North Texas State in Denton, Texas.
Upon graduation from Vet Medicine, Bob and Sara established a practice in Manning, Iowa. Two sons, Nathan and Nicholas, were born and raised in Manning.
While in Manning, Sara did the vet office management.
Sara was active in the Methodist Church, serving as youth leader and Sunday School Superintendent. Bob later sold his practice to Dr. Rexanne Struve, and then Bob and Sara moved to Story City.
While in Story City, Sara worked in retail at Bon Worth and the Dress Barn. Then she worked at McDonald's in the dining room - meeting and greeting people and cleaning endless trays.
Sara passed away on October 14, 2023, at her home in Story City at the age of 103.
Sara is survived by her sons, Dr. Nathan (Patty) Dappen of Columbus, Ohio, and Nicholas of Fort Worth, Texas; four grandchildren, Alex, Andrea, Susan, and Nikki; and four great-grandchildren.
She was preceded in death by her parents; husband; two brothers, Arnold and Harold Frandson; two sisters, Agnes Lincoln and Mildred Nelson, and her beloved cat, Bacon.
Blessed be the memory of Sara Anne Dappen.
More pix & information coming...

Another "feather in the cap" for Manning
Cliff's Place In Manning Wins 2023 Iowa's Best Breaded Pork Tenderloin
October 19, 2026 Manning Monitor
Jim, Vicki, and Jon Waterbury served 125 tenderloins on Friday, October 13, and 100 on Saturday, their average per day was 15 before winning the award.
A new tenderloin has been crowned Iowa's Best Breaded Pork Tenderloin. You can devour this year's champion at Cliff's Place in Manning, an hour and a half northwest of Des Moines.
The 21st annual contest is presented by the Iowa Pork Producers Association (IPPA) and managed by its Restaurant & foodservice Committee.
"Thick and juicy or thin and crispy - people travel crazy distances to sink their teeth into different versions of this Midwest staple," says Kelsey Sutter, IPPA's marketing and programs director. "Tenderloins connect people from all over the world, and it just takes one bite to understand why they're such a hit!"
A Cliff's tenderloin starts with 6 ounces of pork, sliced from a never-frozen boneless loin and tenderized to achieve the desired texture and thickness. Hand-breaded to order, the meat is dredged through a mixture of flour and Flavor-Crisp's "Chicken on the Run" Find Grind seasoned breading, dipped in buttermilk, and coated a second time in the dry flour before being deep fried to a golden brown.
The $6 sandwiches are served with pickles on a toasted Rotella's Italian Bakery bun, and halved for easier handling. Lettuce, tomato, onion, bacon, and cheese can be added for a slight upcharge.
"We don't glorify anything on it," said Jim Waterbury, who owns the nearly 50-year-old restaurant with his brother Jon. "It's all about the pork - that's what we want you to taste."
And that's exactly what earned high marks from Chef Phil Carey, a tenderloin finalist judge.
"The breading just complemented the pork so well, and the tenderloin didn't overwhelm the bun," Carey said. "It was a perfect combination, juicy to the final bite, and a very enjoyable sandwich to eat."
Cliff's typically serves about 70 tenderloins a week. When Jon Waterbury learned the restaurant had claimed the title, he joked, "I'll sharpen my knife," in preparation for an uptick in orders. Winning restaurants have reported selling five to 10 times more sandwiches for at least a month following the announcement, according to IPPA's Sutter.
Cliff's Place started in 1976 when the Waterbury's parents Cliff and Vicki purchased a tavern there. Eight months later, they opened a kitchen in what had been a storage room. And in January 1987, the business expanded into an adjacent storefront, to add a dining area and private space for meetings or parties.
Jim and Jon Waterbury took over in 2008 following the death of their father, but Vicki Waterbury still works daily at the restaurant, preparing food for the salad bar and tending to customers.
IPPA's Restaurant & Foodservice Committee will officially present the best tenderloin award at the restaurant today. Cliff's will receive $500, a plaque, and a large weatherproof banner to display.
This year's runner-up is The Roadhouse in Orange City, in the northwest corner of the state. That designation comes with a $250 prize and plaque from IPPA. As announced earlier this month, other finalists, listed alphabetically by town, have earned top five plaques:
• Duncombe - Stumpy's Bar & Grill
• Harpers Ferry - Spillway Supper Club
• Jamaica - Tojo's Bar & Grille
IPPA received a record of more than 9,000 nominations for 774 restaurants this past spring. IPPA members and industry affiliates anonymously visited the top 40 locations this summer, scoring each on pork taste and quality, physical characteristics, and eating experience.
The Restaurant & Foodservice Committee used those evaluations to select five contenders to advance to the next round. From there, a team of judges traveled to each to determine first and second place.
The tenderloin contest recognizes Iowa dining establishments that offer a hand-breaded or battered pork tenderloin as a regular menu item. To win, businesses must be open year-round. The winners are announced every October - as part of National Pork Month, which honors the hard work and dedication of America's pig farmers.
Lid's Bar & Grill in Waukon, in far northeast Iowa, won the 2022 contest.

Look for a trip down the historic memory lane under one of the links!

I finally finished the Homecoming pix - I'm so far behind with community events and of course more occur every week.
There were ONLY 870 Homecoming pix to go through to find the ones that show something worth editing and posting...football is extra hard to capture the players during plays.
Click to see the event

Some communities have nothing but complainers and accomplish very little, and expect the government to provide them with everything - NOT Manning - read below...
Donors to Match City Park Funds
The ambitious Refresh the Park fundraising campaign that kicked off last year will allow Manning to replace the brown playground equipment with a large, new piece. It will also add a wheelchair-accessible merry-go-round and new swings. The new, large piece will not only be bigger and better - it will be able to serve more kids. The volunteer committee has spent countless hours designing a park that will feature areas for parallel play - places where kids in wheelchairs and kids out of wheelchairs can play alongside each other. Thought went into building a park that can better serve kids with sensory integration disorders too. Public input sessions helped shape the design with decisions like what swings to include and adding the zip-line feature. The new improvements will include rubber surfacing under all of the new equipment.
The committee set a lofty goal of $250,000 in order to accomplish the objective to serve kids of all abilities. Because of the generosity of many people and businesses over the last year, they announced earlier this month that less than $100,000 of funding is needed to meet that goal. A lot of progress has happened just since that announcement.
New for October, several families came together to offer matching funds of up to $25,000! This means that any donation made in October will be doubled by this fund, up to $25,000. The families and businesses that committed to this matching fund of $5,000 each include: Ben & Kathy Puck Family; Brian & Theresa Irlbeck Family (Jeff & Jamie Blum Family & Bryce Irlbeck, B & B Irlbeck Farms); Marvin & Patsy Halbur Family; Patsy Halbur and her children in honor of late husband and father, Marvin Halbur: Kent and Kathy Halbur, Bret and Amy Halbur, Rick and Anne Halbur, and Patrick and Joanne Schoessler); & Anonymous.
Since announcing the match campaign, twenty-two donations have been received including $5000 from Templeton Savings Bank and $5000 from Casey's. The committee is hopeful they will reach their goal of $250,000 so that the equipment can be installed in the spring of 2024! People who have been considering donations are encouraged to get them in by October 31st to be considered towards the matching goal and double the effect of their contribution!
In addition to making donations, people can support the project by buying raffle tickets at City Hall and the Rec Center for a chance to win half of the raffle proceeds. Another opportunity to show support is to come to the soup supper being held October 29th from 5 to 7 at the City Park the night of Manning's trick-or-treating. The evening will feature soup and sandwiches for a free will donation, a costume contest for kids, and an auction of several baskets and the large brown play equipment at 7:00 p.m.

People who don't know their past, won't be able to grasp the present, and are destined to fail with their future.
A person who does not embrace their past, has no future.
I finally found some time to move older feature stories on the right side frame over to the "new addition" page.
It took me almost 2 hours to do this and I'm always amazed at how many Manningites have passed away and other events and projects I work on that I actually find time to edit and work on to present to the visitors.
So for those of you who aren't familiar with my web pages or only frequently visit, you might want to click on the "What's new in 2023" link on the left.
For that matter, you'll want to scroll down and click on the various links on the left to see all of the other sub-links I have that you probably never noticed.
For those of you who have gone through most/all of those links, please realize that many of them have not or will not change much and a lot of them were posted sometime between 1996 through the present.
Also realize that even though I have tons of pictures and information linked on my various web pages - that this doesn't even scratch the surface as to what I have archived on my various hard drives.
So if you are looking for specific information on a family name/s, please contact me and I'll search my database to see what I might have.
BUT please realize that sharing is a two-way street - I'll share if you in turn will share old Manning history/pix you have.
My main goal is and has always been to find, digitize, and archive as much Manning history that still exists before it gets thrown away...so I don't have extra time to search and share with people who only want stuff from me and won't return in kind...

I finally made it through the 650+ pictures I took at Kinderfest.
They say "better late than never" but I'm running into more "never" with all of the events I'd like to feature and still have time to work on all of my scanning and historical projects...not to mention the things I need to work on around the farm.
But at least I finally finished the Kinderfest feature.
Click to see the amazing history of the Manning Schuetzen Verein which is how Kinderfest began.

In Memory of Rita Sporrer

In Memory of Robert Christensen
December 24, 1945 - October 5, 2023
Jake Ewoldt, Jack Ramsey, Ben Danner, Bob Weiskircher, Nate Fara, Nick Fara, Gary Ferneding, Bob Christensen, Eric Fara, Sam Heese, Jeff Jahn, Gary Dammann, Gary Schroeder

A memorial service will be held on Saturday, October 14, 2023, at 1:30 p.m. at Zion Lutheran Church in Manning with visitation starting at 1:00 p.m. Refreshments and fellowship will immediately follow the service. A graveside service will be held at approximately 4:00 p.m. in Immanuel Lutheran Cemetery at Kimballton.

Robert Ray, son of Sigurd and Thomine (Clausen) Christensen, was born December 24, 1945, in Audubon County, Iowa. He attended country school near his home and graduated from Harlan High School in 1964.

Robert began working for Robert Kroman at the age of 16 and continued this working relationship through the age of 67. After graduation, Robert worked at Western Iowa Pork in Harlan. In 1972, he worked with Walnut Grove in Atlantic. After 1984, Robert farrowed sows, sold feeder pigs, and worked with Orland Fara at Manning Ag Center and the Dedham Coop until he retired in 2012. During retirement, Robert mowed lawn for three years at the Manning-Manilla Golf Course.

Robert was a member of Zion Lutheran Church in Manning and enjoyed driving around in his side by side.

On Thursday, October 5, 2023, Robert passed away at his home in Manning, Iowa, at the age of 77 years, 9 months, and 11 days.

He was preceded in death by his parents; son Kevin Christensen of Harlan; two brothers Glenn (Dorit) Christensen and Jerald Christensen; and a sister Verleen Benton.

Robert is survived by a brother David (Marilee) Christensen of Harlan; sister-in-law Connie Christensen of South Chesterfield, Virginia; and by many nieces, nephews, other relatives and friends.

Funeral Service on Saturday, October 14, 2023 at 1:30 p.m. at Zion Lutheran Church, Manning, Iowa with Pastor Jonathan Conner, Officiating.

Congregational Hymns are "The Old Rugged Cross" and "In The Garden" by Susan Lamb, Organist.

Honorary Bearers are Andy Stangl, Scott Lampman, Mel Lange, Roger Wegner, Bob Nissen, and Jeff Hargens.

Place of Rest at Immanuel Lutheran Cemetery, Kimballton, Iowa.

In Memory of May Opperman
Click to see the tribute

A shout-out to anyone who is going to throw away or doesn't know what to do with old Manning connected/family pictures and albums!!!
On September 28, 2023, a family from Kansas brought this amazing old family album to city hall. They wanted it to be preserved here in Manning so I grabbed it and scanned the pictures.
I'm in the process of trying to connect a few of the pictures to this Wegner/Nagel family.
Fortunately but unusual is that most of the pictures are identified.
I want to show this family album to get the word out to anyone who has old Manning connected pictures, history, memorabilia, documents, certificates, military related items, uniforms, anything Manning related/connected that individuals/families have - and no longer want them.
I will digitize and archive the information and also make sure the actual items will get preserved here in Manning.
Here is the wonderful cover of this album and linked down below are pictures scanned from that album.
I'll also add a few other family connected pictures and information I already had in my database to further show the family/Manning connections...if you see any errors, please let me know ASAP.
If anyone has pictures and information for this or any other Manning family, please contact me.
IF you no longer want those things - PLEASE DO NOT throw them away, but contact Dave Kusel so we can work out a way to get them to Manning for preservation.
Click to see the Wegner/Nagel album

I added quite a few wonderful pix from Lyle Mundt including some information & names of employees.
M&I Dehy history

Here are just a few reasons Manning is a wonderful and safe place to live...
There are various activities at the Heritage Park throughout the year.
Lots of volunteers work hard to organize and provide these types of events.
Unfortunately (IMHO) not enough Manning people support these events.
We need to get back to the days where lots of people supported and attended these community events...way too many people just sit at home and watch TV or browse the Internet...get out and mingle with your fellow citizens - you'll have more fun and not lose brain cells from being addicted to the technologies of today.
New this year was a scavenger hunt - something I hope is continued.
I've documented a lot of fun events like this over the decades, and from the reaction of the participants, I think this hunt was one of the more fun activities we've had in years.
I believe Main Street Manning and the Heritage Park partnered with this event, so KUDOS to everyone who organized and worked for this event.
Octoberfest at the Heritage Park...

German American Society annually supports Manning's Octoberfest


German American Society annually supports Manning's Octoberfest

Leo Lonnie Orchestra - Nebraska

I believe there were 7 teams - 4 to 7 individuals required per team


Scavenger Hunt Team

Scavenger Hunt Team

Scavenger Hunt judges

Scavenger Hunt winners - $200 in Chamber Bucks
The Scavenger Hunt challenge

Zion's newsletter - food for the pantry

Mayor Bob Hoffmann in middle
Right: Ed Feld from Carroll, sales rep for Toyne hands the keys to Mayor Hoffmann
Left: Gib Toyne, owner of Toyne Manufacturing Company from Breda - built the fire truck
Toyne is still operating in Breda
2023 Fire Prevention Week flier
307 Main Street


March 2003


1958 - Joe Stein's Barbershop in the basement - note railing.
Photo from Amos Rutz's slide collection I scanned in 2016.
This photo was taken the same year I got my first hair cut.
2023 Main Street Manning flier

I know lots of times people question if I really know anything about what I actually say or write about - most of the time I can prove it with a picture.
I don't remember this event which was shortly before my 2nd birthday but I had many haircuts by Joe in this basement.

May 1958 - Dave Kusel's first hair cut
I have so many events that I captured with my camera and documented this year that I just haven't had time to create feature stories but here are a couple of pix & some information about the 2023 Trail to No Where.

Scott "Scooter" Mills


Group at the Iowa Sculpture


Scott Mills taking off for a short run to the Geocache sites.


Scott found one of the sites


For a week and a half, each day I spent many hours restoring/repairing and merging an 1884 Carroll County map that I downloaded in 4 sections from the Library of Congress.
I spent countless hours cloning nearby areas to clean up marks, spots, and scratches and also over-exposed parts of the map and redrew/darkened many of the letters and numbers. I initially adjusted the brightness/contrast and over-all color of each of the 4 sections of the map and then tweaked it some more when I started to merge each section into one map.
This was by far my most tedious and challenging restoration project to date.
Here is the top left quarter and the final product for comparison along with the complete map and a zoomed in section so you can see the quality/resolution I was able to attain.

56 x 51 inches by 300 DPI in TIF format

Cousin Jon Ahrendsen is currently in Antarctica for a 7-month medical assignment at McMurdo Station.
He is posting pictures and information on Facebook if you want to follow his activities.
BUT here is one of his messages and a picture for you to see...

I did a radio interview with a reporter from WHO radio on Monday morning here. I tried to reach WHO radio during the Iowa Penn State game to let them know I was listening to the Iowa football game from McMurdo Station, Antarctica. They had no way to read Gary Dolphin during the broadcast, but they were very interested in my situation, and so they requested to do an interview later.
They cannot tell me a definite time when this will be broadcast, other than the information they shared which follows. They wanted a picture of me by the McMurdo Station sign so I was able to do that last night. They told me the story will likely air on WHO, WMT, and WOC radios. Which day? I have no clue.
Each anchor will fit it into their newscasts throughout the day. Most likely to run on WMT at 5-6-7-8 am and noon. WHO noon.
Newscasts start at the top of the hour. The longer entire interview will likely run on our half hour focus show on Sunday morning October 1, 2023, at 6 a.m.
Jon Ahrendsen

As a reminder, IF you have old family/Manning albums and scrapbooks, old Manning/family memorabilia, school, old records, documents, certificates, military uniforms, medals, burial flags, and on and on...that your family no longer wants or your kids/grandkids will just go through and pick out a few things and then throw the rest away...
Please contact me.
I'll take the time to digitally scan the pictures and documents, so they will be preserved and archive which is the most important process in saving our history, and then I will make sure those items get stored/preserved in a Manning Museum.
More and more I'm getting people with Manning connections, but never lived here, contacting me and wanting to know if I would take the old Manning stuff they have and be able to preserve it for them.
A lot of them time, I'll be able to ID some of the pictures they have and also they don't always know that some of the old items they have are Manning connected.
So PLEASE DON'T THROW, but contact me so that precious history will get safely and properly preserved.
Thanks - Dave Kusel, Manning historian - preserving Manning history and items for over 50 years.

People often don't think about why Manning is in as good a shape as it is today - which is basically because of so many citizens over the generations who believed in continuing to follow in the footsteps of all of the successful Pioneers before them who were hard workers and invested not only their money but blood, sweat, and tears, to build this little town into a prosperous community where it would be a good place that was safe to raise a family and give their children a good education - and be proud of everyone's accomplishments.
While digitally restoring an 1884 Carroll County map that I downloaded from the Library of Congress website, I got to thinking about how one of the first things the Pioneers did was to build country schools every 4 miles.
Before Manning and most of the towns in the county existed, these county schools were already teaching the future generations - many of whom spoke German but their parents wanted them to learn English and learn to it well because they knew that was the only way to truly become successful in life here in the U.S.
The first school building (Warren No. 4.) in what would eventually become the city limits of Manning once stood where the grocery store has been located for many years.
Then in 1883, the citizens of Manning built their first town school.


I just realized that the first school would be celebrating its 140th anniversary.


Photo taken either 1883 or 1884 - no little trees planted and no homes in this part of North Manning yet.

Can you imagine the fits that the "safety experts" would have today if they saw kids with their feet hanging out of the 2nd story window!

50th anniversary of the high school and gymnasium - 2023-24.
1973-74 was the first class to walk down the aisle of this gym and graduate from the new high school.


Veterans' Day program November 10, 2022

This school and gym have been so well-cared for over the decades that it looks nearly brand new!!!
I was a junior this first year of the gym/high school. My dad, Amos Kusel, MHS 1938, was a member of the first class to walk down the aisle of "at that time" new gym built in 1937 which is now the Rec Center gym...so I was one year off from being the first class to walk down this now 50 year old gym.

I'll be chasing the Mandela Fellows group around for the next few days taking pictures and capturing the audio of some of the speakers, so I still won't be updating my webpages - I have so many events I captured and haven't even started editing those pictures and audio.
Manning is always busy with something going on but this year seems to be even busier than usual and I try to keep up with as much as a I can and still try to keep scanning old pictures and working on my many other projects.
The other day I ask Connie to find another obituary for me and as I was reviewing that page of the newspaper I noticed this graphic that caught my eye.
As soon as I saw Magellan my mind took me back to my early school days when we studied World Geography. Now I always considered myself as an average student at best and for the most part disliked school and just wanted to be out on the farm either working or playing.
BUT from time to time I'll run into something such as this article or a topic will come up in a discussion with a young person and I'll remember things I learned in school that they obviously aren't teaching today - for instance apparently they don't teach Iowa history/geography anymore.
I wonder how many students today even heard of the name Magellan?
I didn't even have to look it up since it isn't in the article but I remembered his first name - which is Ferdinand.
Now this doesn't give me any "brownie points" but I'm amazed sometimes that I actually must have been listening to the teacher or remember what I studied when I run into items of non-Manning history like this.
Anyway, this interesting little article was on the same page as my Great-uncle Frank Ehrichs' obituary and why I'm posting it since it caught my eye.

February 15, 1974 Carroll Times Herald

Does anyone know the location or contact information for Charles Scott who taught mathematics at Manning in 1972?
He was a Vietnam Veteran and I'd like to get some military information/pix for him to add to the Manning Veterans' book.
For that matter, any teacher at Manning who served that you know of their whereabouts - please let me know.
The list of Manning connected names who served keeps growing almost daily.

Let me know if you can't get the 2 MP3 files linked below to play.
At first they would only play with Internet Explorer.
I tried to open them in my Pinnacle Studio and it wouldn't recognize the files.
So the recorder I purchased must be using a different codec that isn't compatible with most audio players - I'll have to go to their web site to see if they have a fix.

I was able to resolve the problem by converting the mp3 files from the recorder, with a converter program I downloaded - I just converted the mp3 file from the recorder to the same mp3 version format and that fixed the problem.
Always amazing at how people can design technology and create programs that aren't more universally compatible.
---
I've recorded so much Manning history over the decades that I've forgotten quite a bit I've done.
I was working with Janice Ress on Marion Ream's pictures she gave me to preserve.
After we were done Jan said I want you to listen to something with me.
She dug out her cassette player and tape and brought it over for us to play.
She said this is the copy you made for me of the 1981 Sisters of the Swish and Der Manning Liederkranz...
I had to think a little and sure enough I remember asking those groups to have a special recording session in the VFW Hall.
Down below are the two sides of the tape, along with the songs and vocalists.
It is totally amazing to listen to now. I believe the songs are playing just a little slow but still sound amazing for the technology of the time.
I purchased a $35 tape to USB recorder and will be converting some more audio cassettes, when I find them and hopefully find the original 1981 tape I made to see if it plays a little faster and clearer.
The Liederkranz songs are much better - probably because I reset the mic/stands and adjusted the recording levels a little lower after the Swish were done performing.

I used my 2 "voice" mics to record the close-up singers and the other voice mic to pick up the general sound of the group.
Later on when I started video taping more community events I started purchasing better mics that would pick up sound/songs/singing in the distance.
The voice mics were more designed for close-up speaking.
I had one mic set for the individual vocalists to sing into and another mic to pick up the group.

Oh if I only had the digital recorders back then that I have now!!!
BUT even with lower quality by today's standards - it is really fun to listen to the performers, several who are no longer living.
The Swish used kazoos, washboards, kettles & pots for drums, and homemade instruments to make the music.
Ruth Hiatt is a RIOT when she sings Good ole Mountain Dew - if you knew her she was a character the way it is and loved to act in community plays, so she was NEVER afraid to get up in front of the public!!!
Centennial Sisters of the Swish
Esther (Anstoeter) Williams on the accordion
Diane (Dalgety) Genzen introduced some of the songs

Beer Barrel Polka
Roll Out the Barrell
Apple Peaches Pumkin Pie - Esther Williams
Wooden Heart - Darlene (Genzen) Vollstedt
Blue Skirt Waltz
Du Du liegst mir im Herzen - Ruth (Brady) Hiatt
Out Behind the Barn - Susan (Grundmeier) Schilling
Oh Lord, It's hard to be humble - Esther Williams
Lucille - Maureen (Williams) Halbur
Ei Ei Ei O Polka - Esther Williams
Mountain Dew - Ruth (Brady) Hiatt
Barbara Polka
Just Because - Darlene (Genzen) Vollstedt - duet with Esther Williams
In Heaven there is no beer - Beverly (Dalgety) Irlbeck
Hokey Pokey - Susan (Grundmeier) Schilling
Wabash Cannon Ball - Ruth (Brady) Hiatt with Arlo Pfannkuch on his "vacuum cleaner" whistle. Arlo sold vacuum cleaners and converted one to make whistle sounds.
Baby Face - Susan (Grundmeier) Schilling
Street Fair Polka
So Long


Sisters of the Swish & Der Manning Liederkranz

Der Manning Liederkranz
Becky Noble - director

Harmony
Build a Mountain
After Dark, A Roving
Wait till the sun shines Nellie - Melvin Renze, Larry Genzen, ?3rd vocalist?
Good ole summertime
Battle Hymn of the Republic
---
If you were a member of the band or choir, please send me the names you remember who participated in 1981.
Here are some names I remember and more from Susie Schilling...
Sisters of the Swish: Janice Ress, Nancy (Stoberl) Stammer, Lila (Mohr) Schroeder, Elaine (Karsten) Struve, Marilyn (Vennink) Pfannkuch, Pam (Kusel) Kusel, Linda (Meggers) Frank, Lois (Weems) Wegner, Gertrude (Farley) Dammann, Rose Anne (Muhlbauer) Nulle, Marlys (Rutherford) Karsten, Elaine (Hansen) Schroeder, Virginia (Dammann) Johnson, Jan (Riesselman) Moore, Lucille (Lamp) Boell, Darlene (Haberl) Willenborg, Jan (Karsten) Lorenzen

Liederkranz: Claus Bunz, Nulle, Larry Schultes, Mike Ferneding, Tom Henderson, Gordell Lamp, Keith Kelderman, Richard Crandall, Lester Joens, Leroy Schultes, Kenneth Puck, Duane Monson, Arthur Rix, Ron Halbur, Raymond Pratt, Wesley Nulle, Warren Puck

Nothing of importance unless you are an Ehrichs or Kusel descendant of the Manning/Aspinwall area...
2023 is the 150th anniversary for the Ehrichs clan who started moving into this area in 1873.
Next year will be the Kusel 150th anniversary with Kusels "invading" the area in 1874.

If my mother was still living I'd probably try to set up anniversary reunions but without her life's experiences and knowledge of the area and the family, it would be very difficult for me to set up.
Anyway, this is to let the relatives know of this amazing historical milestone.
Remember that Manning, Aspinwall, Templeton, Manilla, Gray, etc. weren't here at this point...they started popping up when the 3 railroads came through the area (Manning) starting with the Northwestern in 1880, then the Milwaukee in 1881, followed by the Great Western in 1903.

So there has been a "lot of water under the bridge" since then.

Just think about it - no roads other than an occasional "Indian path" generally made by the roaming Bison here and there, no bridges, no trees for firewood or sawing for construction, predator wolves, Prairie rattlesnakes, wetlands to get your Prairie schooners stuck in, and Prairie grasses up to 6 feet tall as far as the eye could see - along with occasional Prairie fires - the nearest neighbor probably miles away, and the only railroad was the Northwestern 15 miles north that traversed through what are now the towns of Arcadia, Vail, & Westside.
And a lot of people think they have it tough today!!!

Please visit the Manning Exchange for local news, articles, and information...a work in progress.

Many upcoming events.

Korean War Veterans continues


There are lots of Manning Veterans of the Korean era with no pictures or information.
Will you be in the Manning Veterans' book???
Unless more post-WWII Veterans come forward there will be a lot of 1946 to present day Manning connected Veterans missing from the book.

For those of you who are occasional visitors to the Manning Exchange - please make sure to click on the "archived articles" section where previous featured stories are kept.

Click to visit the Manning Exchange

1 example from the Logeland Studio wedding packets.

There are still quite a few Logeland Studio wedding packets available.

Click to read about this important project.
It will help to financially support the Manning Veterans' history book project.

"Let it be known that he who wears the military order of the purple heart has given of his blood in the defense of his homeland and shall forever be revered by his fellow countrymen."
George Washington, August 7, 1782
Just as a reminder: the Manning History book committee continues to work on a Manning area Veterans' history book project.
For those of you who are Veterans or have/had Veterans in your family - will you come forward?
The history book committee will do their best to get as many pictures and information about the 1000+ Manning Veterans but we can't do it all by ourselves.
How many small communities do you know have published 5 history books? The first one was the History of Manning 1898, then the 1981 Manning Centennial book, next the 2006 Manning Quasqui book, and most recently the 2009 Manning School history book. Probably the last book to be published will be the upcoming Manning Veterans' book - unless someone comes forward in the next generation to take over these projects after I'm gone. Will you help with the Veterans' history book project? If you are a Manning connected Veteran or are presently serving and do not submit your military connected pictures and infomation you probably won't be in this once-in-a-life-time Manning Veterans' history book. With a limited number of volunteers we can only do so much on our own but will try to get pictures of as many Veterans as we can. There are over 1000 Manning Veterans so we have a long ways to go before the book can be published.
Manning Veterans are slowly coming forward and below is another example. We hope to eventually get more pictures and information for Mike to put in the book but for now this is what I have to show to you.
Amos Rutz WWII
One thing that many Veterans and people who are submitting information have not fully understood is that this next Manning history book is specifically a Veterans' only book. It won't be like the Centennial or Quasqui history books were, where there is a Veterans' section along with other community aspects. We are aiming for a 2-volume book (around 1090 total pages) which will really be unique!!!
This book will be ALL Veterans' information (and the post auxiliaries) - hence it won't be a "Name, Rank, and Serial Number" only history but we want a complete history for each Veteran.
For instance - below is Louis Boell's picture and the information that was published in the Veteran section of the 1982 Aspinwall Centennial history book. It has the basic information but we are looking for more and I spoke to Louie by phone and he sent more pictures and information - also for his brothers.

To see what Louis submitted click on the link underneath "Are you a Manning Veteran" shown below.

Note: we also want some family background such as parents and grandparents. All too often you will only see just the Veteran's name with their basic military information but without the family connections it will be difficult for future historians and genealogists to know for sure who this person belongs to.

Are you a Manning connected Veteran?

I would like to hear from you!!!
We are starting a Manning Veteran history book project and if you don't come forward you may not be included in the book. NOT because we want to intentionally leave you out but because you didn't come forward.
Same goes for those of you who have Veterans in your family who have passed away. If you don't come forward and help by submitting Veteran connected pictures and information your Veteran may not be included in this once in a life-time Manning Veterans' history book.

Please e-mail me about your Veteran questions manningveterans@davidkusel.com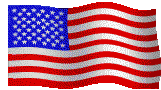 The United States flag
is proudly displayed here and NO other flag is as IMPORTANT!
1 Manning citizen served in the War of 1812
104 served in the Civil War
1 served in the Indian War
5 served in the Spanish American War
350+ served during WWI
650+ served during WWII
87+ served in the Korean war era
65+ (more names need to be found) served in the Vietnam era
55+ (many more names need to be found) served from 1975 to present
29 paid the ultimate price with their lives defending the U.S. Flag
Are you a Manning Veteran?
Are you currently serving and have a Manning connection?
We are starting the Manning Veterans' history book project
Don't wait until you see "Deadline" or it WILL be too late!!!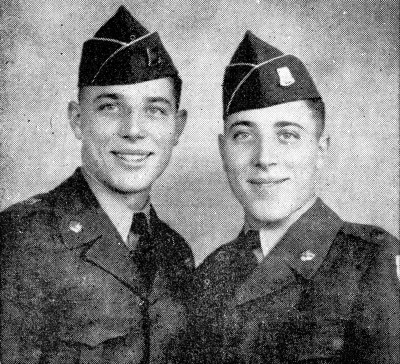 Click to read promos for the Veteran book


There are a lot of WWI and some WWII Veterans pictures with no IDs.

Before you spend time scanning pictures
please look at these instructions


I appreciate your efforts scanning pictures for me but if you only make low resolution scans you are really wasting your time. High resolution scans are the best and only way to really preserve those old pictures.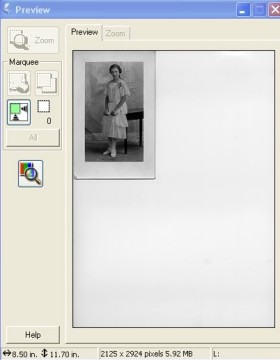 Click to see the tutorial
If you simply don't want those old family pictures you inherited please don't throw them - send them my way.
A lot of times I can recognize a face or location in those old pix.
---
One thing to keep in mind while you are looking for pictures - if they are glued in old scrap books please do NOT try to pull them out or cut them out. I can scan the whole page of the scrapbook and crop out the pictures you want to use in the book. If you attempt to forcibly remove the pictures you will probably damage them and when I scan them that damage will probably show up. This means I'll either have to use my graphics program to touch up the damage which can take a lot of time, or if they are badly damaged I just may not even take the time to scan them.
---
Back to the top